Does everybody love seeing Ray Romano get serious? He hopes so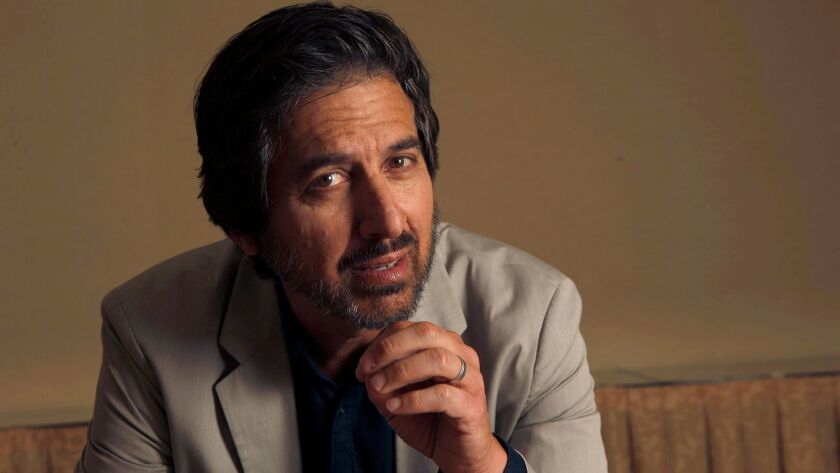 Ray Romano was headed to New York. He had hair and makeup tests for a role as a mob lawyer in the upcoming Martin Scorsese film "The Irishman." And, yeah, the thought of being in a movie that boasts legendary, Oscar-winning actors Al Pacino, Robert De Niro and Joe Pesci had him more than a little nervous. Terrified, actually.
"I'm […] scared," is how he phrased it in a text earlier in the day to Bobby Cannavale, his former "Vinyl" co-star who also has a part in the picture. (The use of ellipses is our own, standing in for a colorful word that a smartphone might auto-correct to ducking.)
"My anxiety and my OCD have been ramped up for the last month," he says, cracking pistachios inside a Burbank hotel room. "I've been to the dermatologist eight times since I got the role. I swear to God. I'm not kidding. I called him again the other day, but he's on vacation."
This from the same guy who wondered if the industry — and audiences — would accept him as a character outside the bumbling comic persona he perfected for nine seasons on the hit CBS sitcom "Everybody Loves Raymond."
In the 12 years since that show went off the air, Romano has certainly put in the work to be taken more seriously.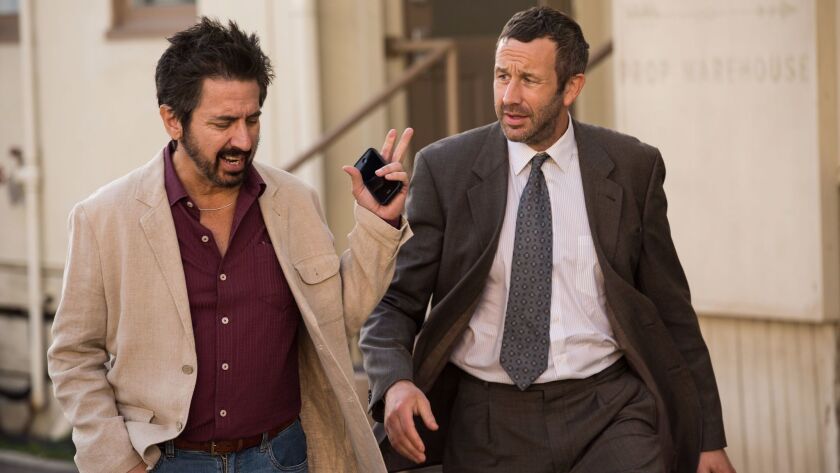 There was his turn as a neurotic, gambling-addicted, party supply shop owner separated from his wife in his first post- "Raymond" project: TNT's "Men of a Certain Age," a dramedy he co-created with "Raymond" writer Mike Royce; an arc on NBC's "Parenthood" as a photographer potentially on the autism spectrum; a run as a depressed record executive in the aforementioned "Vinyl," which Scorsese executive produced and co-created(hence, their connection); and, earning him critical acclaim earlier this summer, his role as a geeky and endearing dad whose daughter is in an induced coma in the indie romantic comedy "The Big Sick."
These days, he's making the dark comedy rounds as Rick Moreweather, a spiky-haired low-budget movie producer in the Epix television adaptation of Elmore Leonard's "Get Shorty," which runs Sundays and was recently renewed for a second season. (It is a separate entity from the 1995 John Travolta film based on the same book.) Rick, in a nutshell, is desperate to prove himself in Hollywood. That underdog mentality — Romano knows it well.
"As successful as it may appear I am, I don't really feel that," he says. "It's like, you know you've achieved some level of success and you know what you've done and yet you still feel you have more to do and more to prove. You're only as good as your last joke, your last show, your last whatever. The confidence is there, but underneath there is always insecurity. I totally identify with that. I see the bad in everything I do."
A bit of that self-deprecation was on display from the moment the interview began. The idea of talking about himself for a prolonged interval seemed daunting and a little absurd.
"What do you mean? How long do you think it takes to tell your life story?" this reporter asks.
"Thirty-six minutes," he quickly replies.
Wearing a slightly wrinkled T-shirt and jeans — which he quickly changed into after a photo shoot — Romano is at least up for the challenge. He talks about his quirks. Like his talent of being able to list every capital in the world. ("Name any country," he says. His groomer, upon exiting the room, shouts, "Ireland!." "Dublin, but that's easy, give me something hard," he retorts.) When asked about his loyalty to his Casio F91W watch, he talks about how a recent "Last Week Tonight With John Oliver" segment — which pointed out that the wristwatch was known to be used by Al Qaeda members as timers — wasn't enough to make him swap it out. Of course, that's not to say he didn't fret about it for a moment.
"I'm sticking with it," he says, noting it's a relic of his stand-up days, used to time his sets.
But what of, after all these years, his anxiety about forming a new identity in the second act of his career. Has it calmed?
"A little bit," he says. "A little bit."
He recalls the period when "Everybody Loves Raymond" was winding down and his therapist suggested meeting twice a week. Romano scoffed. A few months later, he relented.
"Patricia Heaton [his 'Raymond" co-star] once said it's like you're in a submarine for nine years," Romano said. "All of a sudden, you resurface and your kids are older and you think, 'I've got money, I'll just golf.' But then I realized, 'What's next?' There was this big void. A big identity crisis. This fear of 'Can I do something else? Will I have a chance to show I can?'"
Romano said the industry is now more receptive to seeing him beyond his sitcom character. But he's not quite sure if the public is fully there yet.
Royce isn't surprised by Romano's uncertainty. "That's hard for any actor who creates an indelible character — an indelible sitcom character, no less," he said, launching into his Romano impression every so often. "Those are the hardest to get out from under, because you've been in everyone's living room each week — sometimes being a bit of a fool, sometimes being a schlump. Ray was such a good sitcom actor that he made it look easy. And I think people thought he was being himself. And I think that made it harder on himself to change his image. That's why Ray had such a clear intention to go the other way."
Romano said he didn't know how far the other way he could go until his time on the oft-dark "Vinyl," for which he famously shot his first nude scene. In the drama's second episode, his character contemplates killing himself.
"I was like 'What?'" Romano recalled of reading the development in the script. "It was like, 'How am I going to? … What am I going to?' … I had to get to a place I had never been. And I was a wreck."
But he remembered a trick from his former "Parenthood" co-star Mae Whitman: putting on some headphones and listening to somber songs that transport you to a moment. So, the night before shooting the "Vinyl" scene, Romano asked his daughter to help him assemble a playlist. There were some Beatles fixtures like "Hey Jude" and "Let It Be" and more contemporary tunes like Coldplay's "Fix You." Even Alec Benjamin's "I Built a Friend," which made the list after Romano watched a young contestant's emotional dance set against it on "America's Got Talent" (yes, he watches).
"It put me in a bubble that I just stayed in for that scene and seemed to work," says the Queens native, who still has the playlist on his phone. "Would I have been able to get there without that? I don't know."
Romano's other tactic to help mentally absorb a character involves writing a backstory — something he started doing after once hearing Denzel Washington talk about it. For his "Get Shorty" character, fueling some of Rick's insecurity is the task of living in the shadow of his director father.
"Every backstory involves my father," Romano, 59, reveals. "I remember hearing Gary Oldman talking about backstories and saying, 'I got to stop using my father ...' And I feel the same way. I don't know. What I come up with always involves some element of this son trying to prove himself to his father."
To people who've worked with him, it's not surprising that Romano can tap into the emotion of a scene.
"I always felt that his performance on 'Everybody Loves Raymond' was very grounded in a way that you don't often see in multi-cam sitcoms," said Nanjiani, who co-wrote and starred in "The Big Sick." "And, I don't know how he'll feel about me saying this, but I feel like there's a melancholy to him that's very appealing that I felt would really work on 'The Big Sick.'"
Others haven't stopped taking notice. Romano talked about some of the high-profile projects that have come his way in recent months—though, he detailed them off the record either because he passed on scripts or deals haven't been finalized. But even with the good fortune in his second act, Romano keeps his comedic muscles stretched.
He still performs stand-up — playing gigs in Vegas several times a year or doing sets at the Comedy and Magic Club in Hermosa Beach or the Comedy Cellar in New York.
"It's a high," he said. "I'm not a guy who gets high, but I can imagine some highs are better than others. But I think the biggest, most euphoric is that feeling onstage. You have no idea when it's leaving your mouth how people react. It's like jumping off a cliff, you don't know if your chutes are gonna open or you're gonna crash to the ground. When they laugh, you realize, 'Oh, you're on to something,' and you've created this little thing. It's the coolest feeling."
But cooler than being cast in a Martin Scorsese film?
"Everything is a little surreal," he said of his career, which he actually managed to discuss for 75 minutes. "I have a Top 10 surreal list, and this is right up there. Also in there is having lunch with Johnny Carson. Working with Martin Scorsese again is there too."
A beat.
"Heck, having him fire me would also be up there."
At least he's not too scared to crack jokes.
'Get Shorty'
Where: Epix
When: 10 p.m. Sunday
Rating: TV-MA (may be unsuitable for children under the age of 17)
Follow me on Twitter: @villarrealy
---
Inside the business of entertainment
The Wide Shot brings you news, analysis and insights on everything from streaming wars to production — and what it all means for the future.
You may occasionally receive promotional content from the Los Angeles Times.