10 Images
The year's worst movies
2006 gave us no less than 15 films that broke the top 200 worst reviewed films of all time on Metacritic. To help us remember some of the worst films of 2006 we turn to bad movie expert John Wilson, founder of The Golden Raspberry Award Foundation for commentary.
"Basic Instinct 2"
JW: "The most obvious contender for the Razzies of the year got made because of a lawsuit. More than 10 years ago Sharon Stone signed what is called a pay or play contract which means she would get paid for a sequel to "Basic Instinct" whether the film got made or not. The number I heard tossed around was $14 million. So rather than flush the $14 million down the toilet they decided to make the movie and flush $40 million. I would be shocked if she is not nominated for worst actress, and the film nominated for worst sequel and worst picture."
(Jaap Buitendijk)
"Ultraviolet"
JW: "I don't know if this will get nominated. If it had more attention when it was released, it might have, but I will be surprised if anybody but me remembers it. Milla Jovovich has been a Razzie nominee three times. She was in 'Return to the Blue Lagoon,' she played Joan of Arc in 'The Messenger: The Story of Joan of Arc' and she was in 'The Fifth Element.'"
(Jay Maidment)
"Little Man"
JW: "Another top contender. It looks like the Wayans brothers saw an old Bugs Bunny cartoon about a midget gangster landing on the doorstep of Bugs' house. If it is a cartoon and everybody is too stupid to notice the baby has a 5 o'clock shadow, that's OK. But when it is supposed to be functioning, working class, fully realized three-dimensional people who are that stupid why would I care about them? If we had an award for worst visual effects, certainly 'Little Man' would be in the running."
(Courtesy Cinesite)
"Rocky Balboa"
JW: "This is a possible Razzie, I'm not sure because I haven't seen it yet. It seemed to have every credential in the world, but we are hearing that Sylvester Stallone might have surprised everyone and made a good movie for the first time in 25 years. If he succeeds with it then we wish him well and we'll leave him alone. I'll happier if it is bad though. He is our all time champion. He's been nominated 30 times and won 10 Razzies including worst actor of the 20th century."
(Neil Leifer)
"The Shaggy Dog"
JW: "Tim Allen had 'Shaggy Dog,' 'Zoom' which is a rip off of 'Sky High' and 'X-Men,' and 'The Santa Clause 3: The Escape Clause' which is a sequel. We've been calling it 'Tim Allen's Trilogy of Terror.' If he wasn't nominated against Sylvester Stallone he would have the inside track for worst actor this year."
(Joseph Lederer)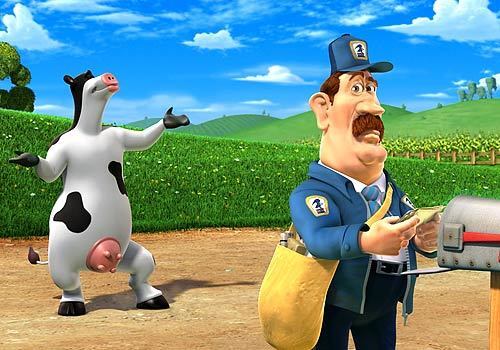 "Barnyard"
JW: "We may do a Worst Excuse for Family Entertainment category this year because there were so many contenders: 'The Shaggy Dog,' 'Garfield: A Tail of Two Kitties,' a thing called 'Hoot' that has the most fake looking mechanical creatures. The most egregious one was a thing called 'Barnyard' where the male cows had udders. My ten-year-old son kept saying 'Boys don't have udders,' throughout the whole film."
(Paramount Pictures)
"BloodRyane"
JW: "This was made by the director Uwe Boll who almost only makes movies based on video games. He was nominated for worst director last year for a film called 'Alone in the Dark.' I think Tara Reid was in it. I tried to watch 'BloodRayne' on video. I got 38 minutes into it and it was just so idiotic and graphic and violent and ugly, I had to turn it off. It has to be a truly dreadful movie for me to not be able to sit through it. If it gets nominated I will have to make myself go back and try again."
(Romar Entertainment)
"Employee of the Month"
JW: "Jessica Simpson would be up against Sharon Stone for her role in this I would think. She really wasn't in 'The Dukes of Hazzard' enough to get nominated for worst actress in a film."
(John Johnson)
"Larry the Cable Guy: Health Inspector"
JW: "'Larry the Cable Guy: Health Inspector' is definitely a contender, especially because the film heavily features the noise the Razzies are based on. I think he is a funny standup to be honest, but that movie was like being at the Betty Ford Clinic for people with flatulence problems."
(Jon Barron Farmer / Lionsgate)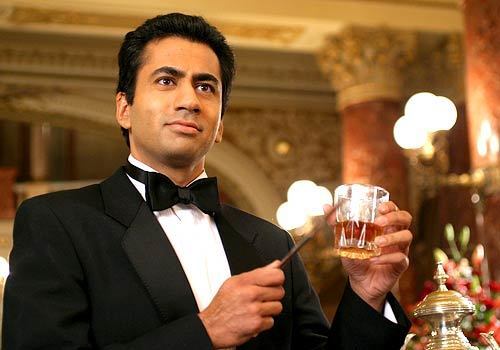 "Van Wilder 2: The Rise of Taj"
JW: "I don't know why you make a 'Van Wilder 2.' I can't get my head around that. They don't even have the star of the original. They made the first one five years ago and it didn't do that well. Why didn't this one just go direct to video? I don't think there was an audience for it. The weekend it opened it barely made it in the top ten. I don't think it made $5 million. I don't know who said to put it in the theater, but that person should definitely be collecting unemployment."
(Alexandru Ioan / MGM)