11 Images
Taylor Swift's pop-culture domination
lat-taylor-1-kk4d2cnc20091110171347
Taylor Swift's pop-culture domination
By Emily Christianson, Todd Martens, Denise Martin and Jevon Phillips
Forget Nashville, Taylor Swift is one of the biggest things in pop music.
The young country artist has crossed over, to say the least, appealing to audiences that are comfortable with a little twang, as well as a bit of John Mayer. Whether it's appearing on "Saturday Night Live" or rapping at award shows, Swift has risen to the top by mixing in a little Hollywood gloss with her two-step.
(Barbara Davidson / Los Angeles Times)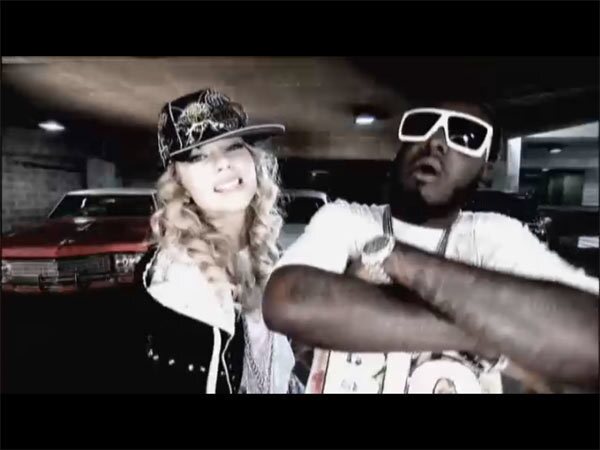 Meet T. Swizzle
A fun and semi-unexpected
video collaboration
arose when Taylor hooked up with Auto-Tune master T-Pain as her 'T. Swizzle' alter ego for a
Country Music Television Awards
opening. With lines like "I knit sweaters, yo," she was not a very intimidating thug, but she did prove that she could rap if her country gene disappeared.
Let's hope that doesn't happen.
(CMT.com)
Taylor comes to a 'Crossroads' with Def Leppard
Does Taylor know that in the not-so-distant past girls like her were throwing themselves at Def Leppard? Probably not, but in the genre-jumping TV show "
Crossroads
" on CMT, Swift took the stage with the legendary rockers -- even trying her hand at "Pour Some Sugar on Me." The guys helped out with her hits too, like "Teardrops on My Guitar," and they weren't shy about poking a little fun at the teen queen. When she gushed about putting all of her relationships into song, guitarist
Vivian Campbell
warned, "You realize no one's going to date you." "Yeah, I'm coming to realize that," she replied with a giggle.
(Rick Diamond / WireImage)
Taylor Swift kills it on 'CSI'
As if dominating the music charts wasn't enough, earlier this year Swift got to live her dream of playing a dead girl on "CSI." Her character, a rebellious teen named Haley, was found murdered outside her family-run motel. Fortunately for fans, Swift is seen in numerous flashbacks where viewers learned that Haley and Detective Nick Stokes had struck up a friendship a year before her death.
(CBS)
Here's Kanye West!
So
Taylor Swift
may want to forget the 2009
MTV Video Music Awards
, when
Kanye West
jumped on stage and praised
Beyonce's
also-nominated video after Swift won best female video, but it's a moment that illustrated just how much the world loves the Swift. Artists such as
Pink
and
Katy Perry
immediately came to Swift's defense on
Twitter
, and R&B star Beyonce brought Swift on stage at the end of the evening, giving both a heroic pop-culture moment.
(Christopher Polk, Getty Images)
Taylor Swift takes on Shakira
When Swift hosted "Saturday Night Live," many expected her to poke fun at Kanye West. No one, however, was ready for her to completley channel Shakira. Swift showed that she can twist like a "She Wolf," perfectly mimicking Shakira's futuristic dance moves. It was a late, throwaway skit, but Swift's impression was no toss-off.
(NBC)
Taylor Swift helps out the Jonas Brothers
Or at least, she tried.
Swift turned in a guest starring appearance in "
Jonas Brothers: The 3D Concert Experience
," but the movie made less than $20 million at the U.S. box office. She sang her chart-topping single "Should've Said No," about a girl who tells her ex-boyfriend that he "should've said no" to cheating on her. (Too bad,
Joe Jonas
. You should have been paying more attention.)
(Disney Enterprises)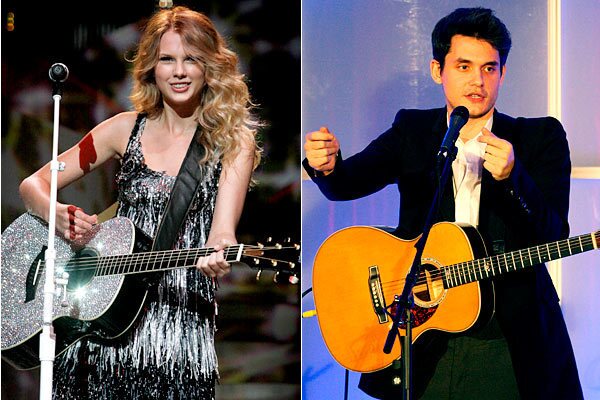 Guitarists unite: A duet with John Mayer
In a track off of John Mayer's "Battle Studies" album called "Half of My Heart," the two guitarists rock a duet.
Taylor Swift
's time on the track
was sadly limited
, but the two had teased it weeks prior to release on Twitter.
(Getty Images)
Teens unite!
Though she didn't have anything nominated at the 2009
Grammy Awards
, Swift still performed. She was joined by teen star
Miley Cyrus
, but the moment was all Swift's. After all, it was Swift's "Fifteen" that the pair sang.
(Mark Boster / Los Angeles Times)
Taylor covers the hits
In concert, Swift is known to bring out some classic covers. You know, songs by such veteran artists as
Justin Timberlake
,
Rihanna
and even
Eminem
. She may be grounded in country, but Swift takes a borderless approach to her music, fearlessly tackling pop, R&B and even hip-hop. Hey, it's gotten her this far . . .
(Barbara Davidson / Los Angeles Times)
More entertainment photos from latimes.com