4 Images
'The Voice': Final four contestants
By Yvonne Villarreal, Los Angeles Times staff writer
They survived the blind auditions, managing to entice the jaded ears of coaches
Christina Aguilera
,
Cee Lo Green
,
Adam Levine
and Blake Shelton to make it to the next round. And they duked it out (vocally) with fellow contestants during the battle rounds. Competing to be the inaugural winner of "The Voice" are:
Vicci Martinez (Team Cee Lo, right) is an acoustic rock singer-songwriter who hails from
Washington
. Martinez, 26, has released multiple albums and won the regional tryouts for "American Idol" in its debut season. (She opted not to return to the second round because she believed the "Idol" contract was too restrictive). (Pictured with contestant Nakia)
(Lewis Jacobs / NBC)
Javier Colon (Team Adam, right), the early favorite from
Connecticut
, has a résumé that includes two solo albums on Capitol, and opening for the likes of Joss Stone and the Indigo Girls. (Pictured with contestant Casey Weston)
(Lewis Jacobs / NBC)
Dia Frampton (Team Blake, left) is already burning up on the iTunes sales charts with her rendition of
Kanye West
's "Heartless" — not too surprising considering the 23-year-old indie-rocker from
Utah
is a professional singer with four albums under her belt. Oh, and she also writes children's books. (Pictured with contestant Xenia)
(Lewis Jacobs / NBC)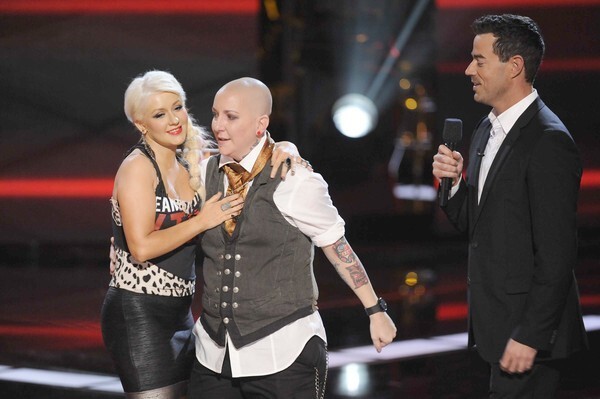 Beverly McClellan (Team Christina) is the hard rocker who had been working the club and bar scene in
Fort Lauderdale
, Fla. She plays 10 instruments and has, you guessed it, released five independent albums. (Pictured with
Christina Aguilera
and Carson Daly)
After a final live performance Tuesday, the winner will be crowned Wednesday and will receive a recording contract and $100,000.
(Lewis Jacobs / NBC)