14 Images
TiVo drain: What's left
Dan Sterling, executive producer, 'The Sarah Silverman Program'
"[Four episodes] of the Ken Burns documentary
'The War'
which I will probably never watch.
All episodes of a 19-part Vietnam documentary '
The Ten Thousand Day War
,' which I probably will never watch. I guess I have a fondness for making the pretense of being interested in war documentaries. There could be worse things to have pretenses of.
A couple episodes of '
House
' I haven't seen.
An episode of '
Hanna Montana
' which I recorded just so I could understand what's exciting to all the kids. At this point, I have no reason to believe it's not a brilliant show."
(U.S. National Archives and Records Administration)
Henry Meyers, writer, 'Ugly Betty'
I'm in serious need of TiVo maintenance. Currently, I have on it:
- An '
American Experience
' from many years ago (the last installment of the Rick Burns '
New York
' documentary, dealing with the Twin Towers -- haven't been able to bring myself to watch it.
- My TiVo continues to get reruns of '
Colbert
' and '
The Daily Show
' -- it gets 4-5 a day and deletes them by the end of the day.
- An old episode of '
Futurama
,' from reruns on Comedy Central.
- Five episodes of '
Greek
,' the ABC family show -- I've been catching up slowly.
- The most recent rerun of '
How I Met Your Mother
.'
- Four episodes of '
It's Always Sunny in Philadelphia
.'
- The most recent '
Late Show With David Letterman
.'
- Seven episodes of '
Mad Men
' (my wife and I have been catching up slowly).
- One episode of '
Molto Mario
' [about] gnocchi, going back many years -- I still watch it for cooking tips.
- One rerun of '
Northern Exposure
.'
- One episode of '
POV
' about Herge, the man who created the Belgian comic book 'Tintin' (I am a fan).
- The most recent '
Project Runway
.'
- Two episodes of '
Pushing Daisies
.'
- Two episodes of '
The Riches
.'
- Nine episodes -- the bulk of the second season of '
Rome
.'
- Four '
Seinfeld
' reruns.
- '
Superman Returns
.'
And, last but certainly not least, an episode of '
Ugly Betty
.' "
Wow, I feel kind of pathetic I haven't made it through more of that stuff.
(HBO)
Jenni Konner, executive producer, 'Help Me Help You'
"My TiVo is currently out of order. It's KILLING me … but before it went on the fritz, it was basically just '
Sesame Street
,' '
Dora the Explorer
' and '
World Girl
.' My 4-year-old is winning. So depressing. If it were working, it would probably be '
Project Runway
' and '
Gossip Girl
.' "
---
FOR THE RECORD:
An earlier version of this item misspelled the last name of Jenni Konner as Konnor.
---
(Sesame Workshop / ITVS)
Perez Hilton, celebrity blogger, Perezhilton.com
"The only show I have on my TiVo is '
What Perez Sez
.' Yeah, my own show on VH1! Ha."
(Ed note: We don't buy this).
(Dima Gavrysh / Associated Press)
Iris Bahr, writer, performer, solo show: "Dai (Enough)"
"Well, personally, I have found myself fascinated by '
America's Next Top Model
,' engaging in pseudo marathons (I've been an open wound the last two months performing my solo show about a Tel Aviv suicide bombing every day here in NYC, so I've found 'ANTM' to be a welcome respite. Albeit an emotional one, as I find myself sobbing every time the girls accidentally make a slightly awkward face and ruin their high-stakes photo shoot."
---
FOR THE RECORD:
An earlier version of this item referred to Bahr's solo show "Dai (Enough)" as "Dai, Dork Whore: a memoir."
---
(The CW)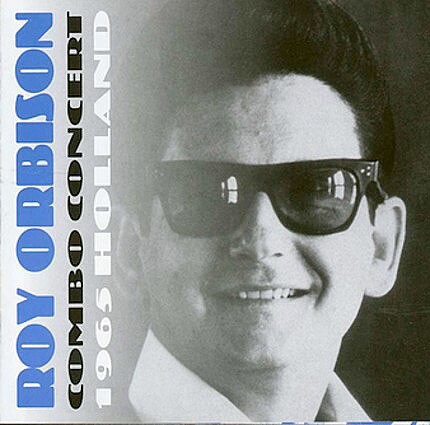 Ken Levine, writer/blogger, kenlevine.blogspot.com
"My DVR is filled with old episodes of '
Burke's Law
' and '
The Bob Newhart Show
,' a couple of classic Dodger games, some PBS
Roy Orbison
concert from probably 1937, episodes of the British '
Coupling
,' '
Real Time With Bill Maher
,' the latest UCLA basketball game, '
30 Rock
,' '
House
,' '
Beany and Cecil
' (from the KTLA anniversary marathon), and HBO's '
Co-Ed Confidential 10: When Virgins Attack
.' "
---
FOR THE RECORD:
An earlier version of this item referred to the early KTLA-TV show "Beany and Cecil" as "Beanie and Cecil."
---
()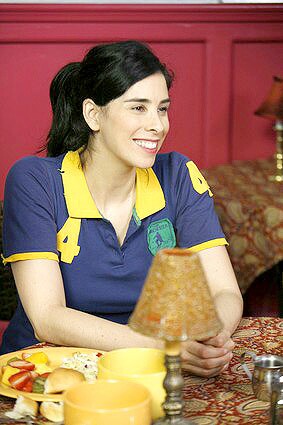 Peter Blake, co-executive producer, 'House'
" 'Noticias 22' (I'm trying to learn Spanish) and a few old episodes of
'The Sarah Silverman Program'
. And I've a big space left open for the first season of 'Breaking Bad.' "
(Evans Vestal Ward / Comedy Central)
Claude Brodesser-Akner, host, KCRW's 'The Business,' L.A. bureau chief, 'Advertising Age'
"Movies, mostly, most of them bad ('
Accepted
,' '
Scoop
'), and a few classics that we always keep on it (i.e. '
The Conversation
' -- my wife's favorite film ever, and mine, '
The Departed
,' which I could watch over and over until my eyes dried out). There's also many half-watched films (i.e., George Roy Hill's vastly underrated '
The Great Waldo Pepper
') which I keep meaning to get to but my 8-week-old keeps insisting on being fed and changed regularly.
Oh, and every episode of '
Spin City
' ever taped, since my wife has a not-so-secret crush on Michael J. Fox dating back to 1985.
There's also a few newsy odds-and-ends, like the last episode of '
The Daily Show
' from before the strike, which I recorded because I knew I'd be quoting what Stewart said about the strike for Ad Age, and a recent '
Newshour with Jim Lehrer
' my wife taped, because I was on the show talking about the strike and she gets nachas from that kind of stuff.
We still tape episodes of '
30 Rock
' because we know that Alec Baldwin wasted years in Hollywood making execrable dreck like '
Mercury Rising
' when he's the most gifted comic actor of his generation and watching it regularly seems to undo some of the damage."
(Bill Foley / ABC)
Mike Sampson, editor-in-chief, JoBlo.com
"Our TiVo isn't exactly shrinking, it's just shrinking in quality. It used to be chock-full of episodes of 'The Geek Five,' '
Lost
,' '
The Office
,' '
30 Rock
,' '
Heroes
' and '
24
.' Now we rely on that pseudo-educational programming on Discovery and the Science Channel. I like '
Survivorman
' but do I really need this many episodes on my TiVo? What does my wife plan to do with 13 episodes of '
Knitty Gritty
?'
I've also tried to use this time to catch up on series that I've heard were good but never got around to. Turns out '
Ugly Betty
' isn't that good after all. For us, the true saving grace has been Netflix. We're moving through our queue at record speeds. Of course, I'd give it all up in a second for a full season of '
Lost'
...
We're also actually saving programs longer. It used to be watch and delete. Now I'm saving shows and re-watching. Hey, a recycled '
30 Rock
' is better than a new '
Deal Or No Deal
' any day of the week, right?
(Laura Bombier / Discovery)
Eli Attie, co-executive producer, 'House'
"I must say, I'm out of scripted shows, so I've begun TiVo-ing what you might call perennials -- I comb through Turner Classic Movies hoping to catch a great old
Bogart
or
Cary Grant
movie. I've been obsessively watching the VH1 Classic '
Classic Albums
' documentaries, and I'm spending much more time watching the Sunday political shows than I used to.
In fact, in general, the dregs of my TiVo -- things, like the Sunday political talk shows and '
Charlie Rose
' -- which I really just TiVo to pretend I'm an East Coast intellectual and not feel too guilty about the stuff I really watch -- is actually getting watched now."
(Pictured: Humphrey Bogart and Robert Blake in "The Treasure of the Sierra Madre" )
(Courtesy of LACMA)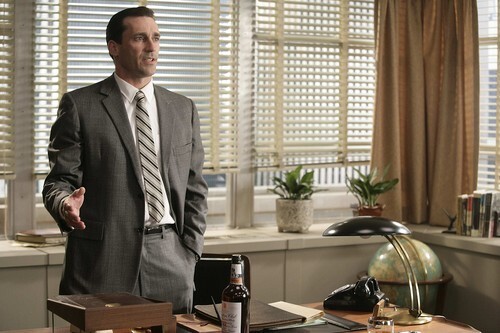 Mark Lisanti, editor, Defamer.com
"Reruns of '
Mad Men
,' '
American Gladiators,
' reruns of '
The Office
,' reruns of '
30 Rock
.' "
(Craig Blankenhorn / Associated Press)
Clay Dollarhide, entertainment publicist
"Oh, I have resorted to watching all my TiVo suggestions … which means '
Degrassi
' reruns from 2005, '
The Bizarre Foods Show
' on Travel Channel and '
Arrested Development
' on HDNet."
(Pictured: "Degrassi: The Next Generation")
(Stephen Scott / Epitome Pictures Inc.)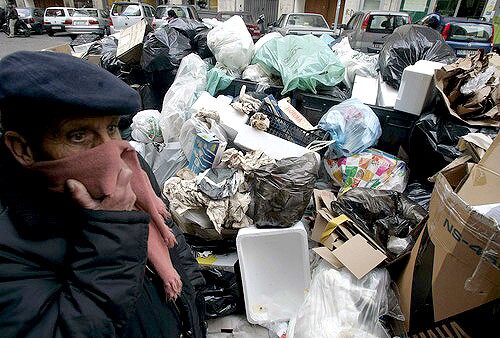 Dayna L. North, producer, 'Lincoln Heights'
"It's not drastic or noticeable in terms of what I have. The difference now is ... well, it's like eating decent or well as opposed to eating [garbage] ... The quality has gone down."
(Pictured: A garbage crisis in southern Italy mirrors a TiVo devotee's feelings.)
(Salvatore Laporta / Associated Press)