'Book of Mormon' big winner at Tonys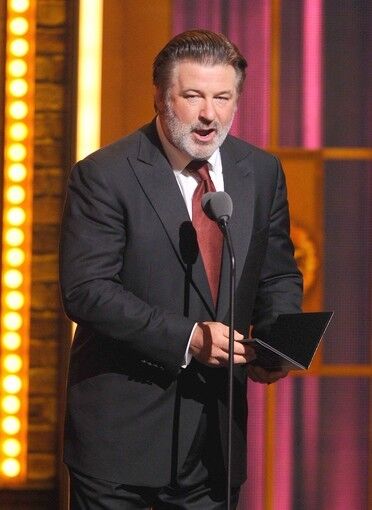 Actor
Alec Baldwin
has had an interesting off-season from "30 Rock." He's defended disgraced Congressman
Anthony Weiner
in a much publicized Huffington Post op-ed. He's also rumored to be eyeing a run for the
New York
mayor's office. But perhaps the most shocking development is Baldwin's rapidly developing Santa Claus beard, debuting tonight on the
Tony Awards
. Will his campaign promise be toys for all boys and girls in NYC?
(Andrew H. Walker / Getty Images)
The
Oscars
are usually condemned as deadly dull, ditto for the
Emmy Awards
. But only the
Tony Awards
and the
Grammy Awards
ask their nominees to show up and perform a bit. Every year, the casts of current-run Broadway shows head backstage, get in costume and sing their hearts out before they get a chance to go home with a Tony Award. This year, the casts of "The Book of Mormon," "How to Succeed in Business Without Really Trying," "The Scottsboro Boys" and "Catch Me If You Can" all sang and danced for their win. Would it be too hard to get the Oscar nominees to give us a little line reading on Oscar night? Just a thought...
(Andrew H. Walker / Getty Images)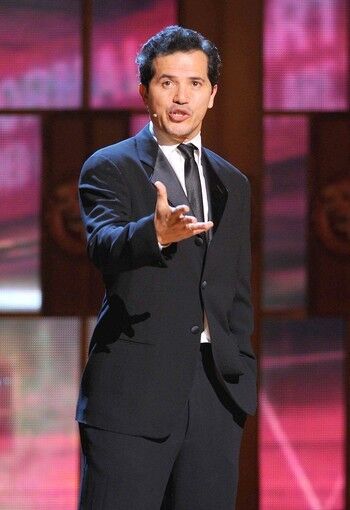 One week ago,
MTV Movie Awards
host
Jason Sudeikis
was trying his darndest to score with
Arnold Schwarzenegger
love-child jokes. They bombed. This week,
John Leguizamo
tossed one off at the beginning of a lengthy monologue on his Broadway career and he nailed the laugh. "I am also Arnold Schwarzenegger's love child," he said. Simple, yet successful. Sudeikis, are you writing this stuff down?
(Andrew H. Walker / Getty Images)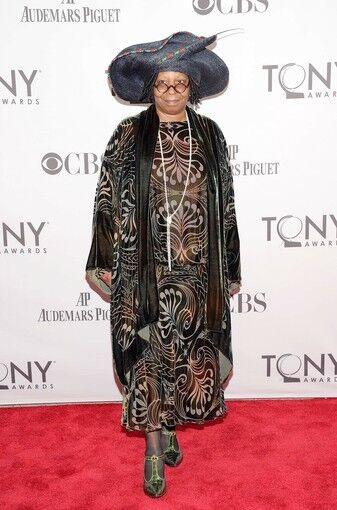 Or perhaps she gets them excited by looking like their favorite Hogwarts professor? Or maybe she lost a bet. Or maybe Sunday is laundry day at the Goldberg house. Or (insert your own reason here).
(Jason Kempin / Getty Images)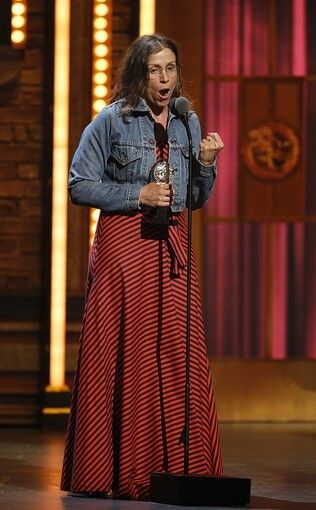 Perhaps you could have put a little more effort into your awards night gear. The jean jacket isn't a Whoopi-level disaster, but the Tonys isn't exactly popping down to the corner store, either.
(Jeff Christensen / Associated Press)
It's big, it's expensive, it's had more drama off-stage than on, so it's only fitting that "
Spider-Man
: Turn Off the Dark" would be the subject of a few jokes. But
Neil Patrick Harris
made it the subject of an entire bit, telling six Spider-Man jokes in 60 seconds. One highlight: "
Julie Taymor
found out it was over when she woke up to find the head of War Horse in her bed." Later, two cast members from the musical attempted to make it all more enticing by performing a song that didn't require heavy wire-work.
(Jeff Christensen / Associated Press)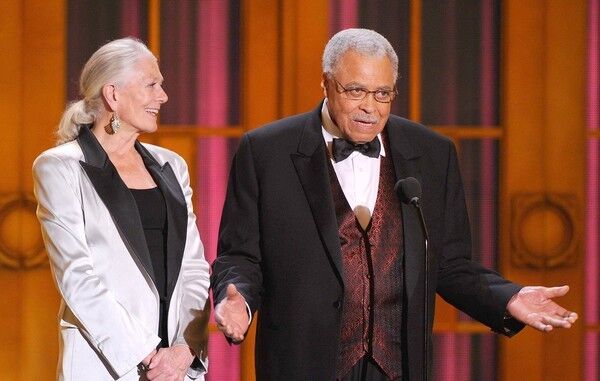 "Driving Miss Daisy" stars
Vanessa Redgrave
and
James Earl Jones
, who received a standing ovation when they came on stage to present an award. Then soaked in their time out there by delivering their lines as slow as they wanted.
(Andrew H. Walker / Getty Images)
The musical by "South Park" creators Trey Parker and Matt Stone picked up nine Tonys, including best musical. Presenter Chris Rock was so sure of "Mormon's" success, he spent his time complaining about missing "the best basketball game ever" between the Mavericks and the Heat to hang with
Nathan Lane
. He said, "I can remember my first musical like it was yesterday. Because it was yesterday."
(Jeff Christensen / Associated Press)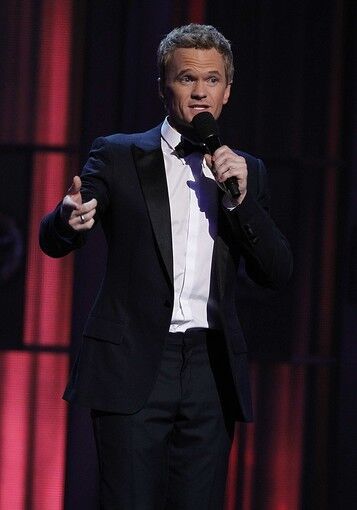 He didn't need to outdo himself at the end of the show, but that's exactly what
Neil Patrick Harris
did, with his wrap-up rap recapping the events of the award show just ended. In just a few minutes, he turned three hours of show into many lines of verse (with a huge assist from Tony winner Lin-Manuel Miranda, who wrote it.)
(Jeff Christensen / Associated Press)
"The Book of Mormon," the exuberantly foul-mouthed hit show about comically mismatched missionaries in AIDS-ravaged Africa, won the award for best musical, along with eight other awards, and Nick Stafford's "War Horse," starring a life-size puppet of a noble steed, won five awards capped by the best play trophy at Sunday's Tony Awards ceremony.
As was widely predicted, Sutton Foster won the leading actress in a musical award for Cole Porter's "Anything Goes," the best musical revival winner. Mark Rylance won the leading actor in a play award for "Jerusalem." Frances McDormand won the leading actress in a play award for "Good People." Norbert Leo Butz was named leading actor in a musical, playing a dogged lawman tracking an elusive con artist in "Catch Me If You Can." It was the second Tony each for Rylance and Butz.
The steamroller showing by "Book of Mormon," whose artistic team was led by "South Park" creators Trey Parker and Matt Stone in their first Broadway foray, came as no surprise to anyone, including presenter Chris Rock, who feigned shock! shock! as he announced the winner.
"Book of Mormon" had topped the list of nominees with 14, despite – or perhaps because of – its aggressively, politically incorrect tone, which continued during the ceremony at the Beacon Theatre in New York. In accepting the award, Parker thanked "our co-writer, Joseph Smith," the founding father of the Mormon faith.
"Book of Mormon" fell short, however, of the record number of 12 Tonys won by "The Producers" a decade ago.
In contrast to Parker and Stone's irreverent entertainment, another of the evening's most-honored shows, the best play-winning revival of Larry Kramer's 1985 "The Normal Heart," treats its serious subject as anything but a laughing matter. Kramer's drama raised an impassioned warning cry about the AIDS crisis when it was first produced at the Public Theatre 26 years ago.
In accepting the award, Kramer gave a shout-out to gay men and women. "I could not have wrtiten it had not so many needlessly died," he said of his drama, which also won acting awards for Ellen Barkin (lead actress) and John Benjamin Hickey (featured actor). First-time nominee Barkin, in her acceptance speech, teared up as she thanked Kramer "for thinking you can make the world a better place."
Of the principal cast for "Book of Mormon," Nikki M. James won for performance by an actress in a featured role in a musical. The show also won trophies for best original score and for best book (to Parker, Stone and Robert Lopez), direction (Parker and Casey Nicholaw), orchestration (Larry Hochman and Stephen Oremus), scenic design (Scott Pask), lighting design (Brian MacDevitt), sound design (Brian Ronan).
"War Horse," which is based on a children's novel set during World War I, and is being adapted into a feature film by Steven Spielberg, won awards for its directors, Marianne Elliott and Tom Morris. It also won for best sound, scenic and lighting design.
McDormand, the star of the Coen brothers' "Fargo" and other films, scored with her portrayal of an embattled Boston single mother in David Lindsay-Abaire's "Good People."
In one of the evening's most competitive categories, best actor Rylance won for his turn as a Falstaffian modern-day anti-hero in Jez Butterworth's "Jerusalem." Fixing the audience with a mischievous look, Rylance turned his acceptance speech into a slyly absurdist, blank-verse ramble (courtesy of a Louis Jenkins poem) before concluding with a simple thank-you.
Echoing the honors bestowed on "The Normal Heart," the ceremony at the Beacon Theatre made a point several times of emphasizing sexual tolerance. That started with a comic opening number led by host Neil Patrick Harris on the theme that Broadway isn't "just for gays anymore," it's also "for fine upstanding Christians who know all the songs from 'Grease.'"
John Larroquette won the award for actor in a featured role in a musical for the revival of "How to Succeed in Business Without Really Trying." The actor, best known for his television roles, thanked the musical's star, "Harry Potter" actor Daniel Radcliffe "without whom I would be sitting at home watching this in my underwear."
Predictably, there also were a number of guffaws at the expense of the eternally postponed musical "Spider-Man: Turn Off the Dark." The $70 million musical, scheduled to open Tuesday, has endured countless delays and earlier this year was halted for a creative makeover that included replacing its original director, Tony-winner Julie Taymor.
Cameras captured the show's song-writing duo, Bono and The Edge of the rock band U2, laughing during Harris' 30-second joke-a-thon about "Spider-Man." Later, as the bandmates introduced a musical number from their show, they professed admiration and having been humbled by their Broadway experience.
As has been customary in recent years, the ceremony got an extra dose of celebrity cachet from a number of Hollywood stars, TV personalities and super models who turned up as presenters and performers: Brooke Shields (who got bleeped for an impromptu obscenity), Hugh Jackman, Stephen Colbert, a breathlessly effusive Christie Brinkley and a hirsute Robin Williams, who has been making his Broadway debut in the drama "Bengal Tiger at the Baghdad Zoo."
Theatrical royalty was on in hand, in the venerable personages of presenters Vanessa Redgrave and James Earl Jones, who spoke of theaters as magic places and "shrines." "The floorboards are worn down by generations of players," Jones intoned in his best Darth Vader bass-baritone. "The curtains are imbued with secrets of days gone by."
South African playwright Athold Fugard ("Master Harold ... and the Boys") won the lifetime achievement award, and Eve Ensler, author of "The Vagina Monologues," received the Isabelle Stevenson Award, in recognition of her achievements in the areas of social and humanitarian work.
The award for best regional theater went to the Lookingglass Theatre of Chicago.
---
Get our L.A. Goes Out newsletter, with the week's best events, to help you explore and experience our city.
You may occasionally receive promotional content from the Los Angeles Times.