25 Images
When Love Kills: 26 murderous movies
zap-when-love-kills-intro-pic
There's plenty of drama in love. But sometimes there's blood, and maybe even a chainsaw or two.
For the non-romantics, here's a look at some prominent movie killers. Who knows, maybe you'll even find your match.
()
'Obsessed'
Lisa (Ali Larter) likes an efficient workplace, office Christmas parties and weekend getaways. She strongly dislikes jealous wives with bad hair weaves.
(Screen Gems)
'Valentine'
Jeremy Melton (David Boreanaz) doesn't handle rejection well, has a penchant for masks and is one of the few people around who actually own a bow and arrow. Also, he suffers from nosebleeds in traumatic situations.
-- Todd Martens, LATimes.com
(Diyah Pera / Warner Bros. Pictures)
'Fatal Attraction'
Alex Forrest (Glenn Close) likes hot sex in elevators and kitchens, crank calls and boiled rabbit. Dislikes include married men and dull chef's knives.
-- Denise Martin, LATimes.com
(Paramount / Kobal Collection)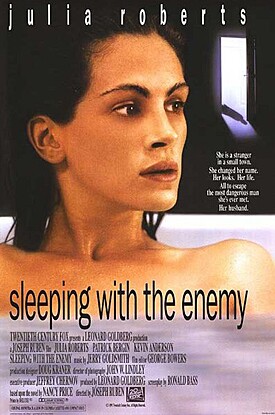 'Sleeping With the Enemy'
Martin Burney (Patrick Bergin) enjoys the beach, sailing, various forms of martial arts and boxing, as well as spending time with his wife. Is strongly averse to sharing and lying.
-- Kate Stanhope, LATimes.com
(Twentieth Century Fox)
'To Die For'
In high school? A loner? Don't shower much? Willing to kill a husband holding his wife back from superstardom as a news broadcaster in exchange for sex? Suzanne Stone Maretto is looking for you!
-- Denise Martin, LATimes.com
(Kerry Hayes / Columbia Pictures)
'Dead Calm'
Hughie Warriner (Billy Zane) loves dogs, likes life at sea and can be easily fooled with a pack of smokes. He's good with his hands, but he probably should avoid sleeping pills.
-- Todd Martens
(Warner Home Vídeo)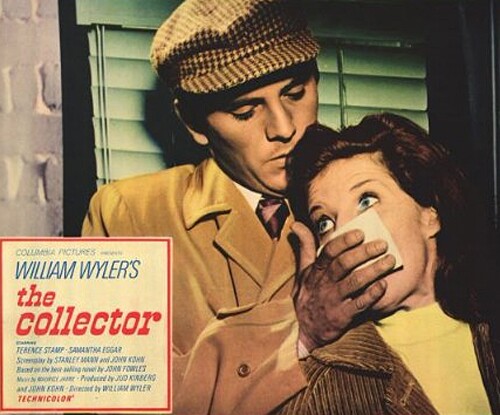 'The Collector'
Freddie Clegg (Terence Stamp) is best in controlled situations and likes cellars, petrified objects and women. He doesn't handle goodbyes well.
-- Rebecca Snavely
(Columbia Pictures)
'Sweeney Todd'
Sweeney (Johnny Depp) is fond of music, loves to dance and may play with hair. He excels at revenge. He's strongly against power-hungry old farts with penchants for young blond women; clingy, obsessive women; and waste (hence the recycling of human remains into pie filler)
-- Darcel Rockett, Zap2it.com
(Peter Mountain / DreamWorks)
'Abandon'
Katie Burke (Katie Holmes) seeks situations that offer her attention and control. She's also fond of dark, dank hiding places. But she has trouble managing pressure from the real world, nosy cops and, of course, ghostly boyfriends who stalk.
-- Darcel Rockett, Zap2it.com
(Paramount)
What Lies Beneath
Norman Spencer (Harrison Ford) enjoys blondes, sailing and sex with his students (or with his wife if need be). Dislikes include loud neighbors, comparisons to his scientist father and wives who know too much.
-- Kate Stanhope
(Eric Liebowitz / Twentieth Century Fox)
'Swimfan'
Madison Bell's into brunet swimmers -- short is OK; having a girlfriend is not -- and sex in pools. If she can't have that, she'll settle for trying to murder your girlfriend in the pool.
-- Denise Martin
(Twentieth Century Fox)
'Play Misty for Me'
Evelyn Draper enjoys listening to the radio, has a fondness for vintage ballads and enjoys life in quiet beach towns. Loves culture, especially poems, but not to be trusted as a roommate, and has separation issues.
-- Todd Martens
(Universal Studios)
'The Crush'
Skeevy journalists in need of a place to rent might want to consider a room in the home of Adrienne Forrester's parents. It comes with 14-year-old Adrienne, who not only will revise your stories so your editors rave but also will strip down for you without your even asking.
-- Denise Martin
(Warner Bros. Pictures)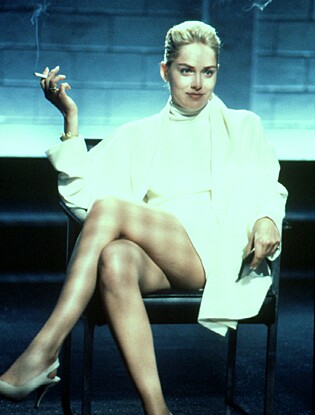 'Basic Instinct'
Catherine Tramell (Sharon Stone) is a pretty open woman if you know what we mean. She likes men, women and women who also like men and has strong interests in crime and psychology. Dislikes: wearing underwear, beverages without ice.
-- Kate Stanhope
(TriStar Pictures)
'Kill Bill: Volume 1'
The Bride (Uma Thurman) likes swords, especially ones created by Hattori Hanzo, cool retro yellow-and-black jumpsuits and enacting sweet revenge. Her dislikes? Mostly betrayal, but to be safe, just don't do anything wrong and avoid the five-finger death punch, and you'll be fine.
-- Jevon Phillips
(Andrew Cooper / Miramax Films)
'The Shining'
Jack Torrance (Jack Nicholson) is fond of alcohol and Johnny Carson -- and don't be alarmed if he interacts with ghosts. He'll never be a dull boy, but he should avoid cold climates, mazes and Room 237.
-- Darcel Rockett, Zap2it.com
(Warner Bros. Pictures)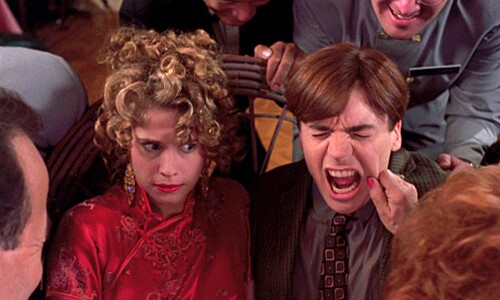 'So I Married an Axe Murderer'
Harriet Michaels (Nancy Travis) enjoys butchering, Russian martial artists, bad Scottish accents, "Only You" sung in multiple languages and her sister Rose. She dislikes the Weekly World News, serial marriage, handcuffs and not knowing some folks well enough.
-- Hanh Nguyen, Zap2it.com
(TriStar Pictures)
'The Talented Mr. Ripley'
Tom Ripley (Matt Damon) likes imitating others, high society, sinking boats and telling "stories." He dislikes losing the game and puzzles he cannot solve.
-- Rebecca Snavely
(Phil Bray / Paramount Pictures)
'Audition'
Asami (Eihi Shiina) enjoys fake resumes, burlap sacks, regurgitating, dismembering with piano wire, needles and matching her black apron with her elbow-length gloves. Her dislikes include furniture, childhood sexual abuse, burn scars, disloyalty and drama.
-- Hanh Nguyen, Zap2it.com
()
'Fear'
Nicole (Reese Witherspoon) likes David (Mark Wahlberg), and he
really
likes her. But, ladies, take note -- she likes him less when he tries to kill her family so they can be together.
-- Rick Porter,
Zap2it
(Greg Gorman / Universal Pictures)
'Bonnie & Clyde'
Clyde Barrow (Warren Beatty) likes robbing banks. Bonnie Parker (Faye Dunaway) craves excitement. They both dislike traditional mores and Treasury agents.
-- Rick Porter,
Zap2it
(Warner Home Video)
'The War of the Roses'
Barbara (Kathleen Turner) and Oliver Rose (Michael Douglas) both like their huge house. But their feelings for each other aren't as strong.
-- Rick Porter,
Zap2it
(Francois Duhamel)
'Endless Love'
David Axelrod (Martin Hewitt) is looking for loving. Not love, loving. His likes are women, preferably breathing, and it doesn't matter if he went out with your mother or daughter. His dislikes are protective parents and attempted murder. Not cool.
-- Jevon Phillips
(Universal Studios)
'Boxing Helena'
Dr. Nick Cavanaugh (Julian Sands) likes taking care of Helena (Sherilyn Fenn), even if it means amputating her perfectly good body parts. His love runs deep, but he can't stand ridicule.
-- Lora Victorio
(Orion Classics)