Bea Arthur dies at 86; star of 'Golden Girls' and 'Maude'
Arthur
on opening night of her Broadway-bound solo show at the Thousand Oaks Civic Arts Plaza in 2001.
(Anne Cusack / Los Angeles Times)
Arthur on Broadway in 2005.
(Mary Altaffer / Associated Press)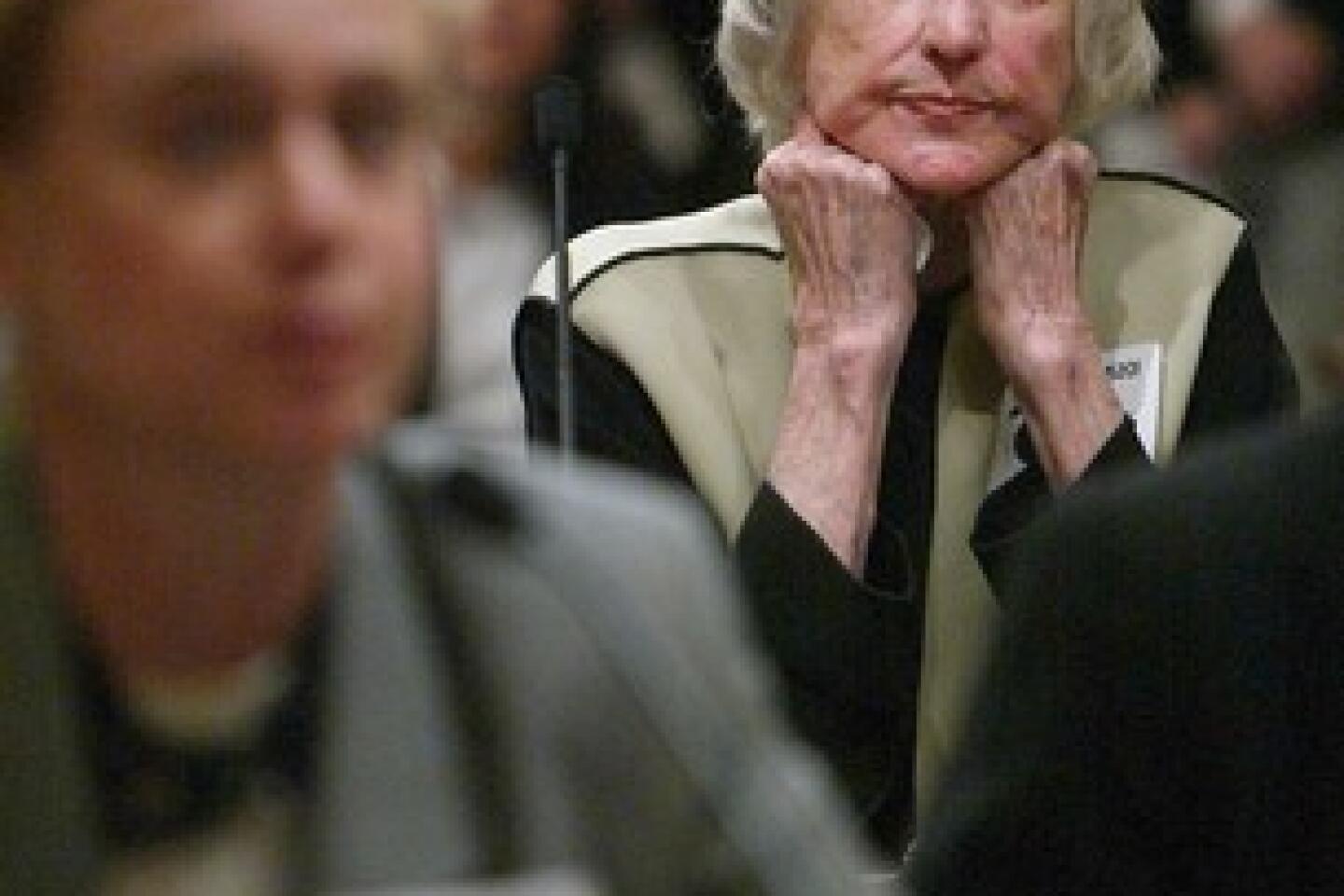 Arthur listens to Holly Cheever, a doctor of veterinary medicine, testify in support of a bill by state Sen.
John Burton
(D-San Francisco) that would prohibit the force-feeding of ducks and geese to produce foie gras. Arthur supported animal rights.
(Robert Durell / Los Angeles Times)
Arthur, center, stands with fellow "Golden Girls"
Betty White
, left, and
Rue McClanahan
to accept the pop culture award at the TV Land Awards in 2008.
(Kevork Djansezian / Associated Press)
Arthur in 1985 at the Bel Air Hotel.
(Wally Fong / Associated Press)
Arthur accepts her Emmy for outstanding lead actress in a comedy series for "The Golden Girls" in 1988.
(Reed Saxon / Associated Press)
Arthur with her dog, Julie, in 1978.
(Wally Fong / Associated Press)
Beatrice Arthur, best known as the acerbic Maude Findlay on Norman Lear's sitcom "Maude" and as the strong-willed Dorothy Zbornak on the long-running "The Golden Girls," died Saturday. She was 86.
---
FOR THE RECORD: The obituary of actress Bea Arthur in Sunday's A section stated that "Mame" won the Tony Award in 1966 for best musical. Although Arthur won for her role in "Mame," the Tony for best musical that year went to "Man of La Mancha."

---
Arthur, a stage-trained actress who was a success on Broadway long before television audiences got to know her, died of cancer at her Los Angeles home.
In 1966, the tall and husky-voiced Arthur won a Tony for her performance as Vera Charles, the sharp-tongued sidekick to Angela Lansbury's Mame Dennis in the original production of "Mame" on Broadway, which was named best musical that year.
But Arthur had little experience in either film or TV when Lear spotted her singing a song called "Garbage" in an off-Broadway show, "The Shoestring Revue." In 1971, Lear brought her to Hollywood for a guest role on CBS' "All in the Family." She played Edith Bunker's loud-mouthed cousin, Maude, who tangled with Edith's equally loud-mouthed husband, Archie Bunker, from opposite sides of the political fence.
Within a year, Arthur had her own show, "Maude," which ran for six years on CBS.
In the series, Maude is living in Tuckahoe, N.Y., with her fourth husband, Walter Findlay (Bill Macy), daughter Carol (Adrienne Barbeau), a grandson and a black maid named Florida (Esther Rolle), whose sassy repartee with her boss was one of the best parts of "Maude." (Rolle's character spun off into another series, "Good Times.")
"Maude" came at the onset of the feminist movement and addressed serious issues, including infidelity, death, depression and abortion, but there were always laughs. Maude's most famous line, delivered often and with withering drollery, was: "God will get you for that, Walter."
Playing Maude earned Arthur five Emmy nominations and a statuette in 1977. Despite the show's enormous success, Arthur did not enjoy being the public face of feminism, a role she said was thrust upon her.
"It put a lot of unnecessary pressure on me," she told the Chicago Sun-Times in 2001.
After Arthur left "Maude," she returned to TV briefly in 1983 for ABC's failed takeoff of the British series "Fawlty Towers," titled "Amanda's." She returned to television in triumph in 1985 as Dorothy on "The Golden Girls," the NBC hit that ran from 1985 to 1992, twice won Emmys for best comedy and enjoyed a long afterlife in syndication.
"The Golden Girls" followed the lives of three older women sharing a household in Miami with Dorothy's widowed mother, Sophia (Estelle Getty), who had suffered a small stroke that freed her from the constraints of tact.
Much of what made the show work was the snappy mother-daughter dialogue, with Arthur as the "isle of sanity who could look at the other three characters from the audience's perspective," as producer Paul Witt once said.
The series also starred Betty White as the naive Rose and Rue McClanahan as the saucy Blanche. All four won Emmys for their portrayals; Arthur's came in 1988.
Much quieter by nature than her famous characters, Arthur often said that what she and they had in common was: "All three of us are 5-foot-9 1/2 in our stocking feet and we all have deep voices." And all, she said, tended to be "bubble prickers."
Arthur was born Bernice Frankel on May 13, 1922, in New York City, the daughter of department store owners, and was raised in Cambridge, Md. She often described herself as a shy child, but her classmates remembered her as vivacious, self-assured and funny.
Though she pined to be a June Allyson type -- small and blond and cute -- she made the most of her stature and a voice so deep that on the telephone she was often mistaken for a man. She went to New York City, where she studied at the Dramatic Workshop of the New School with the influential German director Erwin Piscator.
She also joined the famed Actors Studio, where she met her future husband, Gene Saks, who later directed Broadway shows and movies, including several film versions of Neil Simon plays.
In 1954, she got the role of Lucy Brown in the U.S. premiere of Kurt Weill and Bertolt Brecht's "Threepenny Opera," which opened off-Broadway starring Weill's wife, Lotte Lenya.
Arthur adored Lenya and often referred to the experience as the highlight of her life, the time that she realized "I was good, damn good."
Around that time, working in television on "Caesar's Hour" with Sid Caesar on NBC, she said she learned to be "outrageous" by doing "under fives" -- under five lines -- in sketches. During the 1950s, she appeared many times in various roles on Kraft Television Theatre.
Several years later, she created the role of Yente, the matchmaker in the original 1964 Broadway production of "Fiddler on the Roof," directed and choreographed by Jerome Robbins.
Next she was part of the original 1966 production of "Mame" and became a lifelong friend of Lansbury.
"The two of us together were dynamite, you know?" Lansbury said on CBS' "Sunday Morning" in 2002. "I mean, we really managed to just take off like birds."
Although she had wanted the part of Mame, Arthur was talked into taking the gal-pal role by husband Saks, who was directing the musical. But she didn't accept being second banana quietly, using humor to make her point.
According to "Balancing Act," Martin Gottfried's 1999 biography of Lansbury, Arthur told people that the original name of the show was "Vera" and that it was changed only because composer Jerry Herman couldn't find rhymes for that name. Then she would dramatically pause, Gottfried wrote, and say, "Steve Sondheim could have."
"She was perfect for Vera," Gottfried concluded.
Indeed, when "Mame" opened on May 24, 1966, the New York Post's Richard Watts wrote that Arthur's Vera was "a portrait in acid of a savagely witty, cynical and serpent-tongued woman who is at once a terror, a scourge, the relentless voice of truth and a pleasure to have around."
And Time magazine said Arthur "delivers a line as if someone had put lye in her martinis."
When "Mame" came to the screen, Lucille Ball, who replaced Lansbury as the lead character, insisted on having Arthur as Vera, even though Arthur was upset that Lansbury had not gotten the title role.
"She was the greatest Vera Charles in the world," Ball told the Hollywood Reporter. "We wrapped the whole production around [her]."
The film, also directed by Saks and riddled with production problems, was a critical flop.
Arthur did few movies, among them "That Kind of Woman" (1959) and "Lovers and Other Strangers" (1970).
In 2002, "Bea Arthur on Broadway: Just Between Friends," a one-woman show she developed with composer Billy Goldenberg, appeared on Broadway for two months. The show also toured the U.S., Canada, Australia and elsewhere.
"I simply wanted to see if I had the guts to just come out and be myself, which is something I never felt very comfortable doing," Arthur told her audiences in the show.
In addition to performing, Arthur supported animal rights and AIDS research. She had lived in Los Angeles for many years.
Before marrying Saks, Arthur was married briefly to playwright Robert Alan Aurthur, from whom she acquired part of her stage name. "Bernice" became "Beatrice" because she always hated her given name, and she simplified the spelling of his last name.
Arthur and Saks, who married in 1950 and divorced in the late 1970s, had two sons, Matthew and Daniel, who survive her, as do two grandchildren.
Luther is a former Times staff writer.
Get our L.A. Goes Out newsletter, with the week's best events, to help you explore and experience our city.
You may occasionally receive promotional content from the Los Angeles Times.