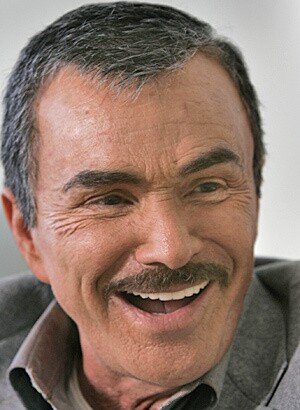 9 Images
Return of the mustache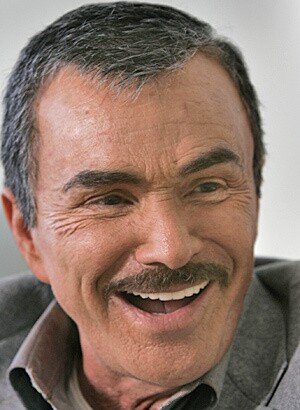 By Chris Lee, Los Angeles Times Staff Writer
Attention, winter movie stars: Yosemite Sam called and he wants his facial hair back. This season at the multiplex, a who's who of recognizable marquee draws can be seen on-screen conspicuously sporting that yesteryear trapping of male vanity, the mustache. Ask Burt Reynolds, Magnum, P.I., or the biker in the Village People: Nothing says mucho macho quite like a 'stache. But these days, movie stars are making pointed use of their male plumage in cerebral potboilers, historical epics, political dramas and quirky character studies alike.
So is the furry-upper-lip look making a comeback? If the examples here are any indication, the mustache is again having a moment. Hirsute for Hollywood!
(Mark Boster / Los Angeles Times)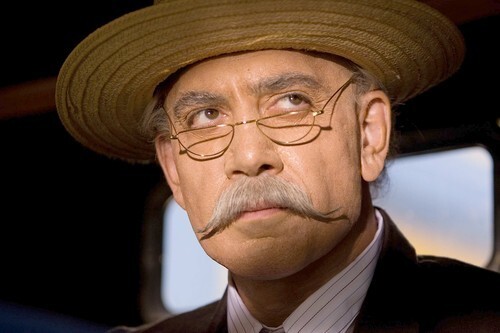 Javier Bardem
Bardem as a lovesick romantic in the big-screen adaptation of Gabriel García Márquez's novel "Love in the Time of Cholera"
The 'stache
: Broad, paintbrush-thick
What it says about the character
: Pining after a woman who spurned his romantic overtures and married another man for "51 years, nine months and four days," Bardem's mustache is hardly a metaphor -- it's an exaggerated frown, the embodiment of his unrequited love.
(Daniel Daza / New Line)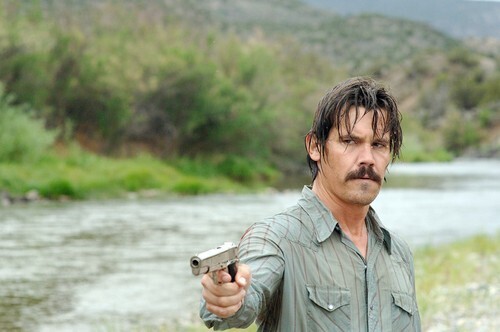 Josh Brolin
Brolin as a corrupt narcotics officer in "American Gangster" and as a down-and-out Vietnam vet in the brainy thriller "No Country for Old Men"
The 'stache two ways
: In "Gangster," the mustache appears luxuriant and manicured, giving off a high-gloss sheen. In "No Country," it looks forlorn and distinctly untidy -- like it might be hiding stale beer and bits of fried chicken.
What it says about the characters
: Brolin's villainous cop in "Gangster" is all silken menace. His muscle car, leather trench coat and shellacked-in-place hair are always just so -- ergo, the mustache is too. Brolin's broken-down, shot-up and downtrodden character in "No Country," on the other hand, is all cowboy, a guy with a few dreams left but no time for frippery. His mustache is as simple and unquestionable a part of his facial landscape as tumble brush is to the plains of West Texas.
(Richard Foreman / Miramax Films)
Ryan Gosling
Gosling as a creepy but sweet introvert who forms an emotional attachment to a lifelike sex doll in the dramedy "Lars and the Real Girl"
The 'stache
: Inelegantly trimmed, dorky
What it says about the character
: Dude is out of touch with reality. Living in the garage of his childhood home, Lars uses his facial hair as a disguise to convince the rest of the world -- and himself -- that he's a functioning adult.
(George Kraychyk / MGM)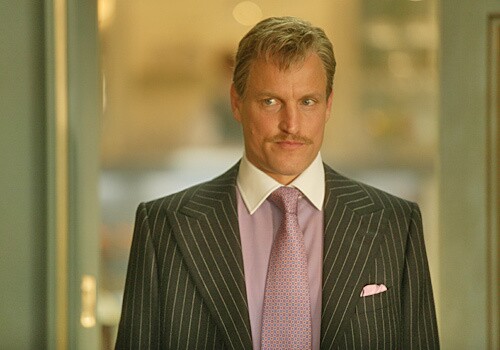 Woody Harrelson
Harrelson as a Truman Capote-inspired fop in the drama "The Walker"
The 'stache
: Blond and wispy, somewhere between John Waters and Jeff Gillooly
What it says about the character
: His mustache, bouffant toupee and expensive wardrobe all are meant to convey affluence and pedigree, but also a certain outsider quality; he's a gay Washington, D.C., gadabout who squires wealthy women to society events (and, inevitably, gets mixed up in a murderous scandal).
(THINKFilm)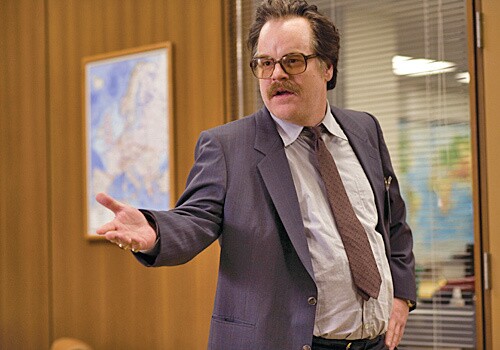 Philip Seymour Hoffman
Seymour Hoffman as a CIA operative in the political potboiler "Charlie Wilson's War"
The 'stache
: Unglamorous, a bushy curtain of bristle
What it says about the character
: That he's a rogue and somewhat of a creep -- albeit, a fast-talking, double-crossing, arms-dealing one. The mustache bounces and wobbles whenever Hoffman speaks.
(Francois Duhamel / Universal Studios)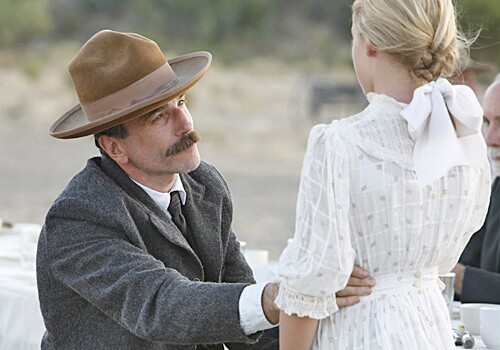 Daniel Day-Lewis
Day-Lewis as a hardscrabble oil man in the historical epic "There Will Be Blood"
The 'stache
: Turn-of-the-last-century walrus whiskers
What it says about the character
: You're not supposed to think about Day-Lewis' mustachioed Bill the Butcher in "Gangs of New York," but the parallel is inevitable -- it seems like whenever the actor wants to portray someone aggressive and ambitious, he stops shaving his upper lip.
(Melinda Sue Gordon / Paramount Vantage)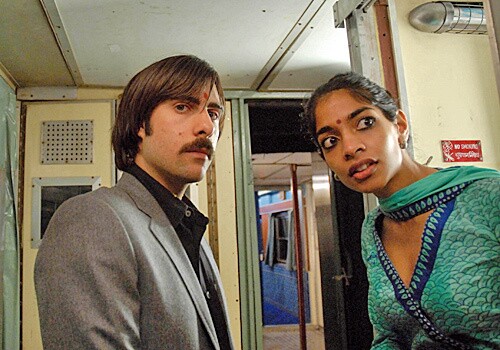 Jason Schwartzman
Schwartzman as one of three grieving brothers traveling through India in the dramedy "The Darjeeling Limited"
The 'stache
: Think '60s George Harrison after he met Ravi Shankar
What it says about the character
: A
louche
American expatriate novelist cum Lothario, Schwartzman's Jack spends a lot of the movie on the make for women. His facial foliage serves to emphasize a certain
je ne sais quoi
of the diminutive actor's male virility.
(James Hamilton / Fox Searchlight Pictures)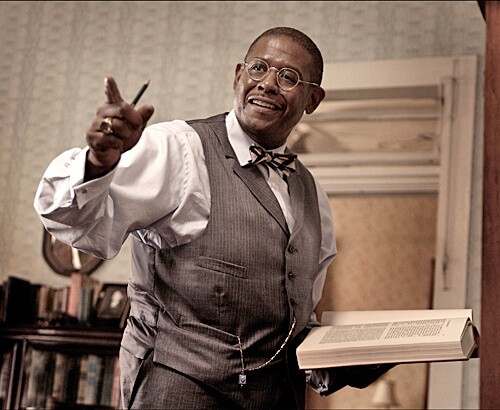 Forest Whitaker
Whitaker as the father of a student on an all-African American college debate team in the Denzel Washington-directed historical drama "The Great Debaters"
The 'stache
: Flecked with gray, curving below the edges of the Oscar winner's mouth
What it says about the character
: Taken in conjunction with the round, wire-rimmed spectacles he wears in the film, Whitaker's facial hair is an outward sign of his character's moral rectitude and weary gravitas, framing the pained grimace he wears while contemplating his son's involvement with a controversial debate team.
(Robert Zuckerman / The Weinstein Co.)