18 Images
Who's the fairest toy of all?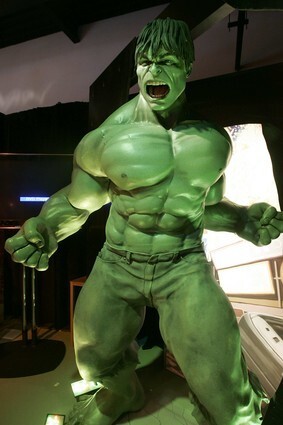 By Sheigh Crabtree, Jevon Phillips and Patrick Day, Los Angeles Times Staff Writers
Small toys mean big business at the annual Toy Fair, which kicked off at the Jacob K. Javits Convention Center in New York City this weekend. Some 1,200 exhibitors rolled into town to show their newest wares to more than 15,000 registered buyers and 21,000 toy industry professionals from 94 countries.
Although the toy industry hosts three major trade shows each year, the annual February shindig in Manhattan is the media's first peek at the trinkets headed to a living room floor near you. This year, big entertainment brands are earning big buzz at the Toy Fair. Consider the hype around television and movie characters such as
"Ugly Betty,"
"Hulk,"
"Iron Man"
and
"Hannah Montana."
"For girls there's nothing hotter this year than Hannah Montana," said Genna Rosenberg, senior vice president of corporate communications for Jakks Pacific, from the trade show floor on Monday. "She's everywhere -- from the box office, to the Grammys, and now the Oscars. [Whereas] Barbie is a classic doll girls want to play with, they want to
be
Hannah Montana."
Toys for boys this year include role-playing action figures in the form of WWE wrestlers, NASCAR drivers, extreme sports stars and -- what else -- superheroes.
Here's a look at some of the hottest toys generating buzz at the 2008 Toy Fair, which wraps up on Wednesday.
(Bebeto Matthews / Associated Press)
Hot Wheels® Speed Racer Battle Morph™ Mach 6
Perfect for?
Kids who like to go
vroom
, nostalgic adults, and collectors. Does anyone still play with toy cars? We think there may be even more "adults" who will see this summer's "Speed Racer" movie release as an opportunity to add to their car collections.
Play or show?
Show. Everything cycles back around, but original Speed Racer collectibles tend to be highly valued.
(Mattel)
Hulk Smash Hands
Perfect for:
HULK. Who likes to smash and punch? HULK. Who wants to smack anything in sight? HULK. Sounds effects put this toy over the top. When Hulk smashes, you can hear it. HULK. Who encourages fisticuffs, but mostly gamma-radiated fun? Hulk's new movie comes out in June. Go see it. HULK!!!!!!!
Play or show?
Gotta play. Or else.
(Marvel)
Iron Man Mask and Repulsor Gauntlet
Perfect for?
Aggressive kids or kids who want to emulate Tony Stark (played by Robert Downey Jr. in the Marvel Movie release opening in May.) It's rare for a toy in this day and age to feature the kind of thrilling danger that comes with firing projectiles. While Hasbro's ad copy talks up kids "firing the wrist gauntlet's repulsor ray discs at their evil adversaries," we all know that means Little Sis, invalid Grandpa Joe or Purrito the cat.
Play or show?
Play. What's the point of having something that shoots if it never gets shot?
()
18-in. Cloth Ugly Betty and 8-in. Vinyl Ugly Betty
Perfect for?
Smart, sweet, hardworking and poncho-loving kids everywhere.
Play or show?
Both. That's what so caliente about Betty. She's keeping it all real in a high-fashion world.
(Madame Alexander Co.)
'Star Wars' Clone Trooper Helmet
Perfect for?
Ugly kids.
Play or show?
Play. The design of this precursor to the Storm Trooper helmet isn't distinctive or interesting enough to mount on the wall -- save that space for Darth Vader's mask. But for the kid whose facial features resemble a Yoda or Greedo, the mask is the perfect way to exude authority without shallow judgment. If the other kids don't cooperate, crush them.
(Hasbro)
Taters of the Lost Ark Potato Head
Perfect for?
Out-of-shape Indy fans. Now you can look like both yourself and Indiana Jones himself, all at once.
Play or show?
Show. Though the kit will come with 12 accessories to mix and match, we really only want the whip and fedora. So get those things socketed in the spud and put it on the shelf for all to admire.
(Hasbro)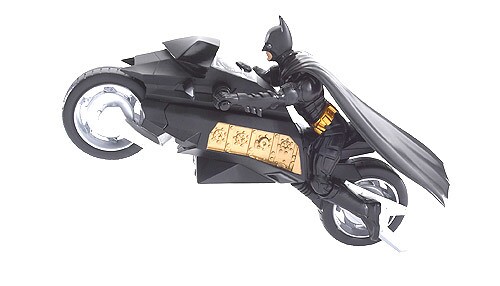 Batman: The Dark Knight Batpod vehicle
Perfect for?
Batfans, and action figure collectors. Merchandise related to the new(er) Christopher Nolan-director Batman films tends to have a more realistic, cooler quality than the 'toon versions. Not too surprisingly, there is no word yet from Toy Fair on Joker figurines, played in the upcoming July release by the recently deceased Heath Ledger.
Play or show?
Play. With a "high tech" launcher and a "flywheel motor," this thing is built to do stunts and go fast. It comes with a poseable figure -- for the collectors to seal up -- but this is a very playable toy.
()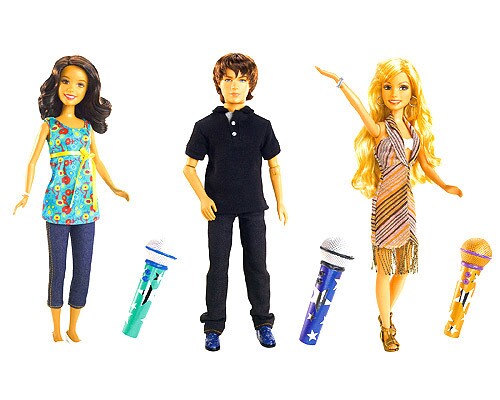 'High School Musical 2' Sing Together collectible dolls with microphones
Perfect for?
All the tweens who loves the show -- and that seems to be every pre-teen and teenager from coast to coast. The likenesses of Zac, Vanessa and Ashley in doll form may be a bit juvenile for "in crowd" high schoolers, but there are fanatics out there who will wield their HSM2 dolls with a vengeance.
Play or show?
Both. Not that they're going to become huge collectors' items. Although the mini microphones might inspire dance wars to erupt in high school gyms around the country.
()
MONOPOLY: Planet Earth Edition and DVD/plush toy collection
Perfect for?
The Gore family and little Lisa Simpsons everywhere. Never too young to get 'em started on eco-friendliness. Board game enthusiasts will be fine with yet another Monopoly edition, and stuffed-animal lovers will coo over the Polar Bears and other endangered fluffy friends.
Play or show?
Play. Unless you actually collect Monopoly boards, you have to play it. Mixing capitalism and eco-consciousness is fun! You never know when these creatures will become endangered. So play with 'em now and grieve later.
(BBC / USAOPOLY)
Repulsor-power Iron Man
Perfect for?
Tony Stark fans and comic lovers alike. Marvel Studios' big-screen version of "Iron Man" will land in movie theaters on May 2 -- and if you didn't already know that, you will soon. You can bet that ads and merch will bombard TV screens and toy shelves all Spring. And figure collectors may want this movie version ... because they want everything.
Play or show?
Play. The movie could be a huge hit, but the market may be flooded with "Iron Man'"merch, which won't cause the value to rise.
()
Kung Fu Panda
Kung Fu Kickin' Po
Perfect for?
We don't have to tell you there's no shortage of 'adowable' panda bear memes out on the internets. (Exhibit A:
Panda sneeze shocker
.) But is combining panda-mania with kung-fu craziness all in one round-house kickin' plush toy the very definition of cute overload? Absolutely, Grasshopper. However, much like "Shrek" before it, we hear DreamWorks Animation's next CG-animated flick, "Kung Fu Panda" stars an unlikely hero (Po, voiced by Jack Black) who will ease up on the cute and bring the funny when it hits theaters in June.
Play or show?
Play. First rule of fight club: Plush toys are meant to be toyed with. Besides, the most pricey "Shrek" novelty on EBay is valued at $400.
()
Wall-E TV Games
Perfect for?
Small nerds with sharp ears. Not to raise expectations too high, but imagine a new robot even
more
lovable than C3P0 and R2D2. Yet this little guy is living all by his lonesome on a vast trash planet. Now imagine that you have to help him navigate the treacherous trash terrain and chase his dream across the galaxy. That's the objective in Wall-E TV Games, whose success should be determined by the newest CG-animated Pixar film's release in late June.
Play or show?
Show. You can bet the same company that made a name for itself with "Toy Story," a movie about the secret lives of collectible toys, is focused on releasing a new line of treasured trinkets that will age as well as a itsy bitsy 'bot from outer space.
()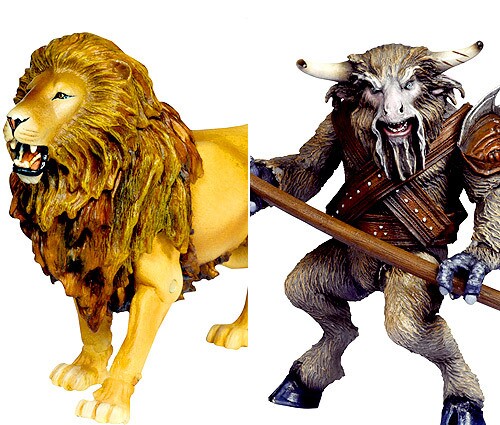 Prince Caspian action figures
Perfect for?
Fans of "The Chronicles of Narnia," and those who like toys that actually DO something, as we presume this movie will at the box office when it opens in mid-May.
Play or show?
Play. There are those who think the characters are sacred and would covet these -- but we haven't met them. With over 25 different heroes, villains and creatures, role playing is a must. And some, like the Fauns and their spring-loaded kicking action, have movement. Great for battle!
()
Hannah Montana wig
Perfect for?
This wig freaks us out, but maybe we've spent a little too much time in the wrong part of town. We're sure those lovely locks are nothing but catnip to any one of the zillions of Hannah Montana/Miley Cyrus fans.
Play or show?
Play. We understand the little ladies throw on the wig, pull out the electric toy guitar, and sing "If I Were A Movie" right up to bedtime.
()