The Writing Life: Chris Colfer of 'Glee' inspired by fairy tales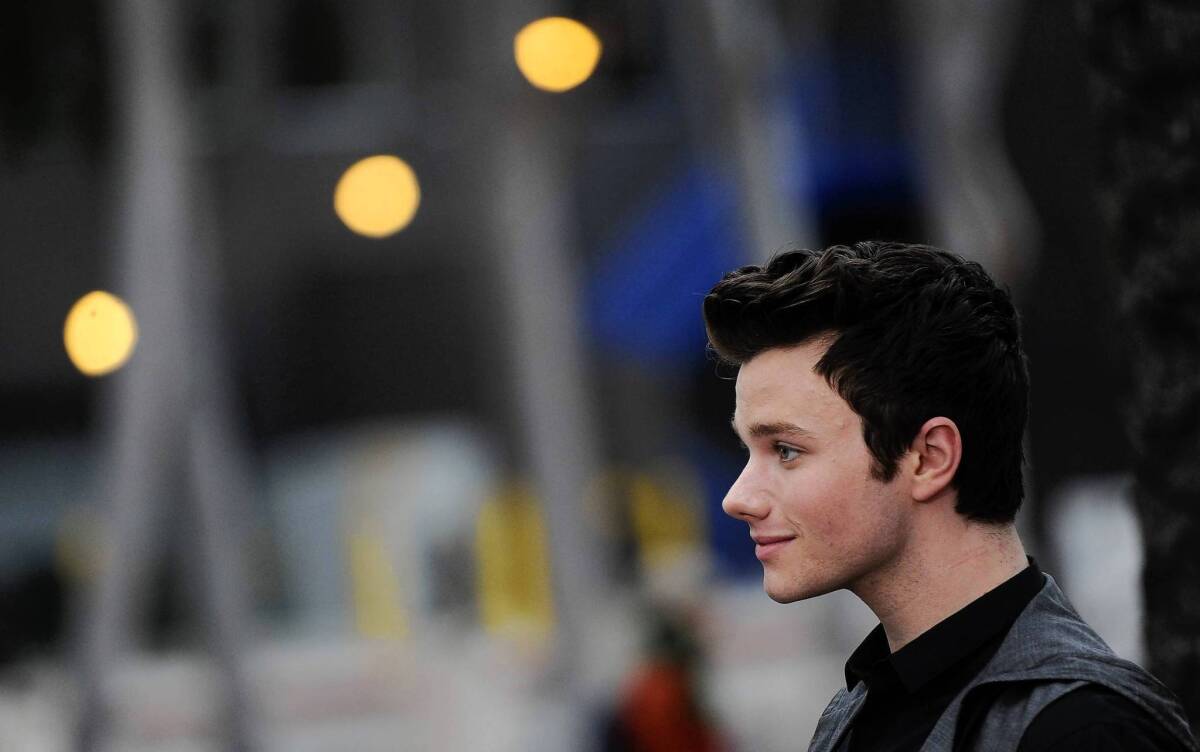 When Chris Colfer was just 20, he'd already been named one of GQ magazine's men of the year, having sung and acted his way into the hearts of America as Kurt, the high-pitched, openly gay brunet who is unabashedly himself on the hit TV show "Glee." Colfer's star had risen so fast in the year he'd starred on the Fox comedy that a literary agent asked him to pen his autobiography — an endeavor Colfer had the good sense to decline because it was so premature.
Instead, Colfer offered "The Land of Stories: The Wishing Spell" (Little, Brown: 448 pp., $17.99 ages 8 and up) — an idea he'd been percolating since age 10. His fairy tale mash-up, about twins who fall into story land and embark upon a scavenger hunt through the kingdoms of Goldilocks and other legendary damsels in distress, will be published Tuesday.
"I've been obsessed with fairy tale characters since my mom started reading stories to me as a kid," said the now-22-year-old actor, adding that the book his mother read didn't have illustrations but photos of dolls in various positions. "It was very creepy," said Colfer, who nevertheless found inspiration in the morals and characters of the Brothers Grimm and Hans Christian Andersen.
Colfer's favorites were "Snow White,""Sleeping Beauty" and"Cinderella" "because they're like a fairy tale sampler platter" with the castle, the curse and the prince who saves the day. All three beauties, and at least a dozen more, are present and accounted for in "The Land of Stories," which begins with "Once upon a time…" and follows a 12-year-old brother and sister as they attempt to collect strands of Rapunzel's hair, a strip of bark from Red Riding Hood's basket and other seemingly impossible items for a wish that will let them return home.
Like any tale worth its fairy dust, "The Land of Stories" is infused with a moral: "There's a whole world out there just waiting for you to discover it," Colfer said. "'Happily ever after' is something that you make. It's not given to you."
Colfer's professional success offers living proof. "With 'Glee,' I've had my own 'Cinderella' story," he said, though he acknowledges that fame isn't the happily ever after it's often portrayed to be. "God, no. It used to drive me nuts when people said, 'So. You used to be bullied. Now you're famous.' That only opens me up to more bullying. Yes, I'm very lucky I get to do what I love — to act and be on TV. I'm very fortunate, but once you're out there, you're out there, and it's like fame is standing on a pillar in a crowded room and giving the whole world a chance to go at you."
Colfer, who is openly gay, was so severely bullied in middle school that he was home-schooled for a couple of years in his native Clovis, Calif. Is it coincidence, then, that the twin protagonists in his middle-grade authorial debut are roughly the same age when they escape into a land of make-believe?
Only subconsciously, he said. Twelve "is a very crucial age when kids realize, 'Oh. This is the real world.' It's the age when kids stop believing in magic," said Colfer, who grew up reading "Harry Potter," "The Chronicles of Narnia," "Alice in Wonderland, "The Wizard of Oz,""Peter Pan" and other escapist classics about alluring alternate realities. QuotingJ.K. Rowling, Colfer said magic is so appealing because it's the belief of power in oneself.
"It's believing in whatever ability you possess on the inside," he said. "There's something magical about believing there's magic in you."
The desire to escape into a book was largely inspired by Colfer's childhood. He was in and out of hospitals with his epileptic younger sister and was himself confined to a hospital bed for three months after surgery for an infected lymph node. "I remember being trapped and hooked to an IV and being miserable and wanting to go outside and play and be a kid and I couldn't," said Colfer, who hopes his book will be enjoyed by readers of all ages who appreciate the C.S. Lewis sentiment that opens the book: "Some day you will be old enough to start reading fairy tales again."
Colfer describes himself as "a major fairy tale purist. I can't stand it when people adapt them into something they're not supposed to be," he said, before admitting, "I'm a total hypocrite." In "The Land of Stories," Colfer takes major liberties with the many classic fairy tales he fuses together.
When one of the twins wants to climb Rapunzel's tower as if it were a tourist attraction, her brother takes the stairs. And Jack, of beanstalk fame, couldn't care less about the giant. He's caught in a love triangle with Goldilocks and Little Red Riding Hood.
Colfer's real life oblivion-to-everywhere story has allowed him to add more realistic, psychological perspectives to classic fairy-tale characters who, after the original stories ended, seemed to have gone on to live happily ever after. Cinderella, it turns out, had a difficult time transitioning from servant to queen and earning the common people's respect. Snow White's Evil Queen is also worthy of compassion. "A villain is just a victim whose story hasn't been told," he writes.
In "Land of Stories," Colfer showcases his talent for crafting fancifully imaginative plots and multidimensional characters. His writing, however, borders on the blasé. It lacks the natural charisma and quick wit he regularly displays in TV interviews — a talent he honed as a defense from being relentlessly bullied as a child.
A high school thespian, Colfer auditioned for "Glee" at age 17 for the paraplegic role eventually given to Kevin McHale. But "Glee" co-creator Ryan Murphy was so impressed with his audition that he created the Kurt character to cast Colfer in the show that was nominated for 19 Emmy awards in its first season and won the Golden Globe for best musical or comedy television series last year — the same year Colfer himself picked up a Golden Globe for supporting actor.
"The Land of Stories" is just the most recent example of Colfer's quiet transformation from a TV star idolized by 14-year-old girls and the homosexual media into something of a Renaissance man. While penning the book last year, he also wrote, produced and starred in the film "Struck by Lightning," a comedic, postmortem recounting of the exploits of an unusually ambitious teenage journalist. The movie premiered at the Tribeca Film Festival in April and will be in theaters this December. Colfer is already writing another screenplay about a 1930s mental asylum that, he says, "is completely different from anything I've ever done." He'll publish a second novel this year and plans to write additional titles for "The Land of Stories" series as well.
And then there's "Glee." Season 4 starts filming this month and will see Colfer's Kurt character "mentored by Sarah Jessica Parker in some capacity," he said.
"People are wondering why I'm going from acting to writing a children's book, but to me it's all playing pretend," he said. "I was just born wanting to be a storyteller, so as long as I get to entertain someone, whether it's writing a book or screenplay or being in front of or behind a camera, I'm happy. That's where my bliss is."
---
Get our daily Entertainment newsletter
Get the day's top stories on Hollywood, film, television, music, arts, culture and more.
You may occasionally receive promotional content from the Los Angeles Times.