The Tonys' chief writer: Dave Boone, award-winning writer of award shows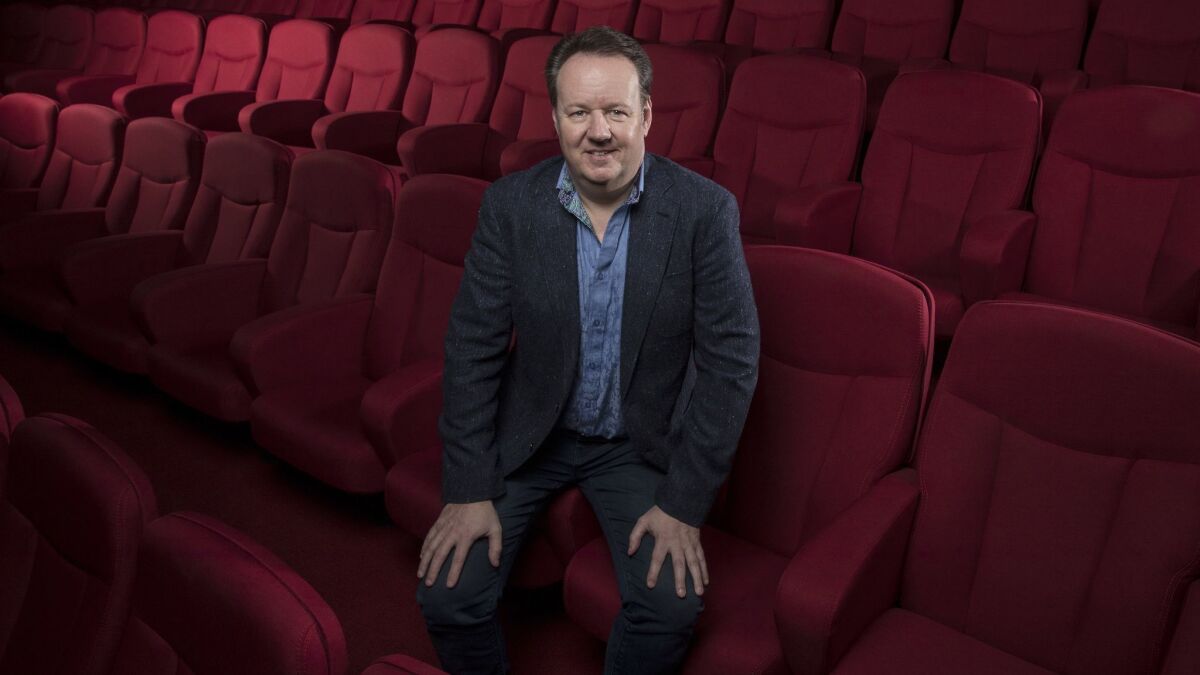 If you've ever watched an awards show and been moved to tears by a heartfelt tribute or chuckled at clever patter between presenters, there's a good chance Dave Boone had a hand in it.
Over the past 20 years, he's served as head writer or as part of the writing team for a multitude of Oscars, Emmys and Golden Globes telecasts, as well as for many other such televised trophy extravaganzas. The 72nd Annual Tony Awards on CBS on Sunday mark his 15th consecutive year as chief writer for that show. And while live TV is how Boone makes his living, live theater is where his heart is.
"I get really excited when I go see a Broadway musical and hear the orchestra tuning up," says the 53-year-old double Emmy and triple Writers Guild Award winner as we sit in the Television Academy's Wolf Theatre at the Saban Media Center in North Hollywood. "I get chills when the lights go down. I love the fact that, with the Tony Awards, we get to bring a piece of that magic into homes across the country and around the world."
It was Boone's CPA father and homemaker mother who initiated him to live performance at the nearby Westport Country Playhouse when he was growing up as a funny only child in Norwalk, Conn. It was his love of sitcoms and variety series such as "The Dick Van Dyke Show" and "The Carol Burnett Show" that propelled him to move to Los Angeles in the early '90s to craft gags for Jay Leno, Greg Kinnear and fellow Sacred Heart University alum and "Weekend Update" anchor Kevin Nealon on "Saturday Night Live," among others.
TONY CONTENDERS: Lauren Ambrose on a new voice for 'My Fair Lady' »
And it was those comedy samples that brought him to the attention of Oscar host Billy Crystal, who handpicked Boone to join his team for 1998's Academy Awards. That show — on which Celine Dion belted "My Heart Will Go On" and "Titanic" won Best Picture — remains the highest-rated Oscars ever, bringing in 55.2 million domestic viewers for ABC. (This year's show, by comparison, had an audience of 32.9 million.)
"He's a very smart, prodigious joke writer," Crystal says by phone in Los Angeles. "He knows how to make people funny, and he knows to sometimes not try to make them funny but to make them honest and real. When you're going out in front of a billion people, it's nice to know he's got you covered."
Boone says that first time out with Crystal remains his most mind-blowing. "Seventy classic stars attended that night. Being next to Jack Lemmon and Walter Matthau nearly brought me to tears. Robin Williams won best supporting actor for 'Good Will Hunting,' and when the camera followed him off stage, he threw his arm holding the Oscar around a guy in the wings — that guy was me."
Neil Patrick Harris has had Boone by his side for one Oscar, two Emmy and four Tony ceremonies. "As a host in an awards show situation, you don't want to be performing too much, or it looks like you're auditioning. But you want to be around enough that you're clearly in charge of the night," he says by phone from New York. "Dave's experience, combined with his innate knowledge of what's funny and why, has been incredibly helpful. Hosting with him as my head writer has yielded some of the happiest, most rewarding professional nights of my life."
Then there are times when events outside the Tony team's control shape the evening before it even begins. In 2016, Orlando's Pulse nightclub massacre — at the time the deadliest mass shooting by a single assailant in U.S. history — occurred in the wee hours of the morning before the Tonys.
"Details of the tragedy unfolded as we were in dress rehearsal. It quickly became apparent that we'd have to adjust before going on-air," says Boone. "Host James Corden's opening speech was crafted and staged to set an appropriate tone for the evening. Some presenter jokes that may have been taken out of context were cut, the company of 'Hamilton' performed 'Yorktown' without their prop weapons, and the song's 'The World Turned Upside Down' subtitle — not to mention Lin-Manuel Miranda's 'love is love is love' acceptance speech — took on a much more powerful meaning."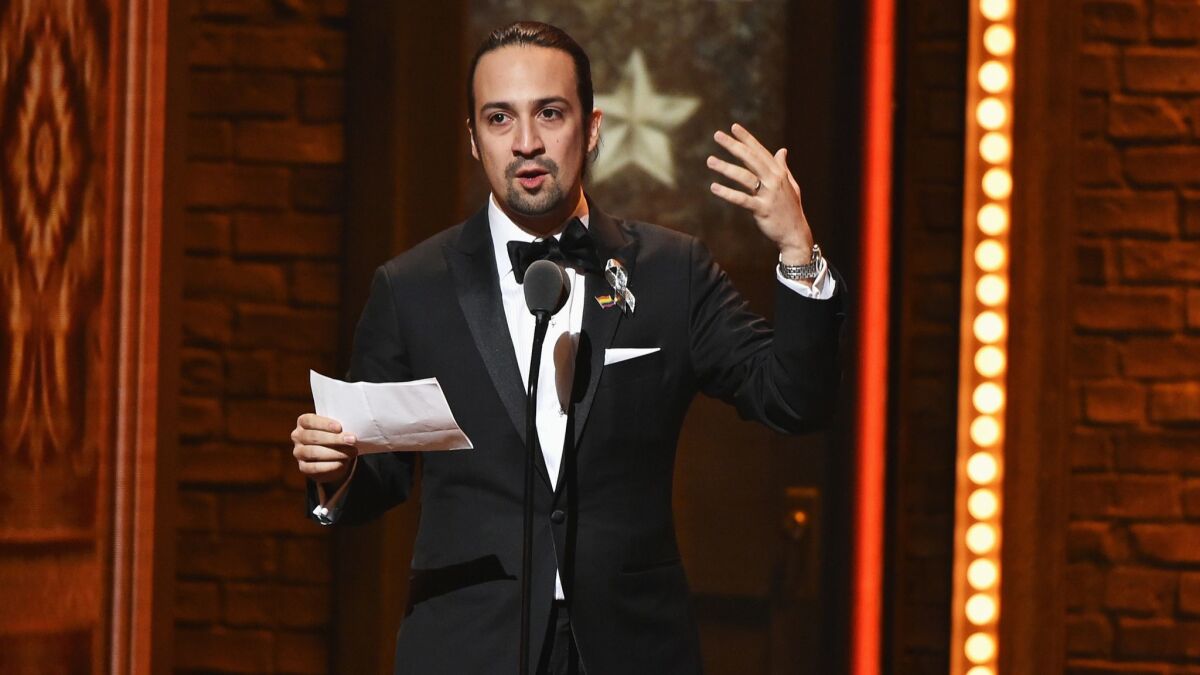 Boone isn't just helpful to for his hosts but also to his fellow writers. "There's a dynamic that happens in the writers' room where somebody pitches an area, then it volleys around, finally landing on the best joke," says multiple Emmy nominee and WGA Award winner Carol Leifer, via email. She's worked with Boone on eight Oscars plus one Emmy and one Tony show. "Dave is really great in those situations — lay up, spike, he's got it all."
"He's not a typical joke writer," Crystal says. "He can laugh at other people's jokes and not feel threatened."
It's for all these reasons that Tony executive producers Glenn Weiss and Ricky Kirshner hired Boone in 2004 and never let him go. "His passion for and knowledge of theater was a big part of it," says Weiss (who also directs the telecast), in an email. "Dave is perfect for a live show like the Tonys, which often requires being in the moment, making changes at the last minute and working closely with a wide range of talent."
TONY CONTENDERS: Lindsay Mendez rides 'Carousel' to a nomination »
Preparing for the Tonys is a year-round job for Boone, who estimates he's seen more than 600 Broadway productions over the last 15 years. His longest-running gig has been working as the sole writer for all 26 seasons of ABC's perennial hit "Dancing with the Stars." When that series is in production, Boone often spends the week between each episode in New York catching as many musicals and plays as his schedule will allow.
Asked about his awards show philosophy, Boone says, "I think they're most successful when the agenda is to present the performances and the honors in an entertaining way and then let the acceptance speeches be the heart. The most fun is the collaboration and seeing an idea come together and work. When you pull that off, it's just a glorious experience.
"For performers on the Tonys — who do their numbers eight times a week on Broadway and are always letter-perfect — there's the added thrill of doing it for our audience of millions."
But when the show is running long and Boone has to make changes live on the air, there are tough conversations to be had. "Not because you get married to your words, but because sometimes you've got to tell a performer who's rehearsed — or who's memorized a piece because they wanted to emote and not read it off prompter — that you're cutting it in half and possibly losing the sentiment."
As for this year's show, which was still evolving as of this writing, all Boone dares to say is that "this is really the first time we've had hosts [Tony nominees Sara Bareilles and Josh Groban] who are first and foremost musicians. I expect we'll take advantage of that and do more music than on past shows. They're great friends, and their natural chemistry will shine through.
"They're both what we lovingly refer to as 'theater nerds,' so we also want to reach out to the kids watching at home who describe themselves that way. Other than that, I think fans of 'Mean Girls' will be delighted that The Plastics are well-represented. Amy Schumer is a nominee, so I'm hoping we'll be able to have her on as a presenter. Oh, and few people know that Josh can't dance, and he's delighted to keep it that way."
Get our L.A. Goes Out newsletter, with the week's best events, to help you explore and experience our city.
You may occasionally receive promotional content from the Los Angeles Times.