A real life look at the crazy odds and tortured dreams of making it in La La Land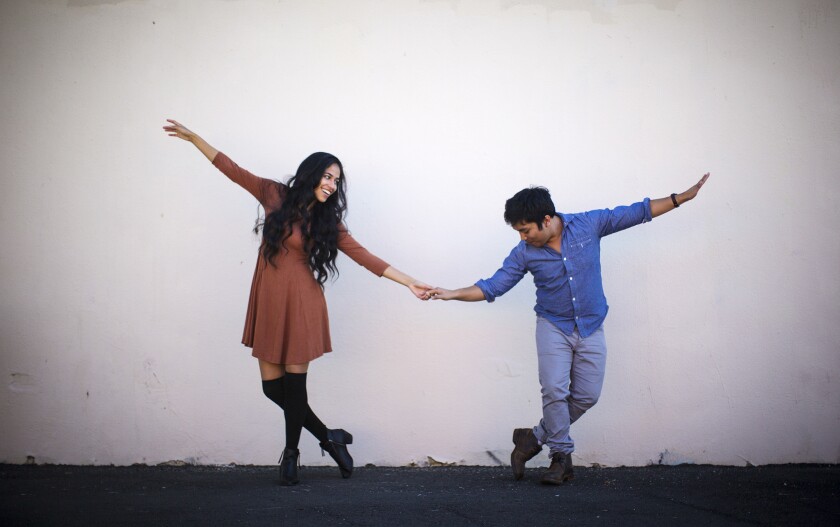 Beyond a stretch of thrift stores and nail salons, in a small Panorama City house he shares with eight people, four dogs and a lot of crucifixes, John Geronilla is in the grip of a Hollywood daydream. A Filipino immigrant and aspiring filmmaker, he is bound for Chicago in the morning to work on a successful TV series.
"This is a pretty big moment for me," says Geronilla, petting a Chihuahua mix and scrolling through a demo reel. While on-screen a dancer spins and a child sells roses, he recalls that "Jurassic Park" was the first movie he saw in a theater. His tastes now tend toward the cosmically eerie. "I'm writing two scripts with partners," he says, "One is like 'Harry Potter' meets 'Zodiac.' "
Footsteps echo up the drive. Black hair flashes in the sun. Geronilla's girlfriend, Stephanie Hoston, an actress and singer, is greeted at the door by a squeal of barks. Now in their mid-20s, she and Geronilla met in a Van Nuys High School production of "A Midsummer Night's Dream." She was a fairy; he was Puck. They eventually fell in love; these days, he holds her hand when auditions go bad, and she persuades him not to do impulsive things, like living in his car for a year to "gain insight" as an auteur.
"It seemed romantic at the time," he says.
She rolls her eyes.
They are like this together. Their story is a real-life mirror of "La La Land," that pretty, Academy Award-nominated paean to Los Angeles and its fabled neurotic, frantic and often delusional actors, filmmakers and musicians who chase fame but would settle for a decent day's pay. In the film, perseverance, soul scouring and mended confidences lead inevitably to artistic redemption. But Geronilla and Hoston, and thousands like them, move less surely through a world of Kickstarter promises, frequent disappointments and fleeting victories.
Hoston has appeared in commercials for Nike, Curacao and Burger King. She's done "Godspell" onstage, walked once through a mall singing, "I'm in a musical called my life," and was in the Web series "When Your Lyft Driver Won't Shut Up." Her car is filled with "props and costumes and random things" she might need for auditions.
Geronilla has edited and shot commercials for Levi's and Delta, has worked on music videos for artists including Sage the Gemini, and was assistant camera on a short called "Nutty." He repairs computers and occasionally rents outs his camera for $600 a day. He tried bartending, but the pay was too low.
Neither of them is in a union. Hoston said that she may join the Screen Actors Guild next year but that right now, she needs to build her resume and her bank account, so she can't just limit herself to union work. Money is tight. They live with their parents. Date night is second-run movies — $1.75 a ticket — at the Regency Valley Plaza.
'La La Land' kept reminding me how close failure is.— Filmmaker John Geronilla
"Only 10% of the people I graduated with are still in the business," said Geronilla, who, like Hoston, has a film production degree from Cal State Northridge. "If you look at 'La La Land,' the first five actors on the credits are the elite. The 30 or so others are working class. Uber drivers, waiters, whatever.
"But, you know, if you have a Plan B, Plan A will never happen."
Life at the Hollywood fringes is a sleepless world of passion projects and bartered talents. A friend has a friend who's making a movie in another friend's house. Can you grip? Act? Copy a script? This is how the young and hungry exist, panning with hand-held cameras, navigating editing software, dubbing sound, uploading to YouTube, celebrating, tweeting and hoping that somebody with a mythic combination of money and connections glimpses their toil while scrolling through 9 million other things.
"Steph and I need to learn to say no," says Geronilla. "We have to be more selective and focus on our own stuff."
The film industry may remain the stuff of dreams, but it runs on degrees of separation, happenstance, unanticipated kindness and thinly masked jealousy. Hoston was once on a music video set with a young woman who later appeared in "La La Land" as an extra in a scene with Emma Stone. Hoston's father was a professional boxer in real life who for a nano-second played a dead fighter in the TV crime series "Quincy, M.E." He never acted again. One of Geronilla's former classmates became a casting director for "Ray Donovan" and remembered … Geronilla's grandmother.
"They needed an 80-year-old woman to play a nanny," he says. "My grandmother didn't want to be an actor. But I got my camera out and shot her in the kitchen. I gave her a line. I asked her what she wanted to eat. She said, 'Egg McMuffin.' Nailed it. I sent the tape in and she got the part. Four episodes. Went to Vegas."
Geronilla is mercurial. Mussed hair, holes in his sweatshirt, shattered iPhone. He listens to the xx on vinyl and shares his bedroom with two brothers, one of whom has enlisted in the Army. The room is lined with cameras, including a Red Epic digital, and videotapes of "Dr. Zhivago" and "Some Like it Hot." He sleeps on a roll-up futon, edits and shoots commercials and music videos. Aside from the two other scripts he's working on, he's writing a thriller set in an auto shop that he estimates will cost $500,000 to make, or "maybe $100,000 can still make it look good."
Hoston is slender and her hair falls deep south of her shoulders. Glasses perched on her nose, she likes precision; a quiet presence who on-screen can glow bright as a filament. She has a quick laugh and on most days is bigger than her doubts. On her way to a recent acting class, she worked on "not smooshing words together" when reading lines. She has a new agent and manager and head shot photos for pilot season. She's been told to edit her demo reel down to 40 seconds. "How can I show them who I am in that time?" she agonizes.
"Making it in this business can be exhausting, especially for Steph," says Geronilla. "All the auditions. She has to be emotionally available. Hurt on-screen. Be raw. Over and over again. It takes its toll."
"He's always talking me off a ledge," says Hoston. "Sometimes, I call him crying after an audition. 'Why is this so hard?' I was close to booking a role in December on a BET show. The casting director gave me a high five after the audition. I thought I had it. I didn't. You never know."
She looks at Geronilla.
"Our relationship," she says, "is survival together."
A few days later, Geronilla packs for the Midwest. "I'll be a shadow," he says of his non-paid stint as an assistant — casting, scripts, location scouting, etc. — on the set of "Chicago Justice." He'll share an Airbnb with seven people, including a dancer in a Lyric Opera of Chicago production of "Carmen," and three sets of bunk beds for $470 a month. "I don't know actual snow," he says, adding that the job offer came after editing work he did for "Chicago Justice" director Donald Petrie, a Cal State Northridge alumni who also directed "Miss Congeniality" and "My Life in Ruins."
"I want to be a director," he says. "I'm not as good a writer as I am on set. I loved 'Blue Valentine' and 'The Place Beyond the Pines.' Stories that are grounded and real. So many films are either big franchises or small, quirky indies. But there's not a lot of middle-ground films like 'Almost Famous' or 'Jerry Maguire.' Those are the kinds of films I'd like to make."
In 2012, he flew to Thailand to be cinematographer on "Nong Dao," a $70,000 film about a girl searching for her mother in a red light district. "The crew didn't speak English," he says, "A lot of hand signals and pointing." He's also drawn to thrillers and horror. "Cheaper to make, single location and people will watch horror all the time." But he mentions one director whose short career has been inspiring.
"Damien Chazelle. That's the dream," he says. "His 'Whiplash' spoke to me in terms of passion, and 'La La Land' kept reminding me how close failure is."
I'm not giving up on my dream. My expectations are high.— Actress and singer Stephanie Hoston
Far from Chicago, or, for that matter, Panorama City, on a stretch of Santa Monica Boulevard that includes a boxing gym and a row of theaters (one with an "Actors You Need Therapy" poster in the window), Hoston heads to her Saturday morning acting class. Wearing ripped jeans, a flannel shirt and hi-top sneakers, she slips into a small studio and sits on a black stage decorated with an abused couch and a forlorn curtain.
A slight woman wearing boots, sweater, cap and scarf enters with a backpack. Script pages stir. A chill grips the air. "Let's cut to the chase here. You have VD?" says acting coach June Barfield. "What's all this murder business?" Stephanie reads the part of a betrayed girlfriend. "There's got to be real resentment and anger," says Barfield. "The better verb is to destroy" and "Each word has to be punched. It ends in a physical slap, but it starts here."
The story is an outlandish scenario in a Web series: Hoston's character is given a sexually transmitted disease by her boyfriend, who is a suspect in the murder of an underage blind girl. But a part is a part. Hoston takes a breath, marks her script, closes her eyes. Thinks. She begins anew, syllables sharper, restrained rage running through her. "Yes," says Barfield. The lines go on. Barfield turns a page. "That's bad writing," she says, "but I've seen worse."
Hoston's eyes agree but she perseveres. The daughter of a Salvadoran immigrant and that former boxer from Burbank (who still calls her auditions "job interviews"), Hoston has no illusions. But like countless others, she is waiting for that snippet, that flash that lifts her beyond the crowded auditions and phone messages of rejection. It can be, as some acting teachers suggest, "a hard and a sad life." She says she may end up as a working actor getting a couple of good parts a year, not ideal but OK.
"But," she adds quickly, "I'm not giving up on my dream. My expectations are high. I'll continue exploring my characters, and if the time comes, it'd be great to be in a movie musical." She adds: " 'La La Land' captured a lot of the realistic emotions that artists face. It felt down to Earth, but still a fairy tale."
It seemed like fantasy a little more than a year ago. She, Geronilla and a small crew were "guerrilla filming" a short movie called "Honey" about a singer who loses her boyfriend and guitar on the same day. It was a story of hurt and unexpected compassion, the kind of thing a city offers in the wee hours. They started shooting at 10 a.m. and ended at 1 the next morning, setting scenes in Burbank, a downtown Los Angeles apartment and the courtyard outside the Broad museum.
Geronilla directed. Hoston starred. The crew and other actors peeled away as the day wore on. The couple was alone for a final shot, of Hoston weeping inside a phone booth. It was cold; the streets nearly empty. When the take was finished, they went to a diner in North Hollywood. They were worn out. A waitress brought soup. Dawn was hours away; the boulevard shone soft against dark hills. The lines had been spoken, the camera stored. It was just them.
They paid the bill and drove back to the Valley. All that time and planning would be edited down to 17 minutes and 32 seconds and, like a prayer offered to heaven, posted on filmfreeway.com to play for anyone who might come across it.
See the most-read stories this hour »
Twitter: @JeffreyLAT
ALSO
Visual effects artist's Hollywood path began in Albania, with detour in Kosovo
To make it in Hollywood you have to be a jack-of-all-trades, like Laura Brunkala
Damien Puckler tries to get his foothold in a land of action heroes
---
The complete guide to home viewing
Get Screen Gab for weekly recommendations, analysis, interviews and irreverent discussion of the TV and streaming movies everyone's talking about.
You may occasionally receive promotional content from the Los Angeles Times.