Edgar Wright's "Baby Driver" roars into theaters, while Bong Jong-ho's "Okja" arrives on Netflix and in selected theaters a month after its debut at Cannes. The animated sequel "Despicable Me 3" and the Will Ferrell-Amy Poehler comedy "The House" are in wide release.
-------------
Jun 28
Baby Driver Writer-director Edgar Wright spins a music-fueled saga about a youthful getaway driver whose romantic dreams of escape take a detour when a planned final heist goes sideways. With Ansel Elgort, Kevin Spacey, Lily James, Jon Bernthal, Eiza González, Jon Hamm, Jamie Foxx. (1:53) R.
Okja A young girl must prevent a corporation from seizing her best friend, a massive animal. With Tilda Swinton, Jake Gyllenhaal, Paul Dano, Lily Collins, Steven Yeun, Giancarlo Esposito, Devon Bostick, Daniel Henshall, Ahn Seo-hyun. Written by Joon-ho Bong, Jon Ronson. Directed by Bong Joon-ho. (1:58) NR.
June 30
The B-Side Director Errol Morris profiles portrait photographer Elsa Dorfman through her work with the Polaroid Land 20x24 camera and her Cambridge, Mass., studio, where she captured families, Beat poets, rock stars and Harvard standouts. (1:16) NR.
Blue A young woman in an Appalachian town befriends a young man, whose rare blood condition gives him a peculiar appearance. With Michele Martin, Drew Connick, Kelly McGillis. Written by Michele Martin & Charles Huddleston. Directed by Huddleston. (1:37) NR.
Darkness Rising A woman returns to her childhood home, the site of her mother's insanity. With Tara Holt, Katina Law, Bryce Johnson. Written by Vikram West. Directed by Austin Reading. Nearly murdered as a child by her mother, a woman (Katrina Law) returns to the house where her mom went mad.
Despicable Me 3 Supervillain-turned-hero Gru and his family return in this animated comic-adventure. Voices by Steve Carell, Kristen Wiig, Trey Parker, Miranda Cosgrove, Dana Gaier, Nev Scharrel, Steve Coogan, Jenny Slate, Julie Andrews. Written by Cinco Paul & Ken Daurio. Directed by Pierre Coffin & Kyle Balda. Co-directed by Eric Guillon. (1:30) PG.
Food Evolution Director Scott Hamilton Kennedy examines the intense debate over GMOs and the food chain in this documentary. Narrated by Neil deGrasse Tyson. Featuring Mark Lynas, Michael Pollan, Alison Van Eenennaam. (1:32) NR.
Good Fortune Documentary follows the rise of John Paul DeJoria from homelessness to successful businessman and billionaire philanthropist. Featuring Danny Trejo, Dan Aykroyd, Cheech Marin. Directed by Josh Tickell and Rebecca Harrell Tickell. (1:26) PG.
The House Will Ferrell and Amy Poehler star as a couple who lose their daughter's college fund and launch an illegal gambling operation in their basement. With Jason Mantzoukas, Nick Kroll, Allison Tolman. Written by Brendan O'Brien & Andrew Jay Cohen. Directed by Cohen. (1:28) R.
In Pursuit of Silence Filmmaker Patrick Shen explore the virtues of absolute quietude and the impact noise has on our daily lives. In English and Japanese with English subtitles. (1:21) NR.
Inconceivable A new friendship between women quickly spirals into dangerous obsession. With Nicky Whelan, Gina Gershon, Faye Dunaway, Nicolas Cage. (1:45) R.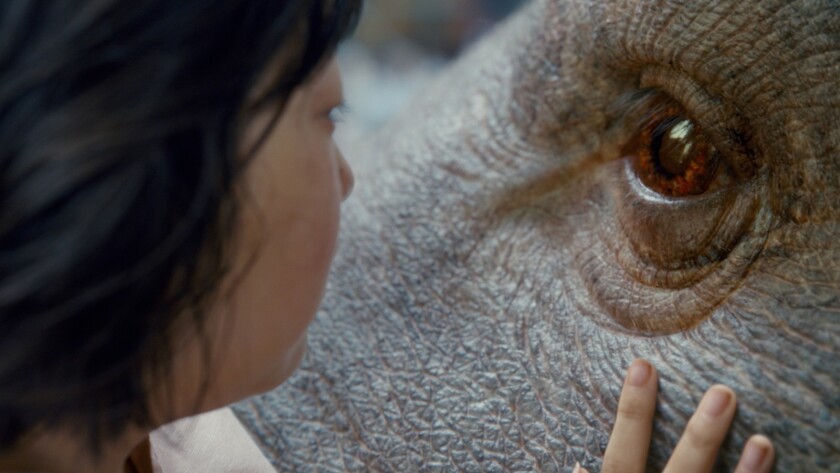 The Little Hours The arrival of a hunky laborer unleashes sexual desire and bacchanalian behavior at a nunnery during the Middle Ages. With Alison Brie, Dave Franco, Kate Micucci, Aubrey Plaza, John C. Reilly, Molly Shannon. Written and directed by Jeff Baena. (1:30) R.
Marie Curie — The Courage of Knowledge Biopic of the Polish-born physicist and chemist, the first woman to win a Nobel Prize. With Karolina Gruszka, Arieh Worthalter, Charles Berling. Directed by Marie Noelle in French, with English subtitles. (1:39) NR.
Nowhere to Hide Nori Sharif, an Iraqi medic, navigates his country's notorious "triangle of death" and the rise of ISIS over the course of five years in this documentary. Directed by Zaradasht Ahmed. In Arabic with English subtitles. (1:26) NR.
The Ornithologist Studying endangered black storks in remote Portugal, a man is swept away by rapids leading to a life-changing journey. With Paul Hamy, Xelo Cagiao and João Pedro Rodrigues. Written and directed by Rodrigues. In Portuguese, Mandarin and Latin with English subtitles. (1:57) NR.
The Reagan Show Documentary chronicles President Ronald Reagan's TV-friendly 1980s rivalry with Soviet leader Mikhail Gorbachev. Directed by Pacho Velez and Sierra Pettengill. (1:14) NR.
Reset A scientist researching time travel must use her prototype to go back and save her young son's life in this sci-fi thriller. With Yang Mi, Wallace Huo, King Shih-Chieh, Liu Chang. Written by Cha Muchun. Directed by Chang. In Mandarin with English Subtitles (1:46) NR.
Sámi Blood In 1930s Sweden, an indigenous teenage girl feels the sting of racism and vows to escape. With Lene Cecilia Sparrok, Mia Erika Sparrok, Maj-Doris Rimpi. Written and directed by Amanda Kernell. In Swedish and Saami with English subtitles. (1:50) NR.
13 Minutes A man is arrested and interrogated in connection with a bombing that targeted Adolf Hitler in 1939. With Christian Friedel, Katharina Schüttler, Burghart Klaussner, Johann von Bülow. Written by Léonie-Claire Breinersdorfer, Fred Breinersdorfer. Directed by Oliver Hirschbiegel. In German with English subtitles. (1:54) R.
Unfallen Seven-year-old old twin brothers, separated during the Civil War in Tajikistan, face each other years later in a new war where one is an American soldier and the other is Taliban. With Michael Madsen, James Hong, Dante, James Nasimi. Written by James Nasimi; Directed by Dante, Josh Hodgins. NR.
See the most-read stories in Entertainment this hour »
---