SoCal movie events & revivals, March 17-24: A Monty Python double feature and more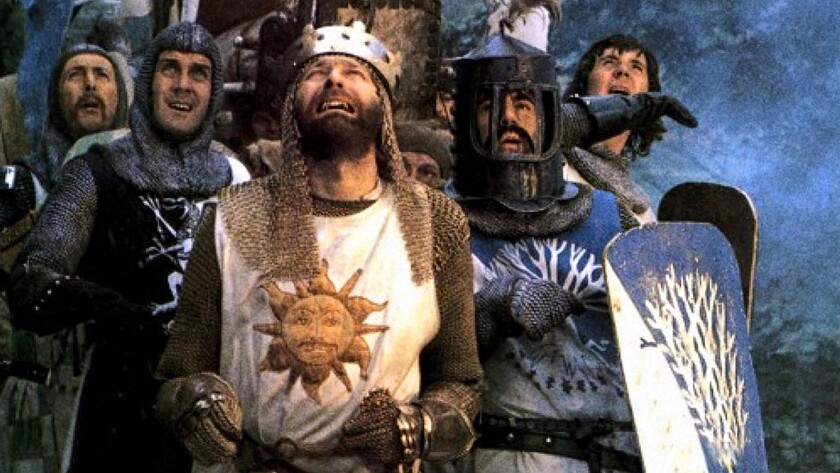 Willy Wonka and the Chocolate Factory Gene Wilder plays the eccentric candy maker in this musical 1971 adaptation of the Roald Dahl tale. LACMA, Bing Theater, 5905 Wilshire Blvd., L.A. Tue., 1 p.m. $2, $4. www.lacma.org.
The 400 Blows 60th-anniversary screenings of writer-director Francois Truffaut's influential, autobiographical 1959 drama about a troubled youth; in French with English subtitles. Laemmle Town Center 5, 17200 Ventura Blvd., Encino; Playhouse 7, 673 E. Colorado Blvd., Pasadena; Royal, 11523 Santa Monica Blvd., West L.A. Wed., 7 p.m. $13. www.laemmle.com.
Young Frankenstein Gene Wilder, Peter Boyle and Marty Feldman star in director Mel Brooks' 1974 send-up of classic B&W horror films; with Madeline Kahn, Terri Garr, Gene Hackman. Laemmle NoHo 7, 5240 Lankershim Blvd., North Hollywood. Thu., 7:30 p.m. $9-$12. www.laemmle.com.
It Happened One Night/The Richest Girl in the World The 1934 Clark Gable-Claudette Colbert rom-com directed by Frank Capra is paired with the 1934 role-switch comedy starring Miriam Hopkins and Fay Wray. UCLA Hammer Museum, Billy Wilder Theatre, 10899 Wilshire Blvd., Westwood. Fri., 7:30 p.m. $8-$10. www.cinema.ucla.edu.
The Method Fest Independent Film Festival Showcase dedicated to the art of acting features screenings, tributes, panel discussions and more. Laemmle's Ahrya Fine Arts Theatre, 8556 Wilshire Blvd., Beverly Hills. Starts Fri.; ends March 28. $15 and up; passes, $75-$275. www.methodfest.com.
Monty Python Double Feature The British comedy troupe's 1975 Arthurian spoof "Monty Python and the Holy Grail" is paired with the 1983 existential romp "Monty Python's The Meaning of Life." New Beverly Cinema, 7165 Beverly Blvd., L.A. Fri.-Sat., 7 and 9 p.m. $10. www.thenewbev.com.
Polyester Drag pioneer Divine plays a desperate housewife in John Waters' campy 1981 comedy; with Tab Hunter. Landmark Nuart Theatre, 11272 Santa Monica Blvd., West L.A. Fri., 11:59 p.m. $12. www.landmarktheatres.com.
Once Upon a Forest Documentary about the rainforests from the director of "The March of the Penguins"; a panel discussion follows. The Huntington, Rothenberg Hall, 1151 Oxford Road, San Marino. Next Sun., 2:30 p.m. Free. www.huntington.org.
---
Get the Indie Focus newsletter, Mark Olsen's weekly guide to the world of cinema.
You may occasionally receive promotional content from the Los Angeles Times.