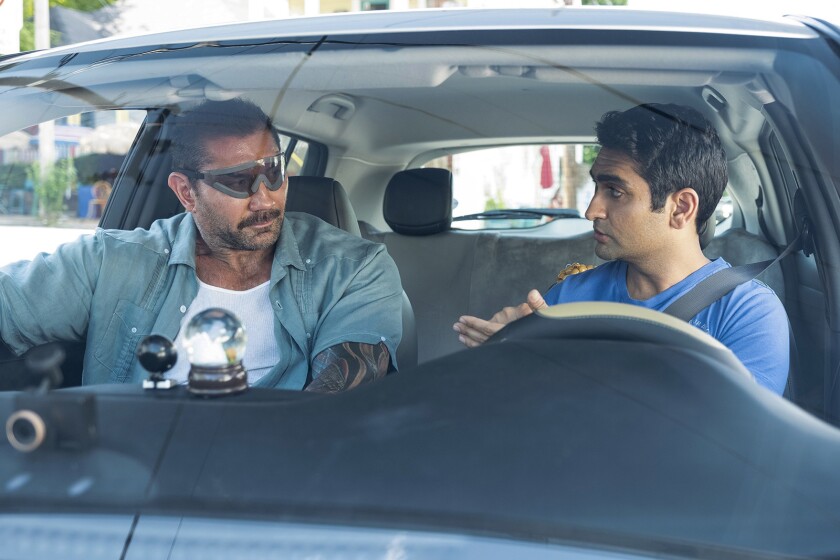 July 12
Armstrong
Biographical documentary salutes NASA astronaut Neil Armstrong, the first man on the moon. Harrison Ford narrates. Directed by David Fairhead. (1:39) NR.
The Art of Self Defense
A milquetoast clerk joins a martial arts dojo in this dark comedy. With Jesse Eisenberg, Alessandro Nivola, Imogen Poots. Written and directed by Riley Stearns. (1:44) R.
Bethany Hamilton: Unstoppable
Documentary on the young surfer who lost an arm in a shark attack in 2003 and returned to competition a year later. Directed by Aaron Lieber. (1:39) PG.
Better Than Love
A teen drug dealer from the suburbs develops an addiction to Oxycontin. With Andrew Lawrence, Matthew Lawrence, Alexandra Rodriguez. Written by Tim Schaaf, Ted Carney. Directed by Carney. (1:35) NR.
Crawl
Trapped in a flooding house during a hurricane, a young Florida woman and her father are menaced by alligators. With Kaya Scodelario, Barry Pepper. Written by Michael Rasmussen, Shawn Rasmussen. Directed by Alexandre Aja. (1:27) R.
Darlin'
"The Woman" from the 2011 horror thriller of the same name tries to rescue a feral teen from a twisted religious sect. With Pollyanna McIntosh, Bryan Batt, Lauryn Canny. Written and directed by McIntosh; based on characters created by Jack Ketchum, Lucky McKee. (1:29) NR.
Desolate
A young man seeks revenge against the family members who betrayed him and left him for dead during a terrible drought. With Will Brittain, Callan Mulvey, Tyson Ritter. Written by Frederick Cipoletti, Jonathan Rosenthal. Directed by Cipoletti. (1:26) NR.
The Farewell
A young Chinese American woman returns to China with her family to celebrate her dying grandmother as part of an elaborate ruse. With Awkwafina, Tzi Ma, Diana Lin. Written and directed By Lulu Wang. (1:38) PG.
Last Year at Marienbad
Re-release of the classic 1961 drama about a man and a woman involved in what may or may not be a romantic rendezvous. With Delphine Seyrig, Giorgio Albertazzi, Sacha Pitoëff. Written by Alain Robbe-Grillet. Directed by Alain Resnais. In French with English subtitles. (1:34) NR.
Lying and Stealing
An art thief teams with a con woman for one last big score. With Theo James, Emily Ratajkowski, Fred Melamed. Written by Matt Aselton, Adam Nagata. Directed by Aselton. (1:40) R.
Miss Arizona
A former pageant queen turned desperate housewife leads a group from a women's shelter on a wild late-night escapade through Los Angeles. With Johanna Braddy, Robyn Lively, Dana Wheeler-Nicholson, Steve Guttenberg, Missi Pyle. Written and directed by Autumn McAlpin. (1:34) NR.
Saving Zoë
A teen goes to dark places as she probes the murder of her sister. With Laura Marano, Vanessa Marano, Giorgia Whigham, Ken Jeong. Written by LeeAnne H. Adams, Brian J. Adams; based on a novel by Alyson Noel. Directed by Jeffrey G. Hunt. (1:35) R.
Sea of Shadows
Documentary about efforts to stop the poaching of an endangered species of whale in Mexico's Sea of Cortez. Directed by Richard Ladkani. (1:44) NR.
Stuber
A mild-mannered Uber driver is pressed into service by a gruff undercover cop in pursuit of a violent criminal. With Kumail Nanjiani, Dave Bautista, Natalie Morales, Betty Gilpin, Mira Sorvino, Karen Gillan. Written by Tripper Clancy. Directed by Michael Dowse. (1:33) R.
Summer Night
Young people find romance, face relationship challenges and party the night away as adulthood looms. With Analeigh Tipton, Lana Condor, Justin Chatwin, Ellar Coltrane. Written by Jordan Jolliff. Directed by Joseph Cross. (1:38) NR.
Three Peaks
A man's complicated relationship with his girlfriend and her resentful 8-year-old son turns into a power struggle when the trio vacations in the Italian Alps. With Alexander Fehling, Bérénice Bejo, Arian Montgomery. Written and directed by Jan Zabeil. In German, French and English with English subtitles. (1:30) NR.
Trespassers
Two young couples staying at a vacation rental in the desert find their debauched weekend getaway interrupted by a brutal home invasion. With Angela Trimbur, Janel Parrish, Fairuza Balk. Written by Corey Deshon. Directed by Orson Oblowitz. (1:28) NR.
---