L.A. movie openings, Nov. 19-23: 'The Favourite,' 'Creed II,' 'Roma' and more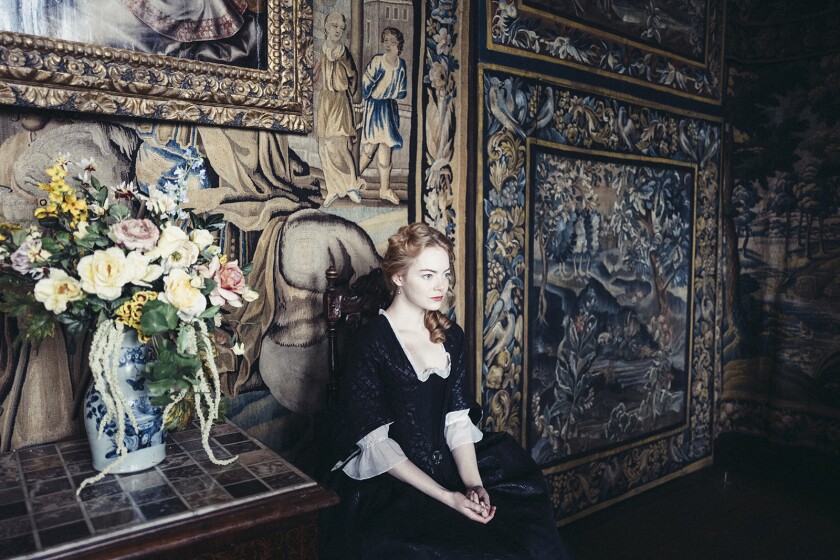 Nov. 19
Caniba
Documentary from the makers of "Leviathan" explores one Japanese man's fascination with cannibalism. Directed by Véréna Paravel, Lucien Castaing-Taylor. In English, Japanese and French with English subtitles. (1:30) NR.
Nov. 21
Creed II
Son of Apollo, student of Rocky Balboa, Adonis Creed climbs back into the ring to face an opponent connected to his family's past. With Michael B. Jordan, Sylvester Stallone, Tessa Thompson, Phylicia Rashad, Dolph Lundgren. Written by Stallone. Directed by Steven Caple Jr. (2:10) PG-13.
Ralph Breaks the Internet
The reluctant video game villain and his pal Vanellope von Schweetz leave the arcade and head online in this computer-animated sequel to the 2012 hit. Voices by John C. Reilly, Sarah Silverman, Gal Gadot, Jane Lynch, Alfred Molina, Ed O'Neill, Taraji P. Henson. Written by Phil Johnston, Pamela Ribon; story by Johnston, Ribon, Rich Moore, Jim Reardon, Josie Trinidad. Directed by Moore, Johnston. (1:52) PG.
Robin Hood
Back from the Crusades, the arrow-slinging Robin of Locklsey and his Moorish commander take aim at the corrupt English crown. With Taron Egerton, Jamie Foxx, Ben Mendelsohn, Jamie Dornan. Written by Ben Chandler, David James Kelly; story by Chandler. Directed by Otto Bathurst. (1:56) PG-13.
Roma
Writer-director Alfonso Cuarón chronicles the life of a young domestic worker and his family in Mexico City amid the political and social upheaval of the 1970s. With Yalitza Aparicio, Marina de Tavira, Nancy García. In Spanish with English subtitles. (2:15) R.
Shoah: Four Sisters
French director Claude Lanzmann's final film is a four-part documentary that consists of 1970s interviews with a quartet of female Holocaust survivors. In English, French, German and Hebrew with English subtitles. (4:33) NR.
Nov. 23
Amazing Grace
Long-lost concert documentary, with footage shot by Sydney Pollack, captures the late, great R&B singer Aretha Franklin's performance with a gospel choir at the New Bethel Baptist Church in Watts in January 1972. (2:00) NR.
Astral
Attempting to connect with his dead mother through spiritual projection, a young man faces demons from the other side. With Frank Dillane. Written by Chris Mul, Michael Mul. Directed by Chris Mul. (1:24) NR.
Be Natural: The Untold Story of Alice Guy-Blaché
Documentary on the pioneering female filmmaker who made her first movie in 1896 at the age of 23. Directed by Pamela B. Green. (1:43) NR.
Becoming Astrid
Biographical drama covers the formative years of Swedish children's book author Astrid Lindgren, creator of "Pippi Longstocking." With Alba August. Written by Kim Fupz Aakenson and Pernill Fischer Christensen. Directed by Fischer Christensen. In Danish and Swedish with English subtitles. (2:03) NR.
The Cleaners
Documentary on the shadowy world of the censors whose job is to scrub offensive content from social-media platforms. Written by Hans Block, Moritz Riesewieck, Georg Tschurtschenthaler. Directed by Block, Riesewieck. (1:28) NR.
8 Remains
As she's being strangled to death by her lover, a young woman flees to a mirror world. With Maja-Celiné Probst, Kevin Leslie. Written by Laura Sommer, Wolf-Peter Arand. Directed by Juliane Block. (1:20) NR.
The Favourite
A charming servant sees opportunity in the court of 18th-century English ruler Queen Anne. With Olivia Colman, Emma Stone, Rachel Weisz, Nicholas Hoult. Written by Deborah Davis, Tony McNamara. Directed by Yorgos Lanthimos. (1:59) R.
The Long Shadow
Slavery's impact on contemporary racism is examined in this documentary. Written by Frances Causey. Directed by Causey, Maureen Gosling. (1:31) NR.
Miss Dalí
Biographical drama about the younger sister of artist Salvador Dalí. With Siân Phillips, Claire Bloom. Written and directed by Ventura Pons. In Catalan, English, Spanish and French with English subtitles. (2:45) NR.
Of Fathers and Sons
Syrian filmmaker Talal Derki's documentary about a radical Islamist preparing his two sons to become jihadis. In Arabic with English subtitles. (1:39) NR.
Postcards From London
A British teen's good looks lead him through an unusual series of occupations. With Harris Dickinson. Written and directed by Steve McLean. (1:28) NR.
Shoplifters
A family of petty criminals in Japan takes in a young girl they find on the street. With Lily Franky, Ando Sakura. Written and directed by Hirokazu Koreeda. (2:01) R.
The World Before Your Feet
Filmmaker Jeremy Workman's documentary about New Yorker Matt Green's quest to walk every street in the city's five boroughs. (1:35) NR.
---
Get the Indie Focus newsletter, Mark Olsen's weekly guide to the world of cinema.
You may occasionally receive promotional content from the Los Angeles Times.