Q&A: Yes, she's Jonah Hill's kid sister. More important, Beanie Feldstein kills it in 'Lady Bird' and 'Dolly'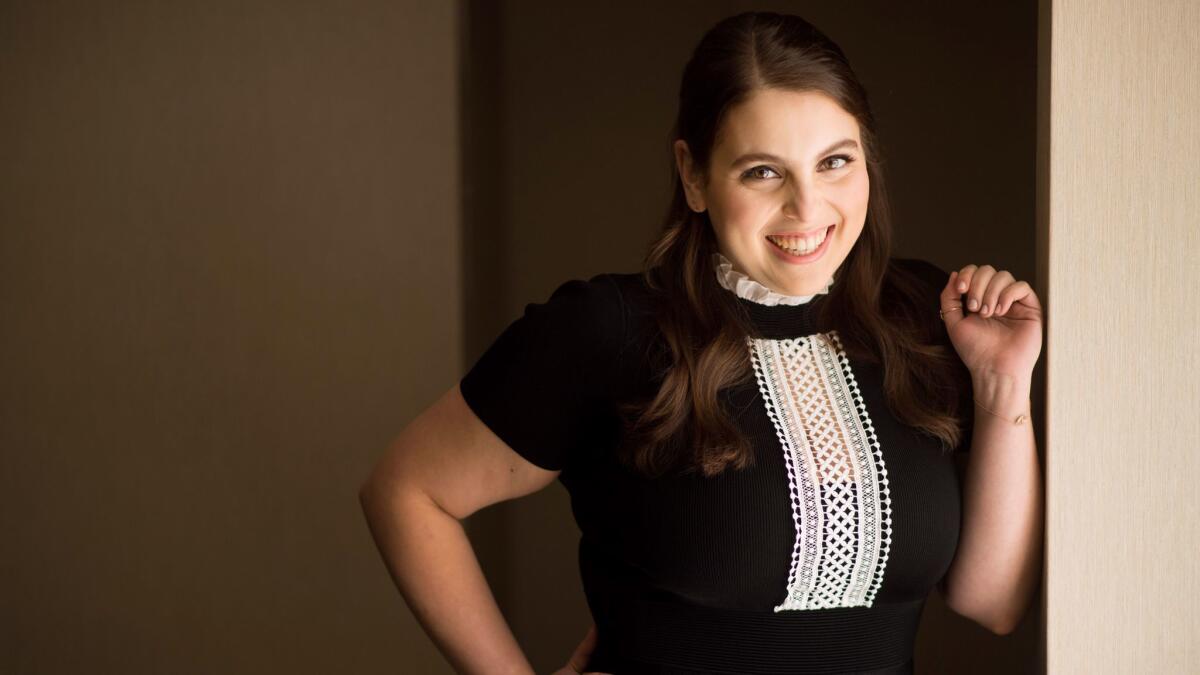 When Beanie Feldstein was 9, she woke up one morning to find she could no longer speak. She'd developed nodules on her vocal cords, a condition that could be fixed only through daily speech therapy and singing lessons. The health scare made her realize that she wanted to become an actress: If she was putting in so much work to fix her voice, she wanted it to pay off.
After years of lessons, seven summers at the acting camp Stagedoor Manor and starring in dozens of school stage productions, she's finally seeing the fruits of her labor. At 24, Feldstein is starring opposite Bette Midler in the Broadway production of "Hello, Dolly!" — she plays shopgirl Minnie Fay — and she has a moving supporting turn as a musical theater-loving geek in Greta Gerwig's critically acclaimed film "Lady Bird."
Feldstein grew up in West L.A. and is the sister of Jonah Hill, nine years her senior. She now lives in Chelsea, N.Y., in an apartment she shares with her best friend from middle school. (She attended Harvard Westlake and went to college at Wesleyan University in Connecticut.)
Though the actress is in the midst of a busy Broadway run — eight shows, six times per week — we spoke to her during a quick weekend trip she made to L.A., where she was staying with her parents while promoting "Lady Bird."
When Jonah started to gain success in Hollywood, was that hard for you, since you aspired to the same career?
Not at all. Never once. At that point, I was, like, 12 or 13. And it's not that I never wanted to do film, it just wasn't on my radar, really. My parents were really encouraging of me doing theater, but the one thing they did do was say, "You're not allowed to do film or television in high school."
My parents saw how much I enjoyed school, and so they were validating what they saw in me. I didn't fight it. It made sense to me. So I was just so excited and surprised when Jonah was starting to do stuff. I was just enjoying school and doing my plays.
Did you study acting at Wesleyan?
No, sociology. I'd talked about Patti Lupone more than I ever thought I would in my lifetime. I had dissected every Sondheim musical. I needed to think about other things and was craving to continue my academic journey, because I felt like I had cheated myself of some of it. But I still did 14 shows at Wesleyan.
So you were acting a lot during college.
Not professionally. I tried for a bit freshman year because I was so close to New York — about two hours on the train. Or I'd do self-tapes in my dorm. But I felt I wasn't writing the papers I wanted to write or performing as well as I wanted to, academically. And I felt rushed in the audition rooms and wasn't putting my best foot forward. So I decided to focus on school.
I've never been in any room and felt like anyone else is like me. They either want the Bean, or they don't want the Bean.

— Beanie Feldstein
Is it true that the drug culture at Wesleyan is pretty intense?
All my friends from college joked that when I graduated I should get an extra certificate, because I never smoked weed or did any drugs. I'm the most scaredy-cat, goody-goody. Not much of a partier.
OK, so I'm guessing you weren't in a sorority, like your character in the "Neighbors" sequel?
It's sort of phasing out at Wesleyan. All of the fraternities are gender-neutral now. There's only one sorority, but it's Wesleyan-founded, so it's not nationally affiliated. I was a tour guide, so ask me anything about Wesleyan. My friends would call me TGB — Tour Guide Beanie. I'd be like, "Did you know that this building used to be the campus center?" And they'd be like, "Beanie, we don't care. We don't want to hang out with TGB right now."
Whoa, so are you really good at walking backwards?
Oh, we don't walk backwards because we're a forward-thinking university. Every day during the tours, I was like, "I can't believe I have to say this."
I hear your best friend is Ben Platt, the star of "Dear Evan Hansen."
Yes! We went to prom together. When Ben won at the Tonys, I didn't cry. I thought I would be hysterically crying. I think Ben is the best at what he does because he's my best friend and I see him through these rose-colored glasses. But at the Tonys, there was this moment where everyone in this room of the best of the best was seeing him the way that I saw him. It was really emotional, everyone seeing the genius I've always seen.
How did you end up on Broadway opposite Bette Midler?
The week we were filming, [producer] Scott [Rudin] said he'd been watching 'Lady Bird' and thought I could be right for Minnie Fay. I usually start crying when I talk about him, because he literally changed my life. Putting me in Greta's movie — which was the singular most special experience I've ever had — and putting me in 'Dolly.' They [Rudin and producing partner Eli Bush] opened every door for me, career-wise. I email them 'thank you' like once a week.
There's been so much discussion recently about the way women are treated in Hollywood. Have you ever felt pressured to fit into a certain mold in order to find success in the industry?
I feel really lucky in that all of the projects I worked on I've been comfortable saying "I don't want to wear this." No one has forced me into being anything I don't want to be. On "Neighbors," being chubbier than the other two actresses, I was like, "Am I gonna get the chubby girl wardrobe?" But I ended up liking my wardrobe the best.
Is that how you think you're thought of — as the "chubby girl"?
It doesn't bother me at all. I think I'm still figuring it out. I've actually been writing a lot about it. I just see myself as very singular, which I think is a good thing. I've never been in any room and felt like anyone else is like me. They either want the Bean, or they don't want the Bean.
Wait, so tell me the story behind your nickname.
My real name is Elizabeth, but I had a nanny growing up who called me 'Elizabeanie.' So from 4 months old, my brothers were, like, "Let's call her Beanie." To show people the validity of it, I always say that if I met the president, I would say, "Hi, my name is Beanie." But with our [current] president, I would say, "My name is Elizabeth," because I don't want him to know my real name.
ALSO
'Lady Bird' is the word this awards season
Greta Gerwig's 'Lady Bird' is a coming-of-age movie so real you won't believe it's fiction
Theater veterans Tracy Letts and Laurie Metcalf on sharing the screen in Greta Gerwig's 'Lady Bird'
Tracy Letts is often cast as the powerful leader, but for 'Lady Bird' he gets to play 'an old softie'
Get the Indie Focus newsletter, Mark Olsen's weekly guide to the world of cinema.
You may occasionally receive promotional content from the Los Angeles Times.