Q&A: With 'Patti Cakes,' Cathy Moriarty is still aiming for authenticity
Cathy Moriarty owes her acting career to a bathing beauty contest.
A photo posted at a Bronx nightclub where she had won the competition — all in pursuit of a pair of black heels with an ankle strap — caught the eye of Joe Pesci, who in 1978 was working on a movie about a boxer named Jake LaMotta. That photo led to months of auditions for the role of the fighter's wife, Vickie.
The movie would become Martin Scorsese's "Raging Bull" starring Robert DeNiro, for which Moriarty nabbed a supporting actress Oscar nomination in her first acting gig ever. (The film won two Academy Awards, for DeNiro's lead performance and Thelma Schoonmaker's film editing, and had eight nominations total.)
Though some might look at her industry origin story in awe or bewilderment, Moriarty admits that while she "definitely [doesn't] laugh … it's funny because when I did the screen test, I had very little experience," she said.
"I had just acted in high school ... but then I had the privilege to learn from some of the greats, really. I learned from DeNiro, Joe Pesci, Scorsese."
Nearly 40 years later, at 56, she's still tackling large (and small) screens. Her latest project is as Nana, the grandmother of a girl who wants to be a rapper in "Patti Cakes." The Times spoke with Moriarty about playing a character almost 25 years her senior, learning to love her one-of-a-kind voice and her advice for younger actors who can only hope to have as sustained a career.
---
What attracted you to this film and role?
I had the privilege of working with [director] Geremy [Jasper] on his short called "Outlaws" with Harvey Keitel and David Beckham. After we finished that, he told me that he had this script for his first feature and asked if he could send it to me … he wanted me to play the grandmother of this girl who wanted to be a rapper. So he sent me the script and I realized I would be playing 75 [years old]. [laughs] But I read it. Then I read it again and said, "This is different. This is heartfelt ..."
And I loved working with him because he creates the character so perfect [on the page] and lets you develop it. So I told him I would play it because I loved it. That was it.
Were you hesitant about playing a grandmother? Are you even a grandmother?
I'm just a mom. My oldest is 16. But after playing one, I kind of like it. [laughs] But I didn't really think about it. I just liked the development of the character and how what she did not do for her daughter she wanted to do for her granddaughter. I like to say that I wished makeup took a little longer [to make me look older] but it only took 20 minutes. [laughs]
If you've got a dream, it's up to you to make it come true. ​​​​​​​

— Cathy Moriarty
Being on set with a first-time director and a young actress at the start of her career like Danielle Macdonald, did it remind you of your early "Raging Bull" years?
It did remind me of that, and I felt like the mother hen. Even the other night, we went out and I was like, "Listen guys, we have to be ready at 6 o'clock in the morning." [laughs] But everyone was so drunk with talent [on set]. I don't know where Geremy got this idea, but we became a very tight family. Normally when you finish a role it's like, "Bye." But not on this one.
And Danielle, who plays my granddaughter, she's so wonderful. She literally was learning how to rap in her closet and how to do a [New] Jersey accent.
Did you give Danielle or Geremy any advice as the veteran on set?
We told lots of stories and they would ask questions and I'd answer. This wasn't one of those [projects] where everyone went back to their trailers in between shooting. We didn't. That's because we didn't have any. [laughs] But everyone just stayed connected. There was so much love. It was just a beautiful experience.
I read somewhere that you had to get used to your voice in those early years, but it's now the thing, no matter the character's makeup, that clues people in to you. Have you adjusted yet?
It's so funny because I'm unrecognizable in this movie, or I hope anyway. But people have been saying, "I know that voice." You're the second person that's asked me that question this week. I think I first said that with Johnny Carson because I heard my voice and thought it sounded like a truck driver. I love my voice now a lot better.
Before this interview, I was forced to watch your 1991 film "Soapdish." I wasn't fortunate enough to be born when it initially came out — though I was conceived if that helps.
You weren't born yet? [laughs] One of my favorites.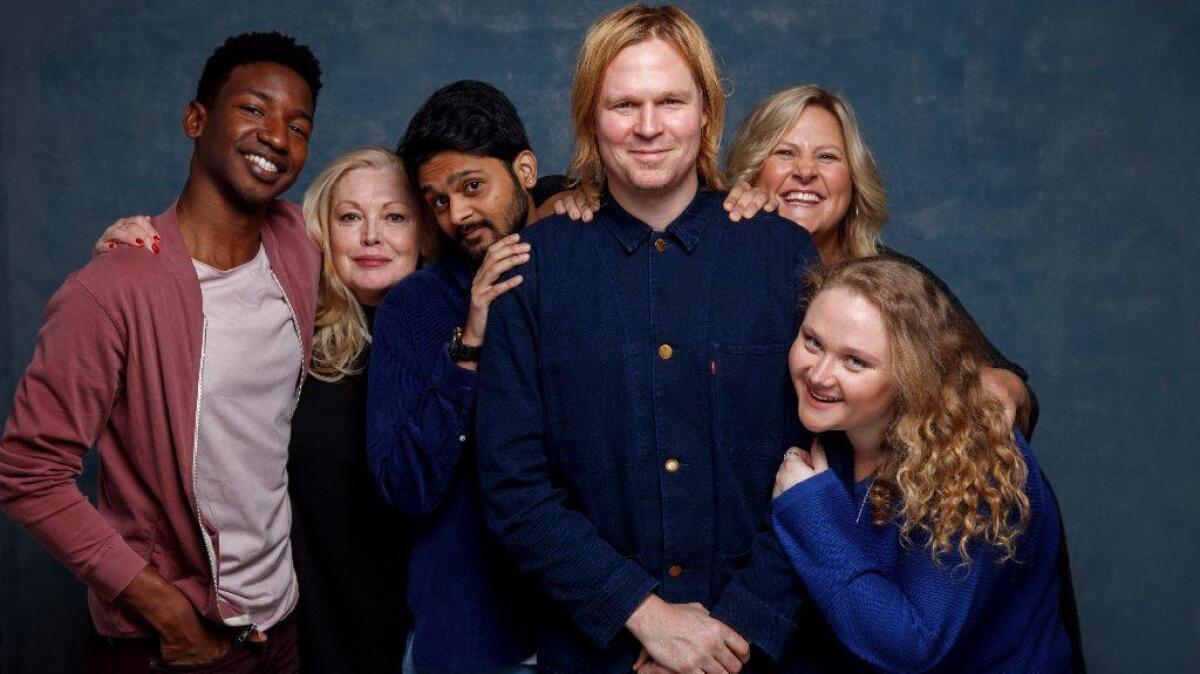 I loved you in the live-action "Casper" movie. Nonetheless, in looking at your filmography, many of the movies you take on seem to have a message of authenticity weaved into them, and that includes "Patti Cakes." Is that something you consciously look at?
I do. I like to create a character close to life, where it's real. And that's how I know Geremy is going to be a huge director, because he knew where everyone would fit. I was the only one he had worked with already and if I was him, I wouldn't have been his first choice. But he gave me another opportunity.
When I was first watching it, and I was watching with my daughter, I was like "Wow, this is actually kind of good." [laughs] It was brilliant.
We know that aging in Hollywood and still getting jobs is often a feat. What advice do you have for actors looking to have a similarly sustained career?
I kind of messed mine up a little at a point, but I'd tell them to always dream, to train and keep on top of your game. Always do play readings to stay fresh. And know what you're doing. You have to study.
Rejection is a huge part of acting. You can audition 100 times and only get two [jobs]. You've got to look at it like, "Wow, I got these two parts," not "I got a lot of no's." You have to have tough skin. And just keep going, keep going, keep going.
I must ask, are you a fan of rap?
Most of the time I have to tell my kids to turn off the rap. [laughs] But I'm a big fan of Eminem. I think he's a great writer. This is more of a hip-hop rap than that, like Nicki Minaj. I'm more of a Billy Joel kind of girl. And I have to point out that Geremy wrote all of the raps for the movie.
What would you say is the film's takeaway?
That if you've got a dream, it's up to you to make it come true.
ALSO:
Danielle Macdonald's star-is-born performance elevates the hip-hop fairy tale 'Patti Cakes'
Dreams come true for Geremy Jasper, Danielle Macdonald and Bridget Everett with 'Patti Cakes'
The big deals at Sundance: Why the movies sold and how they might succeed
Get the Indie Focus newsletter, Mark Olsen's weekly guide to the world of cinema.
You may occasionally receive promotional content from the Los Angeles Times.