Why 'Crazy Rich Asians' marks an emotional moment — and a movement — for underrepresented voices in Hollywood
The stars of "Crazy Rich Asians" talk about their most memorable auditions.
Jon M. Chu couldn't contain the emotion as he strolled victoriously out in front of a packed house at the historic TCL Chinese Theatre in Hollywood on Tuesday night.
With author Kevin Kwan by his side, he took the microphone to introduce the premiere of "Crazy Rich Asians," a film unlike any other that has debuted inside the most iconic movie palace in the world since its ornate, Oriental-themed doors opened in 1927.
"What a moment," he announced breathlessly, electricity rippling through the air. "Look around. This is history, and we are here together for it."
Adapted from Kwan's 2013 international bestseller, "Crazy Rich Asians," which opens nationwide on Wednesday, is a big budget romantic comedy about Rachel Chu ("Fresh Off the Boat" star Constance Wu), a Chinese American New York economics professor who travels to Singapore with her boyfriend, Nick Young (newcomer Henry Golding), for a wedding, and to meet his family for the first time.
There she discovers her beau's clan is one of the wealthiest in Asia, with their own unique peculiarities and prejudices — and goes head to head with his tradition-minded mother (screen legend Michelle Yeoh).
It's charming, glossy and gorgeously shot, set across Singapore and Malaysia, with an ensemble of beautiful actors, stunning locations and colorful characters — a vibrant return to form for the classic Hollywood romance.
More to the point: It's the first American studio film to center on an Asian American story told by Asian filmmakers with an all-Asian cast in 25 years, since Wayne Wang directed the 1993 adaptation of Amy Tan's "The Joy Luck Club" to critical acclaim.
In light of the industry's persistent oversight of the on-screen inclusion of underrepresented faces and voices, each battle won and every watershed moment are a cause for celebration — particularly in the wake of a record-breaking success like "Black Panther."
But talk can take its sweet time transforming into action.
Twenty-five years have passed since Hollywood invested in a contemporary Asian-centered story on this scale, and yet...
Three years have passed since #OscarsSoWhite went viral, spearheaded by activist April Reign to call out the industry's crisis of inclusion, and yet...
Six months have passed since "Black Panther" exploded onto screens en route to more than $1 billion at the box office, proving that representation not only matters, but makes good business sense. And yet...
A recent USC Annenberg study showed that in spite of increased conversation around inclusion and diversity, no significant increase in the percentage of diverse characters on-screen has followed in recent years. The industry has yet to put its money where its mouth is.
Which is what filmmaker Chu did two years ago, before teaming up with Kwan and producers Nina Jacobson and Brad Simpson of Color Force and John Penotti of Ivanhoe Pictures to bring "Crazy Rich Asians" to the big screen.
Following a solid run of studio franchise films including two "Step Up" movies, "G.I. Joe: Retaliation" and "Now You See Me" and its sequel, the director had arrived at a personal crossroads.
He'd just poured his heart into a film — a stripped-down reboot of the '80s cartoon "Jem and the Holograms" for the social media era — that nevertheless failed to find its audience. He looked inward, questioning himself: " 'Why am I doing this? Who am I doing this for? What am I actually contributing to all of this?'
"I felt so lucky to be in Hollywood," Chu reflected during a quiet moment recently between the dizzying press tours he and his cast have been on, engaging an audience they hope will show up for them on opening weekend. "They gave me all types of movies. I was learning a lot… but my message was getting lost in it."
At 36, having established a reputation as a reliable studio director, the Silicon Valley-raised son of Chinese immigrants returned to a topic that had long intimidated him as an artist — a common anxiety many Asian Americans share, especially those who have to fight their way into non-diverse spaces.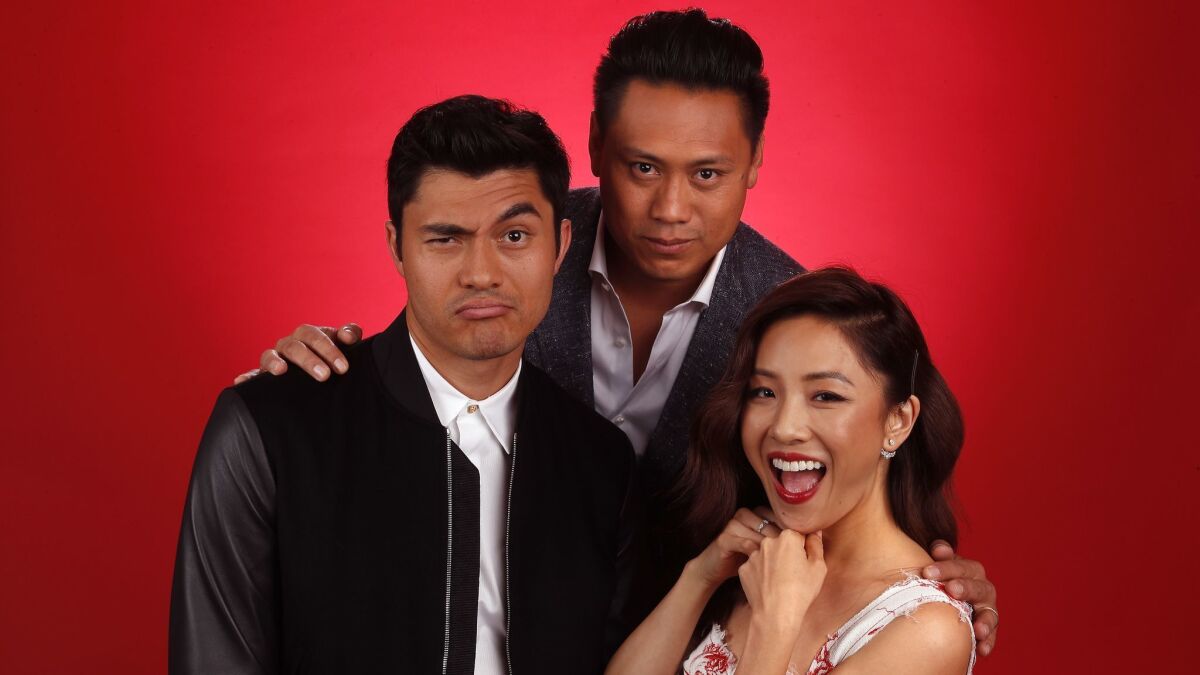 REVIEW: A flawed but vital milestone, 'Crazy Rich Asians' pays exuberant tribute to Singapore's 1% »
"Thinking about what scared me the most — it was my own cultural identity," said Chu. "When you're the only Asian in the room you don't want to be called the only Asian in the room. And I thought I was the only one."
On Twitter he found himself emboldened by the vocal criticisms of Hollywood whitewashing, erasure and inequity he read from Asian American activists and stars like Daniel Dae Kim, Jeff Yang and future "Crazy Rich Asians" star Wu.
"All these people talking revealed to me that I wasn't the only one who thought this," said Chu. "And that I was also part of the problem. I was Hollywood. It wasn't like I had somebody else to blame."
Then along came Kwan's glitzy, escapist beach read: A mock cross-cultural, intergenerational epic that simultaneously illuminated and skewered the crazy-rich world of Singaporean elites through the fish-out-of-water lens of an American-born Chinese heroine.
"As an artist you try to reflect the moment that you're in, and you try to be present. And this was probably the most present movie I've made in terms of where my journey was going because I was also having a baby," said Chu. "I was thinking of what I was going to pass onto my daughter."
Warner Bros. snapped up rights after a bidding war for the project, scripted by Adele Lim and Peter Chiarelli.
"There were no guarantees when we started this," Chu said, looking back, as a groundswell of excitement from Asian and even non-Asian communities rallies moviegoers. "To see it pop even beyond our own community has been really incredible."
If it makes money, Kwan, who also served as executive producer, hopes his two "Crazy Rich Asians" sequels are next. "If enough people go see this movie we'll make more movies," he said. "[Warner Bros.] wants to do three movies... but the proof is in the pudding."
Many Asian American films and filmmakers helped pave the way to this moment, mostly from the indie film scene. "Better Luck Tomorrow" launched the careers of "Fast and Furious" franchise helmer Justin Lin and star John Cho, who would go on to lead three "Harold & Kumar" films with Kal Penn as two Asian American buddies navigating a mostly white world in search of happiness, finding comic absurdity in the results.
Asian talent in Hollywood has been there for the hiring on television and in movies, but only rarely have major networks and studios invested in said talent beyond supporting roles -- and often stereotyped roles at that.
That's why "Crazy Rich Asians" came as such a surprise to Wu, who was already part of an exception to the rule as one of the stars of "Fresh Off the Boat." When it premiered in 2015, the ABC comedy was the first American prime-time sitcom in more than 20 years to center on an Asian American family, following Margaret Cho's short-lived series "All American Girl."
"I never thought I'd be considered for something like this because I'd never seen any Asian American be a lead – and there are some great Asian American [actors]," said Wu, a vision of old Hollywood glamour in red and white Oscar de la Renta on a Sunday in Beverly Hills.
"I didn't think it was really possible, and I wanted to make it possible," she said. "I honestly thought I was going to be a waitress for the rest of my life doing regional plays here and there."
With great clout comes greater responsibility, and the last four years on her show have given Wu, who was born and raised in Richmond, Va., the chance to reflect on how she might uplift others with a platform she never expected to have.
"It feels a little scary because you want to do right by people and you actually can't do right by everyone," she admitted. "For me, the biggest thing is making sure that the people who don't feel represented know that even though I don't represent them, I'm still rooting for them."
Thanks to an exhaustive search to assemble Asian actors from all over the globe, the "Crazy Rich Asians" cast is rich in new and under-seen talent. The film has already launched promising career prospects for leading man Golding, who was an on-camera travel host in Asia before he landed the role of Nick Young.
The international cast and creators of "Crazy Rich Asians" on their crazy diverse journeys to Hollywood and why they hope their groundbreaking rom-com is a watershed moment for underrepresented voices.
This was the coveted role for generations of Asian actors. I mean, it was literally something that came around once in a blue moon.
— Henry Golding
"Hollywood had a history of whitewashing and not representing," said the British Malaysian actor, who has already filmed the drama "Monsoon" for director Hong Khaou and stars opposite Anna Kendrick and Blake Lively in Paul Feig's thriller "A Simple Favor," due for release in September.
"This was the coveted role for generations of Asian actors. I mean, it was literally something that came around once in a blue moon," said Golding, who cut short his own honeymoon to fly around the world for a callback and landed the gig of his career three weeks later. "I want to continue that and hopefully be a colorblind leading man."
"So… what comes next?" is a question the stars and makers of "Crazy Rich Asians" have been asked a lot lately, but there isn't an easy answer.
"It's what Chimamanda Adichie says about the danger of a single story," said Wu. "People are like, 'What is the next project you think Asian Americans should do?' There is no one project. We just need more projects."
"It's just narrative plenitude," said Wu, citing Pulitzer Prize-winning author Viet Thanh Nguyen. She's careful to emphasize that a single film like "Crazy Rich Asians" in no way represents all experiences across the vast global diaspora.
"One cannot represent the whole," she said. "I feel for the people who keep hearing that this is the movement for Asian Americans and feel left behind, because there isn't even a reference to somebody who looks or feels like them. That's why we're making this movie — so that other people make movies that reflect them."
Get our L.A. Goes Out newsletter, with the week's best events, to help you explore and experience our city.
You may occasionally receive promotional content from the Los Angeles Times.