New video: 'Last Flag Flying' isn't typical Richard Linklater fare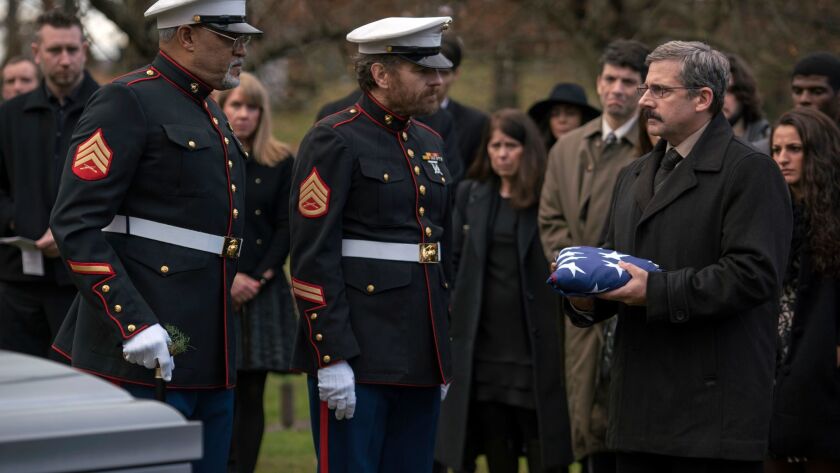 NEW ON BLU-RAY
"Last Flag Flying" (Lionsgate DVD, $19.98; Blu-ray, $24.99)
Director Richard Linklater has carved out a space for himself in American independent cinema as a poet of youth: both in full flower (in "Dazed and Confused" and "Boyhood") and as it fades (in "Before Sunset" and "Before Midnight"). At first glance, the drama "Last Flag Flying" may seem like a departure, since it's about three aging Vietnam War veterans — played by Steve Carell, Bryan Cranston and Laurence Fishburne — on a cross-country road trip to bury one of their sons, who was killed in Iraq. But while it's less grabby and more sappy than some of Linklater's other movies, it does offer a fresh perspective on the filmmaker's signature motifs: how friends interact with each other when they're just hanging out and how it's human nature to pause every now and then and reflect on how rapidly life zips by.
[Special features: Deleted scenes and brief featurettes]
VOD
"Plain Spoken: From the Chicago Theater" (available 2/1 on Netflix)
John Mellencamp brings a particularly strong outing from his recent, acclaimed "Plain Spoken" tour to Netflix, singing songs that span his entire career, from the pop hits of the '80s to his more recent experiments with old-fashioned Americana. But there's a twist to "Plain Spoken: From the Chicago Theater" that sets it apart from other concert films: Throughout the performance, Mellencamp is heard in voice-over, telling stories about his childhood and his early adventures in the music business. It takes a song or two to adjust to hearing what amounts to a DVD commentary track for a rock 'n' roll show, but soon the star's singing voice and speaking voice become an engaging duet, revealing the deeper meanings and motivations behind a great singer-songwriter's work.
TV set of the week
"The Pink Panther Cartoon Collection: Volume 1" (Kino Classics Blu-ray, $29.95)
The opening credits to the 1963 caper comedy "The Pink Panther" were so popular that they spawned an entire series of shorts, which screened in theaters before becoming a staple of TV in the late '60s and '70s. Beloved by animation buffs, the cartoons put a spin on the usual Bugs Bunny/Woody Woodpecker-style anthropomorphic mischief, by largely eschewing dialogue and putting the gangly title character in situations more whimsically bizarre than life-or-death. Critics have called Pink Panther the last great silent movie comedian, which is an apt way to describe the character's stoic countenance and narrow escapes.
[Special features: Scholarly commentary tracks on selected shorts]
From the archives
"Threads" (Severin DVD, $19.95; Blu-ray, $29.95)
The sudden return of real-world nuclear war anxiety has revived interest in the ways popular culture has dealt in the past with the widespread fear of a push-button apocalypse. In the United States, a whole generation was rattled by the 1983 TV movie "The Day After." In the U.K., the controversial 1984 BBC production "Threads" had the same terrifying effect, detailing both the immediate and lingering horrors of a nuclear attack. Directed by Mick Jackson (years before he made Hollywood movies like "The Bodyguard"), "Threads" shocked audiences with its docu-realistic approach to the unthinkable, set in an ordinary British town where the horrors depicted were scarily plausible.
[Special features: A commentary track and extensive interviews]
Three more to see
"Old Stone" (Zeitgeist DVD, $29.95; Blu-ray, $34.99); "Professor Marston and the Wonder Women" (Sony DVD, $25.99; Blu-ray, $26.99; also available on VOD); "Tyler Perry's Boo 2! A Madea Halloween" (Lionsgate DVD, $29.95; Blu-ray, $39.99; also available on VOD)
---
Get the Indie Focus newsletter, Mark Olsen's weekly guide to the world of cinema.
You may occasionally receive promotional content from the Los Angeles Times.