Harrison Ford and Ryan Gosling go back to the future in dystopian new 'Blade Runner 2049' trailer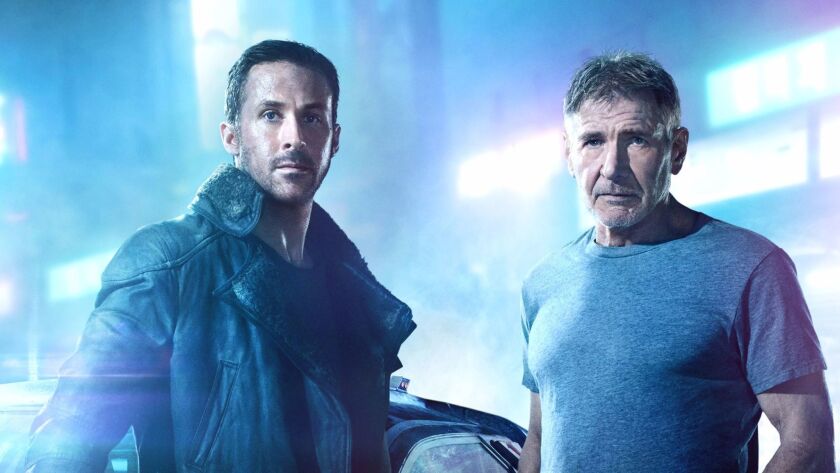 "The key to the future is finally unearthed," Jared Leto somberly intones in the moody new trailer for "Blade Runner 2049," teasing mysteries yet to be revealed in the upcoming sequel to Ridley Scott's 1982 dystopian sci-fi film.
Fans will have to hold out five more months to learn what those mysteries may be when the film hits theaters on Oct. 6. But with the new trailer and a live-streamed Q&A Monday morning featuring stars Harrison Ford and Ryan Gosling and director Denis Villeneuve, Warner Bros. pulled the curtain back a bit more on one of the year's most anticipated films.
Set three decades after the events of the original movie, "Blade Runner 2049" centers on a young LAPD blade runner named Officer K (Gosling), who is tasked with hunting down renegade androids called "replicants." K uncovers a secret that leads him on a quest to find Ford's Rick Deckard, a blade runner who has been missing for 30 years.
A cyberpunk classic that has cast a vast shadow across pop culture since its release, influencing everything from "The Matrix" to "Battlestar Galactica" to "Westworld," the original "Blade Runner" has been renowned for its darkly beautiful visual style and its haunting vision of an all-too-plausible future.
The new trailer shows Villeneuve, who directed last year's brooding, cerebral sci-fi hit "Arrival," working to create, if not a replicant of that film's template, at least a worthy successor – one that wrestles with the same themes of memory, empathy and both the promise and the peril of technological advances like artificial intelligence.
Those themes are as resonant in 2017 as they were in 1982, if not more so, said Villeneuve during a Q&A in Los Angeles before the trailer's release.
"In 2049, for some reason society lost its memory and its relationship with history in some ways," Villeneuve said, deliberately steering far clear of any plot spoilers. "That's something that's frightening and relevant with our world today."
"This film acknowledges and deals with some of the ethical considerations that technology presents us with," Ford said. "There's no such thing as a free lunch, and we're really talking about both the benefit of technology and the social consequences of it in a way that I think is really interesting."
For Ford, who has already made late-career returns to both the Indiana Jones and "Star Wars" franchises, finding himself in the gritty yet futuristic world of "Blade Runner" again after 35 years – and back in one of his most iconic roles – was surreal and gratifying.
"The first time I walked on the set … it was raining – that made me feel welcome," the actor, who will turn 75 this summer, said wryly. "Ryan was working with a naked woman. That made me a little sad. But she was a holographic projection, which made me happy again."
Gosling himself was just a toddler when the original "Blade Runner" hit theaters, but he grew up in a pop culture landscape that had been deeply affected by it. To walk on the set, with its working props and painstakingly detailed production design, he said, was to be plunged into a world that felt at once alien and familiar.
"You were just completely immersed in this universe that you had grown up watching and imagining," Gosling said. "The trick for me was just not to be impressed by it on camera because it was supposed to be my everyday reality, as if I'd never known anything else."
That said, as prophetic as the film's vision of the future may have been – anticipating advances in artificial intelligence that have begun to blur the line between humans and machines – it did overshoot the mark in a few ways, for better or worse.
"We haven't worked out the flying car thing yet, so that's disappointing," Gosling said, deadpan. He paused a beat. "But I'm being nicer to my electronics just in case."
Watch the Q&A session below.
Twitter: @joshrottenberg
ALSO
'13 Reasons Why' is getting a second season. Here's what to expect
The Indian fantasy epic that's breaking box-office records is unlike any Bollywood film you've seen
Plan your summer: A list of every single movie coming out this season
New 'Alien: Covenant' short reveals what happens to Elizabeth Shaw after 'Prometheus'
John Oliver urges Internet users to save net neutrality: 'We need all of you'
---
The complete guide to home viewing
Get Screen Gab for weekly recommendations, analysis, interviews and irreverent discussion of the TV and streaming movies everyone's talking about.
You may occasionally receive promotional content from the Los Angeles Times.