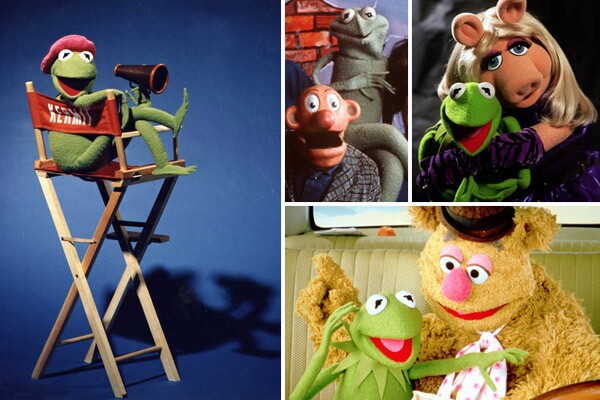 19 Images
Kermit the Frog: A crazy career in pictures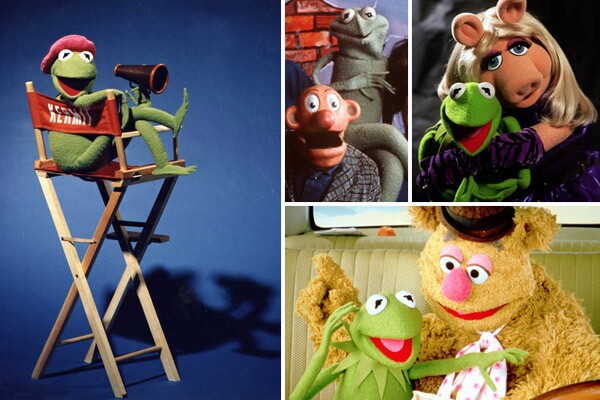 Though Muppet lore has the world's most popular amphibian originating in the swamps of Florida, the character actually got his beginnings on "Sam and Friends,"
Jim Henson
's live-action and puppet television show, in 1955. Kermit soon became a regular on
"Sesame Street"
before putting his tadpole days behind him and graduating to "
The Muppet Show
," for which he was the front-frog. Since then, Kermit's titles include movies, albums and even an autobiography. The famous frog is returning to the big screen in "The Muppets" this Thanksgiving. Here's a glimpse at some of the more memorable moments in Kermit's show-biz career.
(Clockwise from left: Jim Henson Company, Jim Henson Productions, Kirk McKoy / Los Angeles Times, and Jim Henson Productions / Associated Press)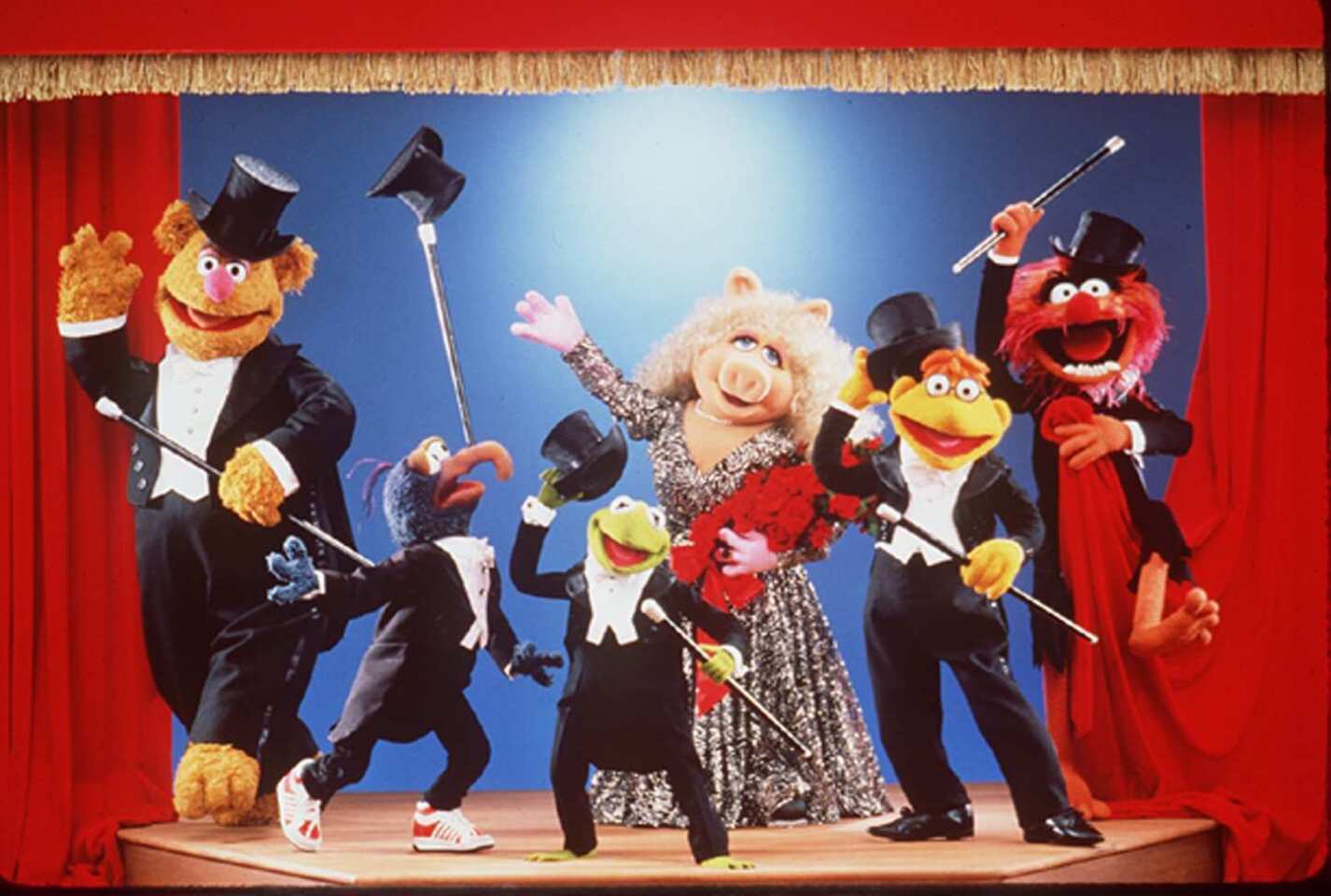 Kermit the Frog
played the showrunner of "
The Muppet Show
," which was a musical variety show with a cast of
Jim Henson
puppets and celebrity guest stars. Kermit ran around the set trying to keep his guests happy while attempting to quell the antics of his employees. Creator Jim Henson was the original voice of the beloved amphibian during the show's five-year run.
The show was an outsized success, reaching some 235 million viewers a week in more than 100 countries. Henson soon branched into films with "The Muppet Movie" in 1979 (followed by sequels and the fantasy forays "The Dark Crystal" in 1982 and "Labyrinth" in 1986) and cable with
HBO
's "Fraggle Rock" in 1983. His characters had a warmth and wit that appealed to all ages.
(Jim Henson Productions)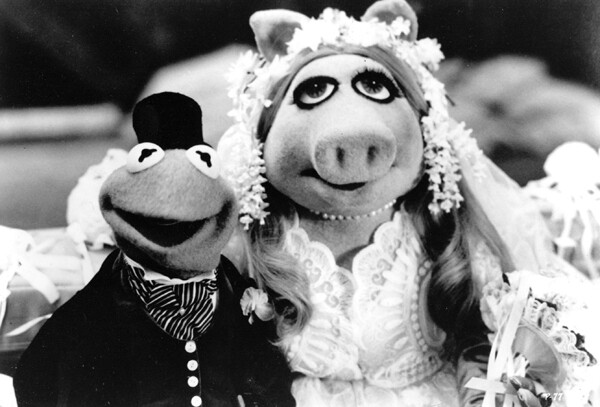 After his "Rainbow Connection" singing and banjo skills are discovered by a talent agent, Kermit leaves the Florida swamps and heads to
Hollywood
in this film-within-a-film origin story. Along the way, he picks up his pals-to-be — Fozzie Bear, Miss Piggy, Gonzo and the rest of the crew. Their journey becomes dangerous when Kermit refuses to be the spokes-frog for evil Doc Hopper's French-fried frog legs restaurant franchise, and Doc sics his henchmen on the Muppets. When they finally make it to La La Land, a big-time studio producer offers the Muppets "the standard rich-and-famous contract."
(Associated Film Distribution)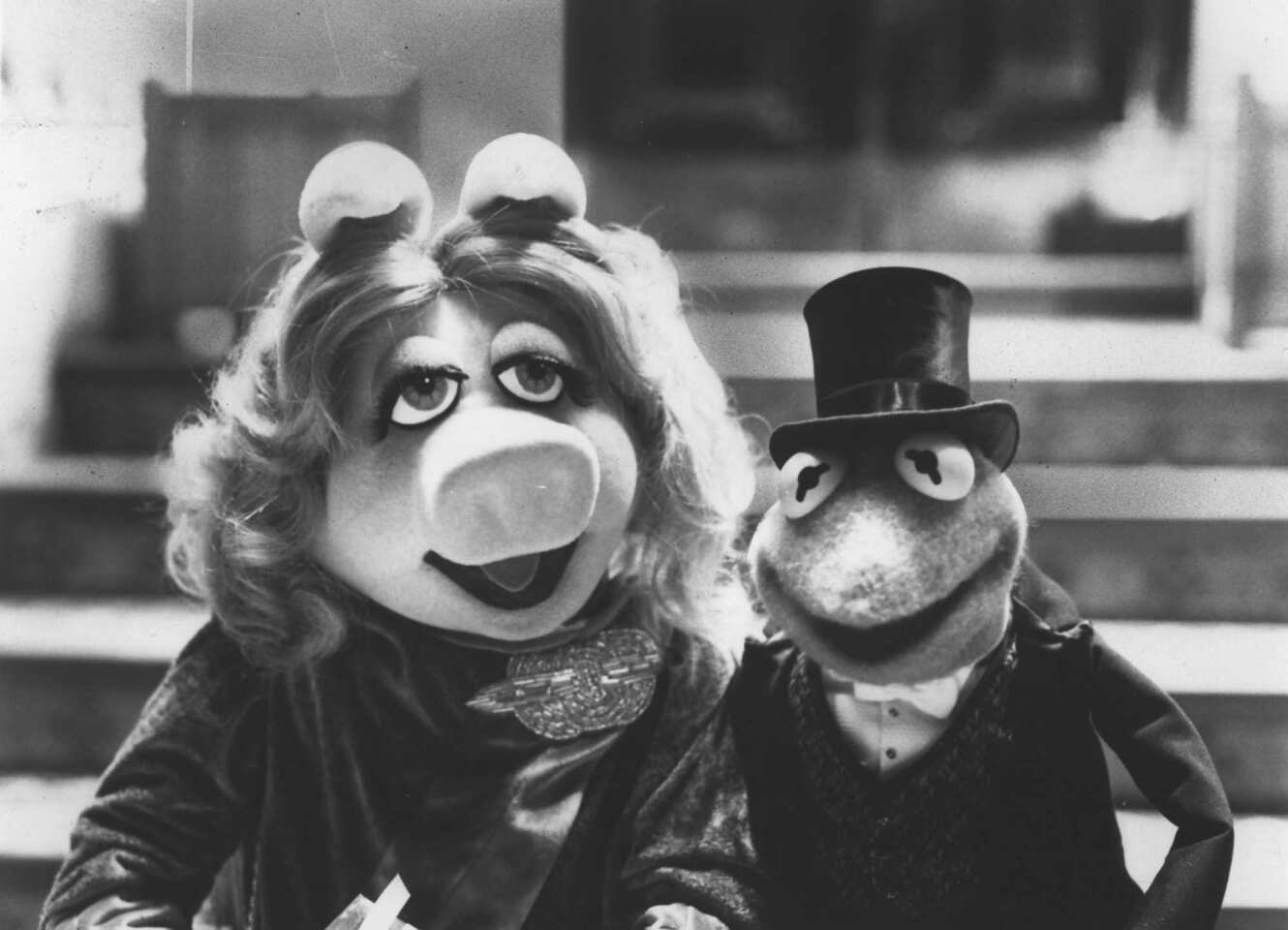 Kermit and his twin brother, Fozzie (the gag is they only look alike when Fozzie wears his hat), visit London for a good old-fashioned diamond caper. The assignment is to interview fashion designer Lady Holliday concerning the theft of her jewelry. However, things get complicated when Kermit's lady love, Miss Piggy, is falsely accused of taking one of her necklaces. Naturally, when the writers catch the real thieves going after the famous Baseball Diamond at Mallory Gallery, a game of keep away and, later, baseball ensues.
(Henson Associates)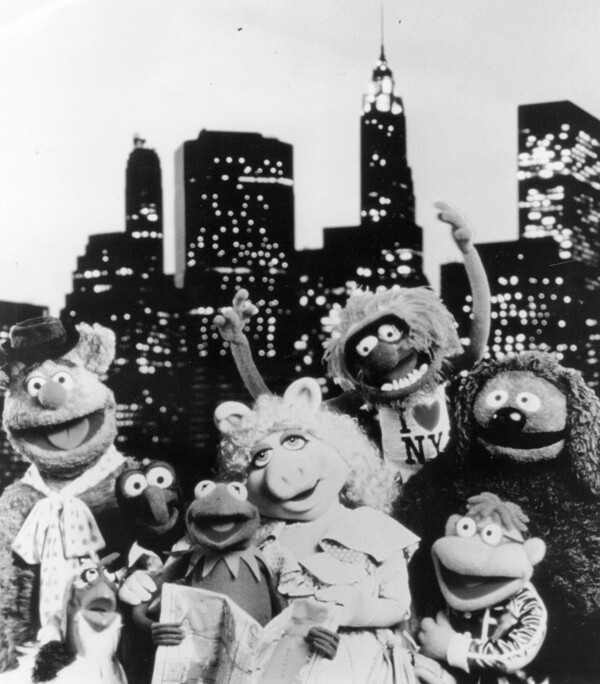 Kermit, Miss Piggy and the rest of their fuzzy friends perform in "
Manhattan
Melodies," a musical variety show, after graduating from college, and the gang persuades Kermit that the show belongs on Broadway. They all head to the Big Apple but are disappointed when they don't become instant stars. The film chronicles their humorous efforts to get discovered, their day jobs when they don't, and Kermit's epiphany that "Manhattan Melodies" needs more "frogs and dogs and bears and chickens and whatever." The very Muppet-y happy ending involves
Central Park
, amnesia and a wedding.
(Henson Associates / HBO)
The short-lived NBC show featured Kermit and his puppet pals in a regular half-hour segment called MuppeTelevision, in which the Muppets ran an entire cable network instead of a variety show. Kermit tried to pull everything together, despite the usual distractions from his friends. MuppeTelevision featured a house band called Solid Foam and guest stars including Ted Danson, Bob Hope, k.d. lang, Dudley Moore and Smokey Robinson.
Pictured above: Jim Henson and his Muppets.
(Jim Henson Company)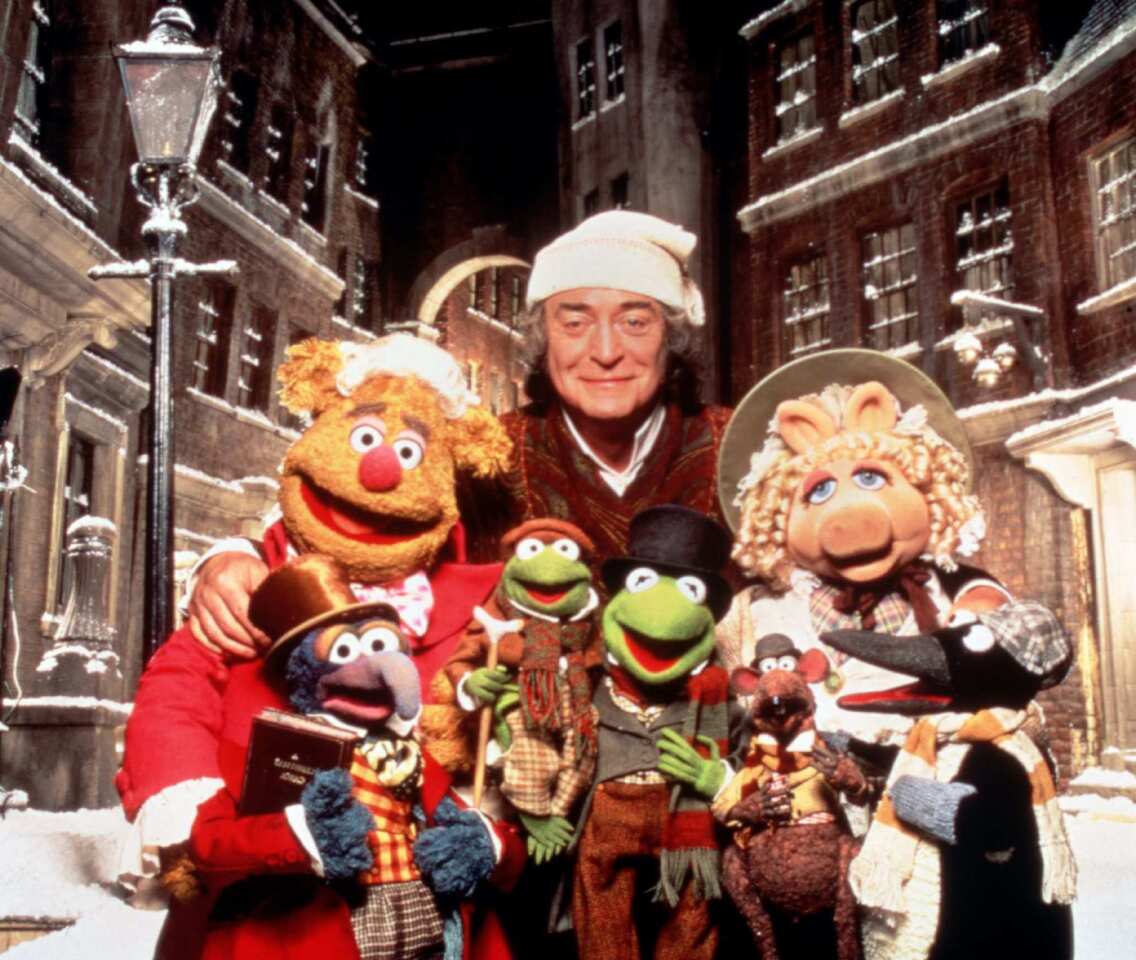 In this Muppets take on
Charles Dickens
' "A Christmas Carol,"
Kermit the Frog
(voiced by Steve Whitmire) plays the beloved Bob Cratchit, who helps
Michael Caine
's curmudgeonly
Ebenezer Scrooge
remember the importance of Christmas. The Great Gonzo (voiced by Dave Goelz) plays Dickens, and Miss Piggy plays Kermit's character's wife, Emily Cratchit, naturally.
(Jim Henson Productions)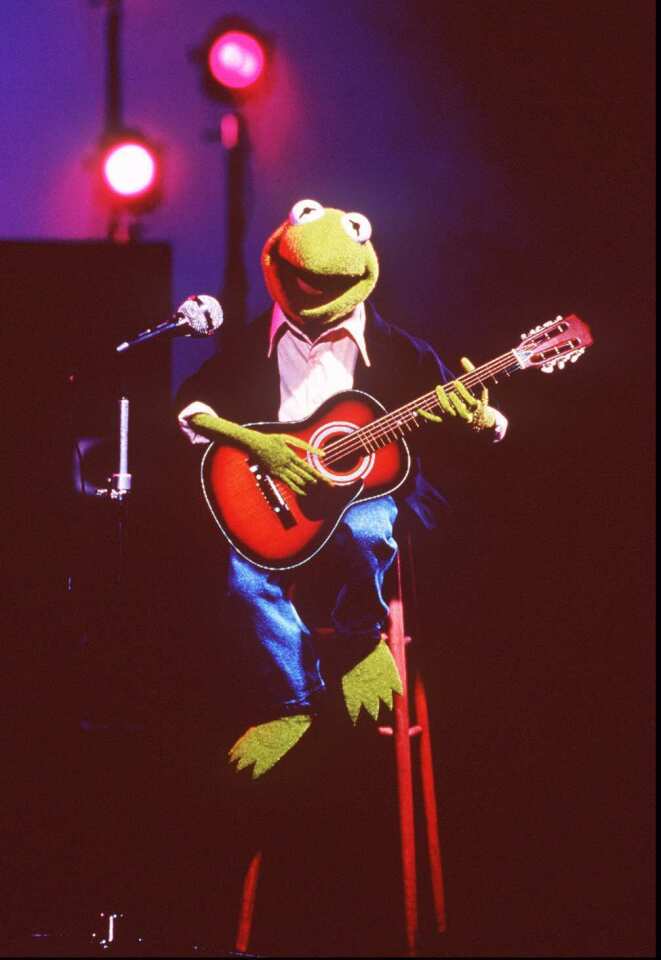 On this music and comedy record, Kermit and fans arrive at a studio to cut an album, but despite Kermit's best efforts, the gang just can't stay together. Everyone gets lost looking for the right studio, sending Kermit walking around the grounds. As Kermit explores, he encounters Vince Gill, Linda Ronstadt and Don Henley, while a late-arriving Miss Piggy stumbles into a room with Ozzy Osbourne. She's paranoid, but Ozzy asks her to cut a take of "Born to Be Wild."
At the end of the recording session, Kermit finally manages to get all his pals in one room for the Beatles' "All Together Now."
(Associated Press)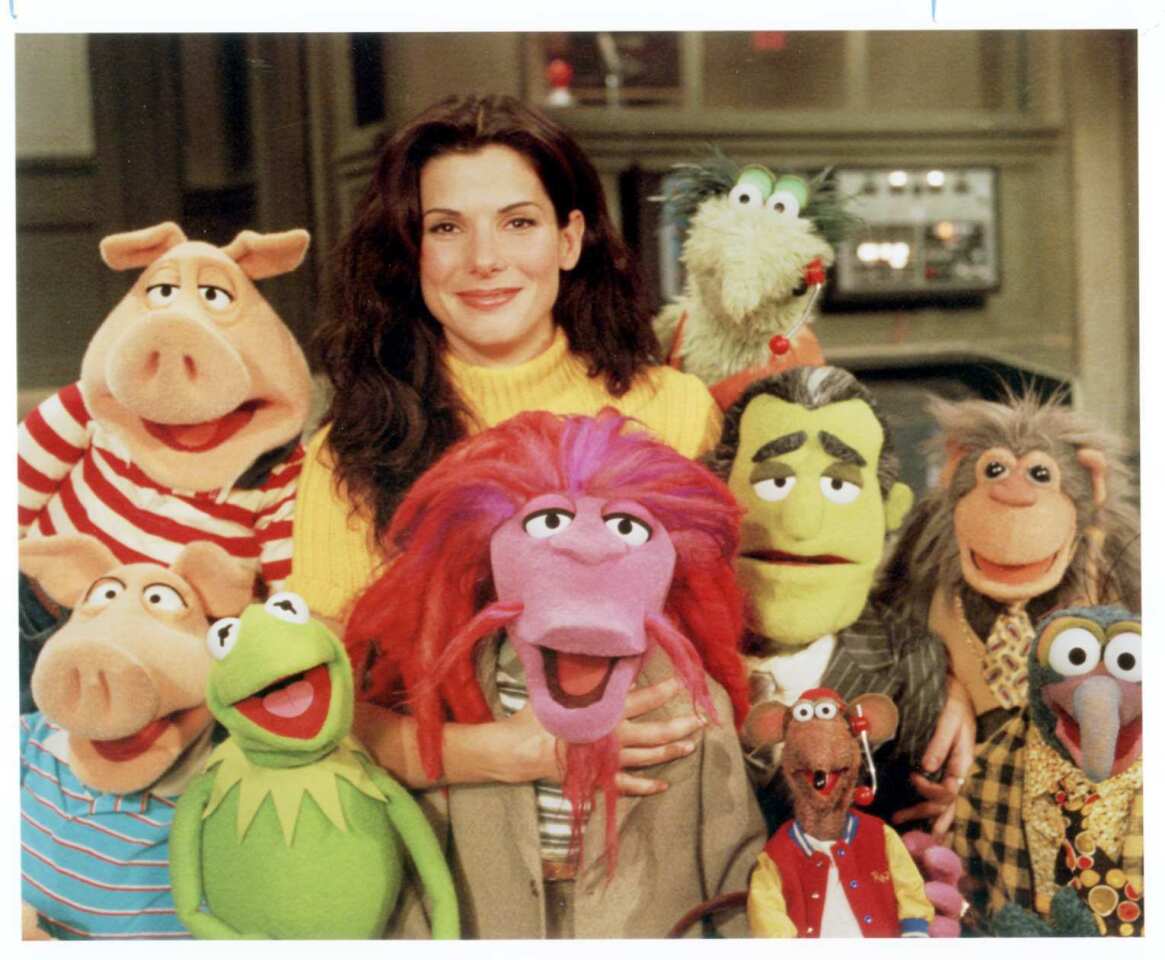 Kermit's career as a happy-go-lucky amphibian earned late-night cachet with the show "Muppets Tonight," a '90s variety show riffing of the original "Muppet Show" for a live TV audience. Filling out the show with tried-and-true comedy bits featuring Hollywood stars, Kermit was also given iconic music sketches that managed to outlast the show's brief two-season run in the mid-'90s. Case in point: his nauseously catchy song "Phenomena" with
Sandra Bullock
as an animal psychiatrist.
(ABC)
Kermit played Captain Abraham Smollett in "Muppet Treasure Island," based on the novel by Robert Louis Stevenson. The movie starred humans in the leading roles, including
Tim Curry
as Long John Silver, and Muppets as supporting characters in what was, aside from some humor and musical numbers, a fairly faithful adaptation of the pirate-fighting, treasure-hunting story.
(Stephen F. Morley / Jim Henson Productions)
Kermit joined the Got Milk campaign in 1999 as the first celebrity frog to endorse the beverage. The ad debuted in Time's May issue and reads, "Milk isn't just for tadpoles. Did you know 3 out of 4 adults don't get enough calcium? It takes at least three glasses of milk a day. I always keep some at my pad."
(Business Wire)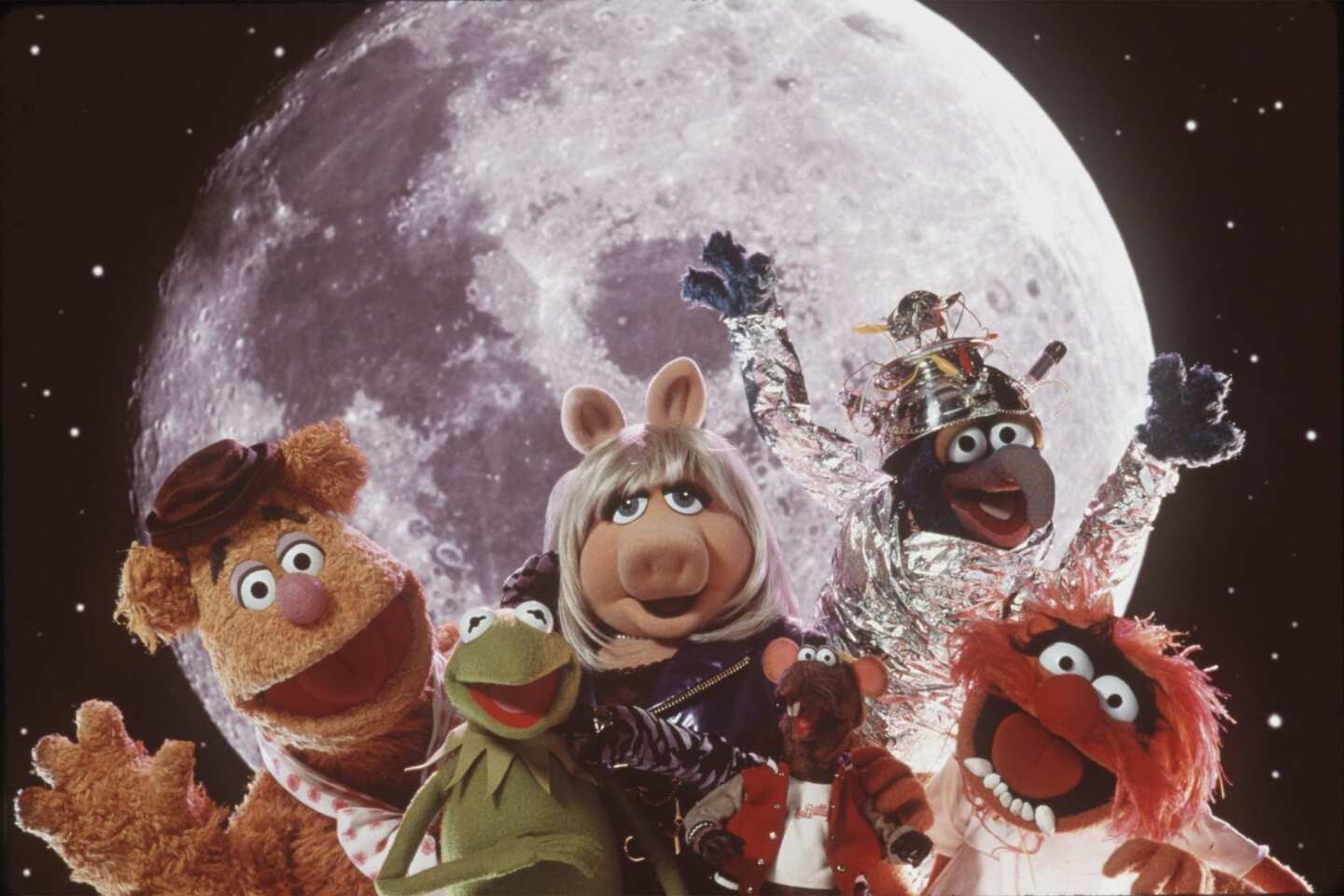 Boldly going where no frog has gone before, Kermit ventured with the rest of the Muppet cast to outer space for a galactic caper film. Though the plot centers on Gonzo being kidnapped after he's contacted by his alien family through his breakfast cereal, it's ultimately up to Kermit and the gang to rescue him and help reunite him with his long-lost family. As the leader of the pack once again, Kermit shows us the lengths he's willing to go to help his friends.
(Nels Israelson)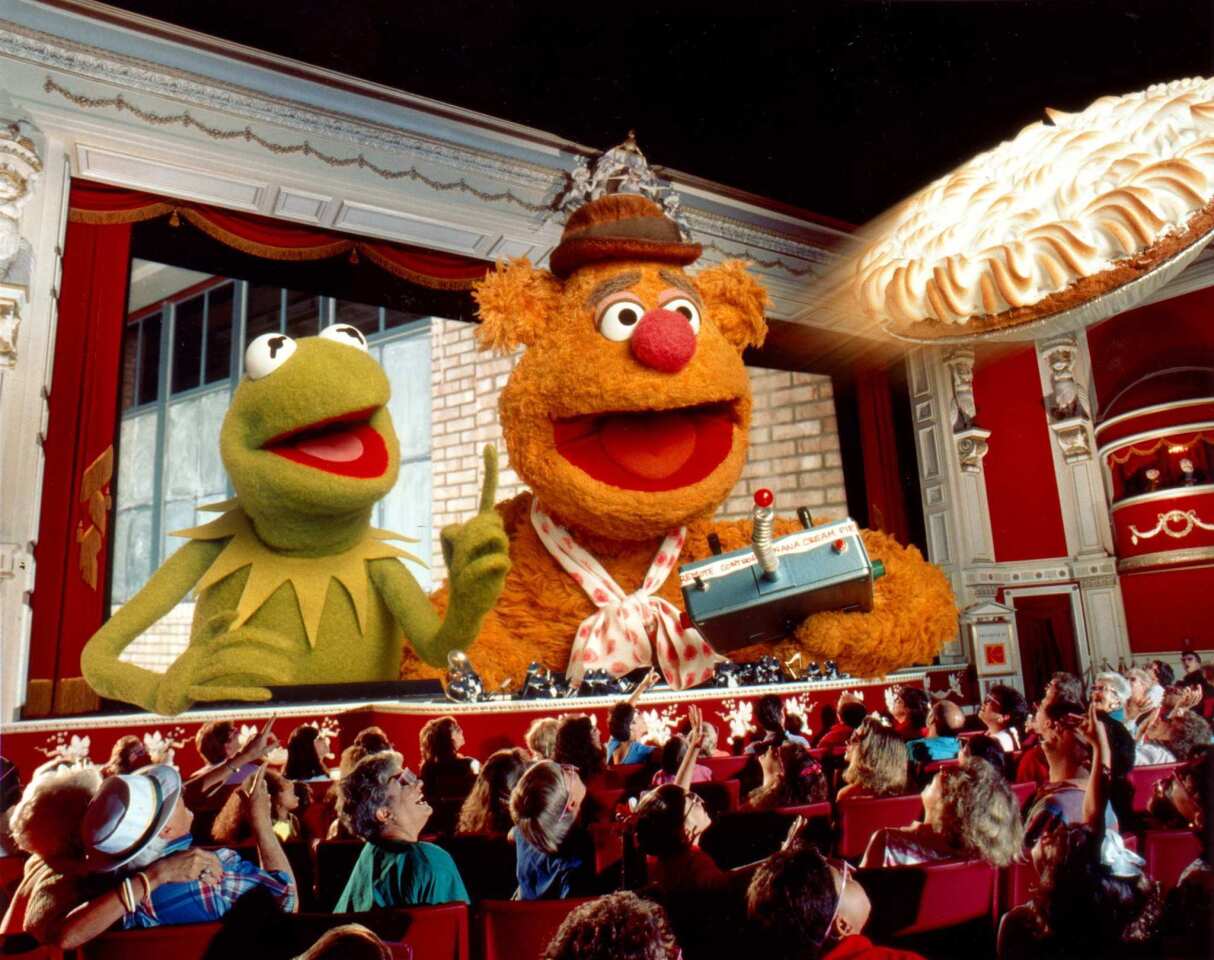 The final major Muppets project created by
Jim Henson
, this
Walt Disney
World and
Disneyland
show mixes 3D effects with animatronic figures. Kermit is the "presenter" of the variety show and acts as a sort of host/emcee for the proceedings. Kermit gives a run-down of what to expect and promises audiences there will be no cheap 3-D effects. Kermit's pals, however, namely Ozzie, have other visions.
What follows is basically carnage, at least at its most playful. Kermit's show goes all haywire, and the technology proves to be not-yet-ready-for-a-vacationing-audience. Muppet fights break out, and Bean Bunny practically runs away after having his feelings hurt. The Muppets regroup for a Disney classic, but it's brief, as the number fails and the stage starts falling apart. Nevertheless, Kermit remains upbeat, urging guests to come again. Here's thinking the theater will be back to normal every 30 minutes.
(Disney Parks)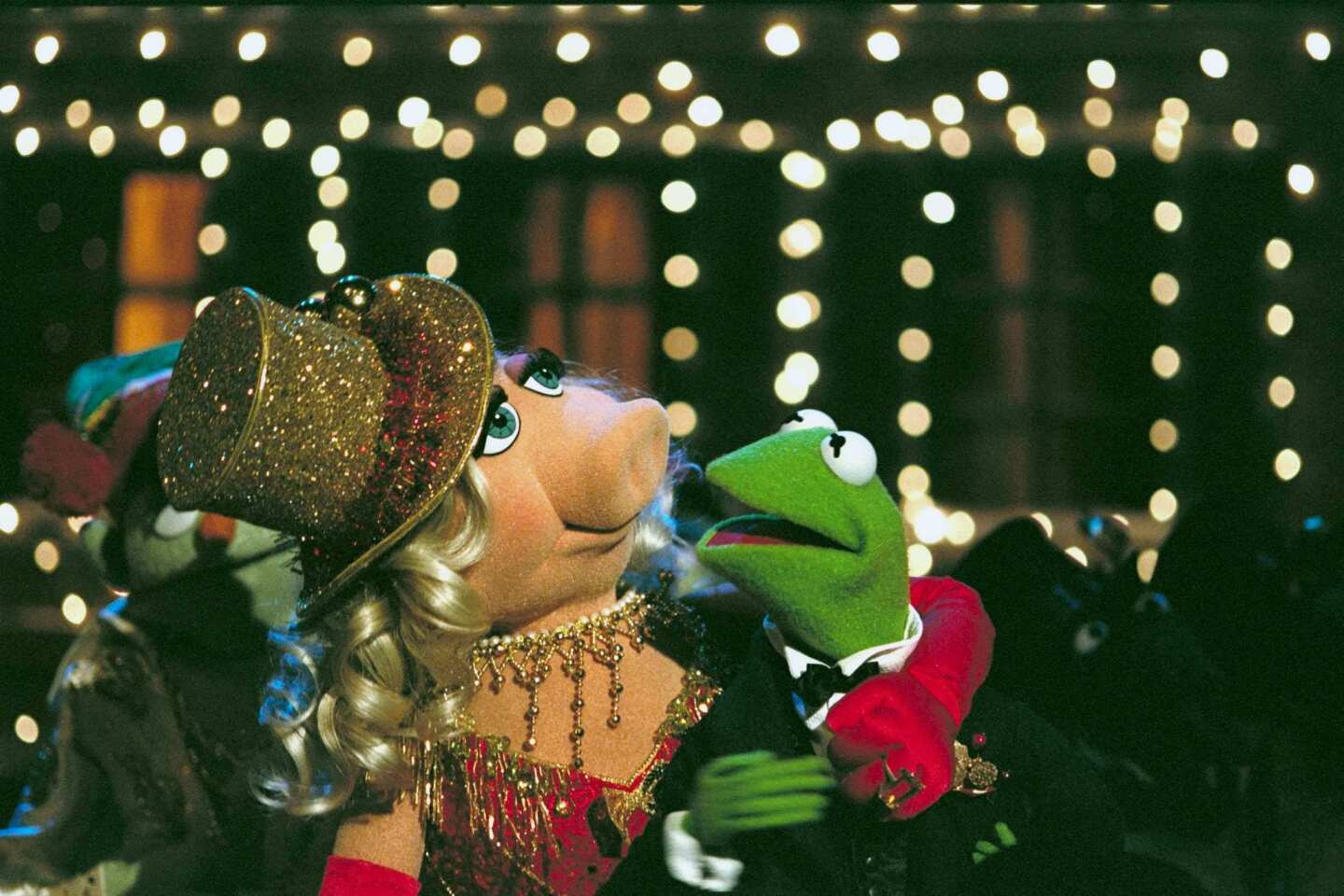 Muppet fans experience a world without Kermit in this PG TV movie based on "It's a Wonderful Life." Feeling down in the dumps about his job at the "Muppet Show," Kermit wonders what it would be like if he never existed. He soon finds out with the help of an angel (
David Arquette
), and it isn't pretty. Fozzie is a pickpocket, Gonzo is homeless and Miss Piggy is a spinster who works as a phone psychic.
(Alan Zenuk / NBC)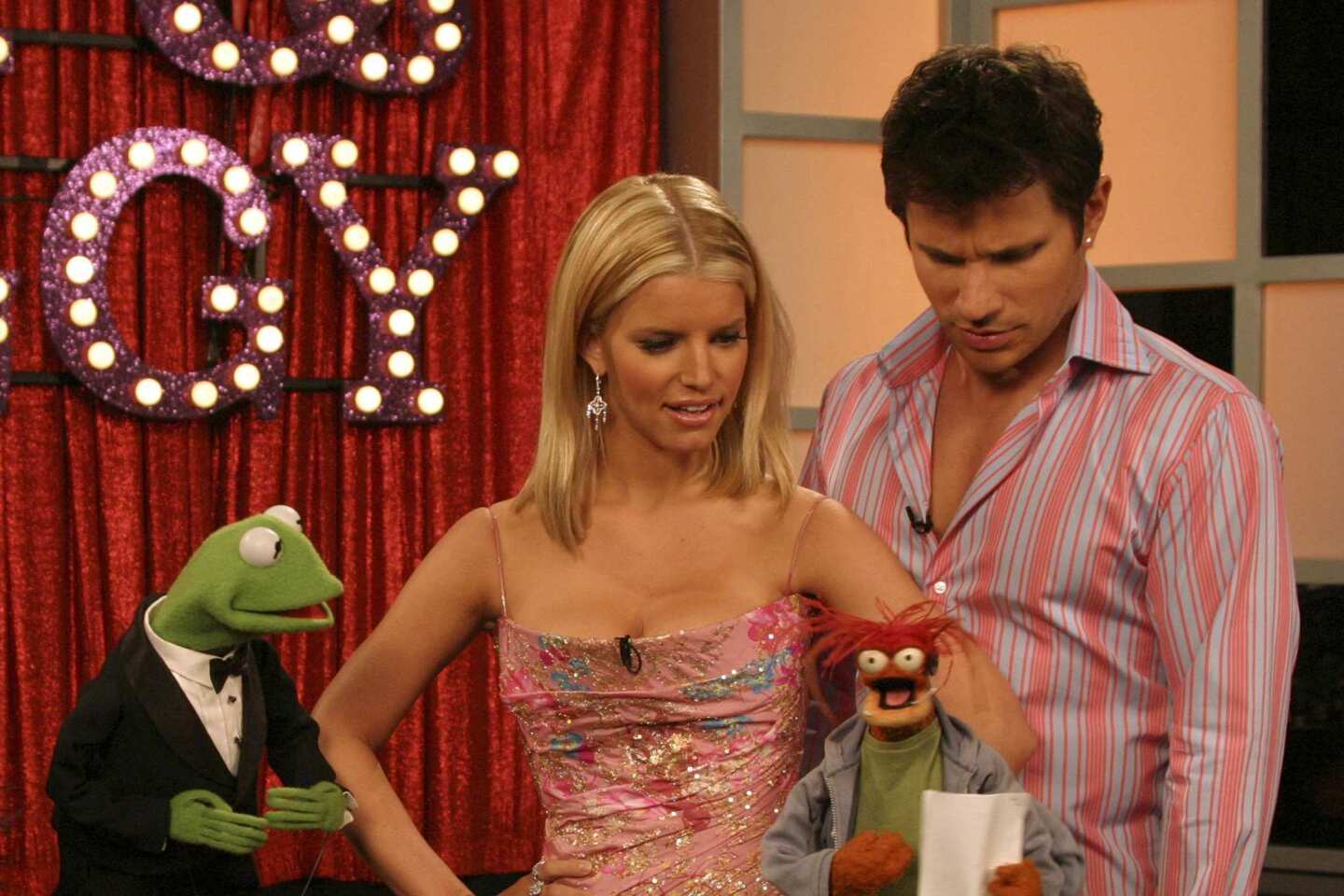 Kermit the Frog
joins then-"Newlyweds"
Jessica Simpson
and Nick Lachey for a television special in 2004 that featured a fun-filled variety hour of music and comedy. Kermit, the showrunner on the "
The Muppet Show
," was no stranger to the spotlight. He and Miss Piggy crashed Simpson and Lachey's rendition of "Don't Go Breaking My Heart" on their own special backstage, which Pepe the King Prawn managed.
(Carin Baer / ABC)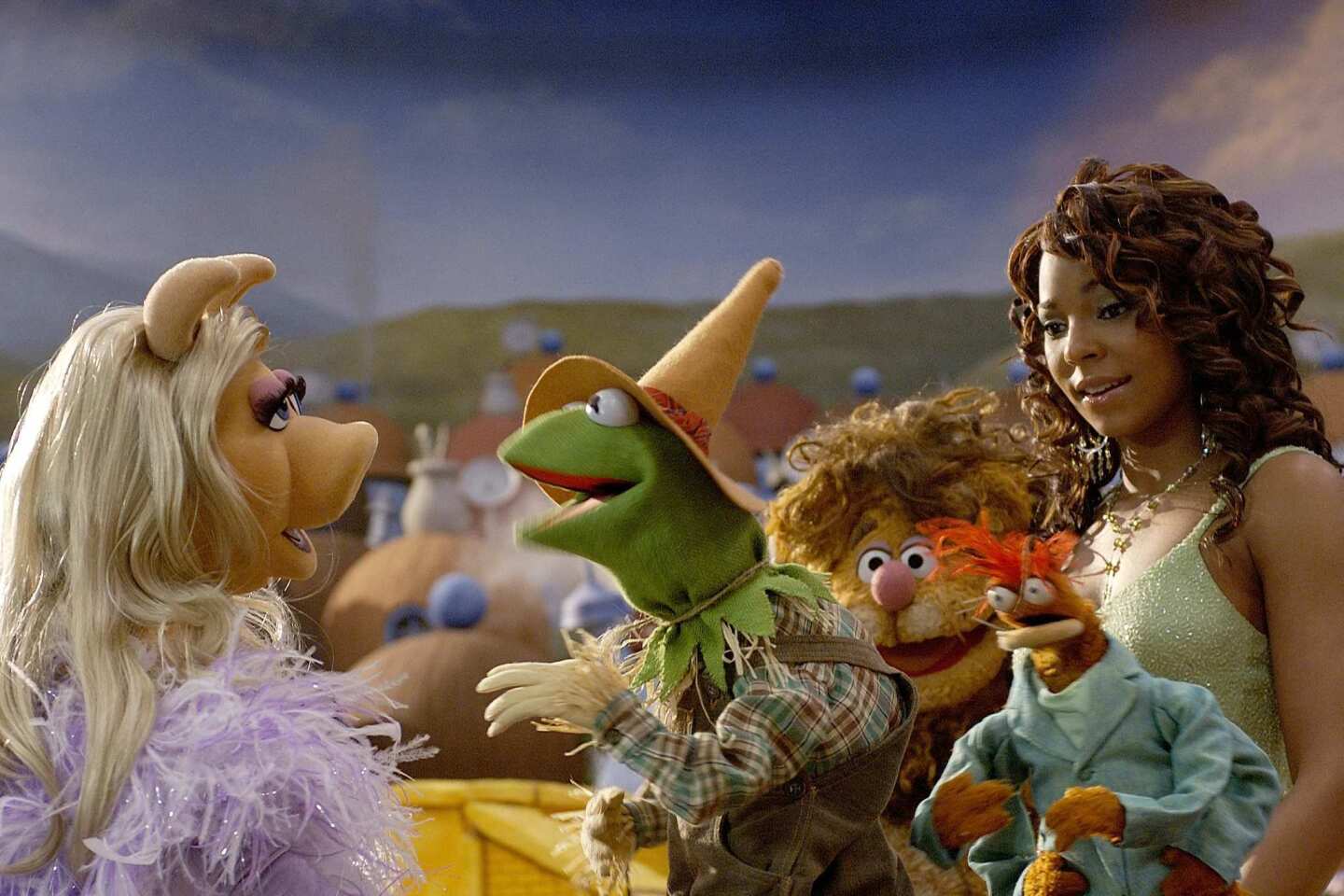 Kermit gets decked out as the Scarecrow in this made-for-TV musical based on the classic story by
L. Frank Baum
. The movie stars Ashanti, an R&B star of the early 2000s, as Dorothy,
Queen Latifah
as Aunt Em, and
Jeffrey Tambor
as the Wizard. The Muppets played the more magical characters. Gonzo is the "tin thing," Fozzie is the cowardly lion, and Miss Piggy played all four witches, including the good witch Glinda and the wicked witch of the West.
(Chris Helcermanas-Benge / ABC)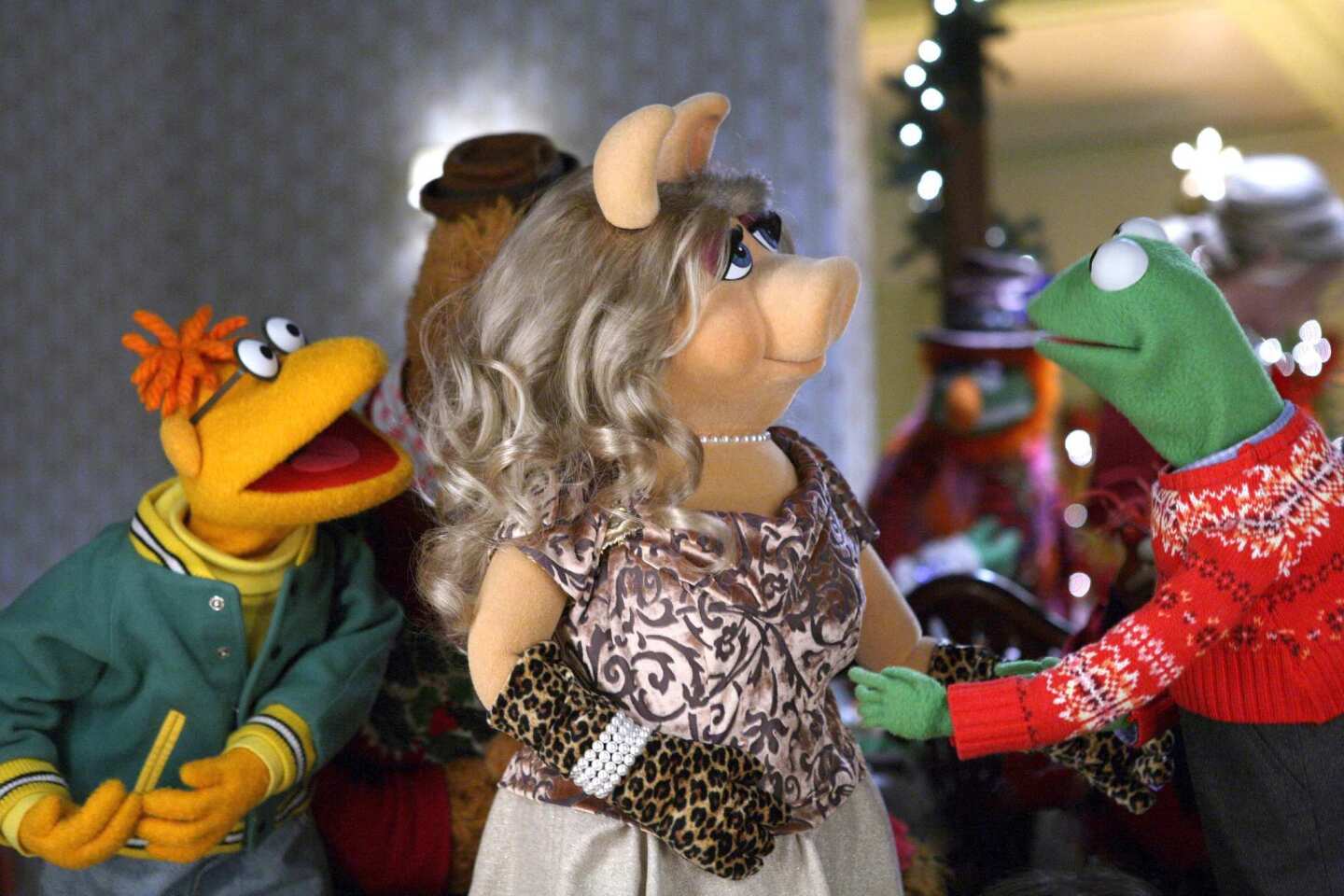 Kermit finds himself venturing to the North Pole to save the holiday. When Gonzo accidentally diverts three letters to Santa, he talks our favorite frog and his friends to try to contact Kris Kringle and deliver them to him personally. With
the Christmas
joy of three children at stake, Kermit and the Muppet crew make their journey by planes, trains and automobiles while actors like Whoopi Goldberg,
Nathan Lane
and
Uma Thurman
help usher them along on their adventure, even though not all of them are sympathetic to their cause at first.
(Eric Liebowitz / NBC)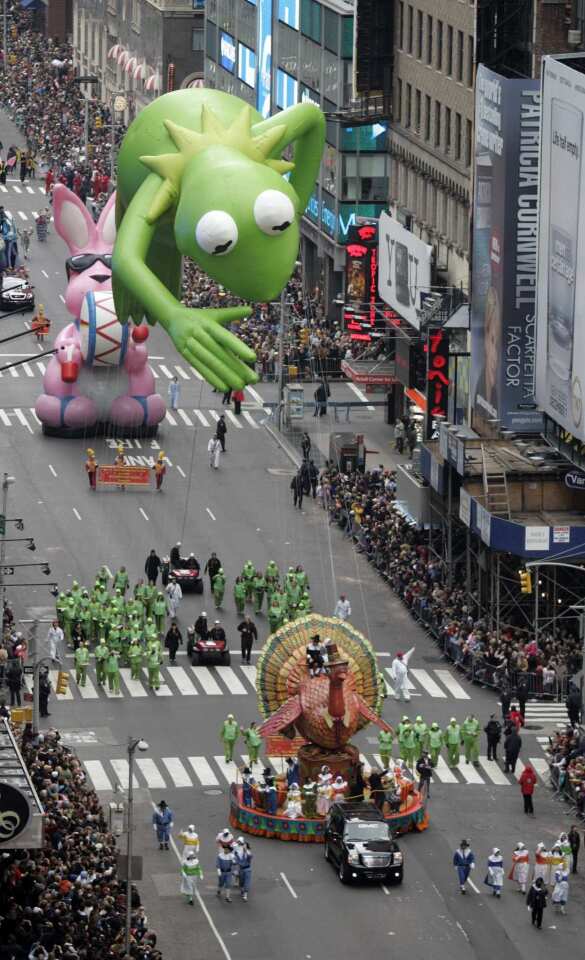 The Muppets and "Sesame Street" characters are Thanksgiving Day parade regulars. In 2002, after a bit of an absence from the parade, Kermit returned as a 78-foot-long balloon, and he was the official mascot for the event. Kermit and Miss Piggy even got an interview on "The Today Show" to talk about the new balloon.
More recently, Kermit has appeared at the parade to show-off his singing chops. In 2009, he appeared with Disney actress Tiffany Thornton to sing his Christmas original "I Believe."
(Jeff Christensen / Associated Press)
Oh, no! A mean, nasty, 1-percenter threatens to tear down the famed Muppet Theater!
But where are the Muppets to stop him? They've all gone their separate ways. Two of the world's biggest Muppet fans reunite them, starting with Kermit, whose success has caused some jealousy among other fellow Muppets. Kermit lives in a mansion, but Fozzie is in a tribute band in Reno, and Miss Piggy is a fashion editor. Maybe a telethon can help everyone get along again and inspire Kermit to lead future adventures with the group?
(Disney Enterprises)