At Cannes, Kristen Stewart reminds us why she's one of cinema's most promising young actresses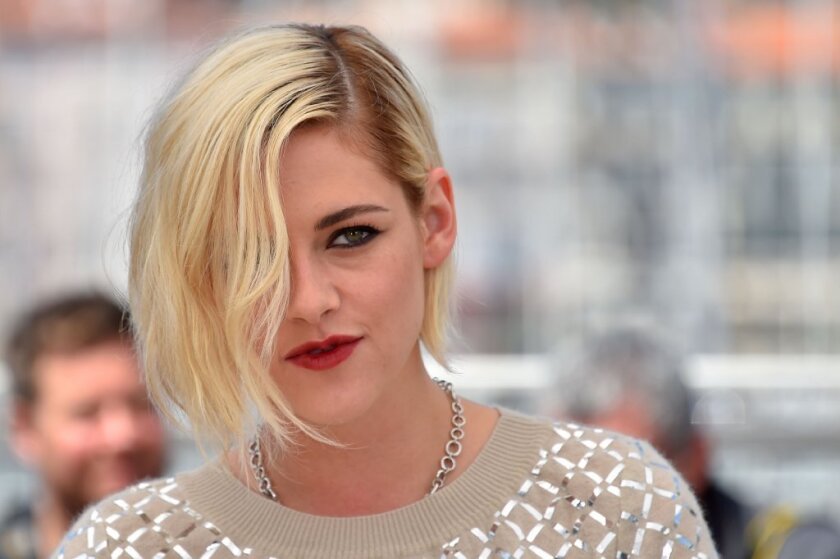 Reporting from Cannes, France —
Inside the restricted press enclosure at the chic Majestic Beach restaurant, organized chaos is the rule as reporters, photographers, publicists, makeup artists and assistants, and supernumeraries without number hover like satellites around the blazing sun of celebrity.
In one corner sits Jeff Nichols, director of "Loving," talking with a series of journalists. In another, Kristen Stewart, the actress of the moment at this year's festival with very different but equally impressive roles in both Woody Allen's "Café Society" and Olivier Assayas' "Personal Shopper," is posing for a series of photographers, looking languid and removed.
In conversation, however, the 26-year-old Stewart is nothing of the sort. Animated, ardent and involved when she warms to her subject, she is a cinematic true believer, passionate about the art of film and the ways she hopes to contribute to it.
"It's a lucky turn for me. I'm definitely reaping the benefits," Stewart says of her double play. "It's really fantastic; I'm forcing myself to be present, to feel it, to really revel in it."
Because "Café Society" opened the festival a week ago, it's the more recent "Personal Shopper" that's on everyone's lips, an unclassifiable film that's been getting both hisses and standing ovations at successive screenings. (Asked about the response at the film's news conference, Stewart was unconcerned, saying, "Hey, everybody did not boo.")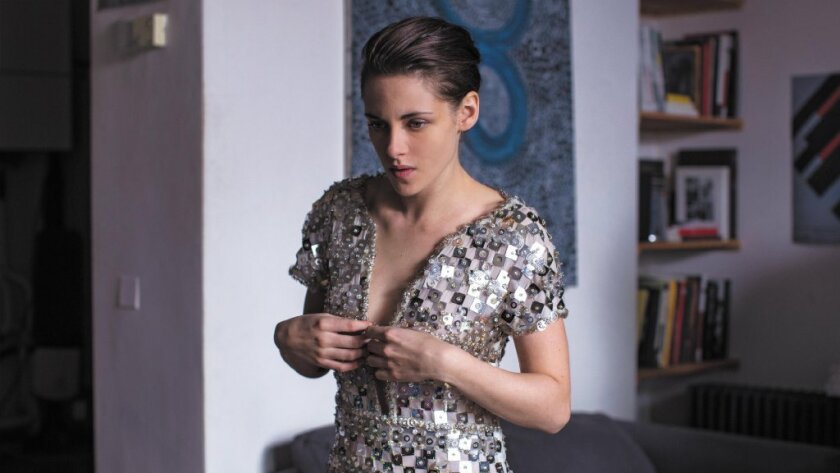 The story of a young American woman in Paris who works as a personal shopper for a wealthy celebrity while trying to make spiritual contact with her recently deceased twin brother, it's an atmospheric, unexpectedly involving film -- part spooky ghost story, part thriller, part coming-of-age drama -- with everything joined and enlarged by Stewart's bravura performance.
"Personal Shopper" is her second film with top French director Assayas; the first, "Clouds of Sils Maria," won Stewart a César, the French Oscar, for supporting actress. She was the first American actor to win the French award, and that reality still bowls her over.
"It blew my head off, I couldn't believe it," Stewart remembers. "The fact that I'm not from here, it's a fish-out-of-water story, for sure. And it speaks to what's important here.
"In the States, we provide accolades for much more extreme performances: cancer movies, shaved heads, people who lose a whole bunch of weight or gain a whole bunch of weight…. What's felt more than cinematic culture is [the] movie industry.
"Here," she continues about French filmmaking, "they've stayed in touch with what we used to do in the 1970s: movies that provoke thought." Though she's definitely not averse to doing another Hollywood blockbuster, she emphasizes that "it has to be with the right people. It has to be worth it."
What is definitely worth it for Stewart is working with Assayas, a director she has formed an especially close creative bond with. "There's no label for it," she says, "it's hard to nail down with words…I feel visible when I'm around him. I feel understood, which is a really necessary feeling between an actor and a director. We always agree on everything, even if we don't articulate it. We know when we've nailed a feeling in a scene. I know when he's going to move on. It's the goal, it's the ideal version of what I want, but it's not an ideal anymore, it's real."
Working with Allen, the actress says, was a different but also involving experience. "His ability to instill that very unique tone he has was surprising to me, because he doesn't direct a lot, it's a lot more free form than I anticipated," Stewart says. "He reveals himself so naturally, without overt direction. He has a kind of trust in initial reactions."
The actress, who is in just about every scene of "Personal Shopper," says the day-to-day filming was "exhausting, really relentless."
"On other films, there are moments when you can breathe, days off when you can recharge, replenish the well, but not here," she adds.
Making things a bit more complicated is that in real life, Stewart loathes shopping. "I love clothes, but shopping for them feels indulgent and weird. I don't like to ask for help in stores, and I don't want to be the person who just takes everything. I have to really love something to buy it."
To help stay fresh with the complicated "Personal Shopper" experience, Stewart read the script only once and followed her policy of learning her lines only on the day they were shot. "I want to have to reach for them," she says. "I don't want to feel them on the tip of my tongue."
Stewart's parents are both in the business (her mother's a script supervisor, her father a stage manager) and that upbringing, she says, "endowed me with the right motivations" that still guide her movie work, though not without occasional problems.
"My field of vision is very narrow when it comes to career," she says. "My motivation is to follow my creative impulse rather than trying to achieve some kind of status, some level of accomplishment.
"At times, it's made it difficult to adapt to such an occasionally stupid world. But I learned I can float above that, not feel moored to it. I used to think, 'This is all B.S., it's all about money, money, money.' But it's not all that way, everyone is not that way, and we can find each other."
MORE FROM CANNES
PHOTOS: Scenes from the Cannes Film Festival
Kristen Stewart returns to the red carpet for Olivier Assayas' 'Personal Shopper'
Jeff Nichols' 'Loving' stirs a festival, and enters Hollywood's diversity debate in the process
Kristen Stewart shares her philosophy, work approach
The great feminist movie of Cannes? A 1930s-set Korean thriller from the director of 'Oldboy'
---
The complete guide to home viewing
Get Screen Gab for weekly recommendations, analysis, interviews and irreverent discussion of the TV and streaming movies everyone's talking about.
You may occasionally receive promotional content from the Los Angeles Times.