22 Images
Oscar hosts through the years
After hosting the 2016 Emmys, Jimmy Kimmel will make his debut as host of the 2017 Academy Awards. In addition to his previous awards show experience, Kimmel has hosted the annual "Jimmy Kimmel Live: After the Oscars" special for years.
(Robert Gauthier / Los Angeles Times; Robert Gauthier / Los Angeles Times; ABC ; Robert Gauthier / Los Angeles Times)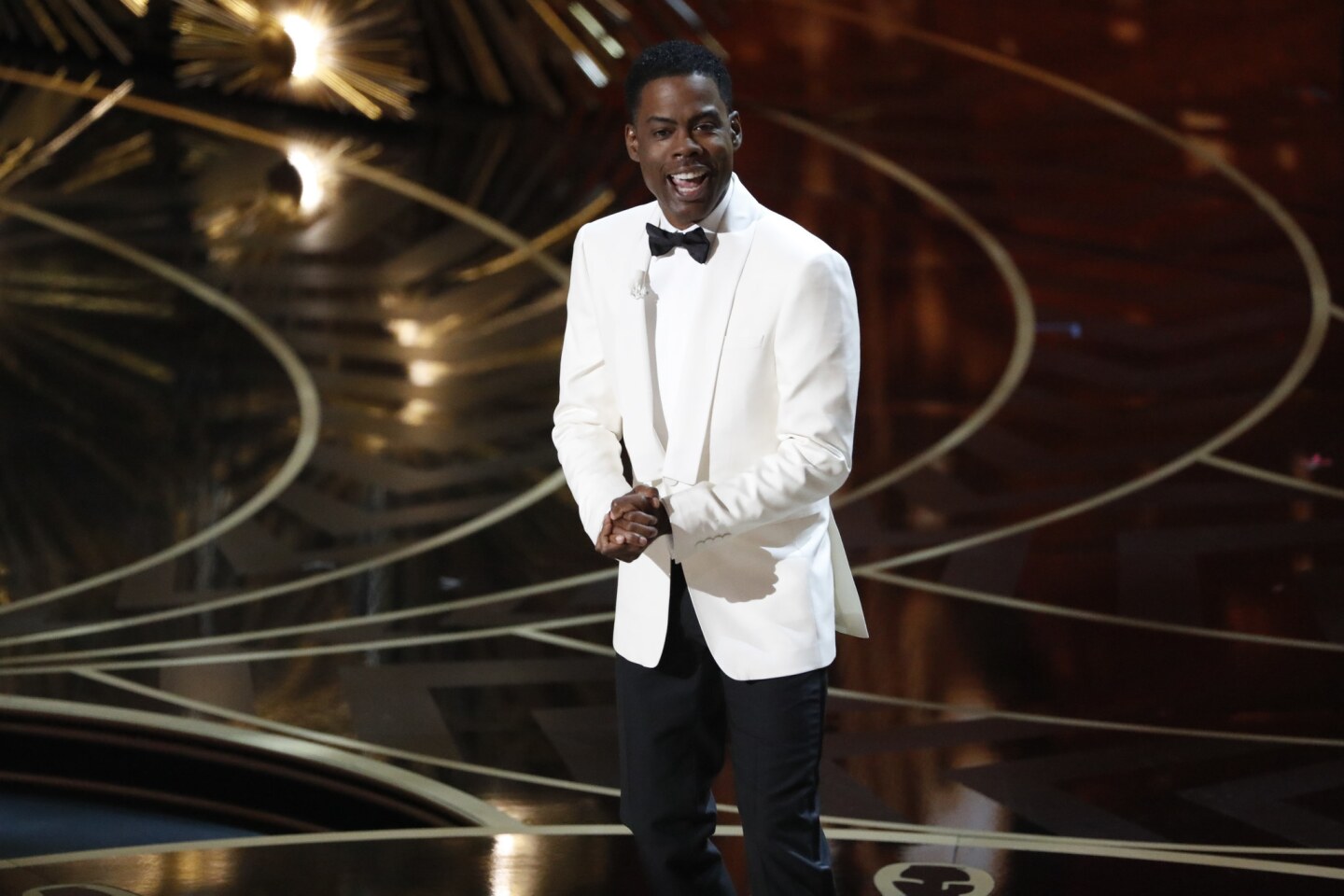 In his second time hosting, Chris Rock addressed the #OscarsSoWhite controversy during the telecast of the 88th Academy Awards on Feb. 28, 2016 at the Dolby Theatre in Los Angeles.
(Robert Gauthier / Los Angeles Times)
After multiple stints hosting the Tonys and the Emmys, Neil Patrick Harris was a natural choice to lead the festivities at the 87th Academy Awards on Sunday, Feb. 22, 2015.
(Robert Gauthier / Los Angeles Times)
Ellen DeGeneres broke a Twitter record with her star-studded selfie as emcee of the 2014 Academy Awards and won the hearts of hungry actors with freshly delivered pizza. DeGeneres scored with audiences as host in 2007 (above right) with her crowd work as well. If it ain't broke, don't fix it.
(Robert Gauthier, Al Seib / Los Angeles Times)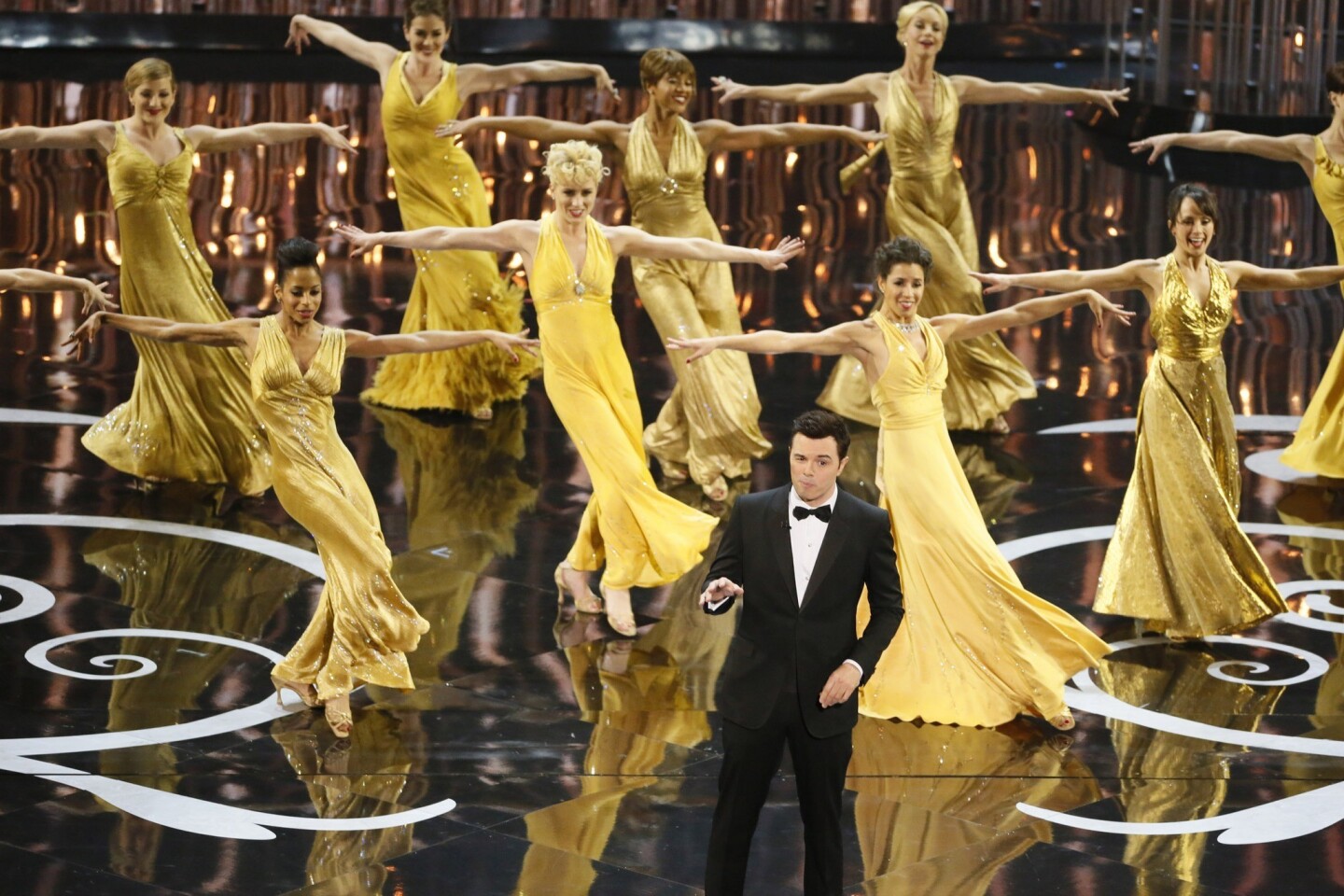 Though Seth MacFarlane was widely criticized for his 2013 Oscars hosting debut, the awards show saw its best ratings in years with "Family Guy's" creator at the helm. According to Nielsen, an average of 40.3 million viewers tuned in to hear MacFarlane bash a slew of Hollywood's A-list.
(Robert Gauthier / Los Angeles Times)
Considered one of the best of the contemporary comedic hosts, Crystal began his Oscar run with the 62nd telecast in 1990 and remained on the job through 1993. Also add 1997, 1998, 2000 (above left), 2004 and most recently 2012 (above right) to the list.
(Bob D'Amico / ABC; Robert Gauthier / Los Angeles Times)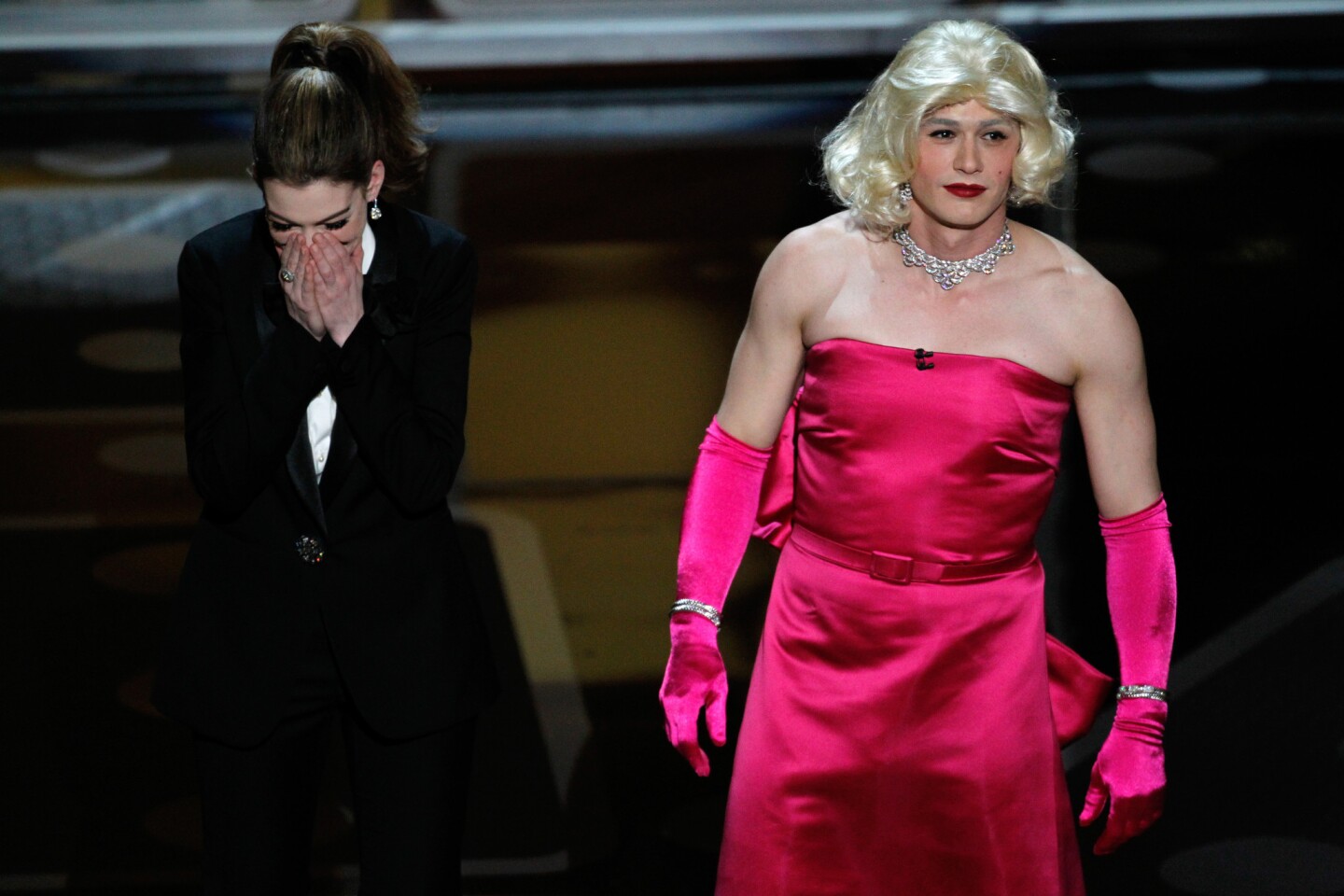 In an effort to boost viewership in young demographics, the producers of the 83rd Academy Awards tapped hot "of the moment" actors Hathaway and Franco as hosts for the 2011 ceremony. Many critics felt the hosts didn't have much chemistry.
(Robert Gauthier / Los Angeles Times)
When Martin teamed with his "It's Complicated" costar Alec Baldwin to co-host 2010's ceremony, it was his third Oscar hosting appearance. He made his solo debut with the 73rd award show in 2001 and returned to the job in 2003.
(Robert Gauthier / Los Angeles Times)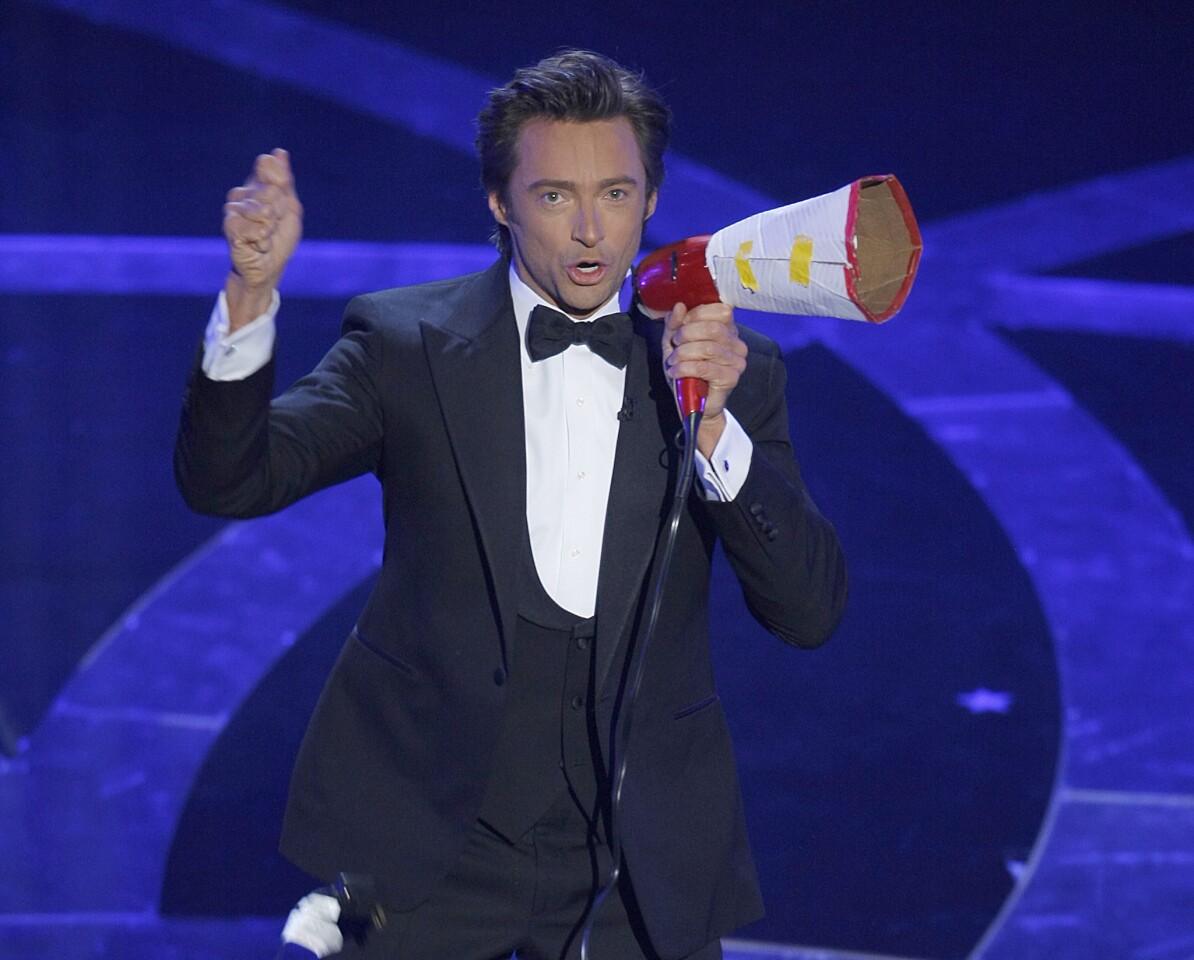 Hugh Jackman's song-and-dance number at the opening of the 81st Academy Awards in 2009 drew barbs from TV critics. The Times' Mary McNamara said of the performance: "Somewhere in New York, a huge weight has been lifted from David Letterman's shoulders."
(Mark Boster / Los Angeles Times)
The "Daily Show" host brought his outsider perspective into the heart of Hollywood for his stint as Oscar host in 2006. He poked fun at the awards-cast itself, which generally played better at home than it did in the theater.
(Al Seib / Los Angeles Times)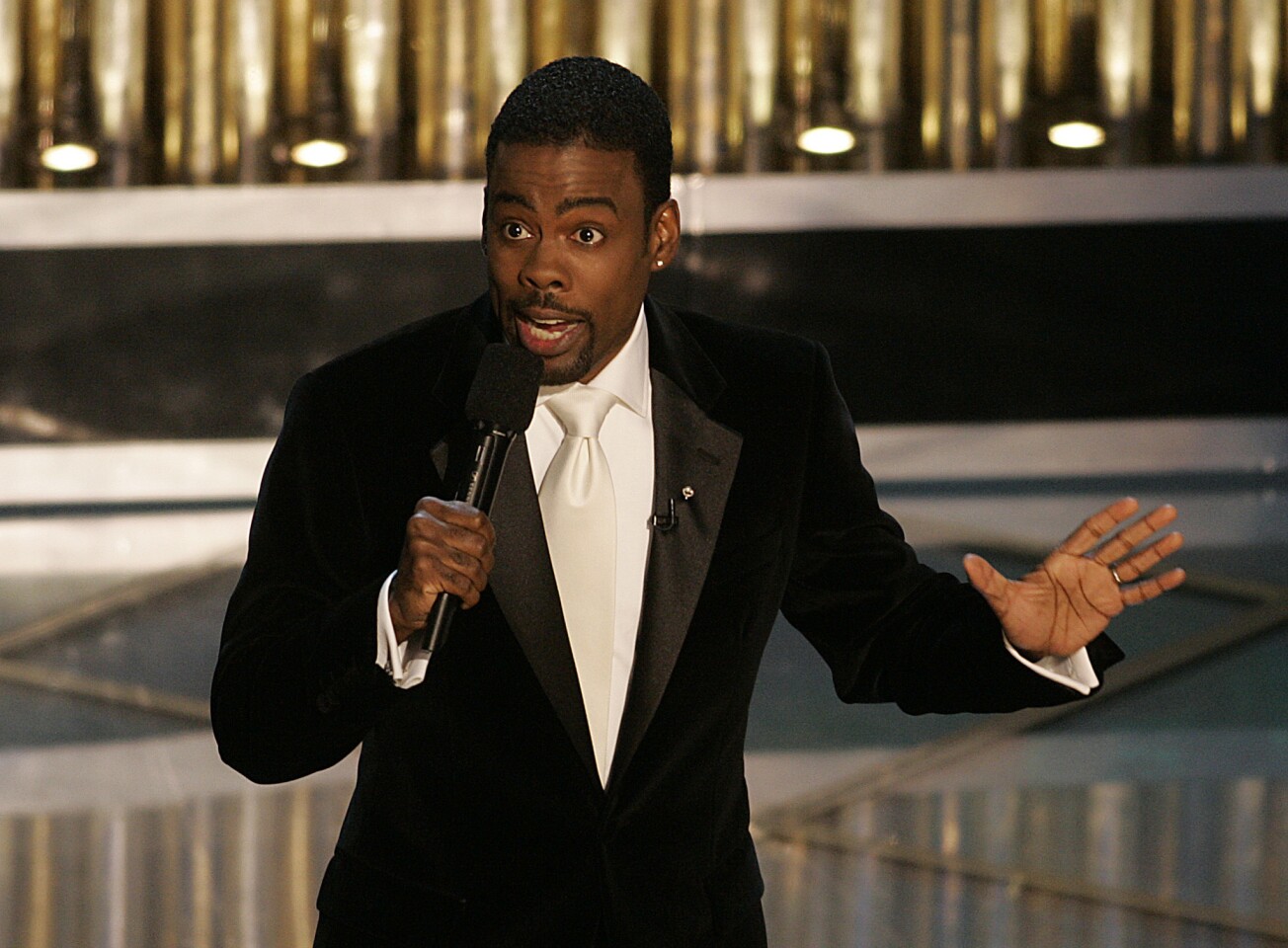 Rock hosted the 77th Academy Awards in 2005 and raised many eyebrows with his pointed barbs directed at the assembled celebrities. Years later, Ricky Gervais adopted this tone to great effect at the Golden Globes.
(Brian Vander Brug / Los Angeles Times)
Goldberg, the first African American to win the supporting actress Oscar since Hattie McDaniel won in the category in 1940 for "Gone With the Wind," began her stint as host with the 66th award ceremony in 1994. She returned in 1996, 1999 (shown in a Queen Elizabeth costume) and 2002.
(Timothy White / ABC and AMPAS; Los Angeles Times)
A couple of years after his much publicized jump to CBS, Letterman hosted the 67th Academy Awards in 1994 to very mixed reviews. The Oprah-Uma joke, introducing Oprah Winfrey to Uma Thurman, will live forever in infamy.
(Christopher Little / ABC)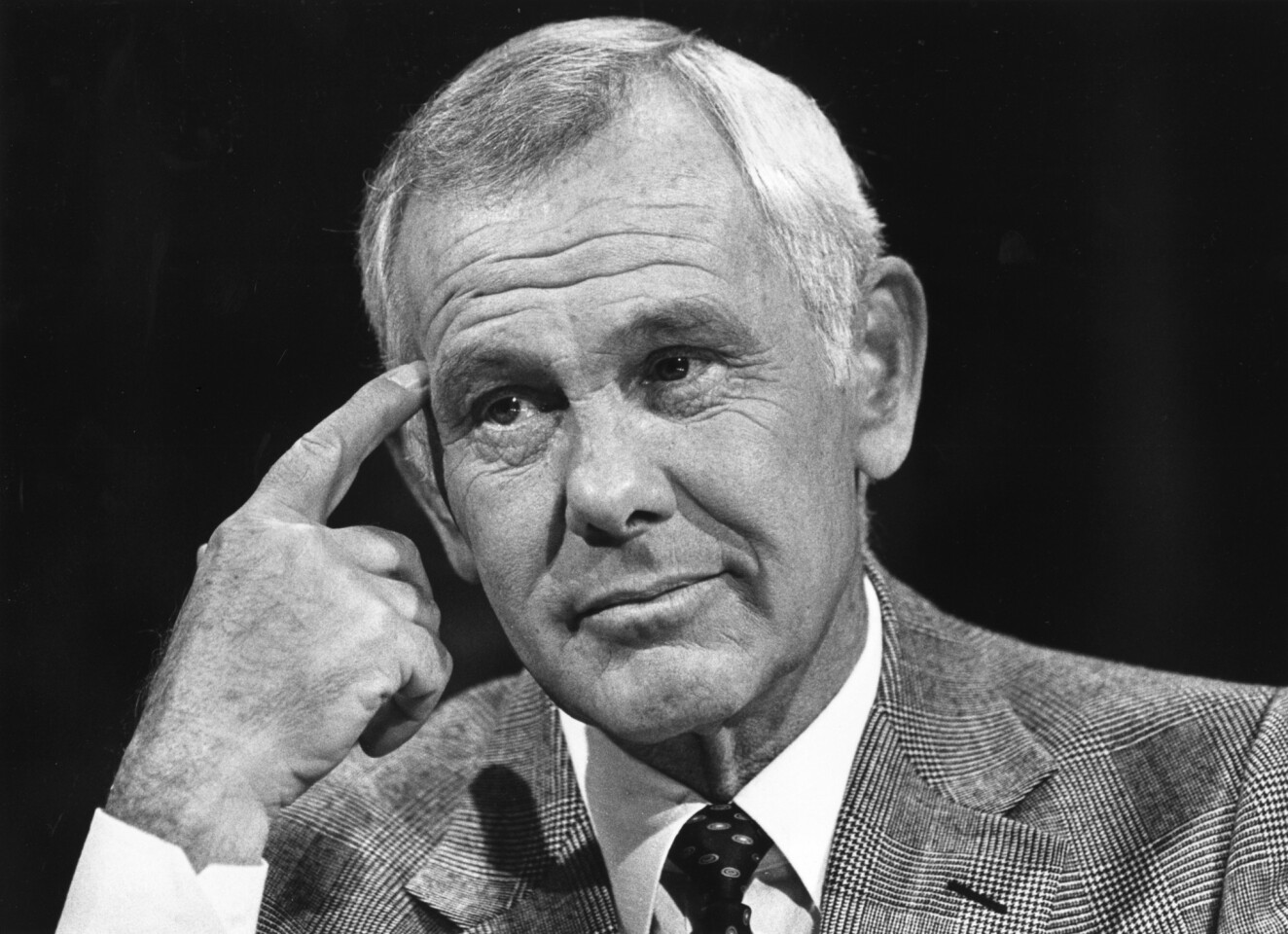 The "Tonight Show" legend moonlighted as Oscar host beginning with the 51st ceremony in 1979; he went on to host the show four more times.
(Gary Friedman / Los Angeles Times)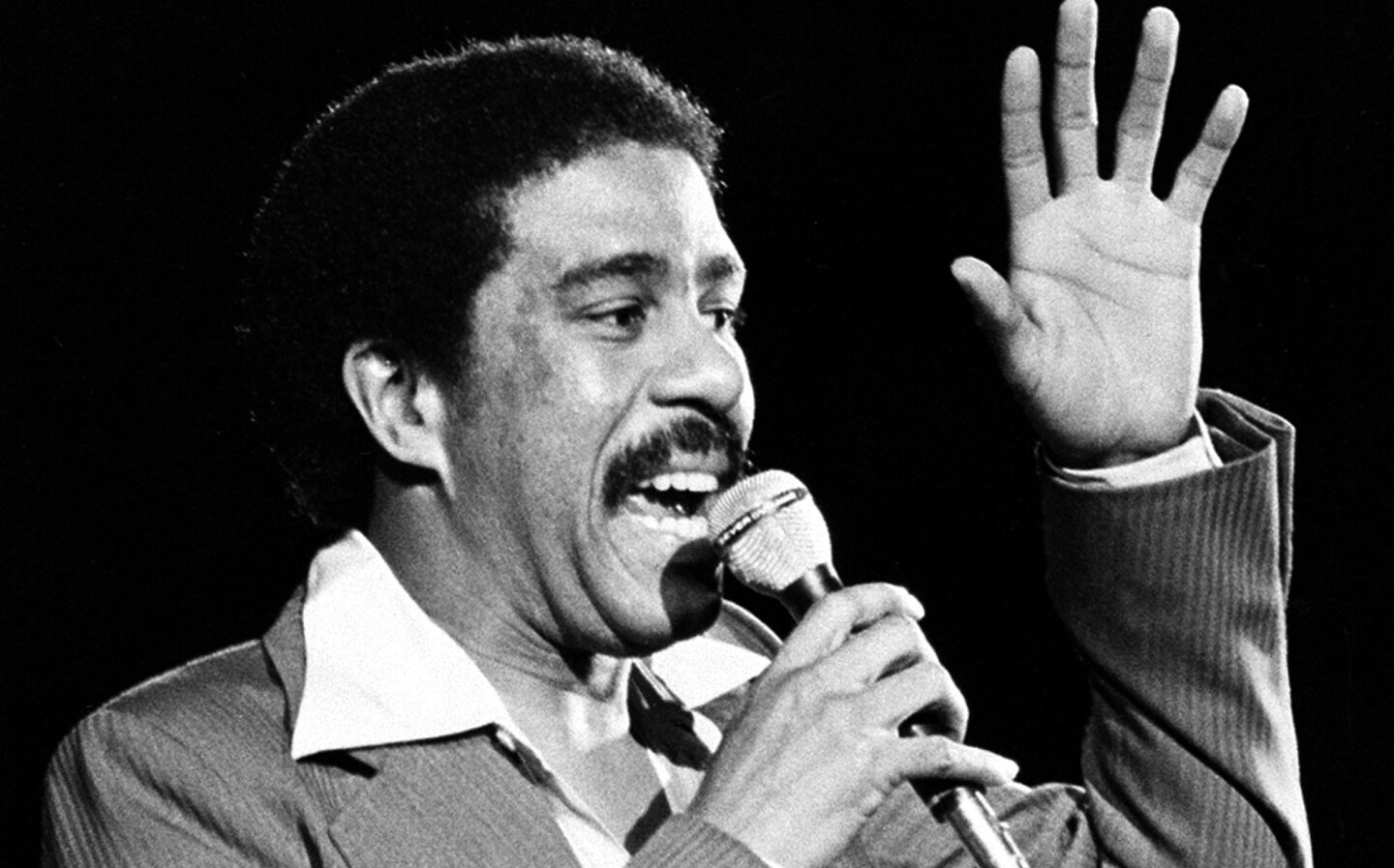 The comedic performer (shown above performing in 1977) joined Jane Fonda, Ellen Burstyn and Warren Beatty to host the 49th Oscars in 1977.
(Associated Press)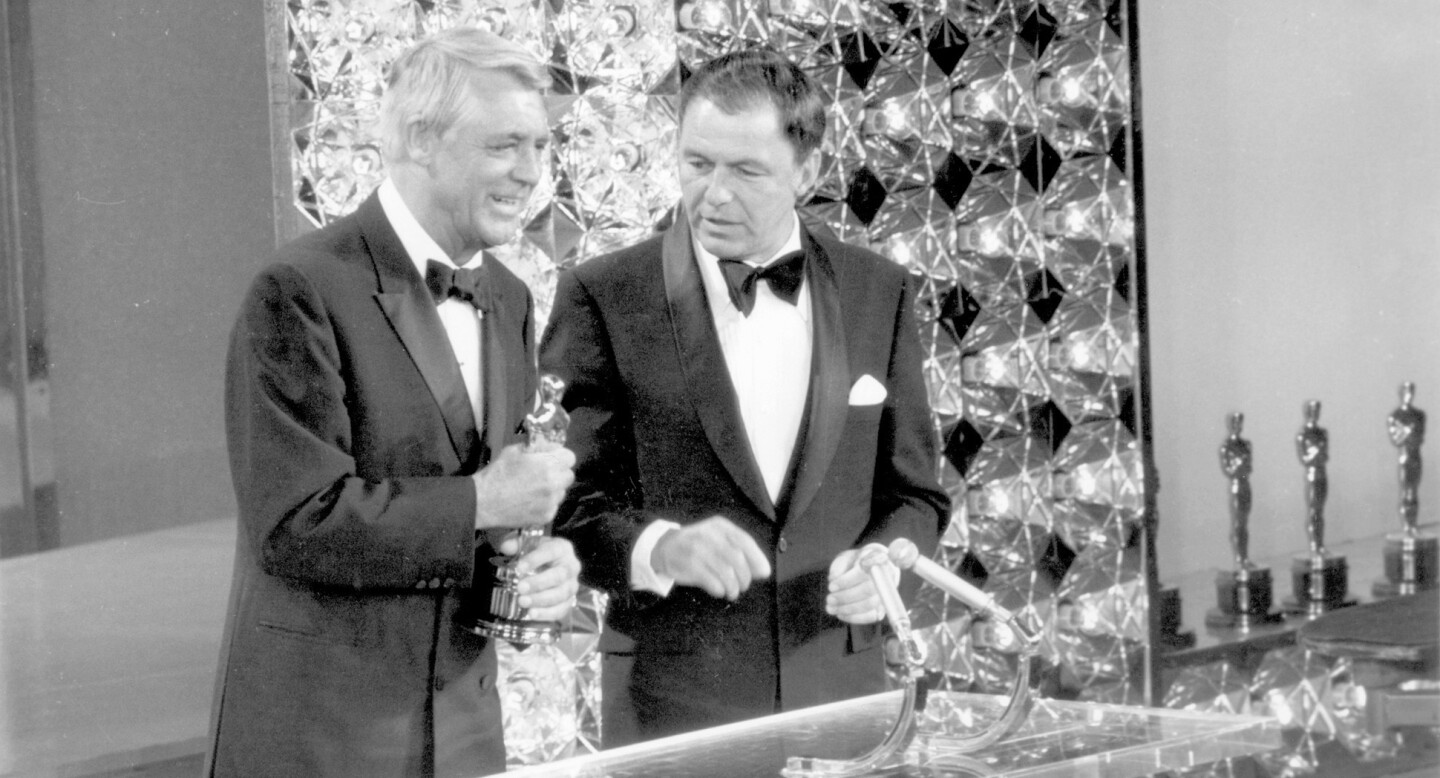 The 41st Oscar ceremony in 1969 recruited an array of stars: Frank Sinatra, at right, Ingrid Bergman, Diahann Carroll, Tony Curtis, Jane Fonda, Burt Lancaster, Walter Matthau, Sidney Poitier and Natalie Wood.
(Academy of Motion Picture Arts and Sciences)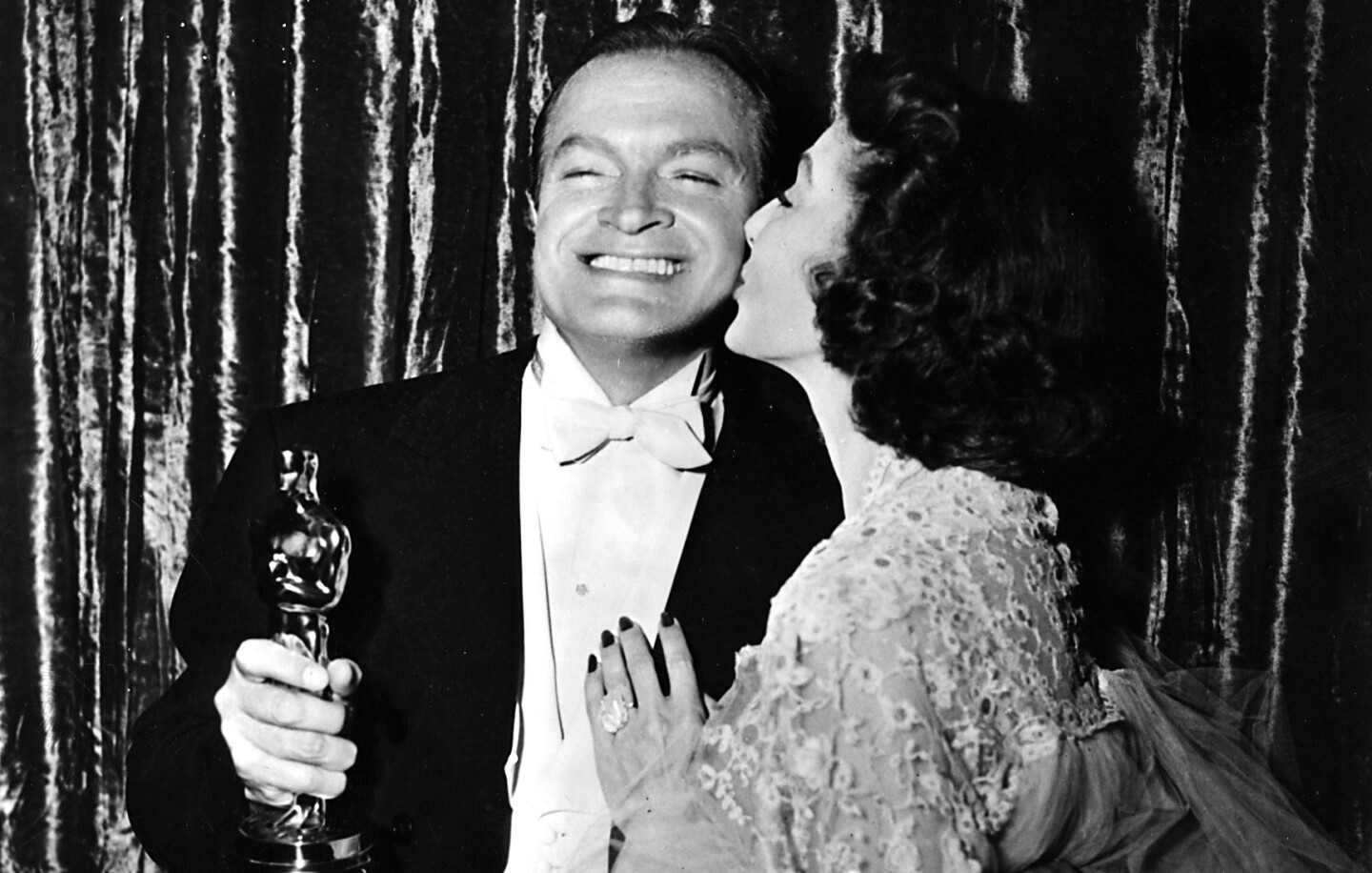 The comic became an Academy Awards mainstay, hosting or co-hosting the Oscars 18 times from 1940 to 1978. Hope, above, holds Loretta Young and his honorary Oscar in 1952.
(Academy of Motion Picture Arts and Sciences)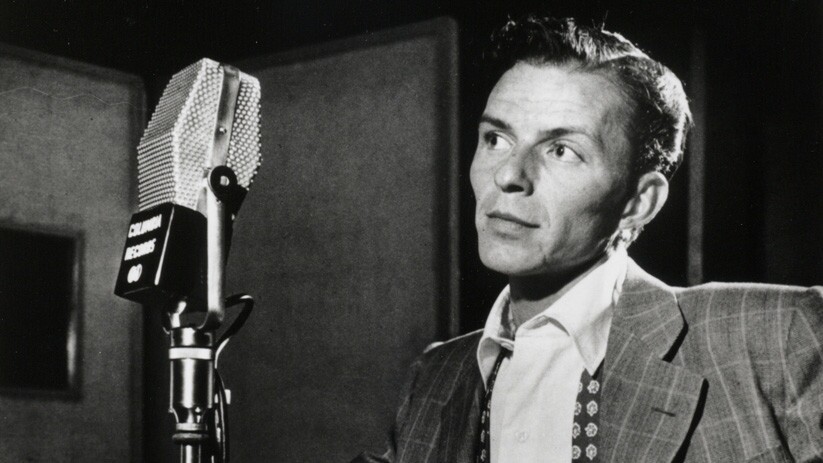 The Chairman of the Board hosted the 35th Oscar telecast in 1963 and co-hosted the 47th awards with Hope, Sammy Davis Jr. and Shirley MacLaine in 1975. He almost didn't make it to his first hosting gig in 1963 after forgetting his parking sticker and getting turned away by parking lot security.
(William P. Gottlieb / © William P. Gottlieb. Library o)
The two-time Oscar winner hosted the 36th ceremony in 1964 and the 57th awards in 1985; he co-hosted the telecast in 1958 and the 44th awards in 1972. He is pictured here in 1972 with Charlie Chaplin, who had re­turned after 20 years of self-im­posed ex­ile to ac­cept a spe­cial award.
(Associated Press Photos)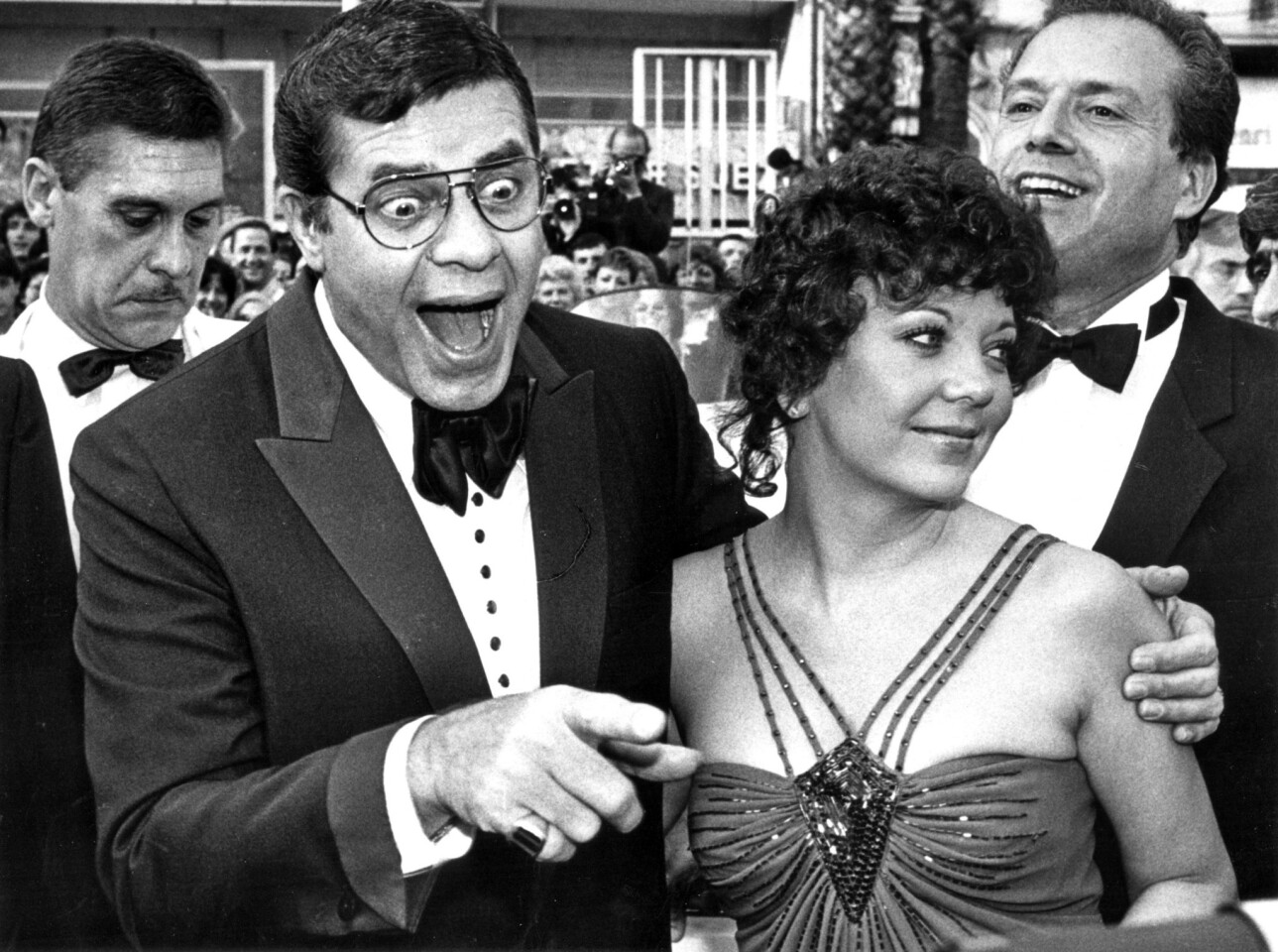 The outrageous funnyman co-hosted the 28th Academy Awards in 1956 in L.A., while Claudette Colbert and writer-director Joseph Mankiewicz hosted a satellite ceremony in New York. He revisited the role in 1957. Lewis and his wife, SanDee, above, pictured at the Cannes Film Festival in 1983.
(Larry Armstrong / Los Angeles Times)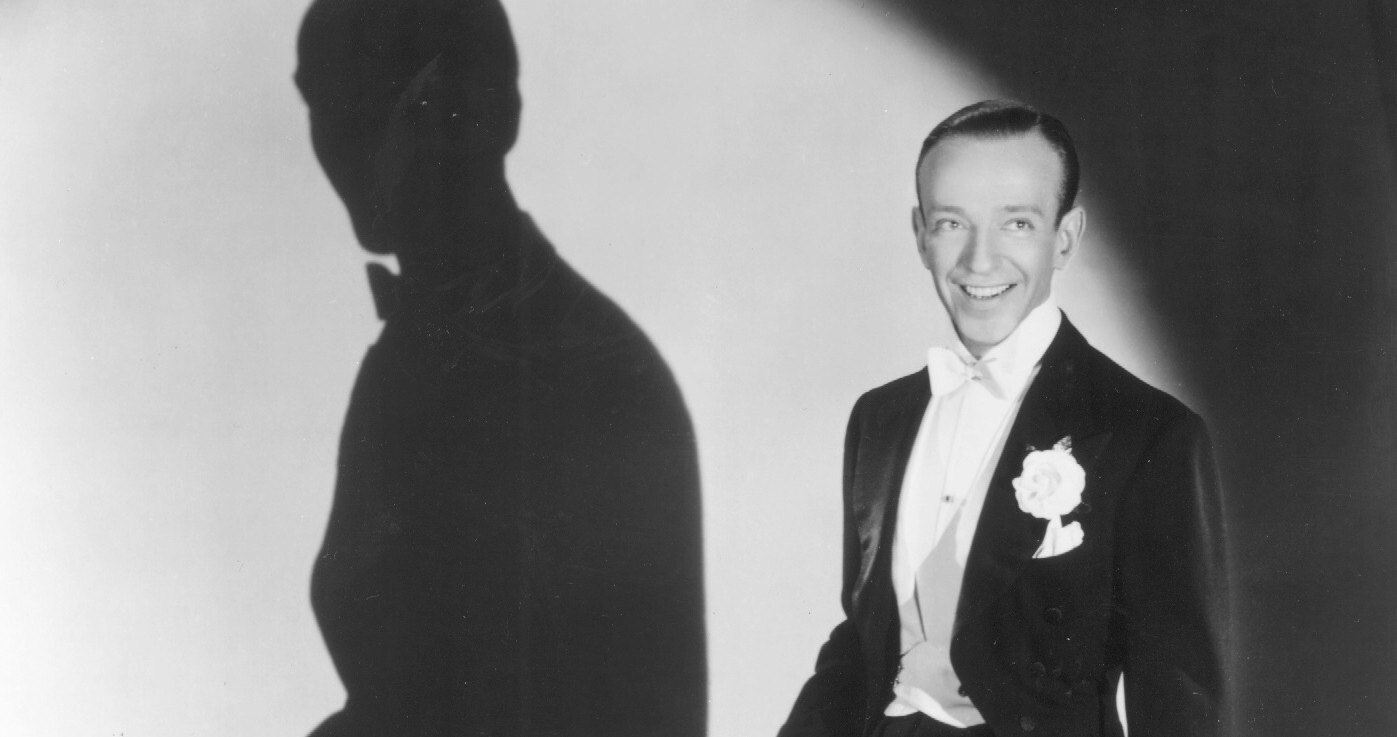 The dancer and musical comedy star waltzed across the stage of the Pantages for the 23rd Academy Awards in 1951. Astaire, seen here in an undated photo, joked with the audience that he'd been asked to be MC because he was "one of the oldest faces in film."
(Handout)
The Oscar-winning director of "It Happened One Night," "Mr. Deeds Goes to Town" and "You Can't Take It With You" was president of the motion picture academy when he hosted the eighth awards in 1936 and the 11th ceremony in 1939 ("You Can't Take It With You" was the big winner that night).
(Academy of Motion Picture Arts and Sciences)