Review: Swing dancing lives in high-flying doc 'Alive and Kicking'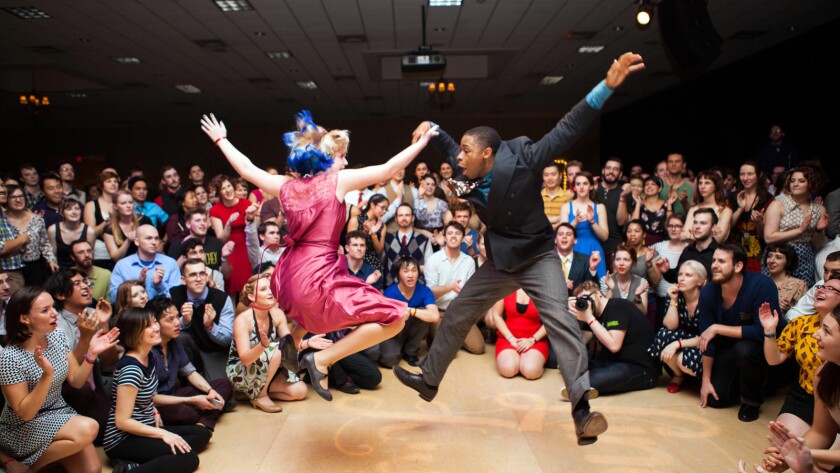 With its acrobatic zest, swing dancing was a perfect expression of defiant resilience during the Great Depression. For contemporary enthusiasts, it's an antidote to the emotional disconnect of the so-called connected age. Swing buff Susan Glatzer, a film executive turned director, makes these points in her first documentary, "Alive and Kicking," without pushing them; she lets the dancers' ecstatic moves do most of the talking, and they're persuasive.
It's not a matter of fashionably nostalgic posturing when the twenty- and thirtysomethings in the film enthuse over the Lindy Hop. For many, it's a calling. Among the well-selected devotees profiled, some are professionals who teach the craft, while others are still working their way up the competitive circuit.
Breaking more than a few molds are the Swedish dance duo known as the DecaVitas, who decided that the dance floor had more therapeutic value than the psychotherapy they're qualified to practice.
Glatzer captures the love and support of an intergenerational community, one in which nonagenarians cut the rug alongside up-and-comers. She's there for some of the late-in-life international appearances of in-demand instructor Frankie Manning, a leading choreographer at Harlem's Savoy Ballroom in the '30s and a postal worker when swing revivalists embraced him half a century later.
There may be no fancy filmmaking steps in "Alive and Kicking," but the jaw-dropping improvisations and physical intimacy of the dancers make it an action film par excellence — joy-fueled and gravity-defying.
-------------
'Alive and Kicking'
Not rated
Running time: 1 hour, 28 minutes
Playing: Ahrya Fine Arts Theater, Beverly Hills
See the most-read stories in Entertainment this hour »
---
Get the Indie Focus newsletter, Mark Olsen's weekly guide to the world of cinema.
You may occasionally receive promotional content from the Los Angeles Times.