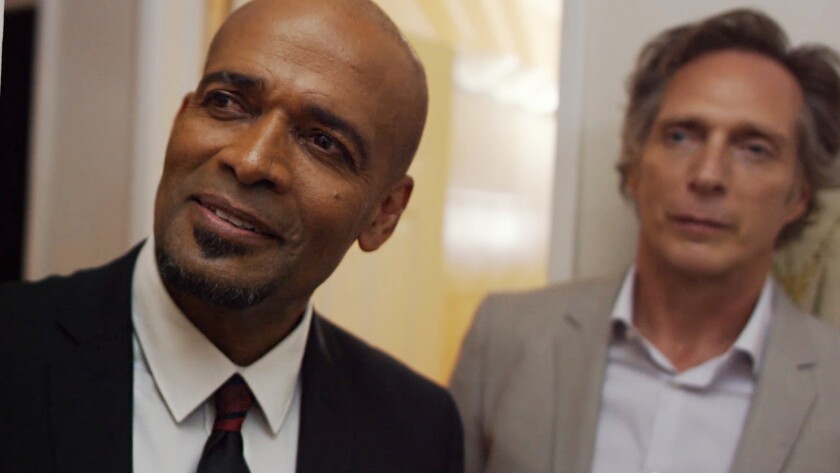 Over aerial shots of Southern California on a beautiful summer day, talk radio hosts and their callers chirpily debate gun control and the meaning of the 4th of July in the opening moments of Mario Van Peebles' "Armed." Similarly, the ending features a fusillade of news clips and statistics pertaining to guns, mental health and mass shootings. In between? Oh, where to start …
Although clearly a filmmaking choice, the film suffers from serious genre dysphoria. For now, let's go with psychological social satire. Van Peebles, who also wrote and directed, stars as a Kipling-quoting former U.S. Marshal named Jason "Chief" Pratt, afflicted with PTSD and riddled with guilt over a raid he led that went horribly awry.
Scattershot in tone with a hallucinogenic visual style, "Armed" veers wildly from action to drama, with bouts of physical comedy, a dash of horror and an almost romantic comedy subplot involving Pratt and a British bisexual, vegan, nudist, erotic filmmaker called Grace (Jemma Dallender).
Van Peebles is his usual charming self, the always welcome William Fichtner turns up as Pratt's lawyer/best friend, and there are cameos by the director's father, Melvin, and singer Dionne Warwick. But the film never finds its groove. Whatever point Van Peebles is trying to make gets lost in all the noise.
-------------
'Armed'
Rated: R for violence, language throughout including some sexual references, and for graphic nudity.
Running time: 2 hours
Playing: Starts Sept. 14, TCL Chinese Theatres Hollywood; also on VOD
---