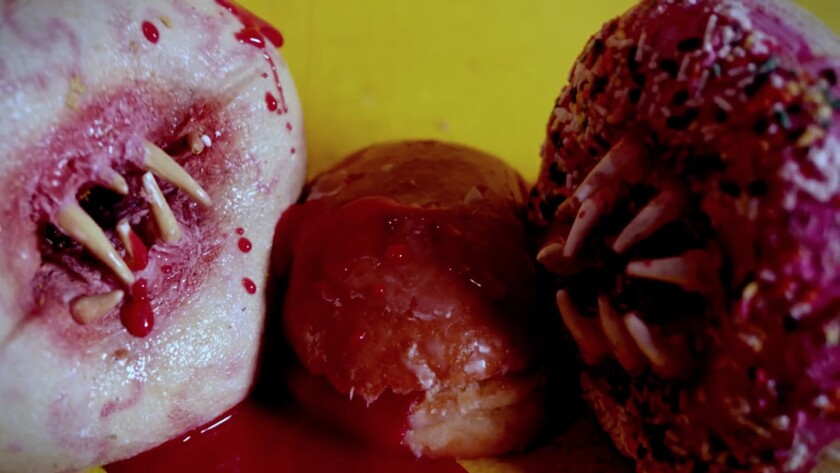 "What could possibly cause doughnuts to become bloodthirsty killers?" That question — spoken aloud, in an over-earnest deadpan — is the creme filling in the center of "Attack of the Killer Donuts," the latest example of the "Sharknado"-style horror-comedy subgenre best called "trash for trash's sake."
The team-written "Attack of the Killer Donuts" screenplay doesn't take many chances. Justin Ray plays Johnny, a low-rent L.A. doughnut shop employee whose mad-scientist uncle accidentally drops a vial of an experimental formula into a batch of the fried sweets. Before long, the pastries have sprouted teeth around their holes and are terrorizing every cop and stoner in the neighborhood.
Director Scott Wheeler is a veteran special-effects artist, who handles the creature animation well. The doughnuts bounce around adorably, and even carry a touch of grotesque menace as they leap at customers' throats, spewing a sickly green jelly.
But the lack of any real imagination makes "Attack of the Killer Donuts" a chore. The movie is essentially a series of unfunny sketches, featuring the untimely demise of one broadly stereotyped character after another: a hippie, a chubby cat-lady, a homeless man, a two-timing bimbo, etc.
These kinds of projects are aimed at garbage connoisseurs looking for something dumb to watch with friends on a weekend night. But when the stupidity's intentional — and lazy — the eyes glaze over.
-------------
'Attack of the Killer Donuts'
Not rated
Running time: 1 hour, 26 minutes.
Playing: Laemmle Royal, West L.A.
See the most-read stories in Entertainment this hour »
---