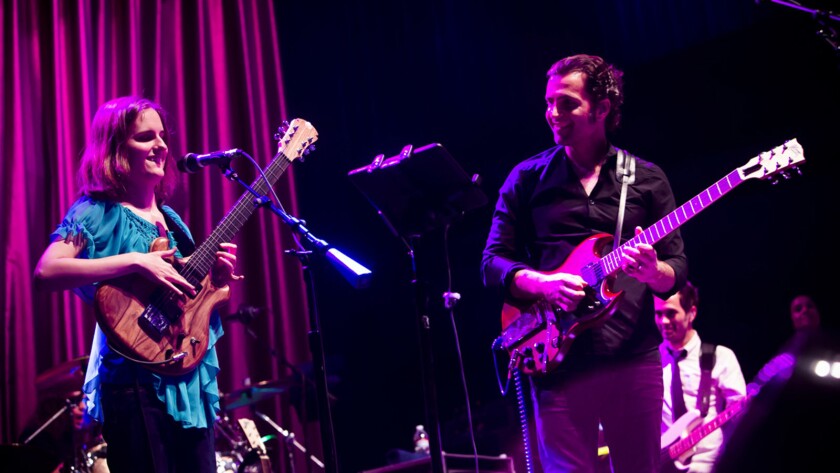 Other than the tinkling of piano keys, the sound that occurs most in "Hearing Is Believing" is the giggle of its subject, Rachel Flowers. The documentary follows the musician over the course of two years, and the only element that's more visible than her musical genius is her joy.
Due to complications with her premature birth, Rachel lost her sight as a baby. However, her mother Jeanie soon discovered her blind daughter's virtuosic musical ability on the piano and her perfect pitch. Rachel could play entire pieces by ear from a young age, and her skill and love for music grew quickly.
She progressed beyond the piano, demonstrating a facility with other instruments, multiple styles and composition. She appears just as happy playing on the display pianos at a big-box store for a small group of onlookers as she is joining Dweezil Zappa on a Brooklyn stage.
Director Lorenzo DeStefano previously made two other music documentaries, and the emphasis here is on Rachel's gift for playing and composing rather than the specifics of her life. "Hearing Is Believing" could have offered more insight into Rachel's experience, but instead it invests in the action of its title, including long stretches of witnessing Rachel at the piano and on various other instruments. Some viewers may grow weary during these lengthy segments, but it's hard not to wonder at the jaw-dropping talent on display.
-------------
'Hearing Is Believing'
Not rated
Running time: 1 hour, 44 minutes
Playing: Laemmle Music Hall, Beverly Hills
See the most-read stories in Entertainment this hour »
---