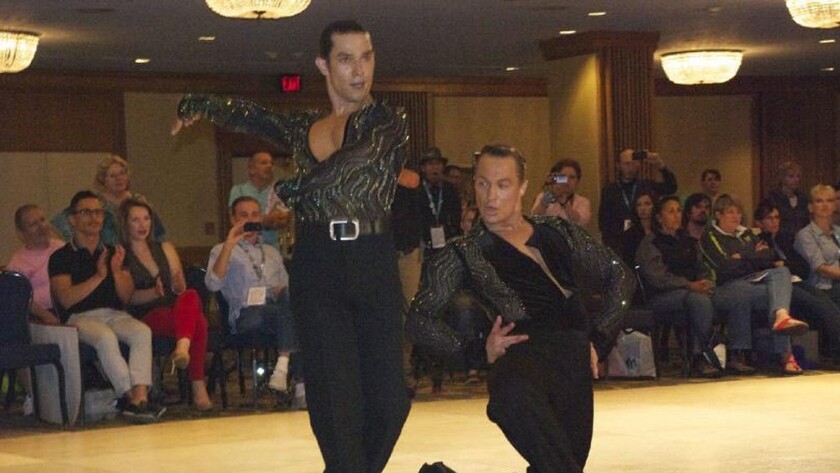 Producer-director Gail Freedman's "Hot to Trot" is a warm and involving documentary about an intriguing, largely under-the-radar corner of the LGBTQ world: same-sex competitive ballroom dancing. Or, as one observer amusingly calls it: "Fred & Fred and Ginger & Ginger."
The film chiefly tracks several years in the lives of two dedicated sets of dance partners as they prepare for the 2014 Gay Games, home to the "jewel in the crown" of same-sex ballroom dance competitions. (A similar contest, the annual Oakland-based April Follies, is also highlighted.)

The first couple is lively Costa Rican-born Ernesto Palma and more introspective Russian émigré Nikolai Shpakov. Then there's Type 1 diabetic Emily Coles and teammate Kieren Jameson, a New Zealand transplant. (Ernesto's first partner, Tristan, exits early due to health issues.)
The film neatly examines the depth of friendship and intimacy these platonic pairings can produce, even — or especially — as outside romantic connections are maintained or forged. Each main dancer's present and past is also well-drawn, with input from lovers, spouses, family members and the candid subjects themselves, though the film is decidedly light on tension and conflict.
As for the dancing, it's stirring and impressive, if not as flashy or heart-pounding as what's seen on that mainstream yardstick "Dancing with the Stars." Ultimately, it's the social, sexual, political and artistic power of the same-sex dance phenomenon that gives the topic its unique heft and vitality.
-------------
'Hot to Trot'
Not rated
Running time: 1 hour, 28 minutes.
Playing: Starts Sept. 14, Laemmle Music Hall, Beverly Hills
---