Reviews for the essential documentary 'Merata,' Jamaica's poetic 'Black Mother' and more
'Merata'
As seminal cinema figures go, New Zealand's Merata Mita should be better known. The first indigenous woman, and Maori woman, to direct a feature narrative — the 1988 film "Mauri" — she overcame tremendous obstacles as a disenfranchised non-white mother to forge a pioneering career that boldly addressed the injustices facing people like her and, in the process, inspiring those like her, too.
Now her youngest son, film archivist Hepi Mita, has honored his late mother's legacy with "Merata," a loving, comprehensive and inquisitive ode to her groundbreaking life that carried the says-it-all title "Merata: How Mum Decolonised the Screen" on the festival circuit. Through a rich trove of archival footage and interviews with older siblings and Merata's later mentees (including countryman Taika Waititi), an energizing portrait emerges of a conscientious, observant and forthright figure for whom the expressiveness of film was the golden key to wedding personal, hard-bitten experience with the heart and fire of a newly empowered activist/artist.
You'll want your own Merata film festival after seeing snippets of her vibrant political documentaries — especially 1983's "Patu!," her gritty record of violent antiapartheid clashes surrounding a 1981 South African rugby tour of New Zealand, the impact of which brought her family plenty of harassment from authorities. It's telling, though, that even Hepi's siblings who've struggled the most over the years as the children of a public firebrand tearfully say they'd go through it again out of pride for their mom's dedication. At its intimate best, "Merata" is an embrace and an education, a son's love letter and for cineastes, a celebration of inclusion and voice.
—Robert Abele
'Merata'
Not rated
Running time: 1 hour, 27 minutes
Playing: Starts May 10, Ahrya Fine Arts, Beverly Hills
-------------
'Black Mother'
Jamaica's answer to Terrence Malick's "The Tree of Life" — but assembled from nonfiction vignettes — Khalik Allah's "Black Mother" encompasses a succinct, but undeniably transcendental spiritual awakening in audiovisual form.
Unrestricted by traditional cinematic language, "Black Mother" qualifies as a documentary in the sense that none of its pieces are, as far as we can tell, fictionalized. Yet, a more suitable label would describe it as the oral history of an island nation told vividly by the kaleidoscopic people that inhabit it today.
Segmented into trimesters leading up to both a physical birth and a cultural resurrection of sorts, this moving meditation is enamored with the faces of those whose voices we only hear off camera: sex workers pondering professional perils, Rastafarians dishing on the yoke of Christianity as complement to slavery, and Revivalists devoutly praying for a country rich in resources but still poverty stricken.
Oscillating between worldly hardships and divine speculation, Allah's wizard-like editing prowess confects free associations out of image and sound that flow more like an uninterrupted stream-of-consciousness than a series of shots. Each kinetic frame, shot also by the one-man-crew that is the filmmaker, functions as sensorial poetry.
An eternal nurturer, the black mother whom Allah dissects and praises in this transfixing hymn of a movie about the place where the woman that gave him life was born is far more than just a homeland but a direct link to the answers about existence. To transmit that in just over an hour is certifiably celestial.
—Carlos Aguilar
'Black Mother'
Not rated
Running time: 1 hour, 17 minutes
Playing: Starts May 10, Laemmle Music Hall, Beverly Hills
------------
'Dry Martina'
Lust rules in "Dry Martina," the lush third film from Chilean writer-director Che Sandoval. Here the heat wafts off bodies and streets alike in Chile and Argentina, thanks to the lovely work of Benjamín Echazarreta, who previously served as cinematographer for Sebastián Lelio's "A Fantastic Woman." But the vibrant visuals contrast with a muddled narrative, leaving the audience less satisfied than the characters.
Martina (a truly wonderful Antonella Costa) is in a rut, both creatively and sexually. Her heyday as a famous Argentine singer has long passed, and she can't awaken the bodily passion she felt when she was younger. When obsessed fan Francisca (Geraldine Neary) arrives on her doorstep, she brings not only the news that she thinks Martina is her sister, but also her boyfriend Cêsar (Pedro Campos). Martina follows them back to their native Chile, but she's more interested in Cêsar and the long-dormant feelings he has awakened in her.
"Dry Martina" may be about its heroine's journey, but it isn't concerned with forward momentum. It moves slowly, unrushed as it gets to its destination, which may frustrate those who like to plan their trips using spreadsheets and down-to-the-minute schedules. However, even the more relaxed viewers may find themselves looking at their watch, especially during its second act.
But the biggest issue for "Dry Martina" is its judgment of Martina, whose sexuality is often compared to her cat in heat. Sandoval's film is sexy, but still somehow not entirely sex positive.
—Kimber Myers
'Dry Martina'
In Spanish with English subtitles
Not rated
Running time: 1 hour, 39 minutes
Playing: Available May 10 on Netflix
-------------
'In Family I Trust'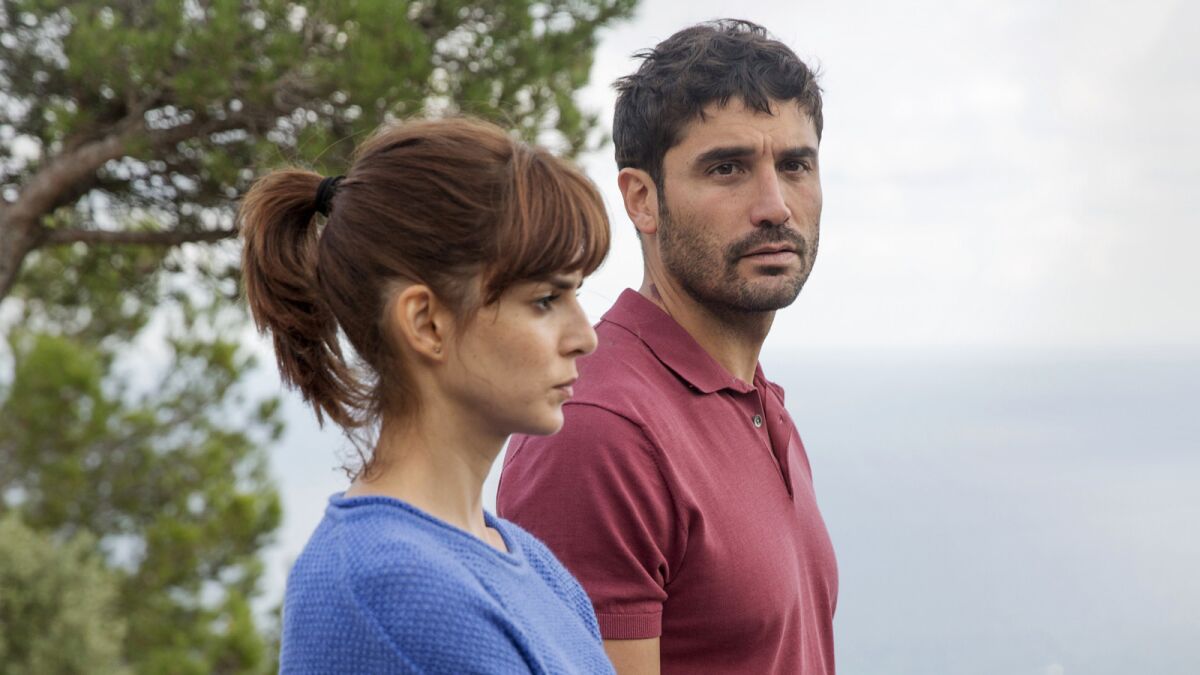 In the sweet Spanish comedy "In Family I Trust," a couple's celebrity freebie list is the catalyst for their breakup. When Victor (Fernando Guallar) cheats on Bea (Clara Lago) with a TV journalist (Marta Belmonte), Bea leaves Barcelona behind in favor of her small hometown and quits her thankless job as a corporate architect.
But the village isn't quite the quiet contrast to the city she desired; there's drama for each of her siblings, and her mother (Carmen Maura) shares some bad news shortly after her arrival. However, she finds distraction with hunky widower Diego (Álex García) and a new creative project.
With tried-and-true lines like, "What's a girl like you doing in a town like this?" this film doesn't have too many surprises. "In Family I Trust" is like a trip home, full of comfort and security, with nothing new. It has a chill Nancy Meyers vibe, though with a distinctly Spanish flavor: People build treehouses while wearing espadrilles and then take a break for an Instagram-ready picnic. You'll want to make sure your passport is up to date after watching.
A subplot about an affair with a dwarf strikes an insensitive note for a film so good-natured, but it's an otherwise amiable time. For her directorial debut, Patricia Font has made a gentle rom-com that will please audiences with its sincere spirit.
—Kimber Myers
'In Family I Trust'
In Spanish with English subtitles
Not rated
Running time: 1 hour, 37 minutes
Playing: Available May 10 on Netflix
-------------
---
Get the Indie Focus newsletter, Mark Olsen's weekly guide to the world of cinema.
You may occasionally receive promotional content from the Los Angeles Times.