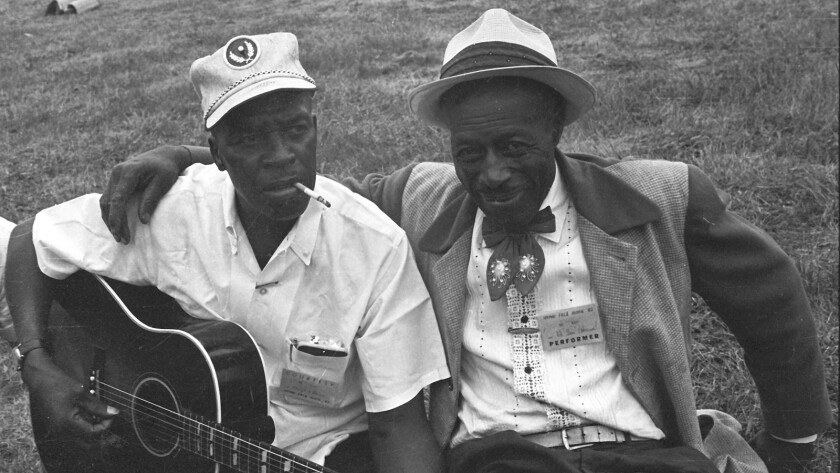 Delta blues, as personified by giants like Robert Johnson and Muddy Waters, was a rolling wail of intensely personal music. Sam Pollard's energetic, trenchant documentary "Two Trains Runnin' " spotlights a time when this beating heart of African American culture underscored a curious crossroads of the civil rights movement.
It tells the story of how two separate groups of white blues nerds — one led by MIT student Phil Spiro and journalist Dick Waterman, another from the West Coast spearheaded by guitarist Jeff Fahey — ventured, unbeknownst to each other, into the same region of Mississippi at the same time, in the summer of 1964. They hoped to find, and lure back into performing, "lost" country blues legends Son House and Skip James, respectively.
Pollard threads their story, complete with animation and interviews, into the context of that simultaneous Freedom Summer that saw white college allies — trained by black activists in political action — make the dangerous trek into the heart of the segregated South to help register blacks to vote. The blues fans' naivete — this was the same year three young activists were murdered in Mississippi — is addressed, but their deep appreciation for this seam of the American soul is given its affectionate, consciousness-raising due.
Music naturally fills the film, including appearances by Gary Clark Jr., Buddy Guy, Lucinda Williams and others, and mesmerizing archival footage of House and James in their late phase of revitalized stardom. As we watch these once-marginalized artists thrillingly bring their past to bear on tense times, so does this look-and-listen complement the urgency of our newly charged civil rights moment.
-------------
'Two Trains Runnin' '
Not rated
Running time: 1 hour, 22 minutes
Playing: Laemmle Monica Film Center, Santa Monica
See the most-read stories in Entertainment this hour »
---