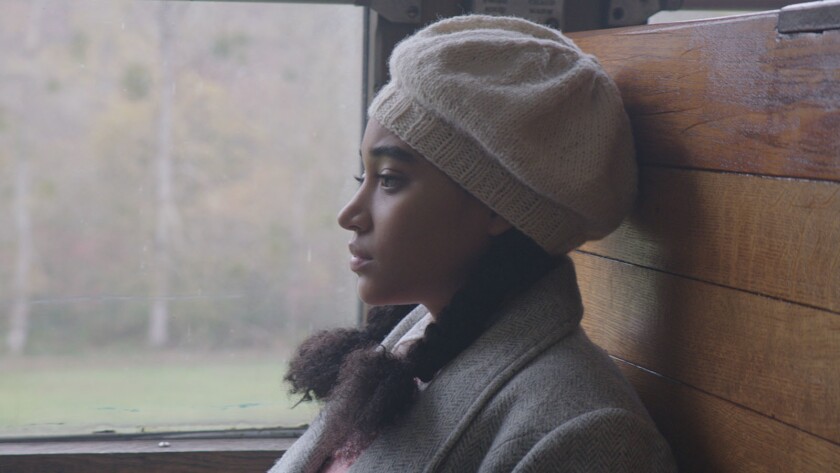 Amma Asante's latest historical drama aims high in its love story between a biracial girl and a Hitler Youth in Nazi Germany. Unfortunately, "Where Hands Touch" fails to reach the heights of either its premise or its director's promise in "Belle" and "A United Kingdom."
Born to German mother Kerstin (Abbie Cornish) and a Senegalese father, 16-year-old Leyna (Amandla Stenberg) struggles in 1944 Germany. Children like her are rare, and she feels lonely. But when her family moves from the rural Rhineland to Berlin, she meets and falls for Lutz (George MacKay), the son of an SS officer (Christopher Eccleston) who wears the uniform of the Hitler Youth. Circumstances pull the couple apart, but they continue to find each other in a time of strife and extreme prejudice.
"Where Hands Touch" is morally slipperier than Asante's previously films, featuring a sympathetic portrayal of a Nazi versus the more unassailable protagonists of both "Belle" and "A United Kingdom." It could have made for a nuanced narrative, but the ambiguity gets lost in a film that conforms too closely to the standard World War II drama with plot points that don't feel realistic — despite the very real dangers that people like Leyna faced. There's less specificity here, dulling what could have been a fresh take on the tropes of the genre. Asante usually excels at sharing stories audiences haven't seen before, so it's unfortunate that this one feels so dully familiar.
-------------
'Where Hands Touch'
Rated: PG-13, for thematic elements, violence/disturbing images, sexuality and language
Running time: 2 hour, 2 minutes
Playing: Starts Friday, in general release
---