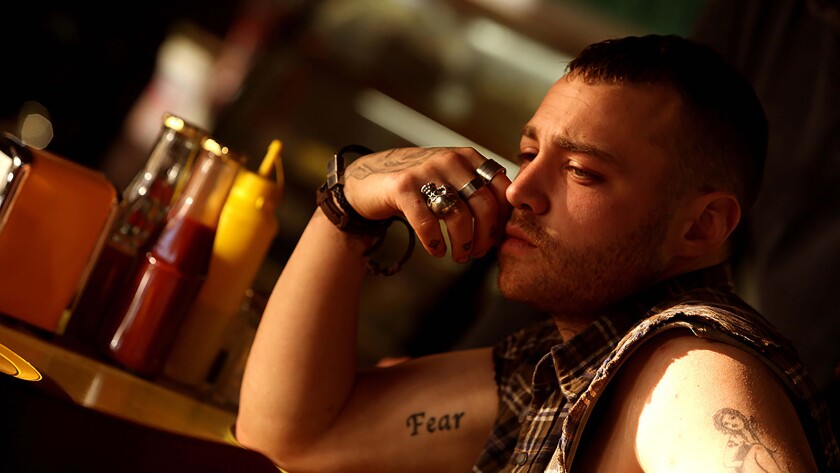 Pretty and nasty, tricky and trite, the neo-noir "Detour" from writer/director Christopher Smith ("Black Death," "Severance") wants to lure you in with the simplest of set-ups, then tickle you with a gimmick that should have been left in the idea drawer. A brooding Tye Sheridan, whose kid turn in Jeff Nichols' "Mud" now seems ages ago, plays law student Harper, seething about the suspicious neglect his stepdad (Stephen Moyer) is showing his comatose mother after a car accident.
Drunkenly spilling his guts one night in a bar to snarling stranger Johnny (Emory Cohen), Harper orders a hit for $20,000. The next morning he's fuzzy about the previous night's details, until Johnny shows up with his wary stripper girlfriend (Bel Powley) in tow to threateningly remind him. Their tense follow-through to Las Vegas is only one plot thread, however, since Smith also cuts in a parallel scenario in which Harper stays behind to confront his stepfather.
It's unclear whether the "Sliding Doors" conceit is meant as a teaching tool about choices or just a juicy twist, since things go bad in both timelines. But what's painfully clear is that all the artfully composed shots, hinky situations and extra conceptual surprises can't make this "Detour" all that compelling beyond its crisp artifice.
The writing is often overwrought (especially regarding Cohen's Runyonesque bruiser), and Powley — such a memorable find with "The Diary of a Teenage Girl" — is ill-used here as a tarted-up damsel. The title, incidentally, is no fluke — Edgar G. Ulmer's '40s-era doom-and-vroom noir gets a clip shout-out on a television. But you'd do better to hop in that classic ride instead.
-------------
'Detour'
Running time: 1 hour, 35 minutes
Rating: R, for some strong violence, sexual content, nudity, drug use and language throughout
Laemmle Music Hall
See the most-read stories in Entertainment this hour »
---