For 'The Danish Girl,' Eddie Redmayne studied issues facing transgender people
Eddie Redmayne rattles off statistics about the transgender community: "In 31 states, you can still be fired for being transgender," he says by phone from London. "The suicide rate within the community is incredibly high at 41%. The violence to trans women of color is confounding."
Just three years ago, he knew none of this. Even while reading the script for "The Danish Girl," the film opening Friday that chronicles the gender transition of artist Lili Elbe, Redmayne wasn't fully aware of the historical or the present-day struggles of transgender people. He did, however, recognize the importance of Lili's story and its need for the big-screen treatment.
SIGN UP for the free Indie Focus movies newsletter >>
And he had to get it right.
This was before the world knew of Caitlyn Jenner and before Laverne Cox rose to critical acclaim on Netflix's "Orange Is the New Black." Journalist Janet Mock had not yet released her memoir "Redefining Realness," and though Chaz Bono's "Becoming Chaz" had aired in 2011, many were still ignorant about the transgender community.
"When you're playing someone like Lili, who was and is an icon, it comes with great responsibility," said Redmayne, 33. "I felt extraordinarily privileged to tell her story, but the whole thing was a huge learning experience for me."
Redmayne began preparation shortly after filming "Les Misérables," long before director Tom Hooper got the greenlight for "The Danish Girl." Transgender producer Lana Wachowski, who with brother Andy directed Redmayne in "Jupiter Ascending," was one of the first people the actor spoke with. Wachowski knew the relatively obscure story of Lili, born Einar Wegener, and spouse, Gerda (played by Alicia Vikander), who also was a painter. Just as important, the producer knew the arts world of the late 1920s in which the couple painted.
"She knew so much about them," Redmayne said. "Lana gently pointed me to where I should begin my education."
When you're playing someone like Lili, who was and is an icon, it comes with great responsibility.
— Eddie Redmayne
He immediately began reading Jan Morris' "Conundrum," released in 1974, and Kate Bornstein's "Gender Outlaw," from 1992. The books were some of the first memoirs by transgender people about the steps — including hormones and then-risky surgery — taken to become the people they always felt they were. They served as Redmayne's foundation for understanding a little of the world when gender transition was less common.
In learning more about Lili's story, Redmayne referenced the book "Man Into Woman," said to be as close to a Lili biography, and the fictionalized version of that, written by David Ebershoff, titled "The Danish Girl." Ebershoff's novel, on which the film is based, won the Lambda Literary Award for transgender fiction when it was published in 2000.
"Whenever I prepare for a part, I don't know if there is anything you can credit specifically to getting you ready," Redmayne said. "I try to immerse myself as much as I can in all forms of learning."
But he did get some of the most useful information from conversations with transgender women.
"There was a huge generosity by the women I met across the board," he said. "They understood the urgency to educate the broader public, to learn to be allies to the community. But they all told me there was no one trans story."
One of these women was April Ashley, a former model who was outed as a transgender woman by a newspaper in Britain in the 1960s. Her life story is being turned into a movie by producer Chay Carter.
"He'd done so much homework," said Ashley, 80, about meeting with Redmayne. "He'd read both of my books apparently, which was rather amazing that he had done all this research."
After setting her eyes on him, she knew he'd be able to pull off the role physically. She spoke of his "fine, beautiful, not terribly masculine hands," and his face, "strangely is masculine, but when he puts on that wig and makeup, not so." But Ashley did caution the actor.
"She told me not to raise the pitch of my voice," Redmayne remembered. "Just find the femininity within it."
Such tidbits helped him the most. Other women he spoke to described the periods of hyper-feminization they experienced after coming out.
"One woman described it as being an adolescent girl's puberty," he said.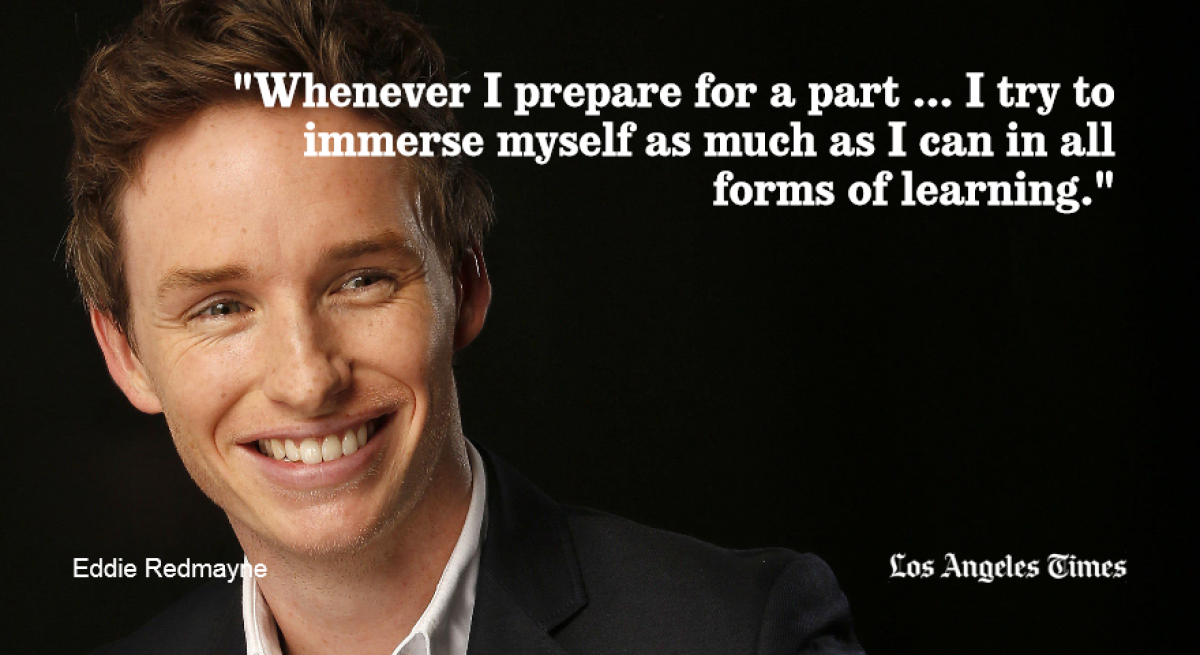 "That seemed to mirror for me with the hyper feminine poses of Lili in some of the early art that Gerda painted," he said.
In an effort to translate these notes into the role, he worked with hair and makeup artist Jan Sewell. As Lili transitions throughout the film, heavy makeup and vibrant wigs mellow out in favor of a minimal, even muted look.
By the time he had to don the character of Lili, Redmayne had come to know exactly what he wanted, and needed, to convey on film: "Lili had been born Lili and, through conforming and society, had put up this masculinity that people saw as Einar," he said. "For me, then, it was about unraveling this masculinity to find herself."
Rebecca Root, 46, a transgender actress who plays Lili's nurse in the film, said this approach translated into an authentic expression of the lives of transgender people.
"It's a beautiful, honest depiction of somebody going through that very difficult process," she said. "He's a terrific actor anyway, but he approached this role with the required vigilance and integrity to the characters."
Root believes that when audiences, particularly transgender people, see the film, any criticism in the casting of Redmayne will dissipate. Critics have complained about the lead role going to an actor who is cisgender, meaning he identifies with the gender he was assigned at birth.
"I know that some people maintain that only trans actors should play trans roles, and it's a difficult issue, but certainly there is greater flexibility when the character is undergoing the process of transition," she said. "They must be recognized and applauded though for including so many trans people in the making of the film."
Considering "The Danish Girl" premieres during a year in which the visibility of transgender people has skyrocketed on television, Redmayne hopes his portrayal of Lili helps to continue the conversation for their rights.
"It's been almost a hundred years since Lili and Gerda's story," he said. "But whilst the conversation has moved into mainstream media, there's so much more to go."
Twitter: @TrevellAnderson

ALSO:
No, 'Secret in Their Eyes' star Chiwetel Ejiofor is not slowing down
With 'Agent X,' Sharon Stone's instinct is to stay in the family demographic
Shooting 'The 33' made Antonio Banderas feel ill, but he welcomed the hardship
Get our L.A. Goes Out newsletter, with the week's best events, to help you explore and experience our city.
You may occasionally receive promotional content from the Los Angeles Times.