Beyond slashers and 'scream queens': Three iconic women of horror on the legacies of their legendary roles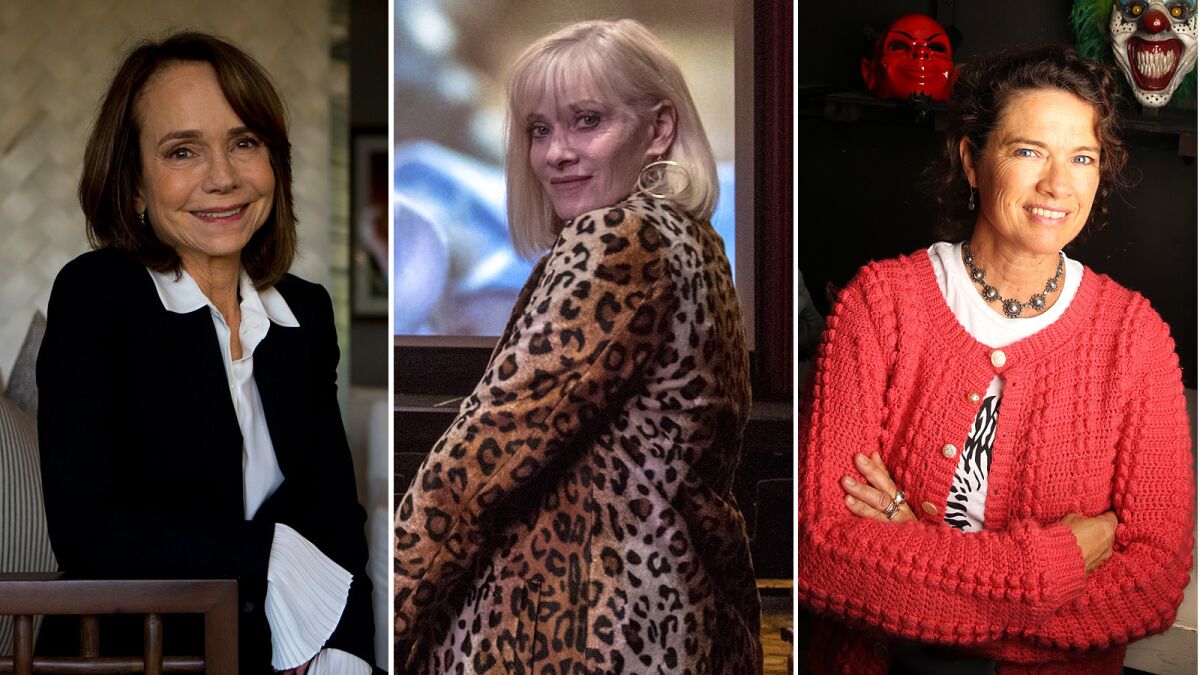 Horror has long been the provenance of many of cinema's strongest women, where legendary heroines have squared off against the most sinister frights movies can offer.
Off-screen too, the iconic women who shaped the face of modern horror had to forge singular paths through a daunting industry. They challenged gendered ideas of what a hero, a "final girl" or a "scream queen" looks like. And in celebrating them, we understand why excavating our deepest, darkest fears makes horror such a humanistic medium.
This Halloween, three horror icons take us through their journeys into the genre, how they survived and slayed along the way, and why the realm of frights remains such fertile ground for some of Hollywood's most celebrated heroines.
---
Barbara Crampton
"From Beyond," "Re-Animator"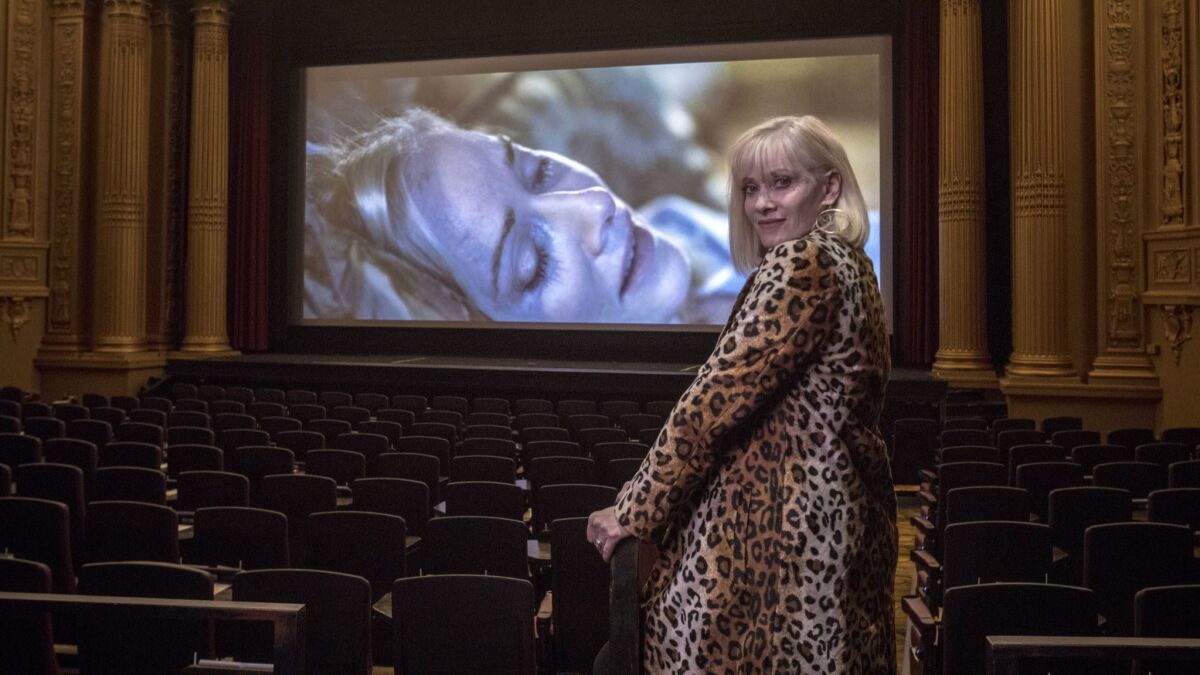 Barbara Crampton, the star of 1980s cult classics "Re-Animator" and "From Beyond," figured her acting days were behind her.
The daughter of a carnival showman, Crampton had grown up with a love of storytelling. But it was her fearlessness that helped her land the breakthrough role of Megan Halsey, the object of two deranged medical students' attentions, when another actress backed out of Stuart Gordon's 1985 sci-fi horror "Re-Animator."
"I never played her as the 'bubbleheaded co-ed,' as she is described," said Crampton, an alumnus of theater and soaps who also enjoyed a lengthy run as the devilishly over-the-top Leanna Love on "The Young and the Restless." "I felt it was my duty as a woman and as a performer to find the strength and the survival instinct of every person I played."
Reuniting with Gordon and actor Jeffrey Combs the following year on "From Beyond," adapted from another H.P. Lovecraft tale, Crampton found even more to mine in the role of Katherine McMichaels, a psychologist drawn into an experiment that upends interdimensional reality.
(The trio would collaborate again in 1995 on the little-seen "Castle Freak," about, well, a grotesque creature stalking a grand Italian estate.)
But once Crampton hit her 30s, she says, she was getting fewer and fewer film and television auditions. It would be years until she'd discover — thanks to the rise of social media, conventions and film festivals — how her work had affected generations of fans and future filmmakers.
So she quietly retired from the business and moved north to the Bay area with her husband. She said she was so busy raising the couple's two children that she hardly had time to think about acting. And then a request came out of the blue to be in Adam Wingard's 2011 standout slasher "You're Next.'"
"I received a call while I was running on a treadmill in Tahoe. Thank God my agent hadn't lost my number, because I hadn't even talked to him in six years, and he hadn't dropped me," Crampton recalled over Skype on a recent October afternoon.
She'd never heard of Wingard or screenwriter Simon Barrett, twentysomething horror upstarts whose indie "A Horrible Way to Die," starring Amy Seimetz and Joe Swanberg, had just made a splash on the film festival circuit. But the filmmakers knew her. Like many genre diehards, they'd grown up on Crampton's iconic movies. Through her agent, they offered Crampton a part in "You're Next" that Barrett had written for her.
"I said, 'Who are these people? They don't want me to audition? They're just going to hire me?'" Crampton recalled. She read the script that night and loved it. Eleven days later, she was on a plane to Columbia, Mo., to play matriarch to a deeply doomed brood with an ensemble that included Seimetz, Ti West, Larry Fessenden and Kate Lyn Sheil.
By the time she returned home, she says, the experience had revitalized not only her career but also her passion for filmmaking. "I realized how much I loved it and how much I missed it. And I thought, 'I really want to do this again.'"
Hearing herself, she got misty-eyed. "I thought I was done all those many years ago, and I realized — 'I'm not done.'"
"I thought I was done all those many years ago, and I realized — 'I'm not done.'"

— Barbara Crampton
The film's success introduced Crampton to a new age of horror fandom that had grown in the last decade and a half. It led to appearances in Rob Zombie's "The Lords of Salem" and the anthology "Tales of Halloween," and eventually meatier turns as a cryptic caretaker in the thriller "Sun Choke" and as a nun in the South by Southwest festival dramedy "Little Sister."
Returning to the genre as a grand dame of chiller cinema also gave Crampton cause to contemplate her place in its history. In an op-ed piece for the film website Birth. Movies. Death. titled "Don't Call Me a Scream Queen," she called for a revision in the ways women have historically been categorized within the genre.
"I really think it's reductive and derivative and harks back to an era where women were congratulated for just being a screaming victim running for their lives," Crampton said of the term, which has no male gendered equivalent. "Some women fondly call themselves scream queens, and I don't begrudge them that. I just think we should try to take another look at that, and try to move beyond it."
She is especially proud of her leading work in director Ted Geoghegan's 2015 film "We Are Still Here," about grieving parents who begin to suspect that their new home is haunted. "The role of a lifetime," describes Crampton, who also stars in the newly debuted season of Syfy's "Channel Zero," directed by E.L. Katz.
With films like 2016's "Beyond the Gates," she moved into producing, helping rising filmmakers launch their passion projects.
Her biggest title on the horizon is a remake of "Castle Freak," which she will produce and is developing with Dallas Sonnier's Cinestate (whose horror sequel "Puppet Master: The Littlest Reich" she co-starred in this summer). While plot details are under wraps, it is being written by a woman, Crampton proudly says.
As Crampton continues to act and produce, she's eager to help usher in new opportunities for women in horror on both sides of the camera. Inspired in part by the infamous (and male-dominated) "Masters of Horror" dinners (which Mick Garris started with filmmaker friends including John Carpenter, Tobe Hooper, Joe Dante and Eli Roth), she recently began a female-centered group for fellow actors and filmmakers to cultivate community, collaboration and, hopefully, more creation.
"You've got to keep showing up," Crampton urged, her eyes lighting up. "You can't just wait around for someone to call you."
---
Jessica Harper
Jessica Harper never thought of herself as a genre star. She had, by her estimation, starred in only one true horror film, in 1977, just a few pictures into her budding screen career.
Then again, that one movie was Dario Argento's "Suspiria."
"I've done some unusual things, but not necessarily horror," she said bemusedly, sneaking Diet Coke into her teacup over high tea in West Hollywood. "So when I'm called a horror icon, I go, 'What?' On the other hand, I'm honored to be called any kind of icon."
At the time, Argento's garishly stylized Italian giallo opened strongly, but over the years, "Suspiria" earned full-fledged cult status among genre heads for its nightmarish visuals and throbbing Goblin score.
The film's longevity validates Harper's decision to turn down a role in Woody Allen's "Annie Hall" to work with Argento, the visionary behind Italian murder mysteries "The Bird With the Crystal Plumage," "Four Flies on Grey Velvet" and "Deep Red."
It boasts one of horror's most indelible fairy tale beginnings: Harper's American ballerina Suzy Bannion steps off her plane into a dark and stormy night and the eerie tinkling of that unforgettable score kicks in, marking the start of her fateful journey to the Tanz Dance Academy — a German boarding school run by witches.
In more recent years, Harper, who splits time between New York and Los Angeles, has traveled to genre confabs, given interviews commemorating her most famous screen role and heard (a lot) from fans. They know "Suspiria" inside and out; they also clamor for another of her early films: The 1974 glam-goth rock musical "Phantom of the Paradise," the first movie she ever landed.
Not that she could have known, even at the time, how her genre work would come to resonate across a four-decade career. Born in Chicago, Harper was a 20-year-old Wesleyan student in 1969 pondering what to do with her life when opportunity knocked.
"I wanted to drop out of college and I was looking for a way out," she laughed. "My mother sent me an article in the New York Times saying that they were auditioning people for the cast of 'Hair' on Broadway and she suggested that I go try out."
Harper landed a role in the Broadway cast, launched her career, "and then fate took over, thank goodness."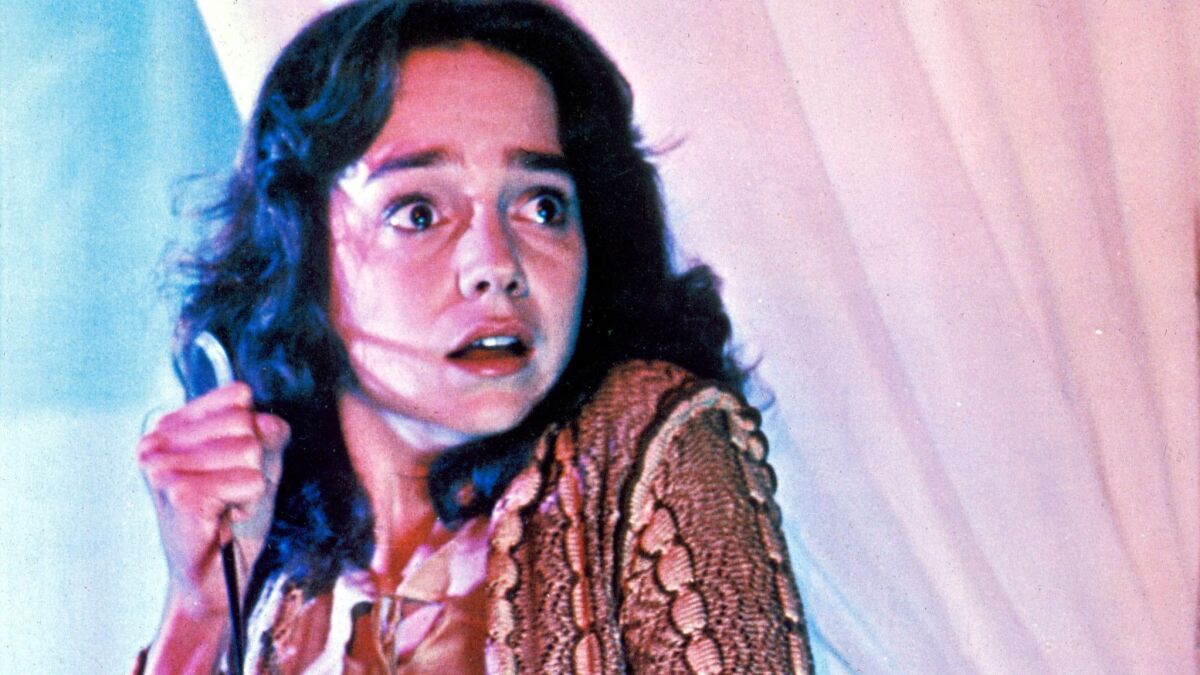 In 1972, after acting in Richard Foreman's off-Broadway musical "Doctor Selavy's Magic Theater" — "one of those things in New York where it got a rave review, so everybody went to see it" — she was invited out to L.A. to audition for Brian De Palma's "Phantom of the Paradise."
She sang for Paul Williams and beat Linda Ronstadt for the role of Phoenix, an aspiring singer whose entrancing voice sends her down a temptation-laced path toward stardom.
"I remember when 'Phantom' opened, it just opened — and nobody went. So I didn't really expect that much from it," she said, shrugging. (Harper notes that at least one notable moviegoer saw her on-screen in the film: Future studio exec Tom Rothman, whose brother she'd gone to school with, and whom she would later marry in 1989.)
Harper continued acting, landing roles in Allen's "Stardust Memories," assuming Susan Sarandon's role in the "Rocky Horror" sequel "Shock Treatment" and the Depression-era anti-musical "Pennies From Heaven" in the same year, and in 1982's Oscar-nominated showbiz comedy "My Favorite Year."
Her film and television work spanned genres, including a memorable turn on Showtime's "It's Garry Shandling's Show." and a supporting role in "Minority Report," while off-screen she wrote children's books and musical albums.
"It was such a circle of life experience, to 40 years later do the next one. It just all seemed like good karma to me."

— Jessica Harper on appearing in the 2018 "Suspiria" remake
But only later did she come full circle with her horror beginnings when "Call Me by Your Name" director Luca Guadagnino rang with a humble proposition, asking Harper to play a role in his bold new re-imagining of "Suspiria."
"He had me at hello," she said. "I'd heard rumors about other remakes over the years, but when I saw his name attached to it, I thought, 'That's going to be so interesting.' He called me and he started to make a pitch, and I said, 'Yes — why would I ever say no to you?'"
Sharing her scenes with Tilda Swinton (in disguise as "Lutz Ebersdorf" playing psychoanalyst Josef Klemperer), Harper had to crash-learn German before flying to the remote Italian shoot. Watching Dakota Johnson's take on Susie, she says, gave her a deeper understanding of the strength and power of her own Suzy.
"It was such a circle-of-life experience, to 40 years later do the next one," she smiled. "It just all seemed like good karma to me."
In November, with the new "Suspiria" in theaters nationwide, Harper will also debut her passion project of the last few years: A 10-episode podcast titled "Winnetka" based on her own memoirs growing up "in postwar Eisenhower's America."
"I'm really lucky," she said of the podcast, which she narrates. "I have a number of things that I love to do creatively. But if another acting role comes along that's interesting — I'd grab it in a second."
Heather Langenkamp
"A Nightmare on Elm Street," "A Nightmare on Elm Street 3: Dream Warriors," "New Nightmare"
---
On a bright fall morning in the San Fernando Valley, the fiercest woman to ever battle Freddy Krueger opened the door to a cozy shop of horrors with a warm, welcoming smile.
Heather Langenkamp never planned on becoming one of horror's most famous faces when Wes Craven cast her as teenager-next-door Nancy Thompson in the seminal 1984 horror classic "A Nightmare on Elm Street," the influential slasher flick that terrorized a generation with visions of a razor-clawed boogeyman.
These days, Langenkamp still harbors a deep love for the genre as one of the proprietors of effects house AFX Studio, which she runs with her husband, Oscar-winning artist David LeRoy Anderson, whom she met at a wrap party for Craven's 1988 film "The Serpent and the Rainbow."
Perched on a workbench surrounded by meticulously sculpted body parts and grotesquely deranged ghouls designed for "American Horror Story," she beamed with pride at the morbid creatures around her, reflecting on her journey.
Before being anointed one of the most beloved horror heroines in history, she'd been raised a world away from Hollywood on a farm in Tulsa, Okla., with a resourcefulness Nancy might have appreciated.
"We had cows and we'd vaccinate them one weekend, or we'd build a fence," she remembered. "I learned how to drive a tractor when I was about 11. That, to me, was the best way to grow up."
When Langenkamp was in high school, she and her family moved to Washington, D.C., where her classmates at the prestigious National Cathedral School included Susan Rice, future U.S. national security advisor under President Obama, who would later become her college roommate at Stanford.
"We got such a great education about being able to do anything you set your mind to, which sounds cliché today," said Langenkamp. "But back in the late '70s and '80s, we were just learning that girls could be taught that, and that girls could and should have the same ambitions as men."
It was Rice who helped Langenkamp make one of the biggest decisions of her life — to take time off school to pursue an acting career, starting with a little horror movie titled "A Nightmare on Elm Street."
"She was very instrumental in me having the confidence to do it," said Langenkamp. She went to Los Angeles and landed the role of a lifetime, breathing an intrepid intelligence into her Nancy Thompson, the teenager who fights back against Freddy — but she had never seen a horror movie.
"I didn't know people would be bleeding, or that they would make it look that real — knives for fingers sounded kind of stupid," she laughed. "It wasn't really my cup of tea, but the part sounded so great. So I just trusted Wes with everything. He took his work so seriously that it was impossible for anybody not to."
"I don't think we should call her a 'final girl' anymore. ... Just call a hero a hero, regardless of gender."

— Heather Langenkamp
Craven, who died in 2015, wrote two more outings for Langenkamp: 1987's "A Nightmare on Elm Street 3: Dream Warriors," in which an older Nancy passes the baton, and 1994's meta-fictional "Wes Craven's New Nightmare," in which Langenkamp plays a version of herself confronting the literal manifestation of the franchise come to life.
After several years working behind the scenes at AFX, she's entertaining the idea of returning more fully to acting, but "I have to kind of toughen myself up." In the meantime, she's working on a short film that she wrote and is directing.
And she would like people to stop calling Nancy a "final girl."
"I don't think we should call her a 'final girl' anymore," she said. "Because one, I want a boy to be able to play a part like this, and they're never going to call him a 'final boy' — they just call him a hero. Just call a hero a hero, regardless of gender."
She acknowledges that over time, the meaning has evolved and that it has even been reclaimed by women, much like the moniker of "scream queen." "To me, it's at least a little less offensive than 'final girl' in some ways; at least she's at the top of the heap — she's a queen."
She paused. "I just hope that for women in my shoes who get the opportunity to play a part like Nancy, it doesn't take them so long to think that they did something right."
Much of the realization that she had indeed done something right with Nancy, the heart and soul of the "Nightmare" franchise, came later through hearing firsthand accounts from devoted fans who have found strength in the character.
"I do have the best fans in the whole universe," she said, pointing to a homemade Funko Pop Nancy doll one fan gifted her. The heartfelt stories she's heard, many of which she honored in her own 2011 documentary, "I Am Nancy," have in turn given her strength.
In January, Langenkamp and Anderson's son Atticus, who worked alongside the family as a lab technician at the studio, died at age 26 after a battle with brain cancer. "He taught me that life is very short and you have to celebrate every single day that you have," said Langenkamp.
The voice of one woman who had found strength in Nancy after a major injury stayed with her. "She said, 'You just have to face it, man.' That's exactly what Wes would tell us," Langenkamp said, "'You have to face your fear.'"
She shook her head in wonder. "How can life be, where you think you're just doing a horror movie, and you play a character that later someone's going to tell you that they got this message from that you're going to end up using? I have marveled on that concept a million times. Everything I learned from Nancy, I use every day. And everything my fans tell me that they learn, eventually I learn it too."
---
Get our L.A. Goes Out newsletter, with the week's best events, to help you explore and experience our city.
You may occasionally receive promotional content from the Los Angeles Times.