What does the success of 'It' mean for the future of horror?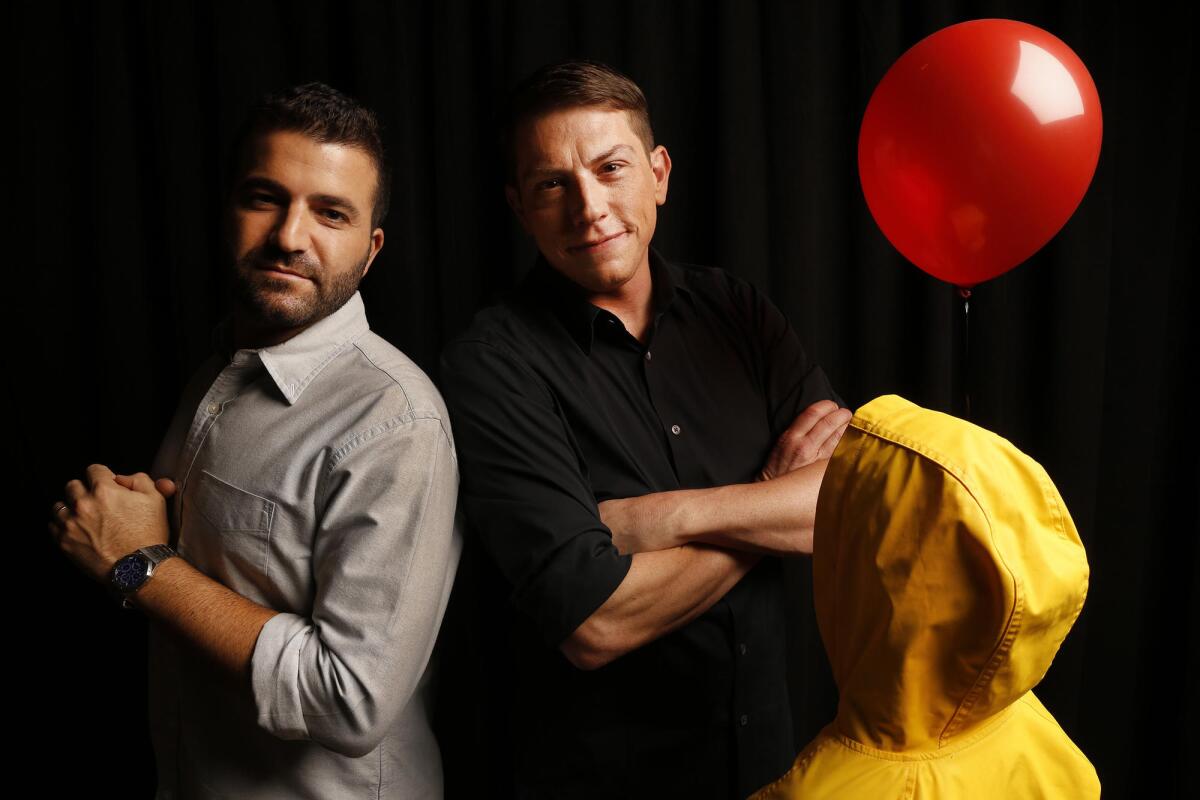 The Beverly Hills offices of KatzSmith Productions are filled with the kind of treasures one would expect from the company that helped create "It," currently the highest-grossing horror film of all time at the global box office.
Haunting the conference room is an immense cineplex standee for "Abraham Lincoln: Vampire Hunter," the 2012 film made from the mash-up novel by Seth Grahame-Smith, who partnered with David Katzenberg to form KatzSmith.
The S.S. Georgie, the paper boat whose maiden voyage into a sewer led to the gruesome death of its tiny owner in "It," is perched atop a first edition of the Stephen King book that inspired it all. A "Keep Calm and Carry On" sign, among the "E.T." and "MacGruber" posters, is marred with blood splatters so it just says "Keep Calm."
But perhaps the most intriguing item that adorns the walls of the work space is the portrait of Dick Zanuck, the man who produced "Jaws," "The Sting" and "Cocoon" and helped propel the careers of Tim Burton and Steven Spielberg. Hanging directly in front of Grahame-Smith's desk, Zanuck is pictured under the exaggerated gothic umbrella from the 2012 Burton remake of "Dark Shadows." It's the prop from what could arguably be described as Grahame-Smith's first commercial and critical stumble.
This film critic once loved 'Night of the Living Dead' but now he won't watch horror movies
LIKE CHARACTERS IN AN OLD blues song, horror and I met at a crossroads decades ago. I went one way, horror another, and lately, I've been trying to figure out the reasons why.
It's not just the deaths of two of modern horror's founding fathers, George Romero of "Night of the Living Dead" and Tobe Hooper of "The Texas Chain Saw Massacre," that got me thinking. Though that played a part.
Equally crucial is the way horror finds itself positioned at this moment as the genre of choice for audiences as well as critics, the sensibility that is front and center in keeping the movie business afloat. ...
Despite all of this, horror is a genre I never review and scrupulously avoid even watching. You could count on the fingers of baseball legend Mordecai "Three Finger" Brown how many horror or similarly scary films I've taken in over the past years.
I was not always this way.
Horror master Guillermo del Toro on how scaring people is different on TV and in the movies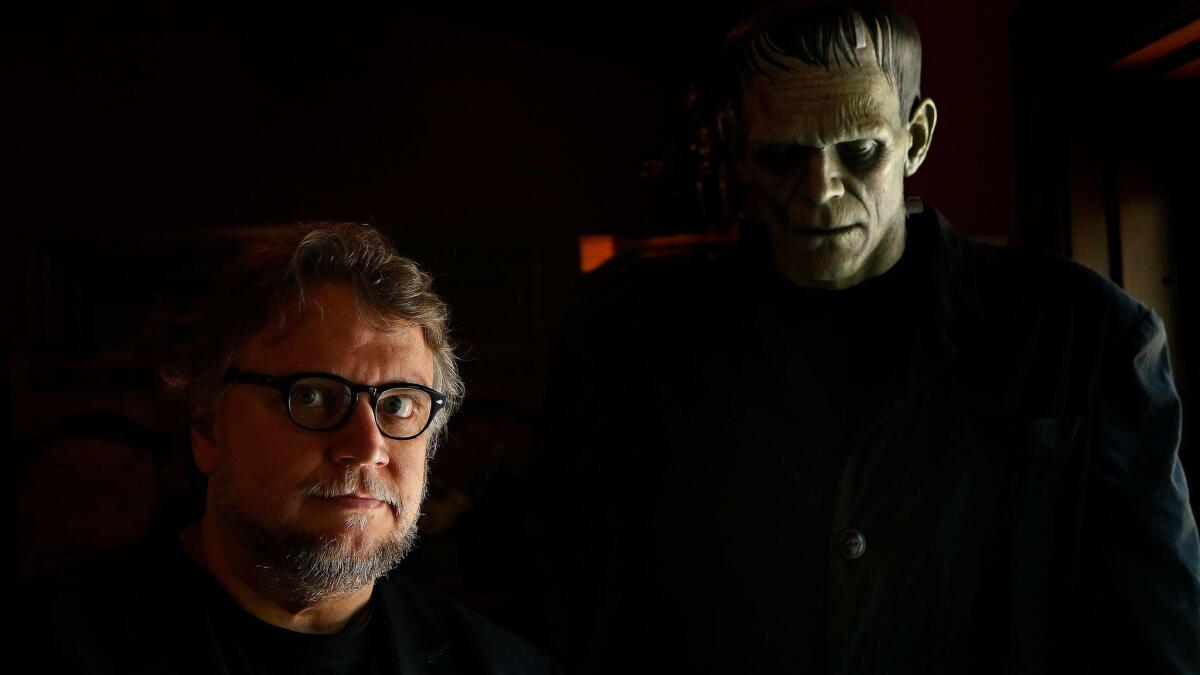 "THE SHAPE OF WATER" director Guillermo del Toro's omnivorous storytelling stretches beyond just movies. A trilogy of novels he co-wrote became the basis for the television series "The Strain." The "Trollhunters" book he co-wrote became an animated series. And Del Toro often expresses an ongoing interest in video games.
So at a moment when there are more ways than ever to tell stories to frighten, to provoke and to entertain, Del Toro seems just the person to turn to regarding how the medium impacts the message, the ways in which how you tell a story can impact the story itself.
What I find really interesting as a storyteller is that each of those mediums informs the other.
— Guillermo del Toro
WATCH: Writer-director Guillermo del Toro takes us on a tour through Bleak House, his suburban L.A. home where he has amassed a formidable collection of art, books, horror movie props and other oddities that serve as inspiration for the filmmaker.
How Finn Wolfhard found himself in the kid gangs of horror's red-hot 'It' and 'Stranger Things'
THE TWO HOTTEST HORROR commodities right now have two things in common: A band of kids in distress and Finn Wolfhard.
In Netflix's "Stranger Things," Wolfhard broke out as Mike Wheeler, dungeon master and leader of the bike-pedaling gang seeking to solve the mystery of their missing friend. More recently, he was the profanity-punctuated comic relief Richie in Warner Bros.' hit horror film "It."
In the world of nostalgia-baiting entertainment, Wolfhard is the king of the scabby-kneed army.
Just after school, we chatted with the 14-year-old Wolfhard to get intel on the new season of "Stranger Things" (set to air Oct. 27), working on "It" and reviving yet another 1980s classic — Wolfhard is currently lending his voice as the "player" on the TV resurrection of "Carmen Sandiego."
Why John Carpenter wants to play scary music, just for you, on Halloween
John Carpenter is best known for his prolific directing career, with a body of horror and sci-fi films that includes "Escape From New York," "They Live" and the original "Halloween." What fewer people remember — or ever realized — is that each of those films featured an original score by Carpenter, and in the last few years he's taken his love for music into the recording studio — and on the road.
On Oct. 31, appropriately, Carpenter will perform music from "Halloween" and other scores, along with tracks from his recent "Lost Themes" I and II concept albums at the Hollywood Palladium. He'll be backed by a heavy metal band composed of his son, godson and the rhythm section from Tenacious D.
To me, music is something you do to enhance the film. I didn't think of it as an end to itself ... I never thought that anybody would pay much attention to it.
— John Carpenter, director and composer
Horror by the numbers: Some classic budgets, box office and snack bar totals
Though the niche audiences that cue up for horror films most likely don't care about the numbers their films generate, here are some figures illustrating the price paid – whether it's budgets, box office, fake blood or back-end points -- for scary cinema classics. Touchstone films like Alfred Hitchcock's "Psycho," George A. Romero's "Night of the Living Dead" and Stephen King's "Carrie" – he only got how much for the rights to that book?!? – all have surprising sum totals attached to the lore of the movies.
$806,947
Estimated budget of Alfred Hitchcock's "Psycho" (1960)
$146
Dollars 2015 horror moviegoers spent per year on snack bar carbonated beverages, $21 more than average moviegoers.
The Pennywise presidency and why horror is the movie genre of the moment
IN ONE OF THE SCARIER moments of "It," Andy Muschietti's smash-hit movie adaptation of the 1986 Stephen King novel, seven kids survey a map of their Maine hometown, searching for clues that will help them battle the child-murdering clown known as Pennywise.
The slide projector they're using suddenly starts behaving like a demon-possessed zoetrope, and to the kids' horror, the sharp-toothed Pennywise himself lunges into and out of the frame, obliterating the boundaries of the screen.
It's a potent illustration of the idea that cinema can take on a terrifying life of its own. Or, indeed, that life can suddenly turn into a horror movie, as it no doubt feels for those who have interpreted "It" as a thinly veiled parable of life in Donald Trump's America.
What better stand-in for this most openly antagonistic of presidents, the argument goes, than Pennywise, a once-amusing popular entertainer warped beyond recognition, who now feeds on human fear and terrorizes the most vulnerable among us?
We just elected Pennywise president.
— Stephen King, author
...Besides "It," 2017 has brought us horror pictures as unique and fascinating as "It Comes at Night" (no relation), "Get Out," "Split," "Annabelle: Creation" and "Life." Not all of these reflect the same degree of topical engagement. But cumulatively they suggest not only that American horror stories are having a moment, but also that horror might, in fact, turn out to be the signature genre of the present moment.
1896's 'House of the Devil' may have been the first, but there are many influential horror movie moments
Stephen King's "It" has just become the highest-grossing horror movie ever, earning more than $305 million so far at the box office — an unexpected result from a movie genre that constantly produces unexpected results.
Since the film genre's inception — generally thought to be the 1896 French short silent film "Le Manoir du Diable" (The House of the Devil) by French director Georges Méliès — audiences have been captivated and repelled. Whether it's a physical menace — from Frankenstein to Freddy Krueger — a psychological thriller like "The Haunting" or the tension of a found-footage movie like "The Blair Witch Project," horror continues to evolve. Here are 25 pivotal moments in horror with films that have touched a nerve in the public and influenced the industry.
How your favorite horror movies and TV shows invaded theme park haunted mazes
SIX YEARS AGO, director Eli Roth pulled on a costume from his film "Hostel" and staged an impromptu performance inside the film's maze at Universal Studios' Halloween Horror Nights.
"He showed up, he had the costume from the movie, and he acted in every single scene in the maze for over an hour," recalled John Murdy, creative director at Universal Studios Hollywood and executive producer of Halloween Horror Nights. "When I came down, he had gone backstage afterwards and hung out with the cast, took a million selfies, thanked everybody and as he was coming out he gave me a big bro hug."
Of course, Roth was still drenched in fake blood from the performance.
"I've never been able to get [the blood] off so now it's just the Eli Roth memorial jacket," Murdy said with a laugh.
Horror fans and filmmakers alike flock to Universal Studios for the Halloween-themed seasonal attractions, which compete with the longer-running Knott's Scary Farm by taking full advantage of licensing opportunities to bring thrill seekers' favorite movies and TV shows to frightening life.
"Because we're in the most competitive market in the world for this, I focus specifically on branded horror," Murdy said. "It's a lot like doing movies except we're doing multiple movies at the same time."
A thousand "scare-actors" a night wend through an assembly line of gore, where they are transformed into terrifying characters for Universal Studio's Halloween Horror Nights.
How film's fright maestros learned the language of horror and redefined the genre for a new era
THEY TAP INTO OUR DEEPEST fears as we sit in the dark and remind us, in brutal bursts and jump scares, how fleeting life can be. They give us bogeymen to rally against, heroines and heroes to root for. They teach us not to run away up the stairs or ever promise, as the shadows creep closer, "I'll be right back." ...
The translators, filmmakers who speak to us in the language of horror, are each in their own way part of a grand pop-folkloric tradition. It is the job of these macabre orchestra conductors to play our fears like violins, to choreograph our sense of dread as we sit in front of screens and spook us in the process — all in the name of entertainment.
"I learned the language of horror as a child at the movies and reading books," says horror master John Carpenter, whose genre-blending career includes not only "Halloween," "The Fog" and "They Live," but "Escape From New York" and "Starman."
Carpenter was weaned on the classic Universal monster movies and sci-fi horror of the 1950s, and also credits the literary influence of H.P. Lovecraft for forming his understanding of the genre. In turn, Carpenter's influence, filtered through his own films, helped define horror for the filmmakers who followed.
'Paperbacks From Hell' may have a nostalgic feel, but it also points to the horror genre having a renaissance
Unholy alliances between children and clowns, evil scientists performing diabolical experiments, zombies, monsters, skeletons, haunted houses, possession and gore: For fans of pulp horror fiction, the '70s and '80s were a golden era. A new book aims to rediscover cult classics of the genre all too often relegated to collecting dust on thrift store shelves.
"Paperbacks From Hell: The Twisted History of '70s and '80s Horror Fiction" (Quirk Books) traces the story of mass-market horror's rise and demise, with such a razor focus on cult authors that Stephen King barely gets a mention.
It's not just the covers that hook your eyeballs. It's the writing, which respects no rules except one: always be interesting.
— Grady Hendrix, author
Turning the scares on the actors of 'American Horror Story: Roanoke' in the haunted maze based on their show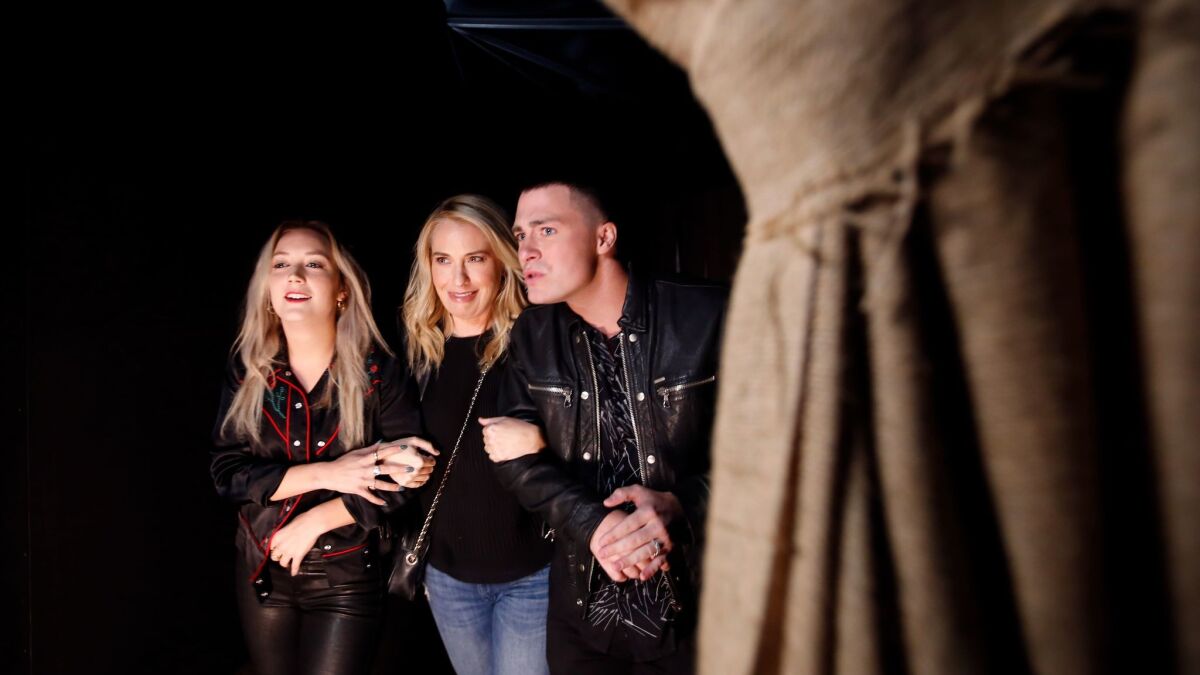 "THIS SEEMS LIKE AN ODD choice, to spend Rosh Hashanah here," a smirking Billy Eichner said to his "American Horror Story: Cult" costar Leslie Grossman just outside a large, darkened tent as the sun set over Universal Studios recently.
The two of them, along with Billie Lourd, Colton Haynes and a number of other cast mates, were just beginning to settle down after a harried walk through American Horror Story: Roanoke, a new attraction dedicated to the sixth season of the show that's part of the theme park's annual Halloween Horror Nights.
"This is my first L.A. haunted house," said Alison Pill, who plays Ivy, Sarah Paulson's wife, in the current, seventh season, subtitled "Cult." (Paulson, perhaps sensibly, was not on hand to experience her show's scares in real life). "I was impressed. Production values, thumbs up," she added as the cast gathered to laugh and compare notes after the roughly five minutes it took to complete the maze. "Leslie's not OK at all."
"Kathy Bates tried to take out my knee," an incredulous Grossman began, referencing Bates' Season 6 character, Agnes Mary Winstead (or "The Butcher"), who is portrayed by an actor in the maze and pops out from dead-end hallways and picture frames to swing a blade while accompanied by a shrill tone and flashing lights for maximum nerve-fraying impact.
Universal Studios pulls out the knives, axes and pig heads to scare you silly