Review: The jazz tragedy of Lee Morgan, exquisitely rendered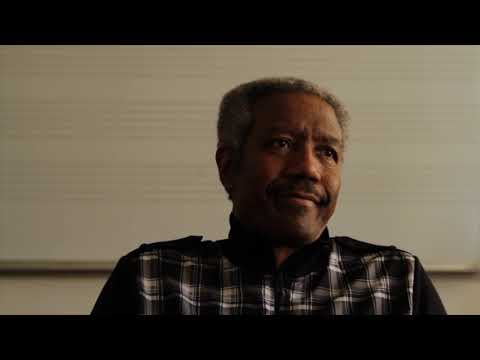 Kenneth Turan reviews "I Called Him Morgan" a new documentary about jazz great Lee Morgan. Video by Jason H. Neubert.
Film Critic
Artistic, obsessive and intoxicating, "I Called Him Morgan" is a documentary with a creative soul, and that makes all the difference.
It's not just that this is a haunting, deeply moving jazz tragedy, dealing with the life and untimely 1972 death of fabled trumpeter Lee Morgan, who was shot at age 33 by his common-law wife, Helen, with the gun he gave her.
It's also the way Swedish filmmaker Kasper Collin — a one-man band who wrote, directed, produced and co-edited — has told this poignant story. Using a dazzling blend of cinematic tools, aural as well as visual, Collin recreates both individual lives and an entire world.
As a slice of recovered and illuminated time, "I Called Him Morgan" has few peers.
Given Morgan's status as one of the great bebop trumpeters, it's to be expected that the film's soundtrack, featuring cool, piercingly played spectacular cuts from dozens of his albums, would set an impeccable tone.
But Collin, a prodigious researcher who has been working on this film for years (including several spent editing), would not rest until he secured interviews with the story's hard-to-find key players, friends, family and bandmates like Wayne Shorter, who was so reluctant to revisit the past that it took four years to convince him to talk.
The film's centerpiece interview is an arresting one-of-a-kind narrative that Helen Morgan herself recorded on a cassette-tape recorder a month before she died. Speaking with writer and teacher Larry Reni Thomas, she details her difficult life, her relationship with Morgan and how and why she came to shoot him at a Manhattan jazz club named Slugs in the midst of a blizzard so terrible that it delayed ambulances, contributing to her husband's death.
What makes "Morgan" such an exceptional film is that Collin, with a combination of good fortune and great skill, has built on this excellent verbal foundation with transfixing visuals that set a powerful mood.
Though he didn't know the extent of the material when he began working, Collin has made excellent use of thousands of black-and-white stills shot by Francis Wolff, the co-founder of jazz mainstay Blue Note Records along with Alfred Lion (the musicians called them "the animal brothers.")
Just as compelling is filmed material newly created by Collin and wizardly cinematographer Bradford Young ("Arrival," "Selma"). The director, who dislikes re-creations, opted instead for 16 mm film manipulated to look like snippets of home movies. The results, especially in footage shot during a pair of wintry New York blizzards, are evocative.
None of this would matter as much as it does without a great story to tell, and Collin, who stumbled on Morgan through a random YouTube clip, has shrewdly decided to go back and forth between the two principals as he tells their tales.
The film begins with Helen Morgan and her eerie beyond-the-grave recollections of a particularly hard life. Growing up in rural North Carolina, with two out-of-wedlock children by the time she was 14 ("that disillusioned me from a lot of things"), she left her offspring behind and ended up in New York City. With an arresting, street-wise manner, Helen unapologetically describes herself as "sharp, which was what you had to be. I looked out for me."
Lee Morgan, by contrast, at first led the charmed life of a musical prodigy. Hired by Dizzy Gillespie when he was but 18, he astonished his bandmates. "He was confident to the point of being cocky. He knew he was talented," recalls bass player Paul West, with drummer Charli Persip, adding, "there was never no doubt in anybody's mind, Lee was going to be a star."
Though he moved onto more success with Art Blakey and the Jazz Messengers, Morgan also succumbed to the drug culture that surrounded the music. He became addicted to heroin, once showing up barefoot for a gig at Birdland because he had sold his shoes to pay for drugs.
Though Helen Morgan was 14 years older than Lee when they met in 1967, the connection was immediate. "My heart went out to him," she says movingly on the tape, and she proceeded to turn his life around, seeing that he detoxed, managing his career, even carrying his trumpet to gigs. "His life was restored by Helen," one friend says, and Al Harrison, her son from early in her life, says simply, "They needed each other."
How and why their relationship fell apart is a story best left to the film itself, and Collin, a jazz buff whose previous work was 2006's "My Name Is Albert Ayler," is ideally suited to tell it.
Regardless of whether you care deeply about jazz, the poetry of Collin's filmmaking and the poignancy of the couple's story will win you over. As a piece of history and a personal journey, "I Called Him Morgan" is cinema to cherish.
###
No MPAA rating. Running time; 1 hour, 31 minutes. Playing Laemmle's Monica, Santa Monica, Playhouse, Pasadena.
Critic's Choice. "I Called Him Morgan." Artistic, obsessive and intoxicating, this documentary on the tragic story of jazz trumpeter Lee Morgan has a creative soul, and that makes all the difference. Whether you care about jazz or not, the poetry of the filmmaking and the poignance of the story will win you over. — Kenneth Turan
See the most-read stories in Entertainment this hour »
Get the Indie Focus newsletter, Mark Olsen's weekly guide to the world of cinema.
You may occasionally receive promotional content from the Los Angeles Times.