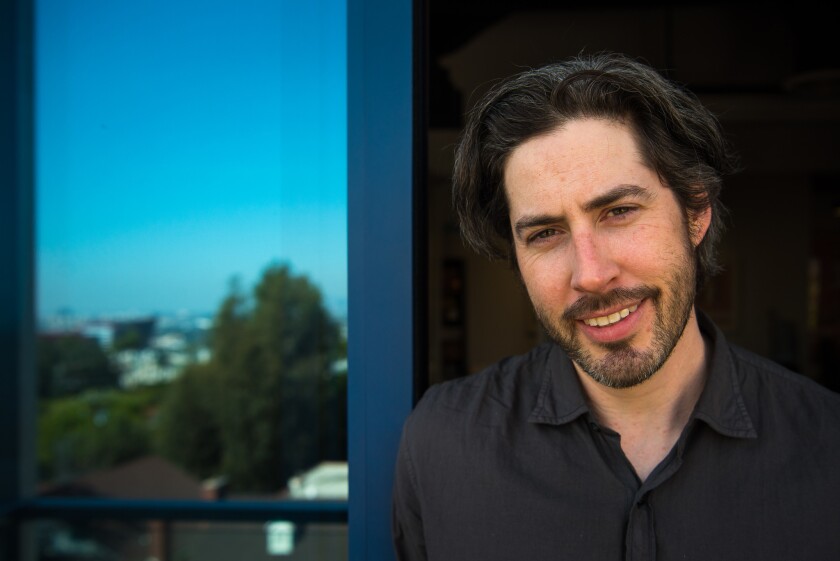 On a stage at the Los Angeles County Museum of Art last April, Jason Reitman stood before a crowd gathered for a live reading of his 2005 screenplay "Thank You for Smoking." He had an announcement:
"It is very hard for me to say tonight that this is going to be the last one," the director said. "I have to make movies, guys."
After five years and 40-some odd performances, Reitman felt it was time to bring his live read series to a close. Finding actors to perform classic screenplays for free, annotating the scripts, publicizing the events — it was fun, but it was taking away from his filmmaking.
But then Nov. 8 happened. Reitman was on the Manhattan set of his upcoming film "Tully" on the night President Trump was elected, and instantly he felt his world shift.
"It was a very confusing feeling," he recalls, sitting in his two-room office on the Sunset Strip, perched above the city lights. "People were crying. It was very hard to work. There were people who wanted to go home, and they had full permission to do so. Fortunately, that night we were shooting at a bar, so the alcohol was available. It felt like 'Star Wars' went the wrong direction — like the empire won. It was sad."
After production wrapped a few days later, the 39-year-old — who is Canadian and can't vote — grappled with how best to handle his feelings of frustration. He thought back to the live reads he'd done for Film Independent and how well-attended they had been. "And I went: 'Oh, well, we have this great show that we did, and maybe we could use it to raise money for good causes.' "
His idea just happened to coincide with the 10th anniversary of the release of "Juno," the Ellen Page-starring teen pregnancy film he'd directed in 2007. So he and the actress started talking about putting on an all-female live read of Diablo Cody's Oscar-winning screenplay and donating the ticket sale proceeds to Planned Parenthood.
"We kept coming back to the importance of Planned Parenthood — and not its relationship with abortion, but its relationship with women's health," he says. "How devastating this new presidential administration has been and could be to women. I thought we could maybe emphasize that note by doing an all-women cast."
The event, which takes place on Saturday at the Theatre at the Ace Hotel, will see Page reprise her original role: Juno, a spunky high schooler who decides to give her child up for adoption. Jennifer Garner, who also appears in the film, will again have the part of the hopeful mama ready to take in Juno's child. The other parts will be read by new actors: Tracee Ellis Ross as Juno's mom (originally Allison Janney), Tig Notaro as Juno's dad (J.K. Simmons), Kristen Wiig as Juno's older crush (Jason Bateman) and Alia Shawkat as Juno's BFF slash baby daddy (Michael Cera).
There have only been a couple of live reads in which actors reprised their original roles: Susan Sarandon in "Bill Durham," Sam Elliott in "The Big Lebowski." Usually, much of the fun of the events was seeing talent offer a fresh take on well-known material. Page has participated in two readings, and each time she played characters wildly different from herself: Han Solo in "The Empire Strikes Back" and River Phoenix's Chris in "Stand by Me."
"Jason always has a part in mind already, and then I'll just watch the movie the day before," Page says over the phone this week. "And I think that's what makes it such a unique and fulfilling experience — reading with people you could be meeting for the first time. At first, you're nervous, but you slowly find your way and get in this special zone."
With "Juno," Page says, she isn't sure if she'll deliver her lines the same way she did a decade ago — though she imagines that when she sits with Cody's script, "it will be impossible to not speak in that specific Juno rhythm."
When "Juno" came out, the screenplay was both celebrated and derided for its trendy dialogue, including the now-infamous catchphrase "honest to blog?" With a made-for-Hollywood back story of her own, Cody — who wrote "Juno" in a Starbucks after giving up her job as an exotic dancer — became an overnight success.
"When the 'Juno' script hit this city, everyone immediately recognized how special it was — and I was not the first director hired," says Reitman, who was 28 when he made the film. "I would imagine if I was a writer who had been working at it for 40, 50 years and all of a sudden this young writer comes out and is at bat and just connects and hits it out of the park — yeah, that'd be frustrating. That doesn't take away from her gifts — that's just traditional envy. It's easy to miss how complicated and mature her structural writing was from moment one because it's a script about teenagers, and they talk like teenagers."
Reitman had just welcomed his first child six months before he went to work on the film but said he didn't respond to the script because it was about parenthood. He liked how it focused on "the moment you decide to grow up or not grow up" — and that it didn't feel like an after-school special. That's what the folks at Planned Parenthood like about it, too — how it offers a realistic take on what it's like to be a teenager dealing with an emotional decision.
"I think what 'Juno' depicts is a young woman who lacked some accurate medical information and is grappling with an unplanned pregnancy, as many women do throughout their lives," says Dinah Stephens, senior director of public affairs for Planned Parenthood in L.A. "She makes a decision, and the movie underscores how personal pregnancy is. I think most Americans would agree that women should be able to make that decision at any point in her life."
While Reitman is hopeful the event will raise awareness about Planned Parenthood, which the new administration has threatened to defund, it's also an opportunity to celebrate the way in which "Juno" changed his life. Before Saturday, he'll watch the film again for the first time in 10 years, then go through the script, crossing out superfluous stage directions. (He reads them aloud during the performances.)
He doesn't allow the actors to meet or rehearse before the reading. Before they go onstage, he'll make a couple of remarks about keeping up the pace and having fun. And that's it.
"I feel like particularly with film actors, you never really get to see what they can do in real time. You're always seeing an edited performance," he says. "So to watch an actor sit down nervous, start to figure it out and then create an entire relationship with another actor right in front of you? It's not like a play where they've practiced and worked out the beats. It's like jazz instrumentalists finding a way to groove together."
And if Saturday night goes well? Reitman may just return to the live read fray.
"I think it would be great to tie movies with causes that are appropriately themed and invite actors who are passionate about the subjects we're trying to tackle," he says. "I think a lot of people feel motivated and don't know what to do right now. That's certainly how I feel."
'Juno' live read
Who: Ellen Page, Jennifer Garner, Alia Shawkat, Tracee Ellis Ross, Tig Notaro, Kristen Wiig, Jason Reitman
When: 7:30 p.m. Saturday, April 8
Where: Theatre at the Ace Hotel, 929 S. Broadway, Los Angeles
Tickets: $25 to $150; all proceeds to benefit Planned Parenthood
Info: acehotel.com/calendar/losangeles/juno-live-read
Follow me on Twitter @AmyKinLA
ALSO
Vin Diesel goes electric over Charlize Theron in 'Fate of the Furious,' but where's the Rock?
Christopher Nolan reveals what makes the war story 'Dunkirk' a great suspense thriller
Hugh Jackman puts on the greatest show at CinemaCon
Todd Fisher on how the Debbie Reynolds-Carrie Fisher public memorial became a musical revue
---