Jim Carrey on losing himself inside Andy Kaufman and why he relived it for the documentary 'Jim & Andy'
Jim Carrey sat in a Los Angeles hotel room on a recent evening explaining that he was not really Jim Carrey anymore — at least not in the way he once was.
"I use his name," Carrey said, dressed all in black, his lanky frame folded onto a couch. "That's the mailing address."
But on a deeper level, the Carrey persona has fallen away. And now, at 55, the actor is trying to live as much as possible without any kind of mask or pretense and simply float freely through this vast, unending absurdity that is existence.
"There's always going to be two worlds: the absolute and the relative," Carrey said. "And the absolute is the understanding that there's only one thing: There's just a field of energy, and there's no you or I involved. It's just happening."
For as long as he can remember, Carrey has been a seeker. As a kid growing up in Canada, decades before he found stardom in smash hits like "Ace Ventura: Pet Detective" and "Dumb and Dumber," he would write poems in which he tried to sort out what the universe was all about.
But perhaps the most pivotal moment in Carrey's spiritual journey came when he played his comedic idol, Andy Kaufman, in the 1999 film "Man on the Moon," plunging himself so deeply into the role that he was never the same again.
That experience has now been chronicled in the new Netflix documentary "Jim & Andy: The Great Beyond — Featuring a Very Special, Contractually Obligated Mention of Tony Clifton." Directed by Chris Smith ("American Movie") and produced by Spike Jonze, the film — now playing via streaming and in a handful of theaters — draws from roughly 100 hours of behind-the-scenes footage that was shot during the making of "Man on the Moon."
In exploring the four months that Carrey spent inhabiting Kaufman, "Jim & Andy" creates a kind of cinematic Venn diagram out of the lives of the two comedians.
Kaufman, who died in 1984, was perhaps best known to mainstream audiences for playing the lovably goofy Latka Gravas on the sitcom "Taxi." But he earned an enduring cult following for a style of high-wire, bizarro comedy that blurred the boundaries between what was real and what was not.
"Every story you heard about him expanded the possibilities of what you could play with," said Jonze, who cites Kaufman as a powerful influence on his own work, from the prankish series "Jackass," which he co-created, to mind-bending films like "Being John Malkovich." "You didn't just have to play in the area they told you to play in. All the stuff that everyone took so seriously was just a game and theater to him."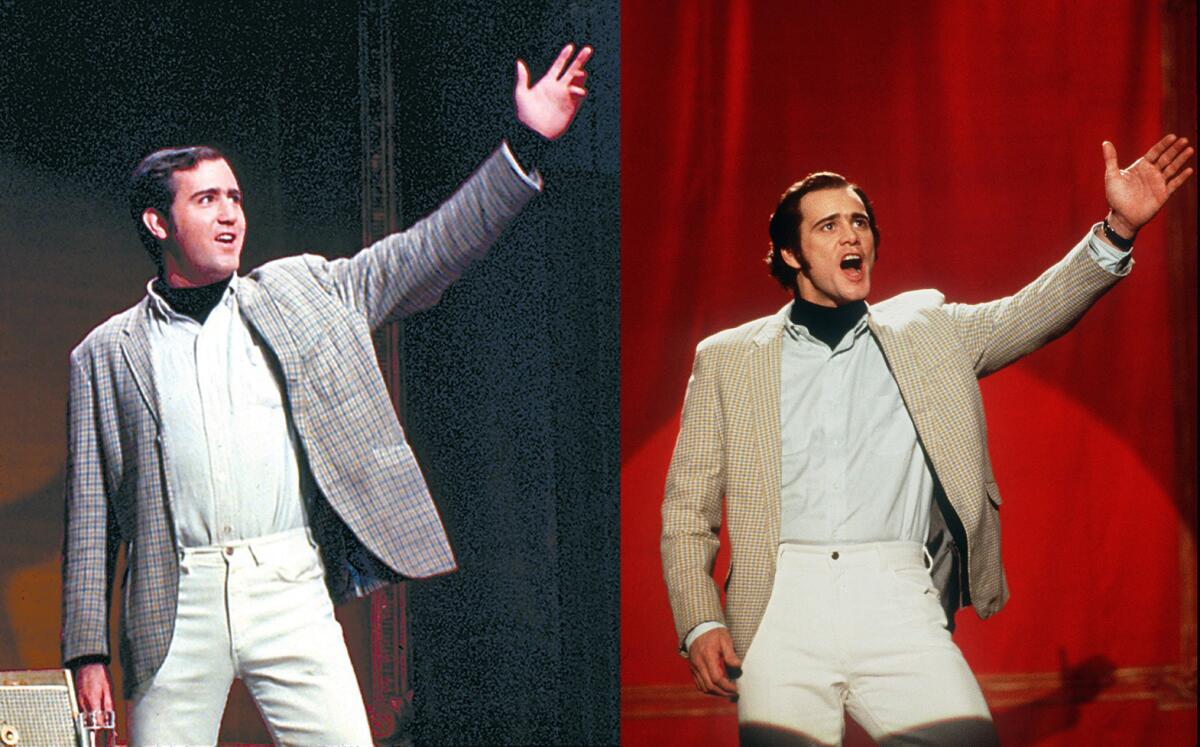 For Carrey, who was coming off the acclaimed 1998 satire "The Truman Show" when he signed on to "Man on the Moon," it seemed only fitting that he should approach the role of Kaufman with that same spirit of playfulness and total commitment. In the end, Carrey's performance would become something more than an exercise in Method acting, verging on an out-of-body experience.
Somewhere in the background, there's a little piece of Jim going, 'Oh, no, you're not going to do that.' But I was just along for the ride.

— Jim Carrey
"I didn't black out, but the balance was way in Andy's corner," said Carrey, who went on to win a Golden Globe Award for his performance in the film. "I broke a couple of times on weekends and stuff, but pretty much from when I woke up to when I went to bed, the choices were all his."
Carrey's insistence on staying in character at times proved exasperating for those around him, as when, playing Kaufman-as-Clifton, Carrey would hurl foul-mouthed abuse at director Milos Forman. Still, the actor never dropped the act. "I love Milos and I respect him greatly, but Tony doesn't," Carrey said. "Somewhere in the background, there's a little piece of Jim going, 'Oh, no, you're not going to do that.' But I was just along for the ride."
The behind-the-scenes footage from "Man on the Moon" — which was shot by Kaufman's longtime girlfriend, Lynne Margulies, and his close friend and creative partner, Bob Zmuda, — initially had been intended to be released in conjunction with the film as a kind of promotional add-on. But Universal Pictures ultimately decided to shelve it.
"They didn't want it to be seen by anyone," Carrey said. "They were protecting my persona. It was a scary thing."
For decades, the footage sat in Carrey's office. Jonze, who had met with Carrey early in his career about possibly directing the "Ace Ventura" sequel and gone on to befriend the actor, was tantalized by its very existence.
"Every time Jim told me about the footage, I was like, 'That sounds so cool,' " Jonze said. " 'We've got to do something with that.' "
For his part, though, Smith, whose other documentaries include "The Yes Men" and "Collapse," initially wasn't quite sure what to make of the idea when Jonze first approached him about it.
"I hadn't made a movie in a while and I was just terrified of making a glorified DVD extra," Smith said. "I didn't know Jim personally, and I was curious about what he had been up to. But I didn't know where it was going to go or what it would be. For me, it was having faith in Spike that he saw something interesting here."
The filming, however, proved revelatory. Over the course of five hours of interviews with Smith, Carrey — wearing a heavy beard and staring deeply into the camera — delved into the profound impact the experience of playing Kaufman had on him.
"I'd never done that before," Carrey said. "It was just nakedness. Fortunately, I'm at a point in my life where whatever expectations people have of me are not at the forefront of my consciousness."
For Carrey, the experience of letting go of Kaufman and finding himself again after "Man on the Moon" had been difficult. "I was looking back at myself and going, 'What the hell do I believe?' " he remembered. "That was a process."
But having temporarily lost himself, Carrey started to find a deeper sense of freedom from the person he thought he was supposed to be. "The process over time has been, 'Oh, even that is not real. Even that is not solid,' " he said. "It's disconcerting at first because it's a death. Like, 'Wait a second — I worked really hard putting this thing together.'
"But the good thing is that there is another facet to this now. Sooner or later, I'm going to ascend out of that belief and understand: None of this is who I am. None of this matters." He paused. "That's liberation."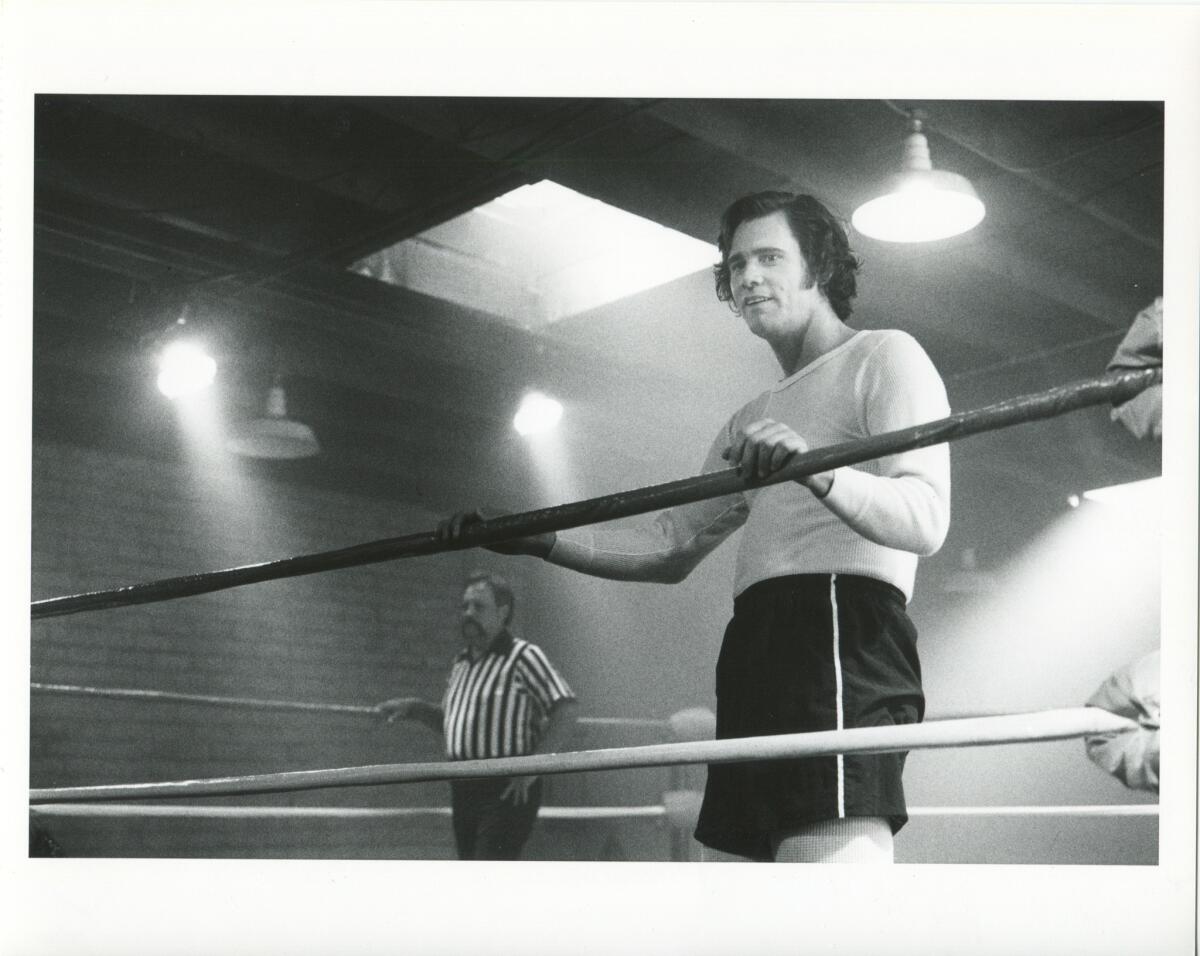 Carrey is well aware of how all of this kind of stuff can sound. He knows that a movie star waxing philosophical about his place in the cosmos can come off as woo-woo. He knows that some people think he's had some kind of breakdown. But frankly, he doesn't care.
"I'm the same as them — that's the thing," he said. "Most people walk around with a mask on, and if you take your mask off for long enough, they start to go, 'Hey, put your … mask on. You're blowing my deal.' The fallback is, 'That person is crazy. That person is depressed.' I'm not depressed — at all. I'm just another flower in the garden, and I'm dealing with the same weather everybody else is."
A few minutes later, Carrey found himself riding in the back of an SUV toward the Chinese Theatre on Hollywood Boulevard, where "Jim & Andy" was being screened at AFI Fest. He saw a random young man walking down the street and broke into a mischievous smile.
"Watch this. I'm going to change this guy's life," he said, rolling down the tinted window and sticking his head out. "You're going to make it, man!" he yelled with unbridled excitement. "You're going to make it!"
The man turned his head, a look of pure confusion on his face. Was that … Jim Carrey?
Twitter: @joshrottenberg
ALSO
Doc 'Jim and Andy: The Great Beyond …' follows Carrey's deep dive into the mind of Kaufman
Kenneth Branagh on Poirot's mustache as superpower and his reboot of 'Murder on the Orient Express'
Kevin Spacey's unprecedented fall from grace tests a stunned Hollywood
Get our L.A. Goes Out newsletter, with the week's best events, to help you explore and experience our city.
You may occasionally receive promotional content from the Los Angeles Times.