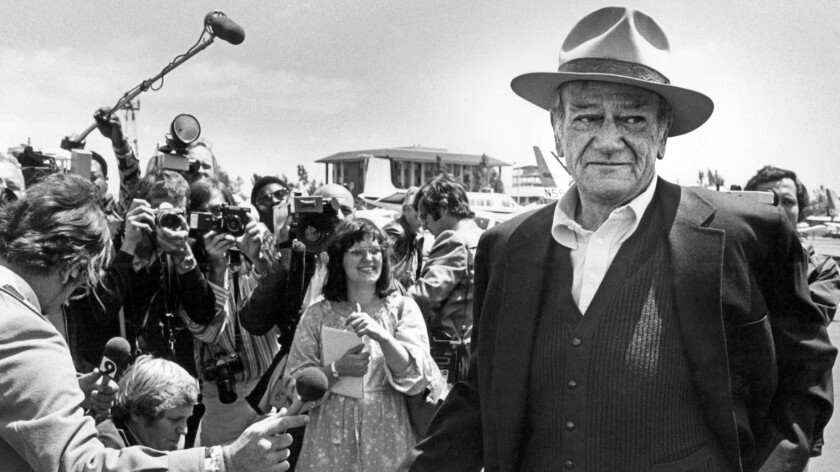 It's a no-go for The Duke.
A California lawmaker's bid to commemorate May 26, 2016, as "John Wayne Day" failed in the Assembly after lawmakers cited the actor's comments on race. In a 1971 interview with Playboy, Wayne called black people "irresponsible" and said Native Americans were "selfish" for not wanting to share their land with white colonists.
"He had disturbing views toward race," said Assemblyman Luis Alejo (D-Watsonville), according to the Associated Press.
The resolution received 35 votes but needed 41 votes to pass. Assemblyman Matthew Harper (R-Huntington Beach), who proposed the bill, blasted the decision as a result of "political correctness."
"Today is the day that political correctness prevailed over a profoundly American figure," he said in a statement on his website, which he also posted to Facebook. He said opposing a day to commemorate John Wayne "is like opposing apple pie, fireworks, baseball, the Free Enterprise system and the Fourth of July!"
The actor grew up in Southern California and starred in dozens of westerns over the course of a career that spanned half a century before his death in 1979. The airport in Orange County is named after him.
In the Playboy interview, Wayne had said he supported white supremacy "until the blacks are educated to a point of responsibility. I don't believe in giving authority and positions of leadership and judgment to irresponsible people."
When asked about his westerns and the way indigenous populations were treated by colonists, he was unapologetic, explaining, "Our so-called stealing of this country from them was just a matter of survival. There were great numbers of people who needed new land, and the Indians were selfishly trying to keep it for themselves."
Assemblyman Mike Gibson, a Democrat, said he appreciated Wayne's contributions to film but didn't think someone who held those views deserved to be recognized by the legislature.
"Certainly his movies are one thing, but in terms of his private life, and also his views, I find them very offensive," Gibson said, according to the AP.
---