Q&A: 'Love, Simon's' Keiynan Lonsdale on playing Kid Flash and LGBTQ representation in Hollywood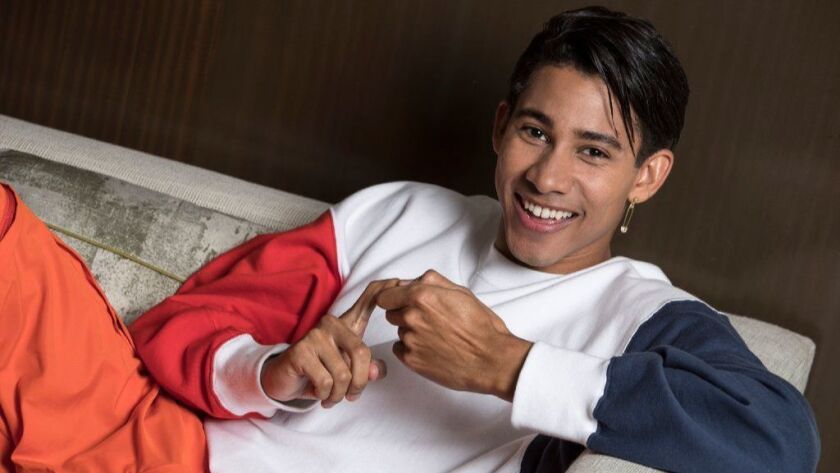 The following article contains spoilers for the film "Love, Simon."
When Keiynan Lonsdale was first cast as the love interest in Fox's "Love, Simon," he was nervous. Not because he was playing a gay character and would have to film an on-screen kiss, but because he didn't want to let down the fanbase of the book on which the film's based.
"That was going through my mind maybe like the whole of filming, feeling like people are going to be disappointed that it's me," the 26-year-old said. "Luckily I got over that."
It helped, he said, that "when the fans found out that it was me who was cast as Bram, there was an undeniable amount of support." Lonsdale said he "felt very welcomed."
This is the same feeling projected by "Love, Simon" — which pulled in $11.5 million over its debut weekend. The first major studio film of its kind, a gay teen romantic comedy, it follows 17-year-old Simon (played by "Jurassic World" and "Everything, Everything" heartthrob Nick Robinson), who has yet to tell his family and friends that he's gay. His only confidant is an anonymous classmate, known initially as "Blue," with whom he trades emails and whom he soon realizes he's in love with. When another classmate discovers the emails, Simon finds himself threatened with being outed to the entire school, something for which he's not ready.
The coming-of-age tale, adapted from Becky Albertalli's "Simon vs. the Homo Sapiens Agenda" and directed by Greg Berlanti, welcomes LGBTQ characters into a genre of film made in the spirit of the beloved teen flicks of John Hughes. It boasts an ensemble of young actors, including Alexandra Shipp, Jorge Lendeborg Jr., Logan Miller and "13 Reasons Why" star Katherine Langford. Lonsdale, known for his role as Kid Flash on "The Flash" and "Legends of Tomorrow," as well as his part in "The Divergent Series: Insurgent," plays Bram, a black and Jewish athlete at the school. We find out at the end of the film that Bram is Simon's online crush, Blue. (Get it? Black + Jew = Blue)
In casting Lonsdale, Berlanti said he took his cues from the novel.
"If you read the book, he is just Bram in your head," he said. "That part was almost easy."
We were painted a very specific picture about what a queer man is, and no one ever told us that we could be superheroes — and we can.

Keiynan Lonsdale
Abertalli agreed, noting how the character balances a shyness and coolness making Lonsdale "so perfect in that role that he was the fan favorite before he was even cast," she said.
It also helps that Lonsdale is openly a member of the LGBTQ community, though Berlanti noted that the actor's sexuality was not factored into the casting decision. Still, Albertalli highlighted how perhaps Lonsdale brought something more authentic to the character as a result of it.
For example, she zeroed in on "Love, Simon's" penultimate scene in which Simon awaits on a Ferris wheel in front of the whole community. He's recently been outed online and has confessed his love for the then-unknown Blue. He's made an appeal for Blue to out himself as well by meeting him at the fair ride. Just when it looks like Simon is going to be stood up, Bram appears and takes a seat.
"'I'm Jewish and I'm black and I'm gay.' There's something about the way he says that last line that hits you," Abertalli said. "It's so unforgettable and it feels like it comes from the heart."
Of that scene, Lonsdale, who doesn't use labels to define his sexuality but is attracted to men and women, said it was "surreal as an actor, especially as someone who has gone through that journey of feeling like, 'Oh, I won't be able to make it if I'm myself.'"
"And now I'm shooting a movie, this kissing scene for a Hollywood film for a major studio and it's being celebrated, and it's not seen as a tragedy."
The Times spoke with Lonsdale, who is of Nigerian, Irish and Danish descent from Australia, about "Love, Simon," being a superhero, overcoming online racism and navigating the industry as a sexually fluid actor.
---
Did you always want to be an actor?
I always wanted to just dance onstage with Michael Jackson. That was my dream. … I really connected with [him] from 2 years old, so my mom got me all the Michael stuff because it was the only thing that kept me quiet. I just danced in the living room for ages and then I asked if I could go to dance classes and I wanted to do competitions. I loved being onstage, I just didn't like that people looked at you when you went onstage. I didn't understand why we needed to look at each other. But I wanted to be on the stage, so it was quite conflicting.
It wasn't until high school that I started to find passion for writing songs and acting class. ... I really loved writing songs and recording in GarageBand in my room. We couldn't afford singing lessons or anything, so I just had to teach myself. I would sort of, with my friends sometimes, write TV shows. We were like, "No one's ever going to cast us in a show. That's impossible. Let's just try and write our own. I'm sure that's much easier.
"Yeah, I definitely didn't think that I was going to become a professional actor."
What was your first big audition?
I remember the biggest one, the most daunting one, I think I was 8 or 9. I auditioned for "The Lion King" musical. I got through the first round. Everything was cool and then the second or the third round, they asked us to sing, and that just crushed me. I was like, "I don't want to. Why would you ask me?" Then I was a kid that, if I had to cough, I didn't know that it was OK to cough, so I would just hold in things like that. I remember being at the final audition and really needing to cough and holding it in, being so afraid, so then I ended up choking and the whole room thought that I was going to be sick, and then everyone's staring at me, so then I just ran and left.
A lot of people know you from "The Flash." How was it booking that particular role?
It was awesome. I had done a couple films in America before, and so I was starting to get used to the idea that I can take myself seriously as an actor. Then stepping into a show where I knew it was going to be full-time almost felt like it could be a cool training ground. It was overwhelming and it was exciting. I also was a huge fan of the show. I watched the first season, so I was obsessed with it, so to be cast in it was really cool. It was also the first time I had been exposed to online racism.
What do you mean by that?
The character is originally Caucasian [in the comic books], and so when I got cast — they had changed the character in the most recent comic books and his father and sister are black, but people still didn't put two and two together. It was interesting. I was upset and hurt and I couldn't understand it.
How did you get past it?
I think one thing that helped — and made me sad but it made me realize it wasn't personal — was once I got to set, I found out that Candice [Patton], who plays my sister Iris, had also been receiving it, so I was like, "Whoa, this is what people do? People care about that?" Coming from Australia, of course we still have racism, but it's different. So it was an education. I needed to experience that. There were definitely things that have tested my emotions, and just learning how to not respond to really awful [stuff], and learning to be like, "It doesn't matter. I'm good, good exactly as I am." I learned a lot about that by joining a show.
What were your initial thoughts reading the "Love, Simon" script and the character Bram?
It's a little surreal that it was just like this perfectly told story that was so relatable and so true to my own journey, and I really felt for the character. I felt for [him and Simon], so I knew that I desperately wanted to be a part of it. But it just felt too good to be true, something that wouldn't really happen.
But it did.
It did, which I then, at the time, had a lot of imposter syndrome, so once I actually got the role, then I got really sad for a week, because I was like, "I'm not going to be able to do it. I'm not going to deliver. I can't be the love interest. I'm not good enough to be this or that or that." I grew a lot while doing [this film] and I'm glad I don't treat myself like that now, especially when it's such a beautiful opportunity, and I should be nothing but happy. But that takes time to figure out.
It means that they can hopefully be reminded and just know for sure that, one, they matter. That they exist, they're OK as they are and that the tagline of the movie — that everyone deserves a great love story — there's a lot of truth in that. I think a lot of people don't really feel very worthy or deserving of love, and that doesn't even just have to relate to a struggle with sexuality, but just in general. I hope this movie inspires people.
It's a film that I wish I had when I was younger, but I'm not sure LGBTQ youth need it today with so much queer representation on social media and platforms like YouTube. Do you feel the same?
I think that there's no reason why we should just settle for having people on YouTube, not that that's any less of a form, but the point is to show that this representation of real life is supposed to be shared in all art forms. So, I think that it's important that kids are able to go anywhere and see themselves. I think it will cut out a lot of the unnecessary suffering and feelings of being alone, because that is already there, whether you struggle with your sexuality or not, you're going to feel that way anyway. If we can speed up the process, the time for people to be able to just be, and for kids to go through their teenage years without doubting the fact that they love someone is a fault, then we allow them to blossom in the way that they're supposed to.
You came out publicly via Instagram last May, and social media has become a really interesting thing I think for LGBTQ folks, in terms of self-identifying and finding our tribes online. Why did you choose to come out in that particular way?
I definitely never planned it. I didn't want to do a big thing, but then when I realized ... I guess I just wrote it in five minutes and it was up. It just happened. But I think I knew that once I did that, it's done. It's out there. I'm not giving myself a chance to hide or to be selective; once on the internet, always on the internet. It meant that I could be open forever.
As an out actor, what are your hopes for where this film can kind of push queer storytelling and your career?
I think the more people that go watch this movie, the more movies like this are going to be made. I think if there's an overwhelming amount of support, which I think and hope that there will be, it proves and it dispels that lie that we've been told since as long as I can remember that you can't have a gay leading character, you can't be a gay or a queer actor in Hollywood and play big roles or sell out theaters. It's a lie. It's the same lie that was told about female-driven movies or stories or female directors. It's like, these are lies based out of fear, and we have an opportunity to just swat those away, kindly.
In terms of my career, I'm honesty at a space where I'm like, if this was the last movie I did, I'd be happy. I obviously want to continue working, but I used to value myself on how successful I could be, and now I just don't do that anymore, because it's painful. Of course it is motivating, but at the end of the day, what do you have? I would always look at what I had done, and it wasn't good enough. I'd be so excited for a day, and then suddenly I needed to do the next thing. I needed to prove to myself that I could do more and more and more.
Now, I'm just like, "You know what, I'm good. Whatever happens in my career, whatever happens in my life, I'm good." I'm going to go with the flow. I'm going to choose projects that make me feel like ["Love, Simon"] does.
And Kid Flash too. It just struck me that you're a queer black actor playing a superhero, in both the pre- and post-"Black Panther" world. I'm not into superheroes, but the idea of that does something to me.
We were painted a very specific picture about what a queer man is, and no one ever told us that we could be superheroes — and we can.
Please consider subscribing today to support stories like this one. Get full access to our signature journalism for just 99 cents for the first four weeks. Already a subscriber? Your support makes our work possible. Thank you.
---