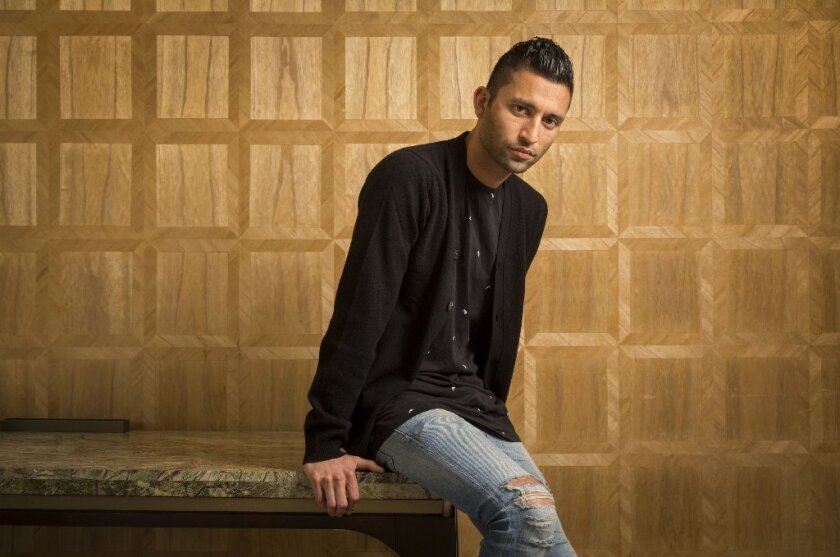 At 16, Justin Tipping became a man — or that's what his older brother told him.
Tipping remembers rocking a fresh pair of white-on-white Nikes, known as Prestos, around his Bay Area neighborhood when a car full of guys noticed the shoes. He was "stomped out, beat down," but able to keep his sneakers as the group scattered when someone walked by. The damage to his pride — and face — however, had already been done. He walked the streets and halls of his school the next few days being laughed at and taunted.
"It's all good. You're a man now," he was told.
Reflecting on this "proud, but deeply saddening" moment 15 years later, Tipping has questions: about violence, masculinity and the cycle of poverty. With his first feature film, "Kicks," in theaters in Los Angeles, San Francisco and New York on Friday, he hopes some answers might arise.
"I go back to that and think why masculinity is always synonymous with violence," he said. "Why is there this weird social construct that we've been taught — to be a man you can't cry, you have to 'man up,' feel no emotion but anger, talk about how much sex you have with girls even when you never have. I looked at that and I disagree with everything."
A kid's shoes, or kicks, are taken from him -- and he wants revenge in the trailer for "Kicks."
"Kicks" is taken from Tipping's brush with manhood as a 16-year-old. Written with Joshua Beirne-Golden, who also serves as a producer on the project, Tipping's film follows 15-year-old Brandon (Jahking Guillory), whose new Air Jordans are jacked by a local gangster ("Queen Sugar's" Kofi Siriboe). With his two friends (Christopher Jordan Wallace and Christopher Meyer) by his side, the trio set out on a life-endangering mission to Oakland to retrieve them, against the warning of Brandon's uncle (Mahershala Ali, "House of Cards").
This isn't the typical coming-of-age tale Hollywood loves to produce. This is an R-rated dramatic adventure flick — complete with visual effects and an astronaut — starring a mostly teenaged cast of color with little to no acting experience. That made making "Kicks" "a difficult process," Tipping said.
Though films like "Fruitvale Station" (from fellow Bay Area native Ryan Coogler), "Dope" and "Straight Outta Compton" — all of which performed better at the box office than anyone expected, and in the case of "Compton," became a crossover phenomenon — had helped carve out a space for "Kicks" to exist, the industry seemed hesitant to gamble on a picture with little celebrity involvement and plenty of black and brown faces.
"When we were trying to make the film, even before the #OscarsSoWhite conversations started happening, we were constantly told that films with African American casts don't have any real value internationally," said producer David Kaplan, whose Animal Kingdom Films cobbled together a network of 20 executive producers (and eight producers) to finance the under-$2 million project. "Whether or not that's true, when we make that part of the conversation on the front-end of the movies we're making, it creates systemic bias against making those kinds of film. 'Kicks' had a very hard road to getting made because those biases exists."
Nonetheless, Tipping has a vision for the work he wants to create and the industry he'd like to see. From his vantage point, Hollywood is at "the beginning of some kind of intellectual shift."
"This might be a time of a new American New Wave, and why not call it that?" he said. To Tipping, the recent increase in diverse voices on and behind screens large and small looks a lot like the period from the late 1960s to early '80s, when American filmmaking took on new life thanks to new voices like John Cassavetes, Roman Polanski and Martin Scorsese.
"We're starting to redefine how Hollywood functions and talks about films and genres. We're making incredibly quality films that represent the real face of America, the real struggles of America. I hope that my filmography, no matter what movie I'm making, will be taken seriously and it'll be cast the way it wants to be cast."
Tipping's strong vision made its way into the "Kicks" script and how he directed and interacted with his cast, something Ali said was refreshing to see in a first-timer.
"I was just pleasantly surprised at how skilled he was in bringing that vision to life that I first read on the page," said Ali, gaining heat of his own for his role in festival fave "Moonlight." "The sky's the limit with him, and I think he has the capacity to have a career that has breath. My sense of him is that he's not going to just try to tell one type of story. He has the capacity to tell a vast array."
We're making incredibly quality films that represent the real face of America, the real struggles of America.
Justin Tipping, director of "Kicks"
With diversity as the current refrain in the entertainment industry, Tipping finds himself primed for the spotlight and ready to contribute to the conversation. As an ethnically ambiguous-looking guy (he's of Filipino, Swedish and English descent) who's been on the receiving end of racism, his work as a filmmaker is informed by an empathy for others of diverse backgrounds.
"I somewhat feel like a cultural ambassador of sorts where I can empathize with all of these people, across gender, race, sexual orientation, religion," he said. "Because I've been subjected to it, not even representing it, I empathize."
That ability, coupled with his formal education in film and media from UC Santa Barbara and a master's in fine arts from the American Film Institute Conservatory, Tipping said, "just opens your eyes to how misrepresented and underrepresented so many people are and how the industry works."
"Kicks" also has opened his eyes to a part of the industry he never really thought about before, a part he'd like to see changed in the near future: the ratings system.
He recalled screening the film at a Magic Johnson Theater in New York. Following the showing, teachers came up to him remarking that they wished they could show it to their classes. But the R rating — for adult language — won't allow them. Weeks later, Tipping saw "Jason Bourne," in which Matt Damon leaves dozens of dead bodies in his wake. As he walked out of the theater, he noticed the action flick had a PG-13 rating.
"So you're telling me that you can show 'Jason Bourne' to kids, and it's totally acceptable because he doesn't say more than five F-words?" That's what's crazy to me," he said noting that ratings alone limit the potential reach of one's film. And if a film about the experiences of young people in urban communities is to be authentic, a few F-bombs might be necessary, he said. But that doesn't mean it's any less appropriate for younger audiences who might benefit most from a picture like "Kicks."
"People are probably out there compromising and cutting content out of films, conscious that it [probably] won't be able to be seen by this many people," he said.
Don't expect Tipping to give in. The new American New Wave counts on the fact the he, and others, won't.
Get your life! Follow me on Twitter: @TrevellAnderson.
---