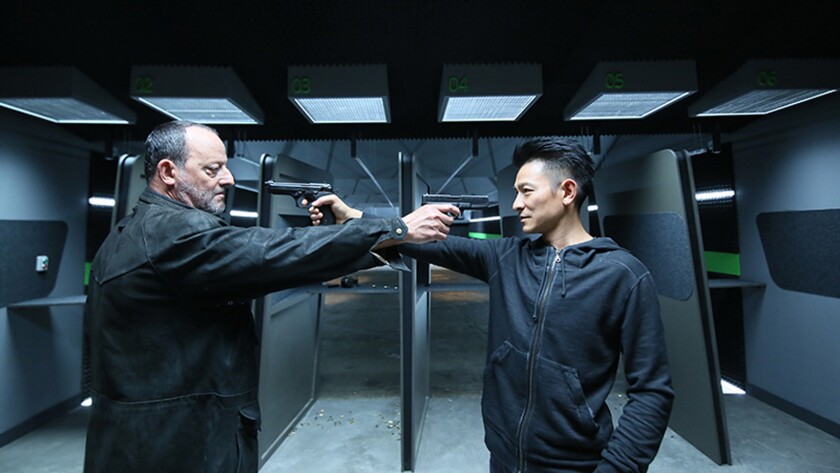 At every turn, the Chinese globe-trotting heist flick "The Adventurers," with Andy Lau as international master thief Zhang and Jean Reno as his Javert, calls to mind better, craftier precursors. There's the car chase along the coast of France that isn't as enjoyable as the nail-biters in "The Transporter" or "Ronin." Ditto the infiltration of a swanky gala by a tuxedo-clad Lau, his tech specialist Po (Tony Yang) and sexy/edgy master of disguise "Red" (Shu Qi) that rips off Bond movies and "Mission: Impossible" sequences with much less flair.
Even the ho-hum combining of slapstick and suavity in the plot revolving around three pieces of super-secure (except not really) rare jewelry makes one long for the breezy genre acumen of "The Pink Panther" or "Topkapi." Writer-director Stephen Fung never met a moment he didn't think needed a swooping camera, or aggressive suspense underscoring.
The problem is he does a genuine superstar like Lau no favors by preventing his lead's natural charm from taking center stage. (He's better at letting Reno's weary Frenchness occasionally make scenes feel human.) If you even care about following the plot, you'll figure out the key betrayal right away, but you may still not be prepared for how much criminal cleverness is supplanted by ingenuity-erasing gadgetry.
If "The Adventurers" were honest, it would include in its cast list the robot orb-turned-mechanical spider that films everything, goes anywhere, and even fires bullets. If it starts asking for martinis, we're done for.
-------------
'The Adventurers'
In Mandarin and English with English subtitles.
Not rated
Running time: 1 hour, 47 minutes
Playing: AMC Atlantic Times Square 14, Monterey Park
See the most-read stories in Entertainment this hour »
---