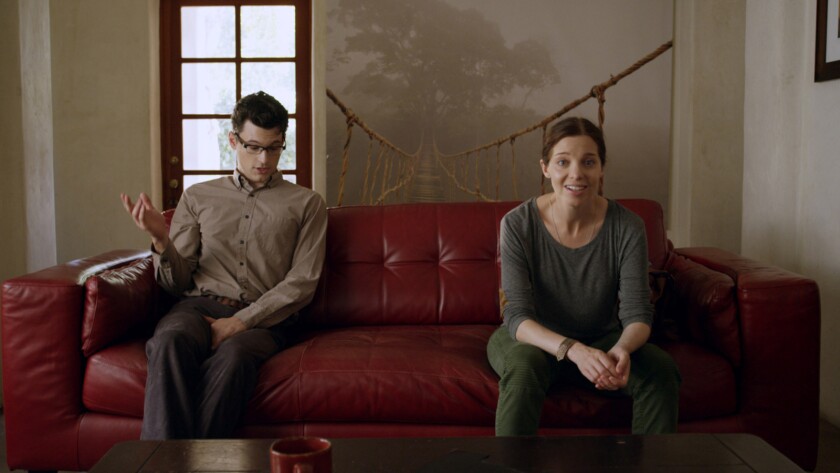 Jo, the 41-year-old lesbian at the center of the comic drama "As Good as You," is, as one might expect of someone newly widowed, an emotional mess. Her eyes and nose always red from crying, she's a vortex of despair. Laura Heisler brings the required neediness to the role, but the key problem with this sometimes whip-smart, sometimes mushy feature is that Jo and her story are far less interesting than some of the people around her.
These include Annie Potts' shockingly overpriced therapist and Raoul Bhaneja's soulful barfly, Nate. The most commanding character is Jo's longtime friend Lisa, a photographer and bar owner who's accurately described by one admirer as a punk goddess and played with terrific sangfroid by Anna Fitzwater.
Lisa is less than overjoyed when Jo decides to devote her energies not to finishing her novel but to conceiving a child, through artificial insemination, with her wife's brother (Bryan Dechart). For the heartbroken Jo, it's a way of keeping her marriage alive.
At its strongest, the movie dissects such pat notions as "closure" and "moving on" with wit and intelligence. Director Heather de Michele and screenwriter Gretchen M. Michelfeld are co-creators of the comedy troupe Lesbian Pulp-O-Rama, and there's a certain staginess to the proceedings, especially the scenes in Lisa's bar, where Nate and Jo are the only patrons. The touch of underpopulated unreality has an unexpected emotional pull. The same can't be said, though, of the story's melodramatic twists.
-------------
'As Good as You'
Not rated
Running time: 1 hour, 26 minutes
Playing: Laemmle's Music Hall, Beverly Hills; opens at Laemmle NoHo 7, North Hollywood, June 13
See the most-read stories in Entertainment this hour »
---