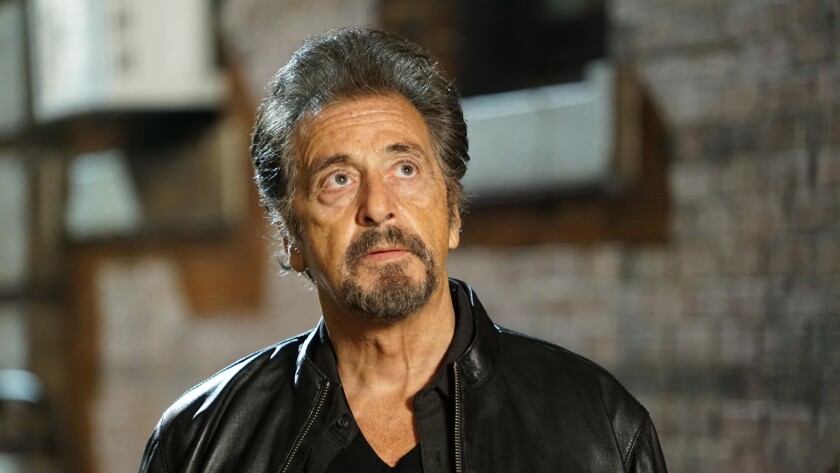 The same kids word game that inspired "Wheel of Fortune" has been less profitably appropriated by "Hangman," a nonsensical serial killer thriller involving a crazed perp whose murder victims each have a letter clue slashed into their suspended torsos.
Al Pacino, whose name could make for a challenging Hangman puzzle, itself, plays a respected homicide detective who's brought out of retirement by a stoic criminal profiler (Karl Urban) when they're marked by a nut job (Joe Anderson) for a past transgression.
Shadowing them in their pursuit is a New York Times crime journalist (a miscast Brittany Snow), who has a personal motive for wanting to come along for the grisly ride.
Given how many times Pacino's played a police detective in the past ("Serpico," "Heat," "Sea of Love" and "Insomnia" among the more noteworthy), it's to his credit that he manages to bring something playfully eccentric to the paycheck-driven part.
Unfortunately it's not enough to cover for all the awkward expository dialogue (credited to screenwriters Michael Caissie, Charles Hutting and Phil Hawkins) and glaring absence of tension established by Johnny Martin, who also directed Nicolas Cage to equally convoluted effect in September's "Vengeance: A Love Story."
With a dirge-like pace that provides ample opportunity to figure it all out well ahead of the protagonists, you keep wishing somebody would buy a vowel to hurry things along.
-------------
'Hangman'
Rating: R, for violent content, bloody images, and language
Running time: 1 hour, 38 minutes
Playing: Arena Cinelounge, Hollywood
See the most-read stories in Entertainment this hour »
---