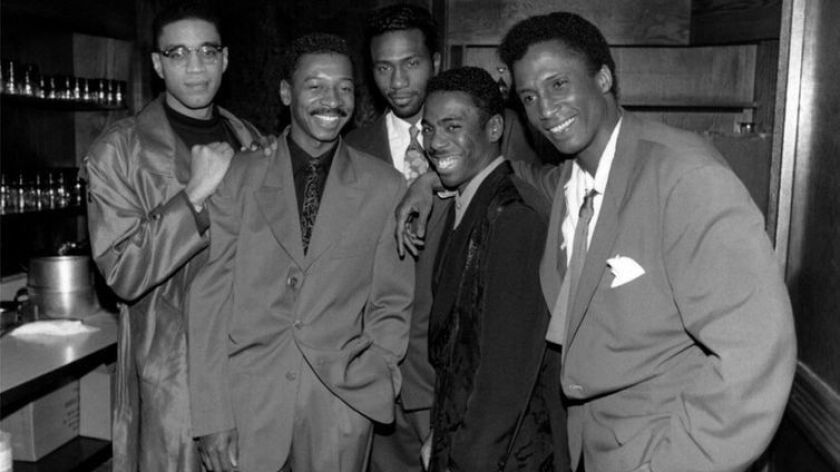 While its logical home would be on a DVD bonus disc, Robert Townsend's reflective "Making the Five Heartbeats" serves as an illuminating documentary detailing the considerable passion and perseverance that went into bringing his dream project to the big screen.
Hot off of the film that would be his writing-acting-directing calling card, 1987's "Hollywood Shuffle" — a satire about black actors struggling to make it in the movie industry — Townsend had his heart set on making a film inspired by the career and breakup of his favorite group, the Temptations.
Getting it made, however, proved to be an effort of Sisyphean proportions with Townsend, who chronicles his travails in the off-screen narration, stating "I've got the scars to prove it."
His battles with studio bean counters, temperamental actors and his own limitations (it was tough faking the fact that, despite also playing one of the singing-and-dancing leads, he couldn't dance), would ultimately pale next to the disappointing reception the movie would encounter in theaters, although it would later find love on home video.
Admittedly this true-life "Hollywood Shuffle" plays mainly to "Five Heartbeats" fans, but it's still a kick seeing all those baby faces belonging to those aspiring performers attending the open calls for Townsend's intended next big thing — Don Cheadle, Niecy Nash, "Empire's" Jussie Smollett and R. Kelly among them.
-------------
'Making the Five Heartbeats'
Rated: PG-13, for suggestive material and thematic elements
Running time: 1 hour, 24 minutes
Playing: Starts Nov. 30, Laemmle NoHo 7, North Hollywood
------------
See the most-read stories in Entertainment this hour »
---