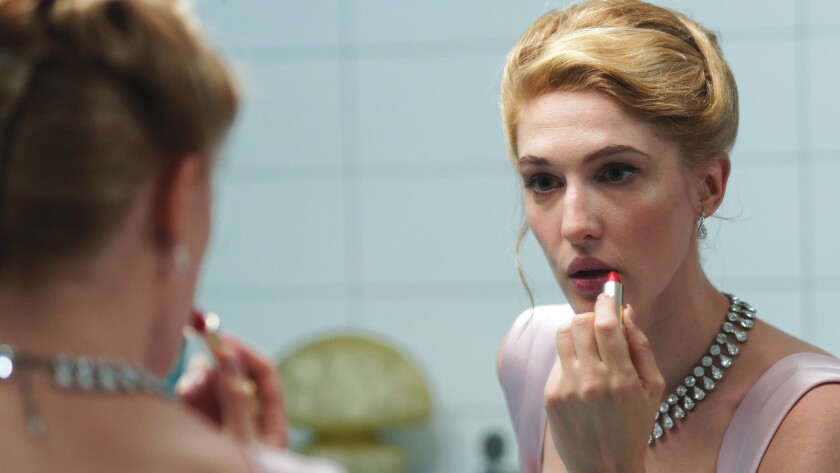 Sadness envelops the French Canadian biopic "Nelly." Born in Quebec as Isabelle Fortier, Nelly Arcan worked as a high-class call girl before bursting onto the French-language literary scene with the semi-autobiographical novel "Putain" under her nom de plume in 2001. She wrote three more novels before taking her life at 36 in 2009.
Writer-director Anne Émond's collage of Arcan's life captures her beauty, glamour and a sense of her talent. But just as those things were not enough to sustain the woman, they're not enough to sustain a movie. The dreamlike narrative flows with endless melodrama that rarely modulates from the blue zone, and despite a few electric moments, the film feels oddly flat.
Mylène Mackay portrays Arcan with subdued vulnerability, brandishing her dissatisfaction with life as a literary shield in an endless pursuit of the attention she craved since she was a little girl. However, no amount of drugs and alcohol, fancy hotels, luxurious gowns, bestselling books or plastic surgery could fill the emptiness she felt inside.
Arcan wrote prolifically about beauty and female identity in essays and articles, as well as her books, and Émond uses those words extensively in the film. But what may have been profound and poetic on the page feels redundant and banal on screen. It's a sad tale that never manifests much more than that singular emotion.
------------
'Nelly'
In French and English with English subtitles
Not rated
Playing: Laemmle Royal, West L.A.; Laemmle Playhouse 7, Pasadena
---