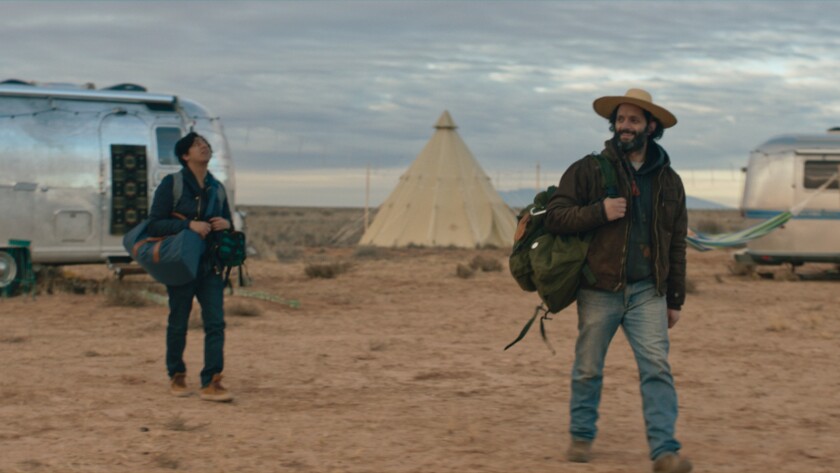 Neither long nor dumb, Hannah Fidell's "The Long Dumb Road" is in reality a terrifically entertaining odd couple road comedy expertly navigated by costars Tony Revolori and Jason Mantzoukas.
Nat (Revolori), a sheltered, aspiring photographer from Austin who's headed to L.A. to begin freshman year at art school, should never have agreed to let wild-eyed, motor-mouthed Richard (Mantzoukas), a manipulative but charismatic drifter, hitch a ride with him after his car breaks down in rural Texas.
But after Richard fixes his engine, Nat reluctantly obliges, and by the time he realizes he'll be unable to shake his passenger from hell, their bumpy trek has already taken some wild turns through the picturesque American Southwest.
Included among the supporting characters they encounter (ill-fatedly) during their pit stops is Richard's old, unrequited flame, Sharon (Casey Wilson), a pair of spirited sisters played by Grace Gummer and Taissa Farmiga, and Ron Livingston as a not-so-good Samaritan.
Although director Fidell, who penned the consistently amusing script with Carson Mell, ensures this well-traveled vehicle hums along energetically, it's the winning chemistry of Revolori and Mantzoukas, both in possession of great comic faces, that ultimately keeps everything strapped in place.
Making like a next generation Al Pacino and Daniel Stern, they'll have you glad you came along for the wacky ride.
-------------
'The Long Dumb Road'
Rated: R, for pervasive language, sexual content and some drug use
Running time: 1 hour, 30 minutes
Playing: Starts Nov. 16, Laemmle Monica Film Center, Santa Monica; also on VOD
See the most-read stories in Entertainment this hour »
---