Review: Difficult subject matter makes play adaptation 'Una' a slog despite strong performances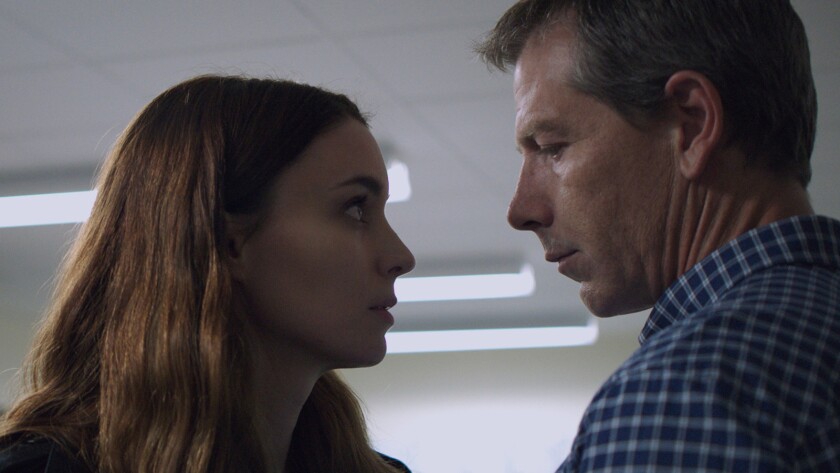 The enigmatic and uneasy "Una" presents a disturbing love story between an older man and a 13-year-old girl — and the jagged emotional aftermath that haunts them years later. The film's insistence on the existence of love between Una (played by Ruby Stokes and Rooney Mara), the victim of sexual abuse, and the middle-aged Ray (Ben Mendelsohn), may be too great an obstacle for some viewers.
Taking place over the course of two nights and a day, "Una" follows the troubled twentysomething — Mara inhabits the older, mercurial Una with a wild-eyed intensity — as she confronts Ray at work, seeking answers about their encounter years earlier.
As memories flood back, we are privy to flashbacks to when their relationship came crashing down during an ill-fated attempt to run away together, leading to Ray's arrest. Stokes is incredible as the trusting yet unpredictable girl.
Directed by Benedict Andrews, the film is adapted for the screen by David Harrower, from his play "Blackbird." Like the character of Una, the film is at times intense and implacable. It's at once talky yet emotionally remote, and while posing a risky set of questions about sexual abuse, power and relationships, the experience is an unsatisfactory and draining slog.
-------------
'Una'
Rated: R for strong sexual content, nudity and language.
Running time: 1 hour, 34 minutes
Playing: Arclight Hollywood; Landmark Regent, Westwood
---
Get the Indie Focus newsletter, Mark Olsen's weekly guide to the world of cinema.
You may occasionally receive promotional content from the Los Angeles Times.